This post contains affiliate links.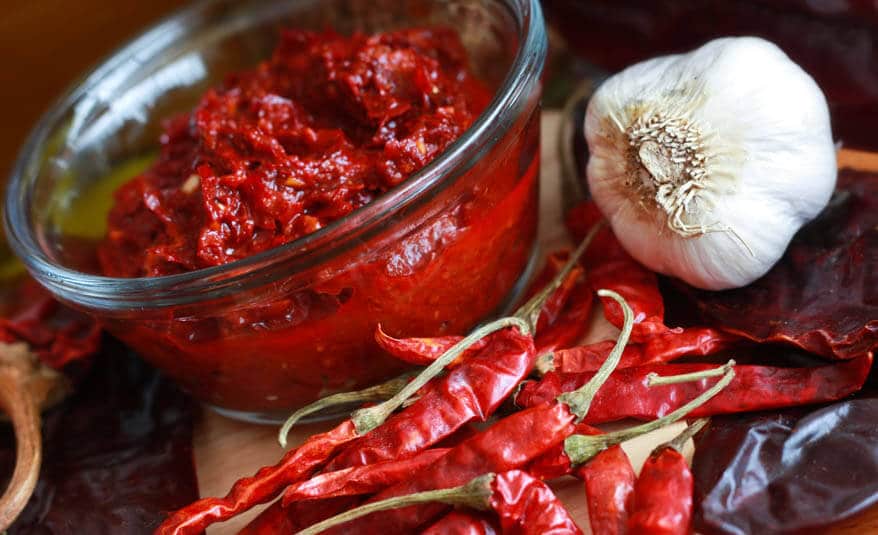 Harissa is a fiery Tunisian chili paste that is also commonly used in Moroccan cooking.  It's  comprised of dried chiles, olive oil, garlic and spices.  It's easy to make and I like to make my own because the flavors are so much fresher and more vibrant than store-bought (which can be challenging to find anyway).  It will add flavor, color, and kick to your dishes.  It stores in the fridge for up to 3 weeks.
Try the harissa in this delicious Moroccan Chicken, Apricot and Almond Tagine.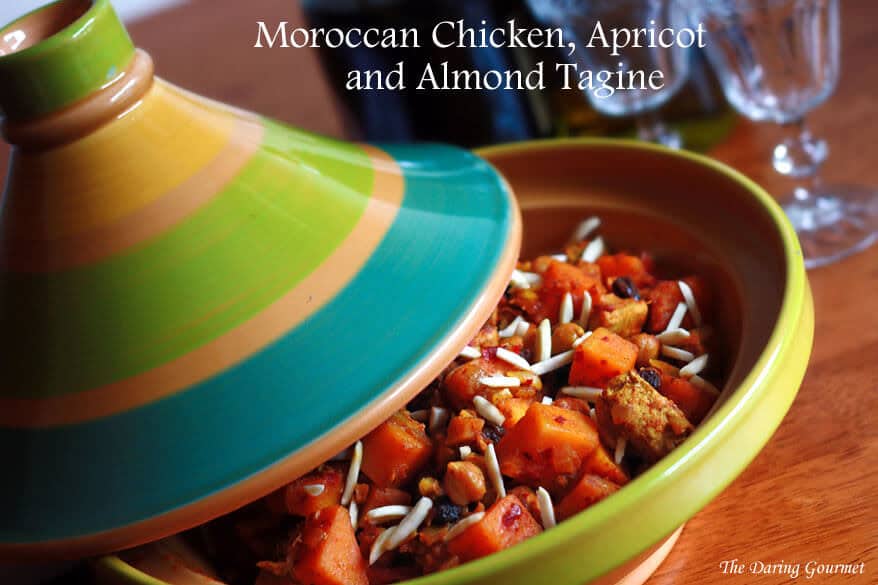 Or in these fabulous Spicy Moroccan Veggie Burgers
Be sure to "LIKE" The Daring Gourmet on Facebook for more delicious recipes!
Also SUBSCRIBE (top right corner of this page) to receive email notifications of new recipes – it's FREE and no junk mail, ever!
Harissa (Tunisian Chili Paste)
:
The Daring Gourmet, www.daringgourmet.com
Ingredients
16 dried red chilies (New Mexico and guaijillo chilies work well), seeded and stemmed
1⁄4 teaspoon caraway seeds
1 teaspoon cumin seeds
1 teaspoon coriander seeds
3 tablespoons extra-virgin olive oil
½ teaspoon kosher salt
3 cloves garlic
2 tablespoons lemon juice
Instructions
Put the dried chiles in a bowl and cover with boiling water. Let them sit for 20 minutes. Heat a small skillet over medium heat and dry roast the caraway, coriander, and cumin seeds, frequently stirring them, until very fragrant, about 4-5 minutes. Let them cool completely and then transfer them to a spice or coffee grinder and grind them to a fine powder.
Next, drain and squeeze the chiles to release as much liquid as you can. Add them to a food processor along with the ground spices, olive oil, garlic, salt, and lemon juice. Process to a smoth paste. Add more olive oil if it's too dry. Transfer the paste to a glass jar and pour some extra olive oil on top, about ¼ inch in depth. After each use, top it off with olive oil. Keep refrigerated. Will keep up to 3 weeks.