This post contains affiliate links.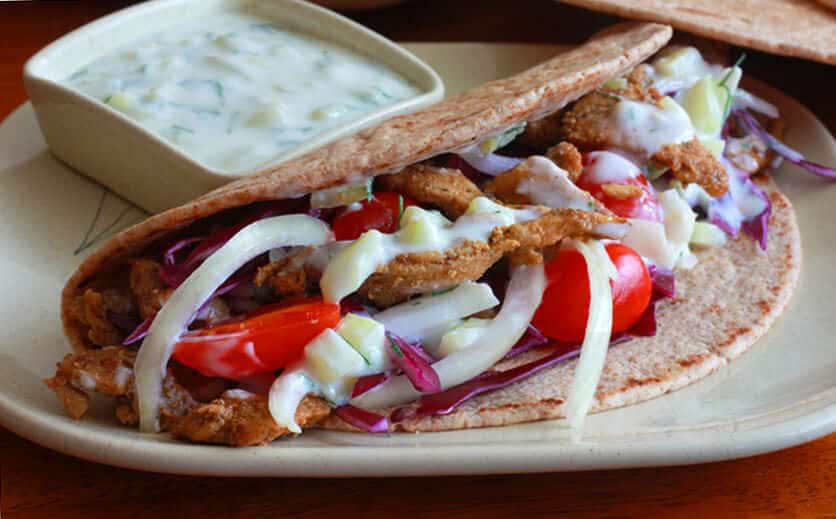 Last week I posted my recipes for Greek Tzatziki Sauce and Greek Seasoning Blend.  Now it's time to combine those two recipes to make a third one!  One that you're going to fall in l.o.v.e. with!
Growing up in Germany, there were Gyros and Döner Kebab shops and stands everywhere.  I loved them as a kid and I love them still.  Juicy, tender meat that is highly seasoned with flavors that are out of this world, folded in either pita, flat bread, or a wedge of thick Turkish bread.  Next were the crisp veggies that added flavor, texture and color.  And then finally was the crowning touch – the tzatziki sauce.
For someone who loves to cook, trying to replicate favorite dishes is a welcomed adventure.  Granted, I don't own one those super neato rotating gyros/doner spits that slowly cooks the seasoned meat to perfection, but I've nonetheless developed a recipe that is so mouth-wateringly good, you're going to want to make it again and again.  I've been making these gyros ever since moving to the U.S. a few years ago and they've been a hit wherever I've served them.  You can use chicken, lamb, pork or beef – all will turn out wonderfully.  And these gyros make great leftovers.  Just keep the veggies, meat, and tzatziki sauce stored in airtight containers in the fridge and enjoy them for lunch the next day.
What really makes these gyros sing is the homemade Greek seasoning used in them.  Several years ago I spent some time trying to develop the perfect all-purpose Greek seasoning, experimenting with ingredients and ratios, and I finally cracked it.  Here is that recipe for Homemade Greek Seasoning.   It's an excellent blend to use in any recipe that calls for Greek seasoning.
There is both overlap and differences between gyros and kebabs – this recipe is a bit of a blend of the two.  I call them gyros because that name is more common here.
Before we get started, be sure to connect with The Daring Gourmet on Facebook to join in on all the foodie fun and to get the word on all the latest recipes!
Okay, let's get started on that gyros recipe!
Thinly slice the chicken (or pork, lamb, beef, whatever you're using.  Note, the chicken will be more drier than other meats because of the lower fat content – which just gives you an excuse to load up on more of that luscious tzatziki sauce!)
Thinly slice the onions.
Prepare the secret Greek seasoning!  See instructions here.
Season the meat with the Greek Seasoning and let stand for at least 15 minutes.
Heat the oil in a skillet over medium-high heat and cook the meat until browned.  Add the onions and cook until soft and translucent, about 5-7 minutes.  If the meat is too dry add some more olive oil.  Add more Greek Seasoning to taste.
Prepare the Tzatziki Sauce (ideally you will have done this ahead of time as it needs to sit in the fridge for at least an hour).
See Recipe for Homemade Tzatziki Sauce here.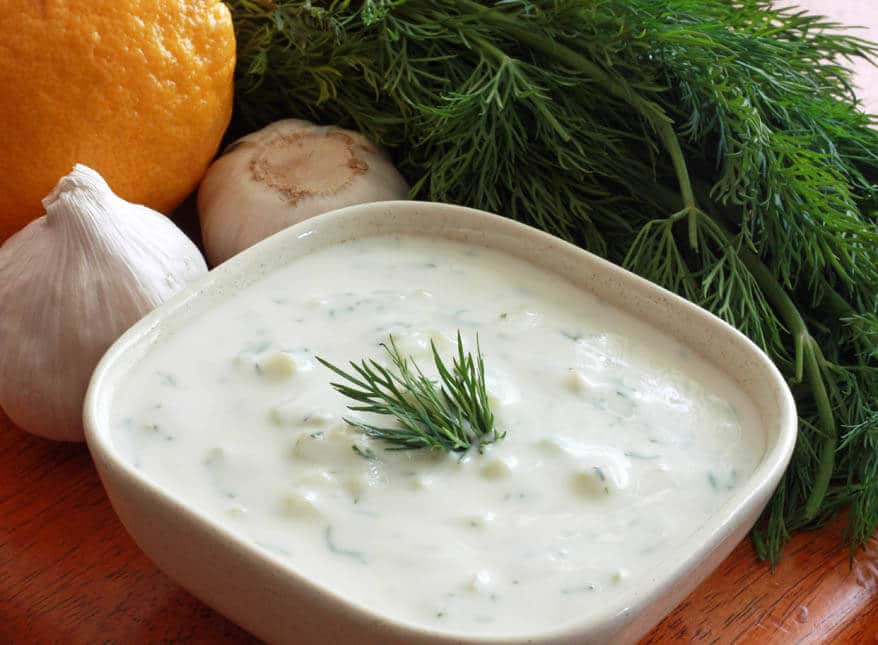 To assemble, scoop about 1/3 cup of the meat mixture onto a pita or flabread, add some chopped red cabbage, tomatoes and onions, and spoon over some tzatziki sauce.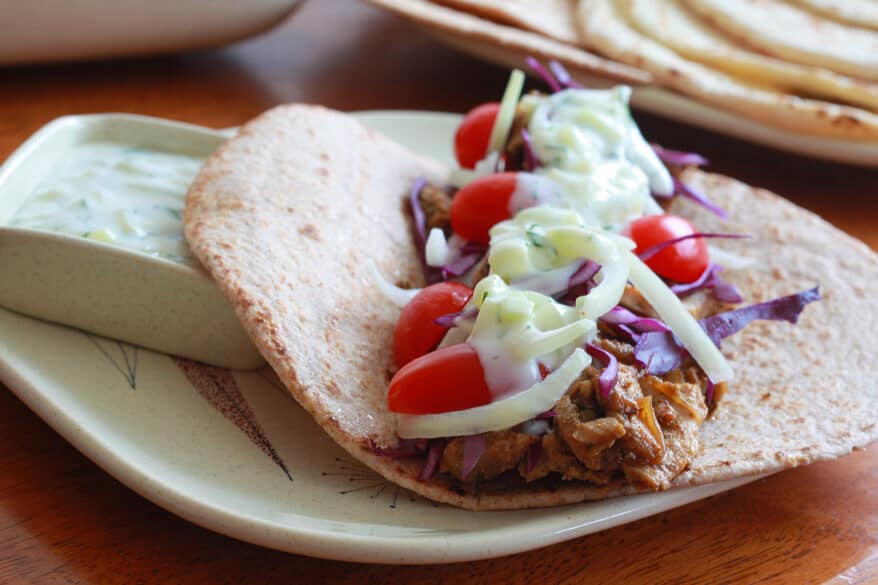 For an added touch of flavor and authenticity, sprinkle a bit of sumac powder over the finished gyros.  It can be found online.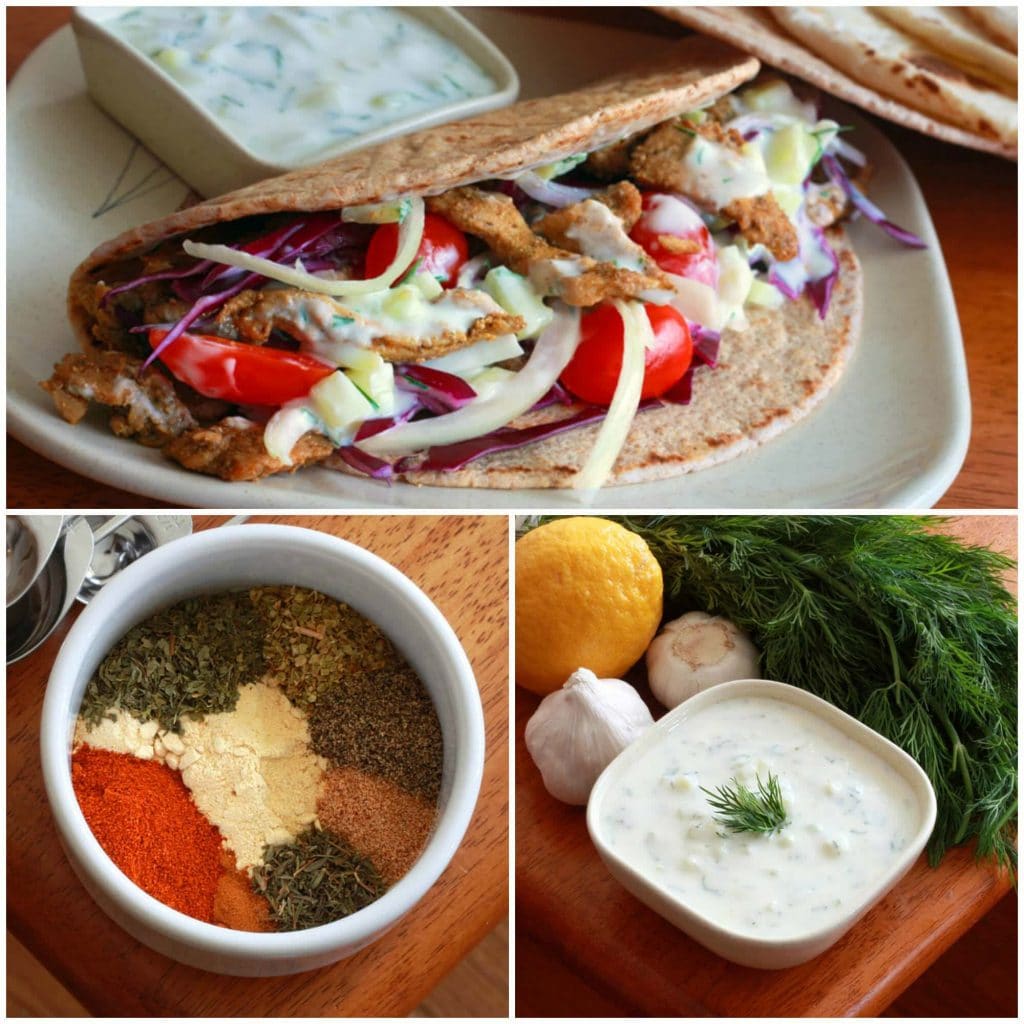 Gyros with Tzatziki Sauce
You might want to double the recipe, because you're going to want leftovers for lunch the next day - guaranteed! Make extra Greek Seasoning as well - it's fantastic with any other recipe that calls for it.
:
The Daring Gourmet, www.daringgourmet.com
Ingredients
1½ lbs chicken breast, pork, lamb or beef, cut into thin strips (note: the chicken will be drier than other meats because of the low fat content)
3-4 tablespoons Daring Gourmet Greek Seasoning
2 tablespoons extra virgin olive oil
1 medium yellow onion, cut in half and then thinly sliced
Toppings: Finely shredded red cabbage, thinly sliced onions, chopped tomatoes
8 whole wheat pitas of flatbreads (2 each)
Dried Sumac for sprinkling on top (optional)
Instructions
Add the Greek Seasoning to the meat, toss to combine, and let marinate for at least 15 minutes.
Heat the oil in a large skillet over medium-high heat. When the oil is hot, add the chicken strips and cook until golden brown on all sides. Add the sliced onions and continue to saute until the onions are tender and translucent, about 5-7 minutes. If the mixture is too dry, add a little more olive oil. Add more Greek Seasoning to taste.
Wrap the pitas/flatbreads in aluminum foil and warm them in the oven.
Spread ¼ cup of the chicken mixture on each pita and top with red cabbage, onions, tomatoes and drizzle with tzatziki sauce. Sprinkle with dried sumac (if using). Serve immediately.