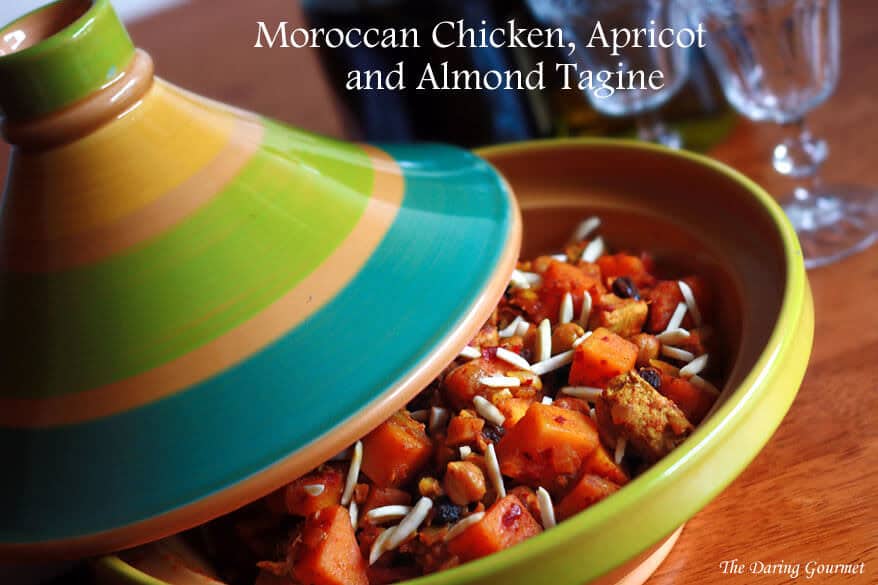 Moroccan cuisine is considered to be one of the most diversified cuisines in the world.  This is because for centuries Morocco has been very interactive with other nations and has embraced and integrated many different cultural influences, not only in its foods but its art, music and literature. One of Morocco's top priorities has been to protect and preserve its diverse legacy and culture. Moroccan cuisine is primarily Berber-Moorish, but is also influenced by Europe and the Mediterranean in some of its techniques and flavors.  Spices are used extensively in Moroccan cooking.  Meats, vegetables and dried fruits are a common food combination, as represented in today's dish.  While beef and lamb are eaten, chicken is the most widely eaten meat in Morocco.  The national dish is couscous topped with meat and vegetables.
This Daring Gourmet original utilizes traditional Moroccan ingredients and spices.  Chicken, squash, dried apricots, raisins, almonds, honey, a variety of spices, and harissa – a fiery Moroccan chili paste.  Delicious as a vegetarian option as well (see recipe).  Make this Moroccan Tagine for your family or dinner guests, and they are sure to be impressed.  And if you really want a conversation piece, purchase and serve it in a tagine (where the name of the dish comes from).  See note below.  Enjoy some Moroccan music in the background and have a discussion about culture, art, life! Or imagine bringing this to a potluck…can you just hear the "ooh's" and "ahhh's"!
A tagine is a special North African pot formed entirely of a heavy clay, which is often painted or glazed, such as this one. It consists of a base where the food is placed and a large cone/dome-shaped lid that is designed to promote the return of all condensation to the bottom. With the cover removed, the base can be taken to the table for serving.  The couscous is served separately.
Now let's talk about one of the ingredients in this dish that you may or may not have heard of.  Harissa.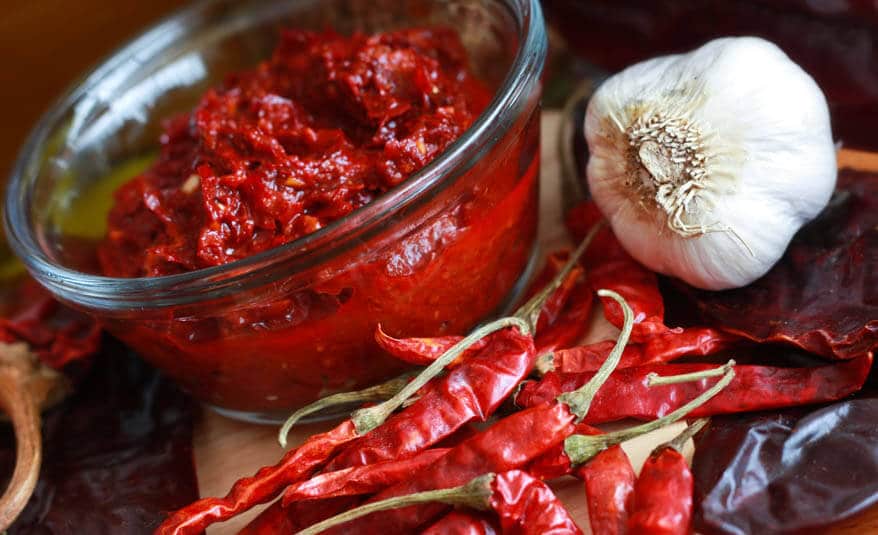 Harissa is a fiery Tunisian chile paste that is also commonly used in Moroccan cooking.  It's  comprised of dried chiles, olive oil, garlic and spices.  It's super easy to make and I like to make my own.  It stores in the fridge for up to 3 weeks.  I'm going to share my recipe with you in case you're as die-hard of a culinary adventurer as I am.  Or you can simply use a chili paste substitute – something to give the dish a little color and lots of kick (or a little tap if you prefer).
"Click" Homemade Harissa Recipe
Another integral ingredient to Moroccan cooking is preserved lemons.  They completely transform every dish in which they're used.  And they're SO easy to make, not to mention incredibly versatile.  Click on the following link for a recipe on how to make them as well as information on how to use them:
"Click" Preserved Lemons.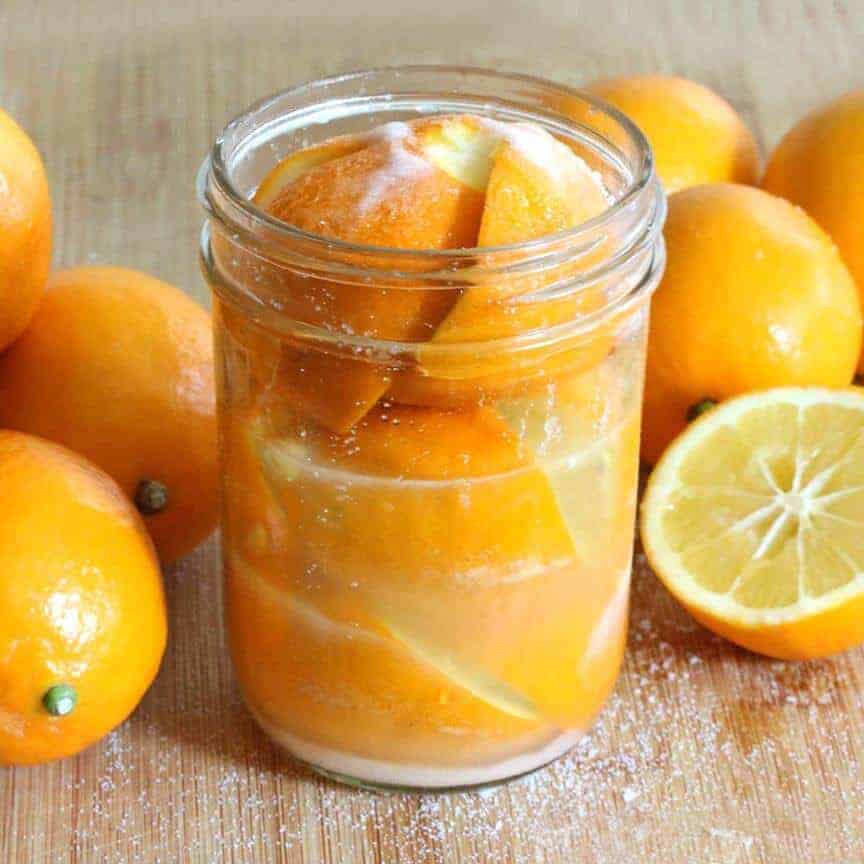 Okay, now let's get to that delicious and aromatic Moroccan Tagine recipe! Cut up a butternut squash.  I find it easiest to slice it in 3/4 inch slices, then cut off the peel, and dice.  You'll need about 4 cups.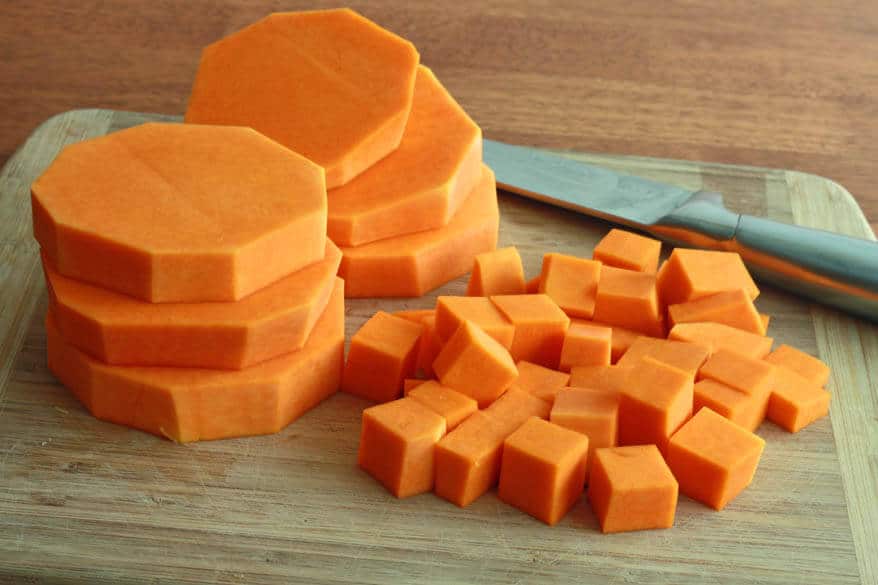 Measure out your dried apricots, raisins and nuts.
Mince the garlic and ginger.  Just look at all those beautiful ingredients!  Now imagine them simmering with chicken, butternut squash, garbanzo beans, your homemade harissa, and an array of Moroccan spices…ohhhh, yes….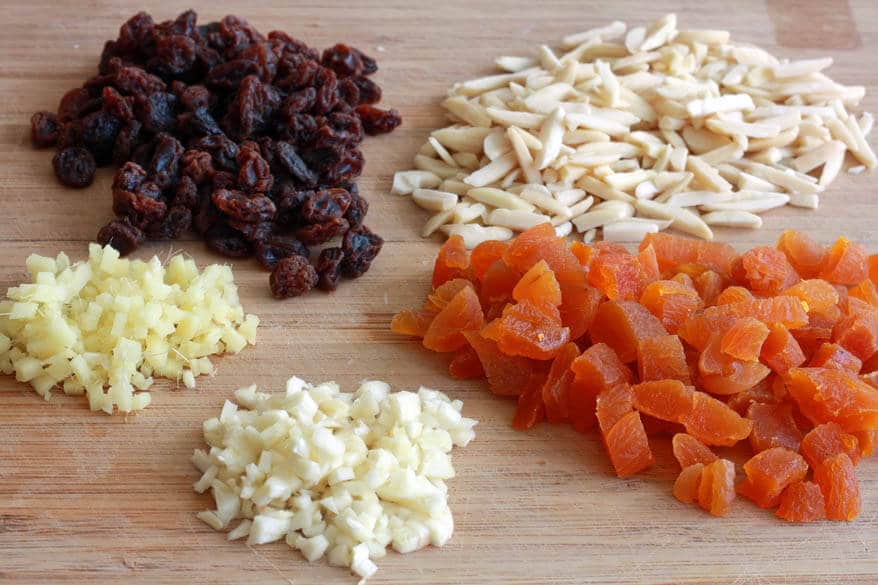 Dice up the chicken.
In a Dutch oven (I use and love Lodge) saute the onion until transluent, about 5 minutes.  Add the garlic and ginger and saute for another 2 minutes.  Add the chicken and the dry spices.  Stir to combine and cook for 3-5 minutes until the chicken is no longer pink.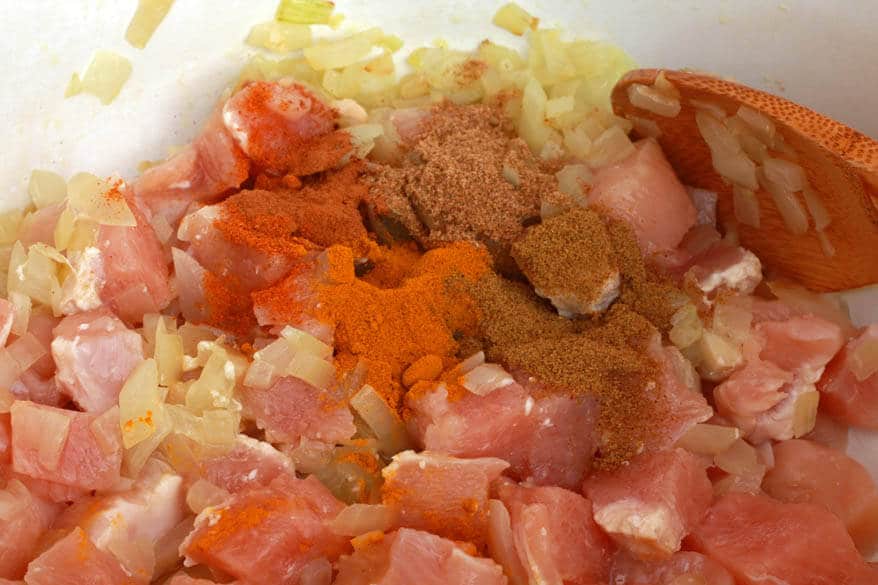 Add the harissa, apricots, raisins, almonds, broth, bouillon cubes, honey, preserved lemon and garbanzo beans.  Stir everything to combine.  Bring to a simmer, reduce the heat to low, cover, and simmer for 10 minutes.
Add the butternut squash, stir to thoroughly combine, return to a simmer, reduce the heat to low again, cover and simmer for another 25 minutes or until the butternut squash is fork-tender.  Add salt to taste.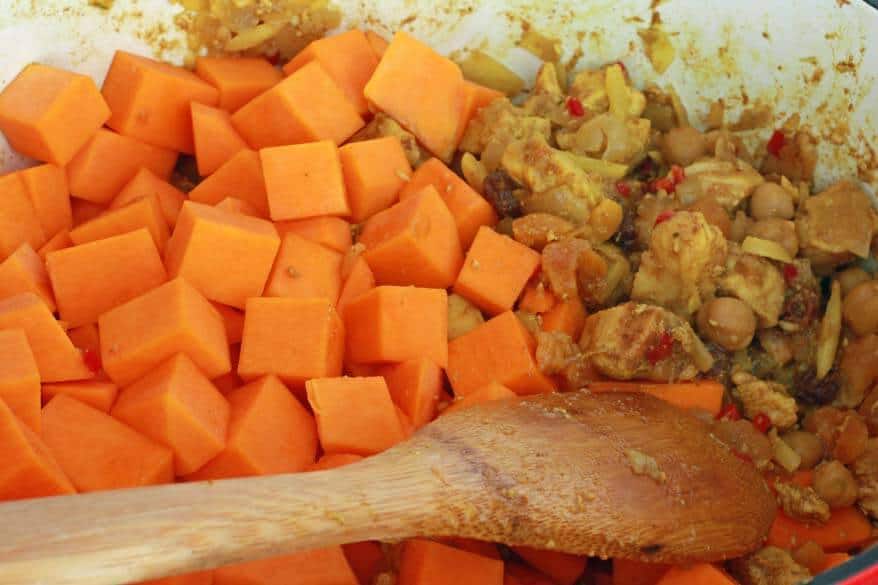 Transfer the chicken tagine to a warmed serving dish and top with extra slivered almonds.
Serve with couscous.  Super, duper easy to make.  Boil two cups of water, add a vegetable or chicken bouillon cube (or salt) along with 2 tablespoons of butter and stir until dissolved.  While the water is still boiling, add two cups of couscous, cover the pan, and turn off the heat.  Let it sit for 10 minutes and then fluff with a fork.  It's ready to serve!
Moroccan Tagine + Fluffy Couscous = Heaven.  (They never taught you that valuable equation in math class, did they?)
Moroccan Chicken, Apricot and Almond Tagine
This highly flavorful and aromatic Moroccan dish will both impress and delight your dinner guests.
:
The Daring Gourmet, www.daringgourmet.com
Ingredients
2 tablespoon olive oil
1 small onion, diced
1 tablespoon garlic, minced
1 tablespoon ginger, grated
1 lb chicken breast, diced (vegetarian/vegan: use 3 extra cups squash and an extra can of garbanzo beans)
2 teaspoons ground turmeric
2 teaspoons ground cumin
2 teaspoons ground coriander
½ teaspoon ground cinnamon
1 cup water
3 chicken or vegetable bouillon cubes
1 (15 ounce) can garbanzo beans, drained
1 tablespoon harissa (or less if you prefer less spicy) (or other red chile paste)
1½ tablespoons honey (vegan: substitiute agave syrup)
⅓ cup dried apricots, chopped
⅓ cup raisins
⅓ cup slivered almonds
½ of a preserved lemon (click for instructions) or 2 tablespoons fresh lemon juice (not remotely the same thing, but you can use it in a pinch)
4 cups butternut squash (or sweet potatoes or pumpkin), peeled, seeded and cut into bite sized pieces
Salt to taste
Extra slivered almonds for garnishing
For the couscous:
2 cups water
2 tablespoons butter
1 chicken or vegetable bouillon cube
2 cups couscous
Instructions
Heat the oil in a large Dutch oven. Add the onion and saute until translucent, about 5 minutes. Add the garlic and ginger and saute for another 2 minutes. Add the chicken, turmeric, coriander, cumin, and cinnamon, stir to combine, and saute until the chicken is no longer pink.
Add the water, bouillon cubes, chickpeas, harissa, honey, apricots, raisins, almonds, and preserved lemon. Stir to combine. Bring it to a boil, reduce the heat to low, cover and simmer for 10 minutes.
Add the butternut squash, stir to combine, return to a simmer, reduce the heat to low, cover and simmer for another 25 minutes, or until the squash is fork-tender.
Garnish with some slivered almonds and serve with the couscous.
To make the couscous:
Bring the water to a boil in a medium saucepan. Add the butter and bouillon cubes and stir until dissolved. While the water is still boiling, add the couscous. Turn off the heat, cover, and let stand for 10 minutes. Fluff with a fork and serve.
Notes
If using a tagine: Transfer everything to the tagine at Step 4 and bake it in the oven, covered with the tagine dome, at 325 F for at least 1 to 1½ hours. At that point check to see if the squash is soft and if not, continue baking until it is. **Be sure to follow the instructions with your tagine to properly season it prior to using.