Are you looking for the perfect sauce to accompany your shrimp, oysters, clams, crab legs, crab cakes and more?  Look no further than this homemade Cocktail Sauce recipe that takes just 5 minutes to prepare, is free from all the junk ingredients found in the store-bought stuff, and tastes even better than the restaurant versions!
If you've followed my website for any length of time and have searched around it, you'll know how obsessed I am with homemade sauces and condiments.  I love a good challenge of replicated all those favorite condiments served at restaurants or sold on the grocery store shelves.  And my objective is always to 1) make them without any of the junk ingredients and 2) make them taste even BETTER than the restaurant or store-bought stuff!  When it comes to condiments, there's nothing that beats homemade.  The flavors are fresher and more vibrant and as easy as it is to make these sauces yourself, there is simply is no good reason to buy them!  This Cocktail Sauce recipe is a prime example.
What is Cocktail Sauce?
Cocktail sauce, also known as seafood sauce, is a popular seafood condiment that is most commonly used as a dipping sauce for shrimp, crab legs, oysters, and clams.  It's a thick sauce, the texture of ketchup (its base ingredient), and has a tangy-sweet- spicy flavor profile.  It's main ingredients are ketchup (or sometimes chili sauce), horseradish, Worcestershire sauce, and lemon juice.  Additional seasonings can be added for interest and variety.
Where Did Cocktail Sauce Originate?
Some have erroneously credited 1960's British celebrity chef Fanny Cradock with the invention of this sauce when in fact it predates her.  Even Constance Spry published a recipe for it more than 10 years earlier.  Cocktail sauce is believed to have originated in the seafood-loving region of New England in the United States in the early 20th century.  With its bustling fishing industry and seafood markets, it is believed that this sauce was created to accompany a variety of seafood dishes.  Over time, the fame of this sauce spread throughout the U.S. where it has since become a favorite condiment among seafood lovers.  A similar sauce, known as Marie Rose Sauce, is found in Great Britain.
How to Serve Cocktail Sauce
Cocktail sauce is a popular dipping sauce for shrimp, oyster, crab legs, as well as other seafood.  Here are a few ways you can serve it:
Shrimp Cocktail: Arrange the cooked and chilled shrimp on a platter garnished with lemon wedges and fresh parsley or in individual cocktail glasses. Place a small bowl of cocktail sauce in the center for sharing or provide individual ramekins for dipping.
Oyster Bar: Arrange the raw oysters on ice on a platter and serve them with lemon wedges and a selection of cocktail sauce (guests can place a dollop of it on top of the oyster), mignonette sauce, and hot sauce.
Seafood Platter:  You can arrange a seafood platter with a variety of shellfish such as shrimp, oysters, clams, and crab legs. Distribute the cocktail sauce into individual ramekins around the platter.
Seafood Appetizers: Cocktail sauce is also a great dipping sauce for other seafood appetizers like crab cakes, fish fingers, fried breaded shrimp, and calamari.  Create a platter with a variety of these options along with a bowl or individual ramekins of cocktail sauce.
In addition to these classic ways of serving cocktail sauce, you can also get creative and use it a variety of ways.  Here are just a few ideas:  As a sauce for burgers, hot dogs, and fish tacos, as a dip for mozzarella sticks, onion rings, and egg rolls, mixed into meatloaf or meatballs, omelets, or added to deviled eggs.
Cocktail Sauce Recipe
This sauce takes just 5 minutes to make and will keep for up to a week.
Simply place all of the ingredients in a small bowl and stir until combined.  You can use it immediately but for best flavor results let it chill in the fridge for at least a couple of hours before serving.
To avoid cross-contamination, remember to discard any leftover sauce that has come in contact with seafood!
That's it!  Store your homemade cocktail sauce in an airtight container in the fridge where it will keep for up to a week.
Enjoy!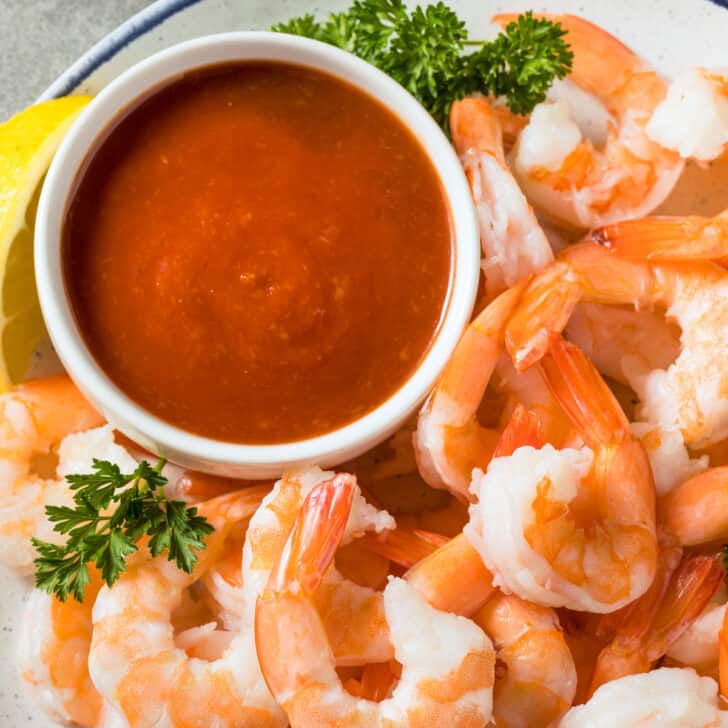 For more delicious homemade sauces and condiments be sure to try our:
Cocktail Sauce
A delicious Cocktail Sauce that is the perfect accompaniment to your shrimp, oysters, clams, crab legs, crab cakes and more!
Ingredients
1/2

cup

ketchup

1

tablespoon

prepared horseradish

(not "horseradish sauce")

2

teaspoons

Worcestershire sauce

1

teaspoon

lemon juice

1/4

teaspoon

onion powder

1/4

teaspoon

smoked paprika

, optional for a hint of smokiness

1/8

teaspoon

garlic powder

Tabasco sauce

, optional for heat
Instructions
Place all of the ingredients in a small bowl and stir until combined. For the best flavor, chill for at least an hour before serving. Can be made well in advance.

Store in an airtight container in the fridge where it will keep for up to a week.
Nutrition
Serving:
2
tablespoons
|
Calories:
36
kcal
|
Carbohydrates:
9
g
|
Protein:
0.4
g
|
Fat:
0.1
g
|
Saturated Fat:
0.01
g
|
Polyunsaturated Fat:
0.04
g
|
Monounsaturated Fat:
0.01
g
|
Sodium:
327
mg
|
Potassium:
124
mg
|
Fiber:
0.3
g
|
Sugar:
7
g
|
Vitamin A:
218
IU
|
Vitamin C:
3
mg
|
Calcium:
11
mg
|
Iron:
0.3
mg