The classic accompaniment to oysters on the half shell, this Mignonette Sauce recipe features wine vinegar, shallots, and black pepper.  Feel free to change things up by using any combination of red wine vinegar, white wine vinegar, sherry vinegar, or champagne vinegar.
Here in the Chesapeake Bay region oysters are a big deal.  Historically it's been one of the largest producers in the U.S. and you can find oyster bars throughout the region serving the freshest oysters on the half shell.
One of the most classic and popular ways to serve oysters is on a bed of crushed ice with lemon wedges and mignonette sauce.
What is Mignonette Sauce?
Mignonette sauce is a simple dipping sauce consisting of vinegar, minced shallots, and coarsely ground black pepper.  Though the name is French, it originated in New York at the Sherry-Netherland Hotel on 5th Avenue.   It was first made in the 1930's by chef Théophile Kieffer who prepared it to be served with oysters on the half shell.  It has remained a classic American condiment ever since.
This sauce can be prepared with a variety vinegars, though classically with either red wine vinegar or white wine vinegar, but it  always includes shallots and black pepper.  Other variations include some red or white wine in addition to the vinegar.
How To Serve Mignonette Sauce
Once the ingredients are combined, this sauce should ideally be chilled for at least two days, preferably three, to allow for the best flavor development.  To serve, this sauce is usually placed in a small bowl with a small spoon on or next to the platter of oysters and guests serve themselves by scooping a small amount of the sauce, a 1/4 teaspoon or so, onto each oyster before eating.
How Long Does Mignonette Sauce Keep?
Stored in an airtight jar in the refrigerator, mignonette sauce will keep for 3-4 weeks.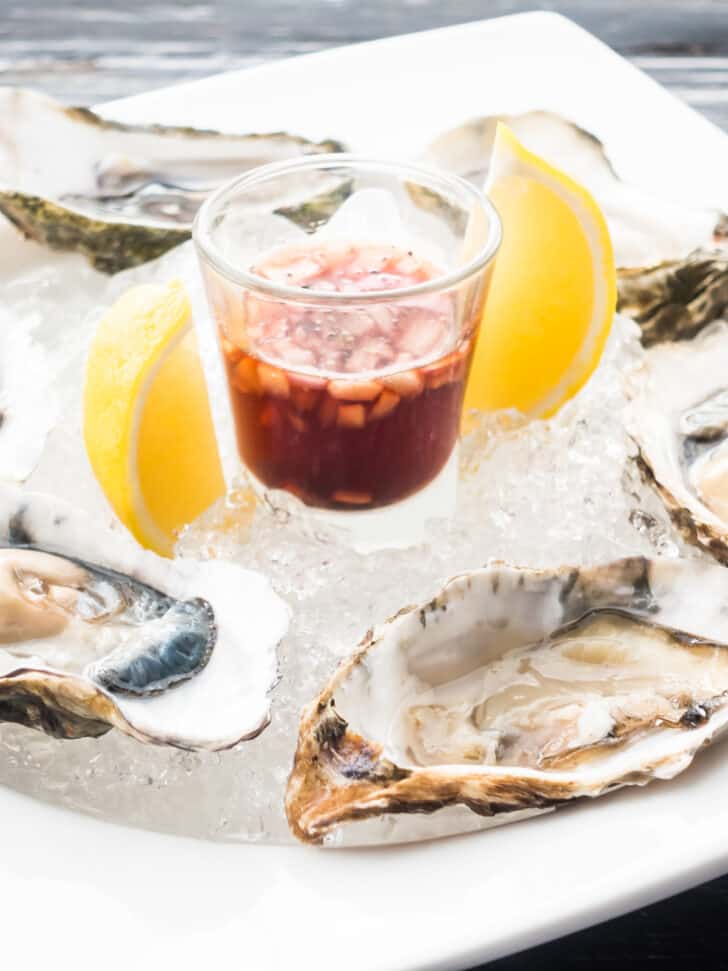 Mignonette Sauce Recipe
Let's get started!
To make mignonette sauce simply combine the ingredients in a sealable glass jar and chill in the refrigerator for 2-3 days before serving to allow the flavors to develop.  If you can't wait that long wait at least 4 hours, but for the best flavor give it two full days.
Stored in the fridge in an airtight jar this sauce will keep for 3-4 weeks.
Enjoy!
For more delicious homemade sauces be sure to try our: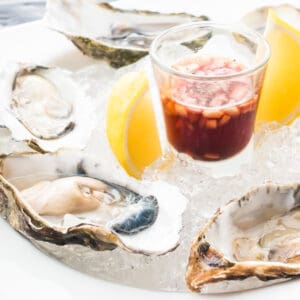 Mignonette Sauce
The classic accompaniment to oysters on the half shell, Mignonette is a simple sauce of vinegar, shallots and pepper.
Ingredients
1/2

cup

red wine vinegar

(or any combination of red wine vinegar, white wine vinegar, sherry vinegar, or champagne vinegar)

2

tablespoons

finely minced shallot

(about 1 shallot)

1/4

teaspoon

freshly ground coarse black pepper

*variations: reduce red wine vinegar to 3 tablespoons and add 1/3 cup of dry red wine OR 3 tablespoons white wine vinegar and 1/3 cup dry white wine
Nutrition
Calories:
3
kcal
|
Carbohydrates:
0.3
g
|
Protein:
0.1
g
|
Sodium:
1
mg
|
Potassium:
10
mg
|
Fiber:
0.1
g
|
Sugar:
0.1
g
|
Vitamin A:
0.3
IU
|
Vitamin C:
0.2
mg
|
Calcium:
1
mg
|
Iron:
0.1
mg