An authentic German Bethmännchen recipe!  Firm on the outside, chewy on the inside, and packed with marzipan, these traditional German marzipan Christmas cookies are absolutely delicious!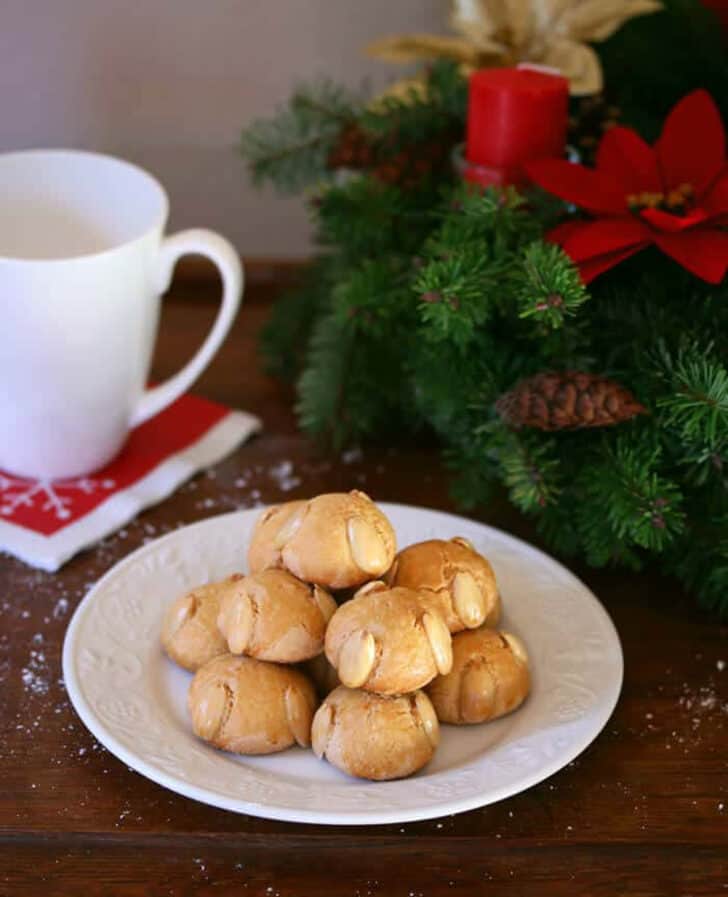 What are Bethmännchen?
One of the most famous and beloved of all German Christmas cookies, Bethmännchen have been a favorite for almost 200 years.  With a firm exterior and delightfully chewy interior, these almond-studded marzipan cookies will win your heart – or at least your palate.  No German Christmas is complete without them.
And if you're thinking, *groan* "Marzipan is hard to find and it's so expensive!", don't worry – I've got you fully covered with a recipe for homemade marzipan that is SO easy you'll never buy it again!
Today's recipe originated in the city of Frankfurt, two hours north of where I grew up in Stuttgart.   Let me tell you a little story of long ago.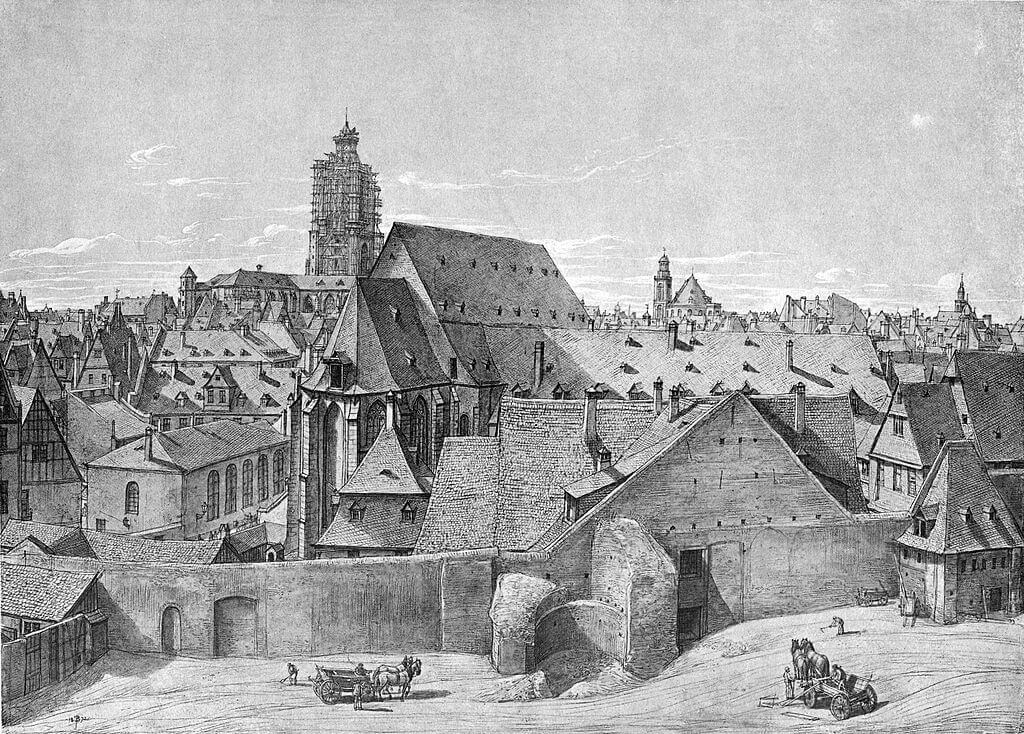 Once upon a time in the village of Frankfurt, Germany lived the affluent Bethmann family.  They had hired a Parisian pastry chef, Jean Jacques Gautenier, who held the position of head cook in their home.  In 1838, their cook created a marzipan cookie with four almond halves decorating the sides of each cookie in honor of the family's four sons, Karl, Moritz, Alexander and Heinrich (yes, very German names), and named them Bethmännchen ("little Bethmann's").  The legend goes that Heinrich died a few years later and ever since then the cookies have been made with three almonds.  Whether factual or not, one thing is certain:  These wonderful cookies have stood the test of time for a reason and have remained unaltered for nearly two centuries.
Of course Frankfurt has changed quite a lot since 1838.  Today it's one of the most modern cities in Germany and a European financial mecca.  But many of the beautiful centuries-old structures still stand, mingled with the new.
Frankfurt is also home to one of the largest Christmas markets in Germany and the stats show that two years ago over 4.3 million tourists spent their holidays there.
Bethmännchen marzipan cookies can be found in every bakery and in many homes throughout Frankfurt during the Christmas season and are popular throughout Germany.  I grew up 2 hours south of Frankfurt in Stuttgart and every Christmas my mom and I would make these cookies.  Simple, easy, delicious.  Give them a try!
The central ingredient in Bethmännchen is marzipan.  It can be challenging to find and always comes with a hefty price tag, but you don't have to worry about that because I'll show you how to make your very own homemade marzipan that's super easy and is much cheaper!
Check out my recipe for easy homemade Marzipan.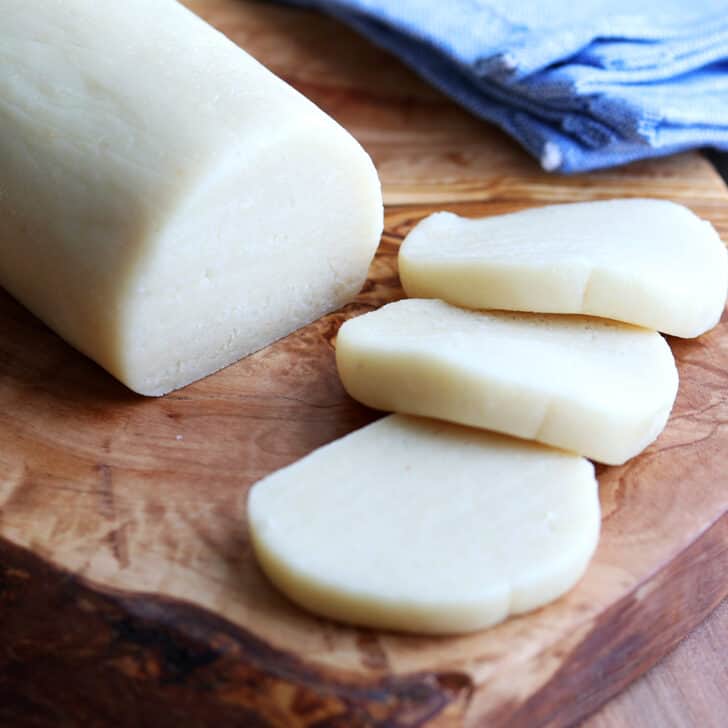 Bethmännchen Recipe
Let's get started!
How To Skin Almonds.  First we're going to blanch and skin the almonds.
In the meantime (or can be done well in advance), blanch the whole almonds.  Bring a small pot of water to a boil and add the almonds.  Boil for exactly one minute, no longer or the nuts will become soft.
Drain the nuts and rinse with cold water.
Remove the skins by squeezing the nuts – they'll slip right out!  Cut the almonds in half along their natural seam.
Okay, we're ready to proceed with the cookies.
Break up the marzipan into small pieces and place them in a mixing bowl.
Sift the powdered sugar on top of the marzipan.
Separate the egg and add the egg white to the marzipan mixture and reserve the yolk for later.
Add the ground blanched almonds, flour, and rose water.
Use your fingers to combine the ingredients.
The cookie dough will be somewhat sticky.  If it's too sticky to work with add some more ground almonds and powdered sugar.  Note:  The dough will firm up after it's been refrigerated so a little sticky is fine.
Wrap in plastic wrap and chill the dough in the fridge for at least 1 hour.
Form the dough into 3/4 to 1-inch balls and place them on a lined cookie sheet, spaced at least an inch apart.  Rub your hands with a little powdered sugar if the dough is still a little too sticky.
Evenly spaced, press three almond halves around the sides of each cookie, pointed sides up.
Brush the bethmaennchen with the egg yolk that's been mixed with 1 teaspoon water.
Preheat the oven to 350 degrees F and bake the Bethmaennchen on the middle rack for about 15 minutes until the egg wash begins to turn golden.  Transfer to a wire rack and cool completely.  Store in an airtight container.  These cookies will keep for at least 2 weeks.
Enjoy!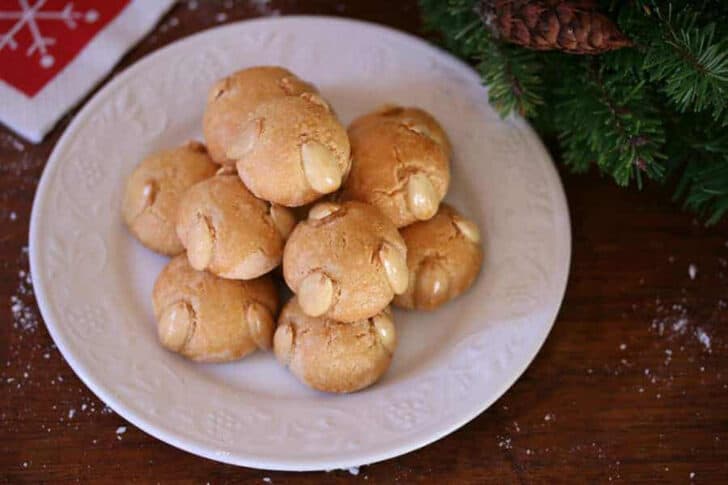 For more traditional German Christmas goodies be sure to try our: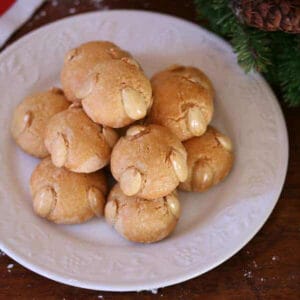 Bethmännchen (Marzipan Cookies)
Delicious centuries-old German Christmas cookies that are easy to make and taste wonderful!
Ingredients
8

oz

marzipan

, (click link for recipe) **SEE NOTE

3/4

cup

powdered sugar

3/4

cup

ground blanched almonds/almond meal

(for the sake of consistency and ensuring the almonds are dry and compact enough, I recommend using store-bought almond meal)

1/3

cup

all-purpose flour

1

medium egg white

2

teaspoons

rose water

1

medium egg yolk

, mixed with 1 teaspoon water

3/4

cup

blanched whole almonds split in half

(see post for pictured instructions on how to blanch and skin almonds)
Instructions
Break marzipan into small pieces in a mixing bowl. Sift the powdered sugar over the marzipan and add the ground almonds, flour, rose water and egg white. Use your hands to combine the ingredients in to a dough. The dough will be somewhat sticky but it will get firm after it's sat in the fridge. If too sticky, add some more ground almonds and powdered sugar.

Wrap the cookie dough in plastic wrap and refrigerate for at least an hour.

Roll the dough into small balls, no more than 1-inch in diameter. Sprinkle your hands with a little flour or powdered sugar if the dough is too sticky. Place the balls on a lined cookie sheet and press 3 almond halves evenly around each cookie, pointed side up. Brush each cookie with the egg yolk mixture and bake for about 15 minutes until the egg wash turns golden in color.

Transfer the cookies to a wire rack to cool completely. Store in an airtight container for up to several weeks.
Notes
Not all marzipan is created equal.  Some use a higher ratio of sugar to almonds which may result in your cookies deflating.  For the best results, be sure to use the homemade marzipan.  It's SUPER easy to make!
Nutrition
Calories:
78
kcal
|
Carbohydrates:
7
g
|
Protein:
2
g
|
Fat:
4
g
|
Cholesterol:
5
mg
|
Sodium:
3
mg
|
Potassium:
41
mg
|
Sugar:
5
g
|
Vitamin A:
5
IU
|
Calcium:
18
mg
|
Iron:
0.4
mg