Combining the delicious flavors of lemon, rum, raisins, almonds and butter in a wonderfully fragrant yeasted cake, look no further for a thoroughly traditional Gugelhupf recipe!  Also known as Kugelhopf, this special cake has been known and loved for literally centuries throughout Germany, France, Austria and Switzerland.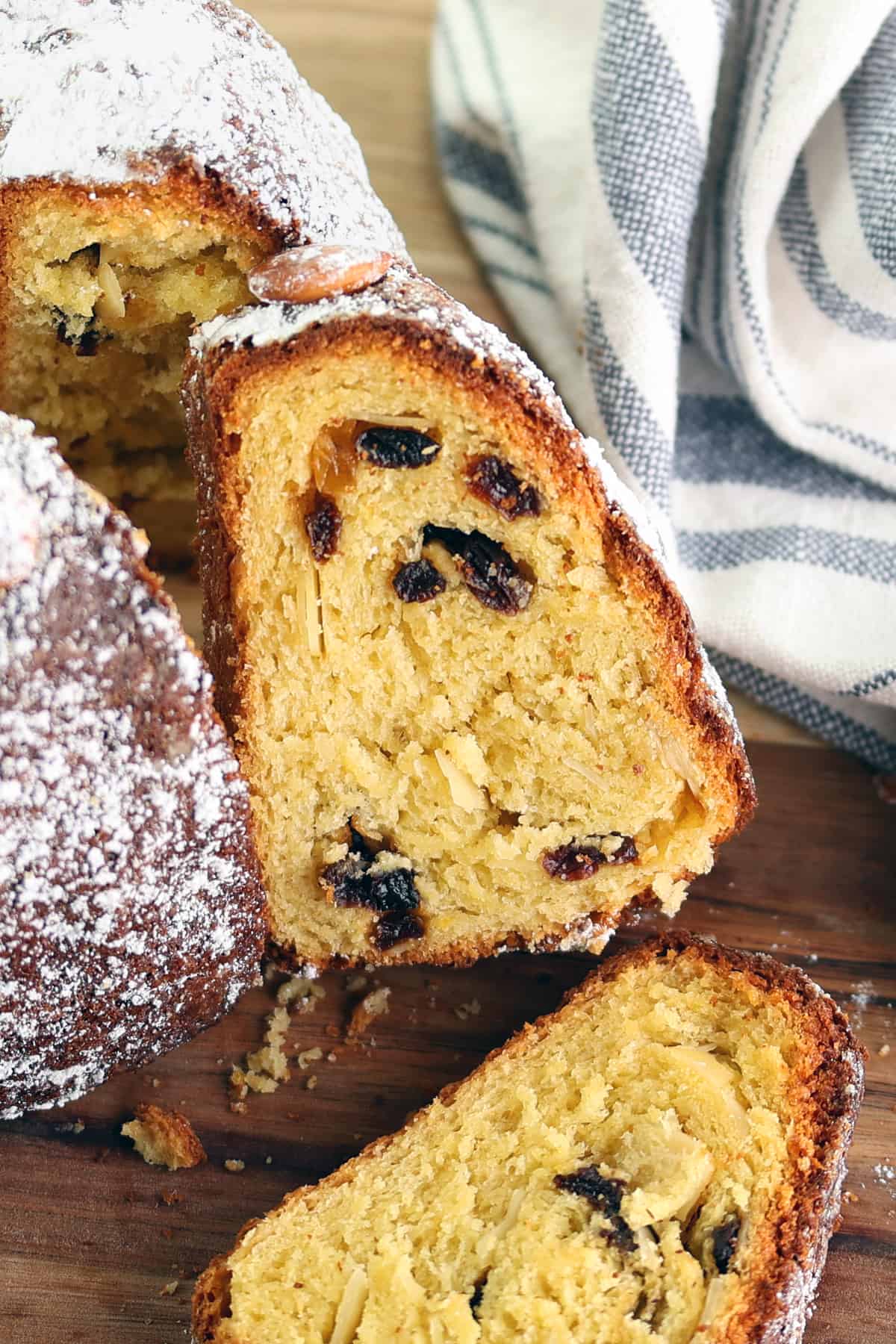 What is Gugelhupf?
Gugelhupf, also known as kugelhupf, is a yeasted cake dotted with raisins that's baked in a tall, creased, circular mold with a circular hole in the middle.  The names comes from the old German words gugel ("hood" or "bonnet") and hupf ("hop" or "jump").  It is thought that the name refers to the shape of the cake and the rising (or "jumping") action of the yeast.  It's a very old, traditional cake that is especially popular in Germany, France, Switzerland and Austria.
The definitive characteristic of the Gugelhupf is that it is made with yeast and is baked in traditional mold.
Where Did Gugelhupf Originate?
Its origins are disputed:  The Austrians, Germans and French Alsatians all claim it.   The Alsatian lines are arguably blurry though as Alsace used to be part of Germany and there is a great deal of overlap in the two cuisines.  I'm not denying its possible French origins, I'm just pointing out that the origin of Alsatian dishes can be difficult to pin down.  Further laying claim to the origin of Kugelhopf are the Austrians who assert that a Viennese baker made it in celebration of their victory over the Ottoman Turks and baked the bread in the shape of the defeated sultan's turban.  Another legend that affirms its Austrian origins says that Marie Antoinette, born in Vienna, brought the recipe with her to France when she married King Louis XVI.
What we do know is that oldest known recipe for Gugelhupf is from a cookbook called Ein new Kochbuch by chef Marx Rumpolt, the head chef to the archbishop of Mainz in Germany, published in 1581 and referred to as "hat cake".
Whatever its origins, the Kugelhupf is as popular in Germany and France as it is in Austria and there are variations of it that are enjoyed in Switzerland, Hungary, Poland, Croatia, and Bosnia-Herzegovina.
Gugelhupf is the most common name in Germany and Austria whereas in France it is more commonly called Kugelhupf or Kougelhopf.
How to Make a Traditional Gugelhupf
There is a lot of confusion out there today with many Gugelhupf/Kugelhopf recipes, even with Germany, Austria and Switzerland, calling for baking powder but those are not true Gugelhupf's, they are Bundt or pound cakes.
A traditional Gugelhupf is made with yeast and includes raisins, almonds, butter, and eggs in a very lightly sweetened dough that gets most of its sweetness from the raisins.  Some contemporary recipes call for brushing the finished Gugelhupf with a sugar glaze to make it more moist and sweeter, but a traditional Gugelhupf is simply dusted with confectioner's sugar.  A traditional Kugelhupf is intended to be on the dry side as it is a tea cake meant to be served with a hot beverage.
I collect vintage cookbooks and the oldest book I have with a Gugelhupf recipe is from the 1880's.  The oldest recipes call for generous amounts of butter and egg yolks for a rich and luxurious cake batter.  Many of them also call for heavy cream instead of milk, and lard instead of butter.  I've long been a fan of baking with lard because of the superior texture it creates; in pies the crust is flakier and in cakes it is moister.  I like to use a combination of both:  Lard imparts the best and moistest texture while butter, though it dries out baked goods, imparts the best flavor.  By using both you get the best of both worlds.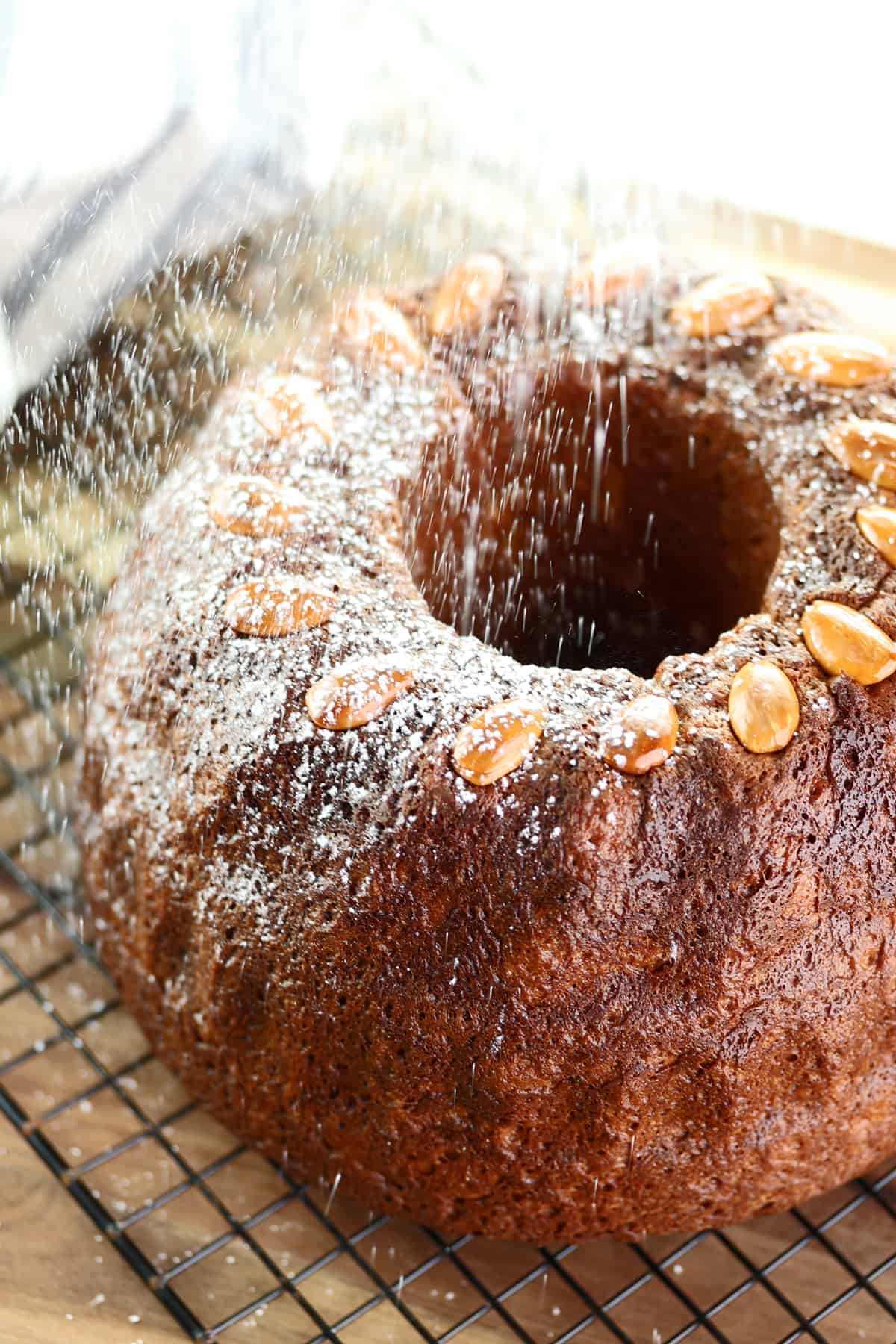 How to Serve Kugelhopf
Gugelhupf is not served after dinner like a traditional dessert, rather it is more of a tea cake that is enjoyed at tea-time.  It is traditionally enjoyed as an afternoon snack or, not being overly sweet, even at breakfast.
Cut off a thick slice and serve it with your favorite hot beverage.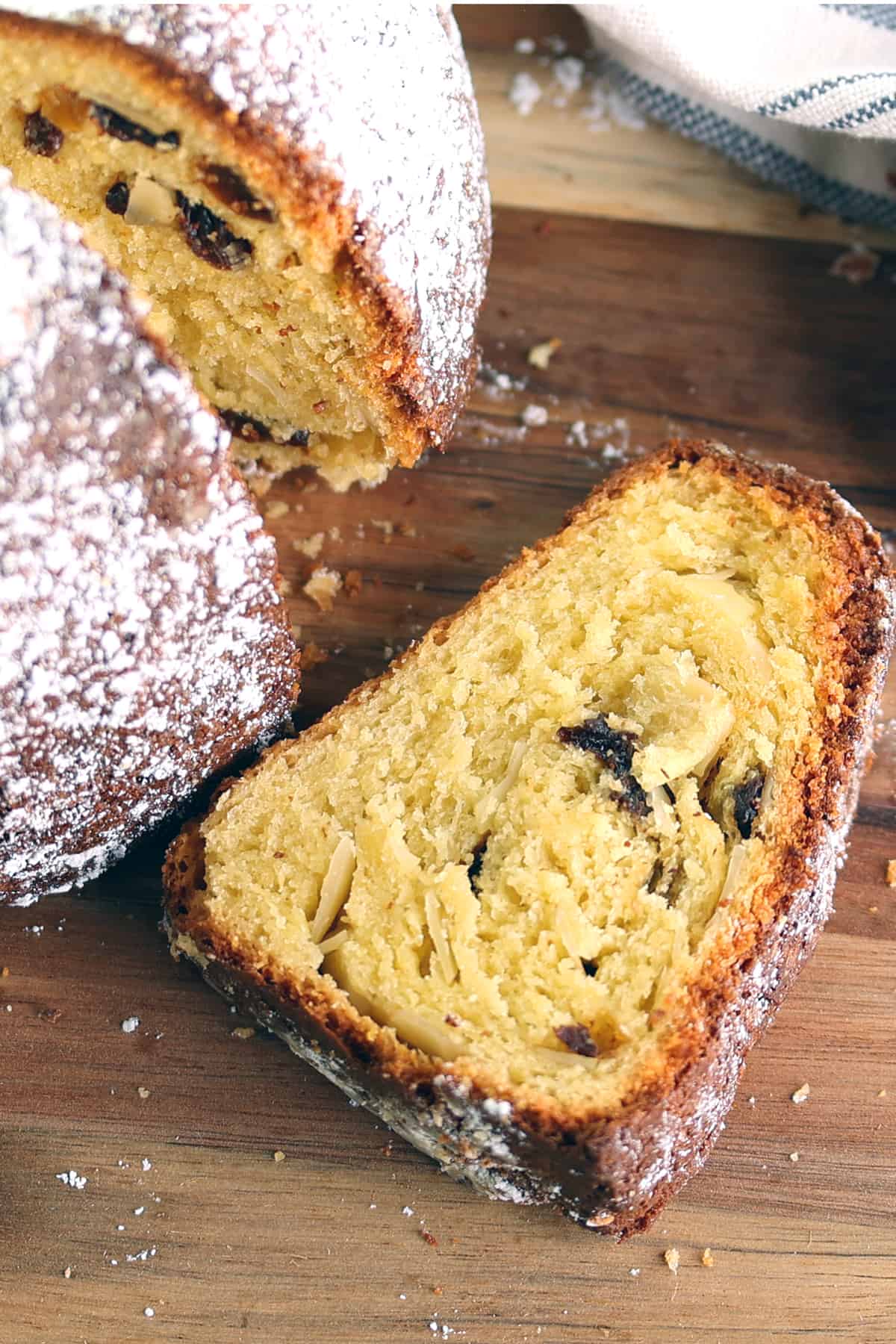 What to do with Leftover Kugelhopf 
Gugelhupf is best eaten the same day.  It's texture deteriorates after the first day but it can be repurposed in numerous delicious ways.
Toast the slices and spread with butter.
Dice it up into cubes, lay the cubes out on a baking tray and bake until crunchy to make croutons for a fruit salad.
Use it to make parfait.
Cut it into cubes and layer the cubes in glasses with pudding and cream for a Gugelhupf "trifle".
Use it to make bread pudding.
Cut it into cubes and dip it into melted chocolate for a yummy fondue.
Crumble it over fruit or berries and bake it to make a crumble.
It also makes some fabulous French toast!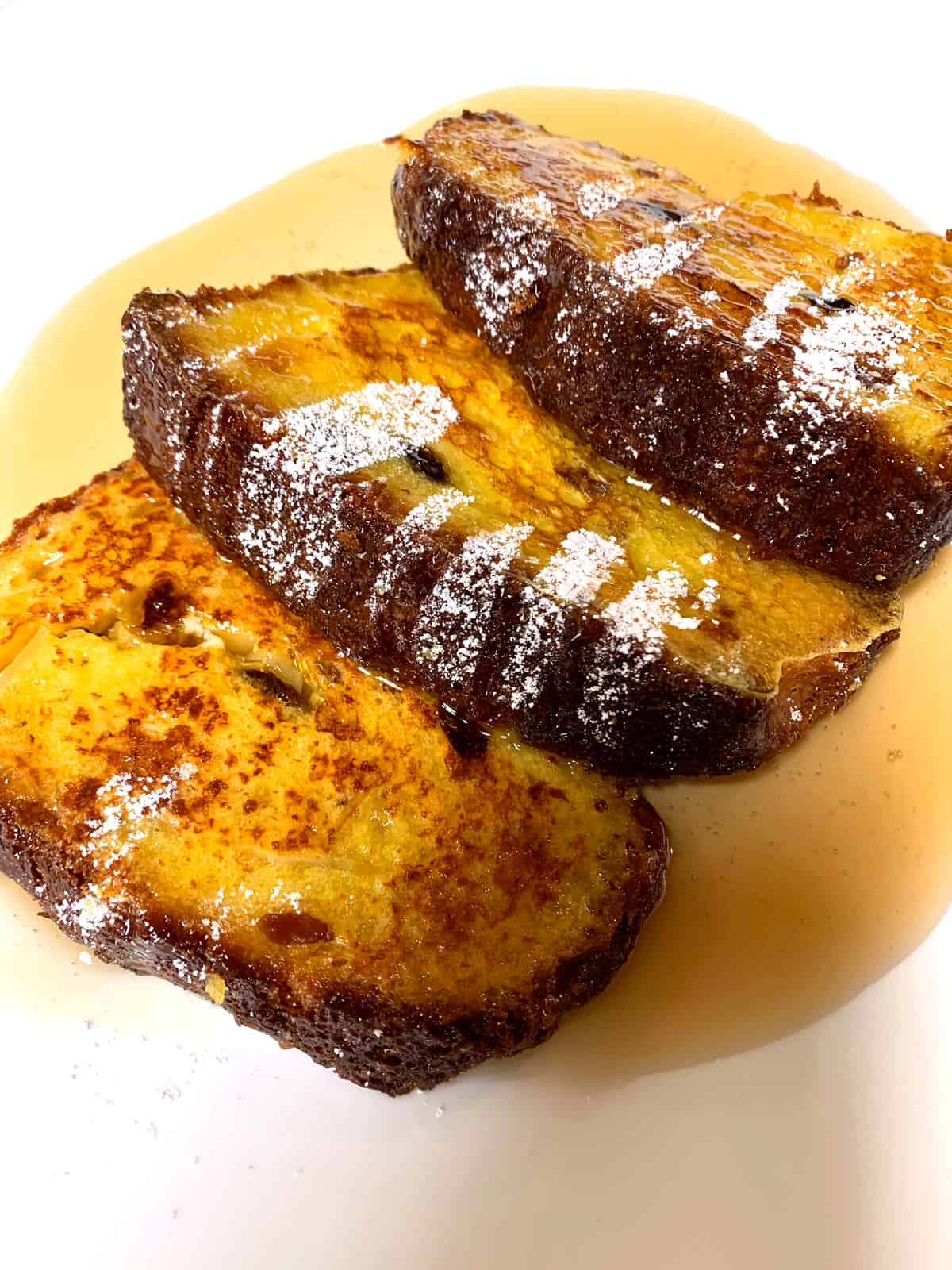 Gugelhupf Recipe
Let's get started!
Combine the raisins with the rum in a small bowl and let soak for at least an hour or overnight.
Stir the yeast and 1 tablespoon of the sugar in the lukewarm cream and let it sit for 10-15 minutes until very frothy.
Butter an 8.5 inch Kugelhopf mold.
Place a whole blanched almond in each crease at the bottom of the mold.  Alternatively, sprinkle sliced almonds on the bottom of the mold.
Place the sugar, butter and lard (if using) in the bowl of a stand mixer fitted with a paddle attachment.
Cream the sugar, butter and lard until pale and fluffy.  Add the vanilla extract and lemon zest and beat until incorporated.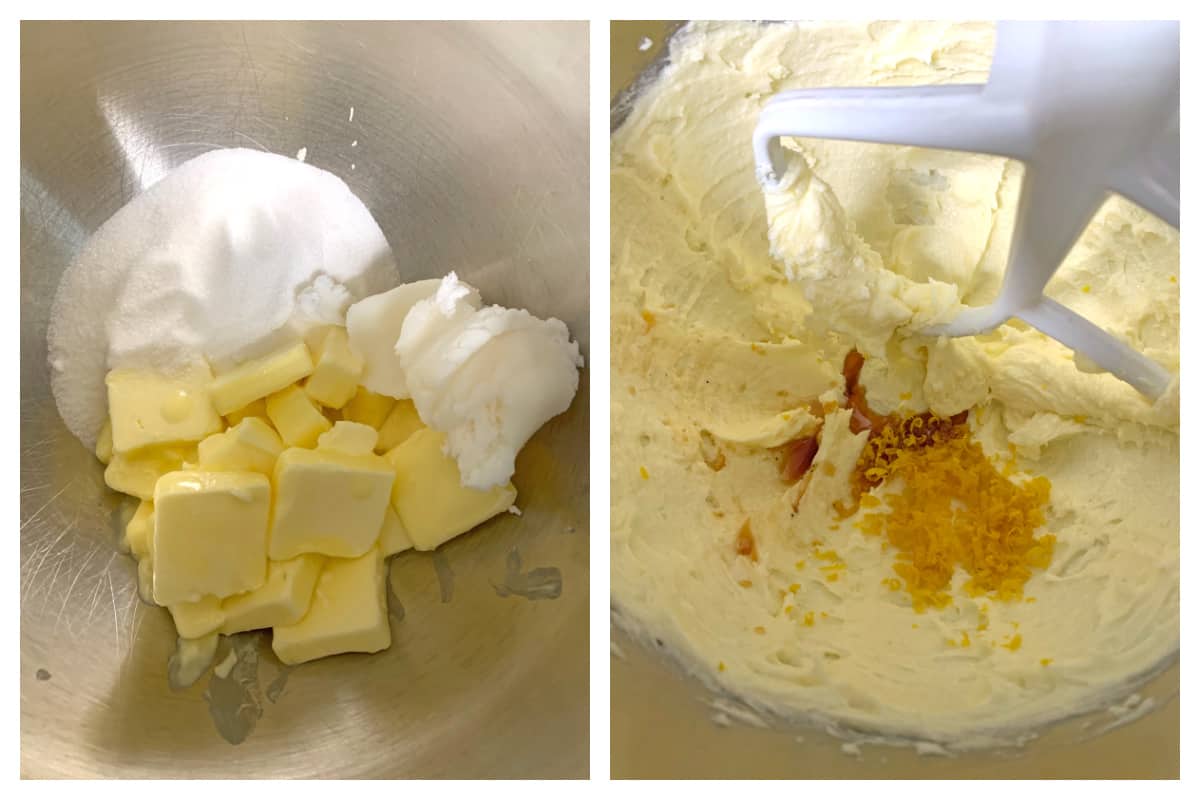 Add the eggs and beat until combined.
Add half of the flour and the yeast mixture and beat until combined.  Add the remaining halves and beat until combined.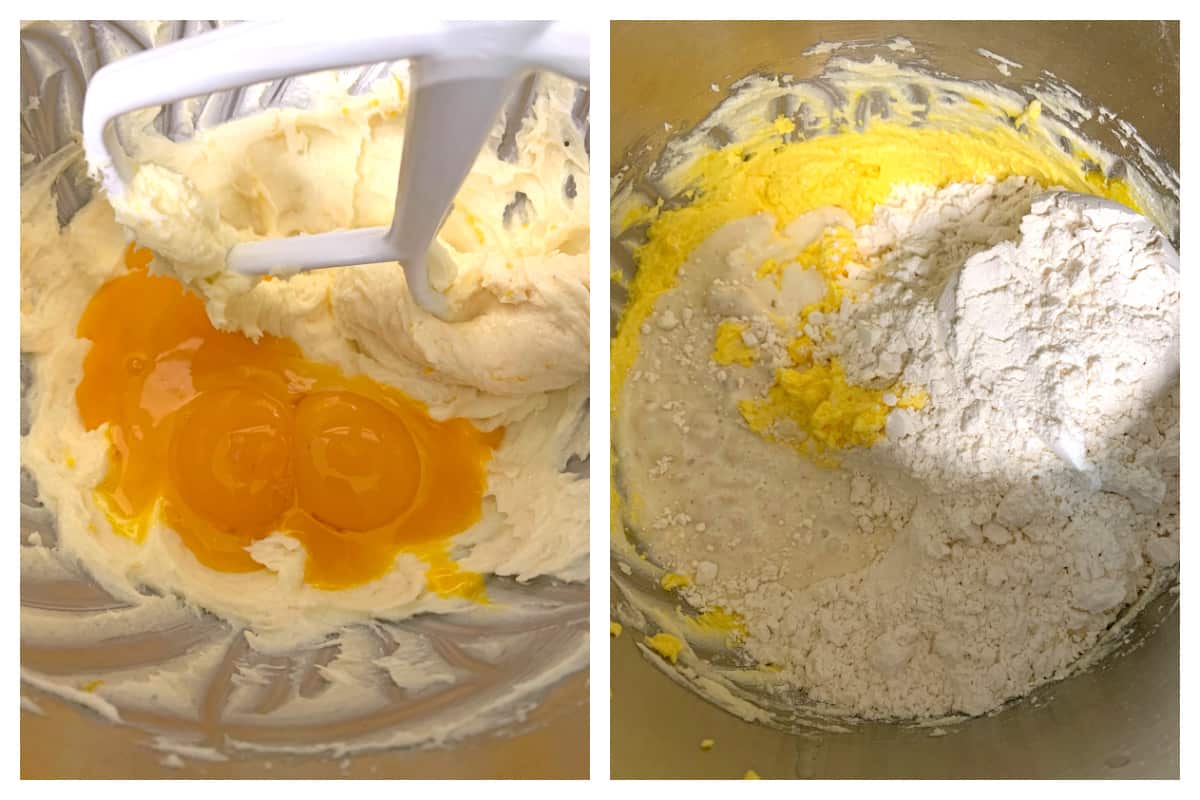 Once the mixture comes together, continue to mix the dough for 10 minutes on medium-low speed, setting "2".
Form the dough into a ball, return it to the bowl, loosely cover with plastic wrap and put it in a warm place (like a warmed oven) until doubled in size, up to 2 hours.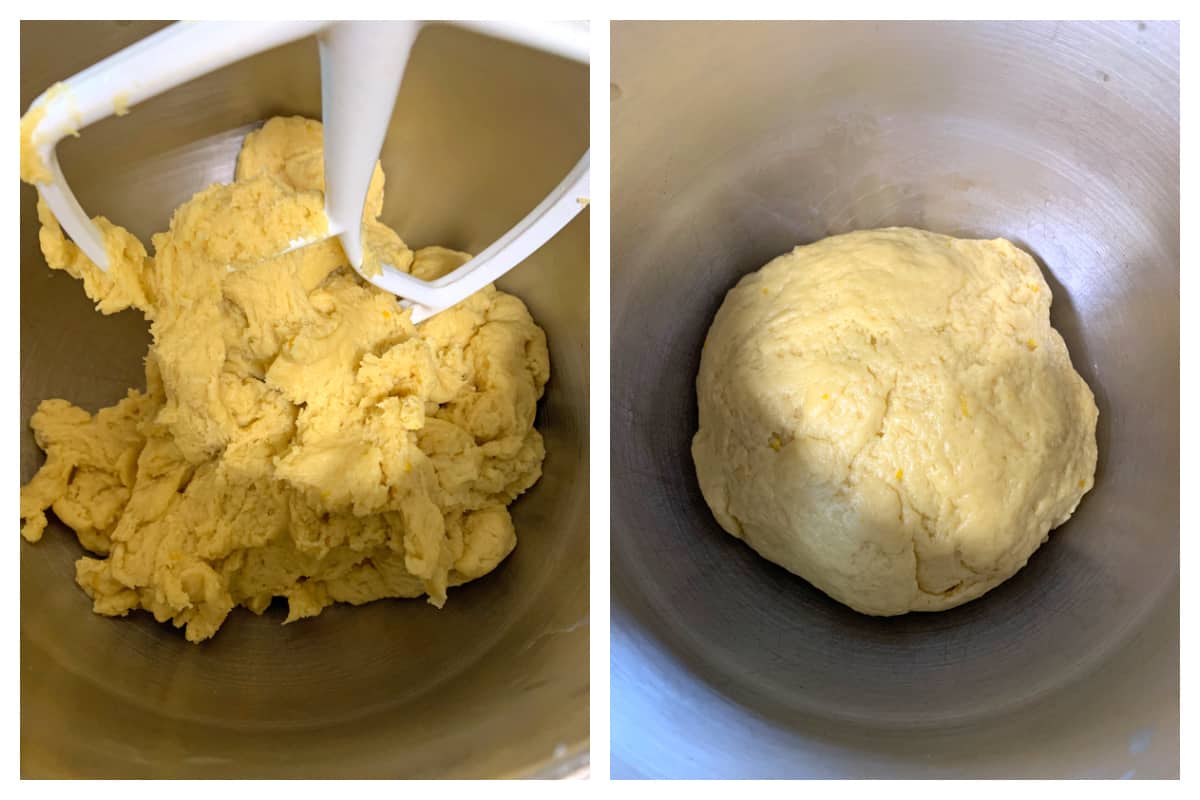 One the dough is doubled in size turn it out onto a clean, nonstick work surface.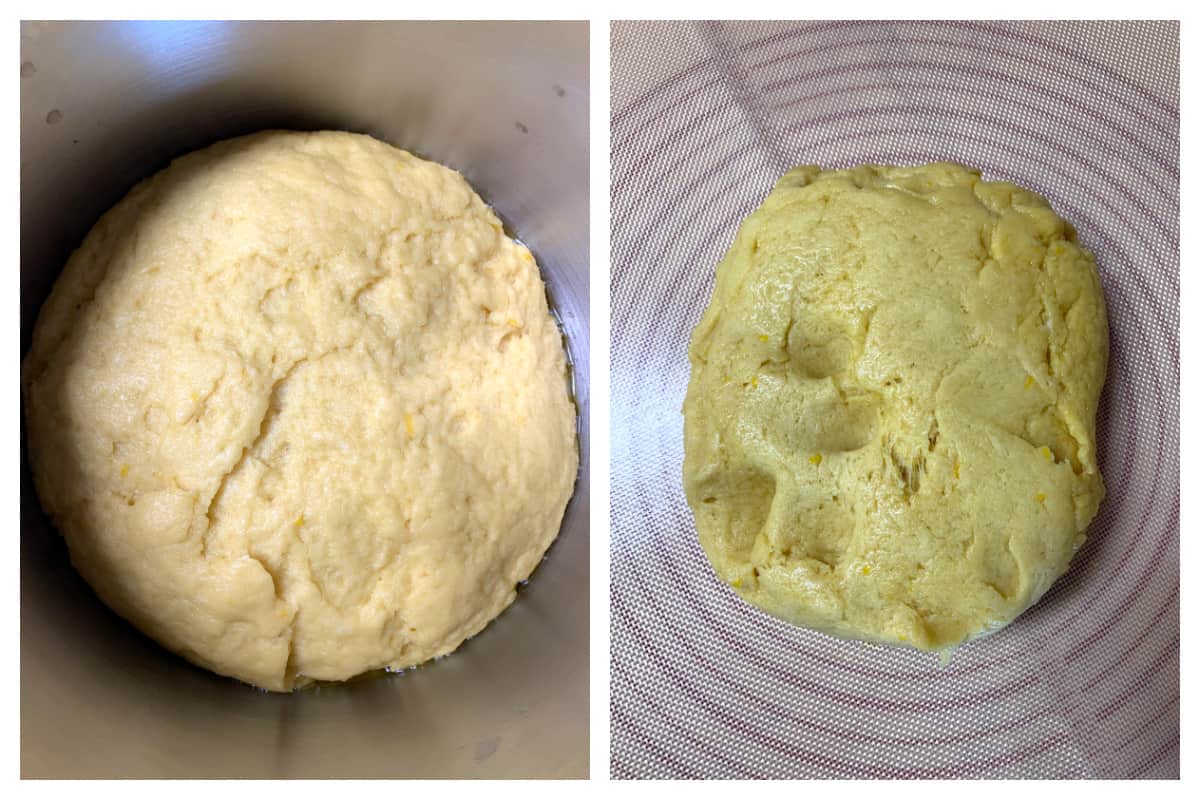 Press or roll dough out to form a rectangle that's about 1/4 inch thick.
Sprinkle the raisins and almonds over the surface of the dough.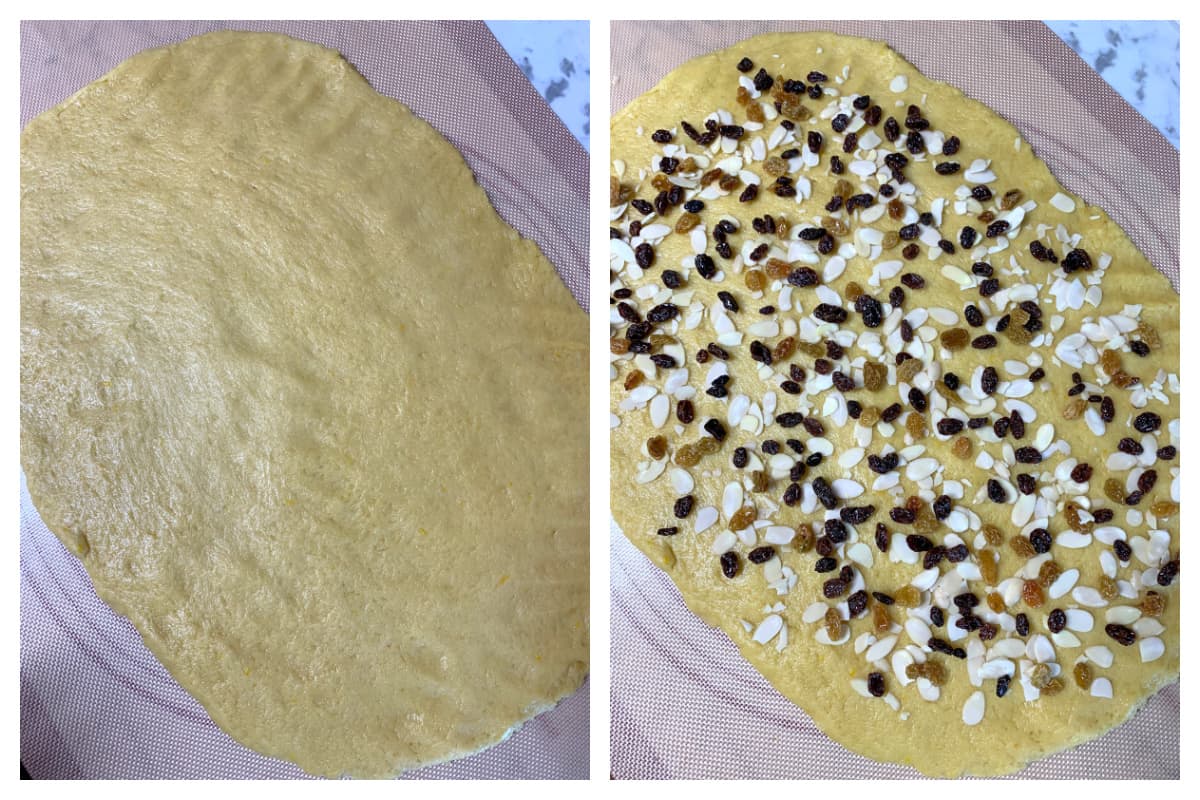 Rolling from the wide end, roll the dough up.
Bring the ends of the roll together to form a ring, pressing the ends together to seal them.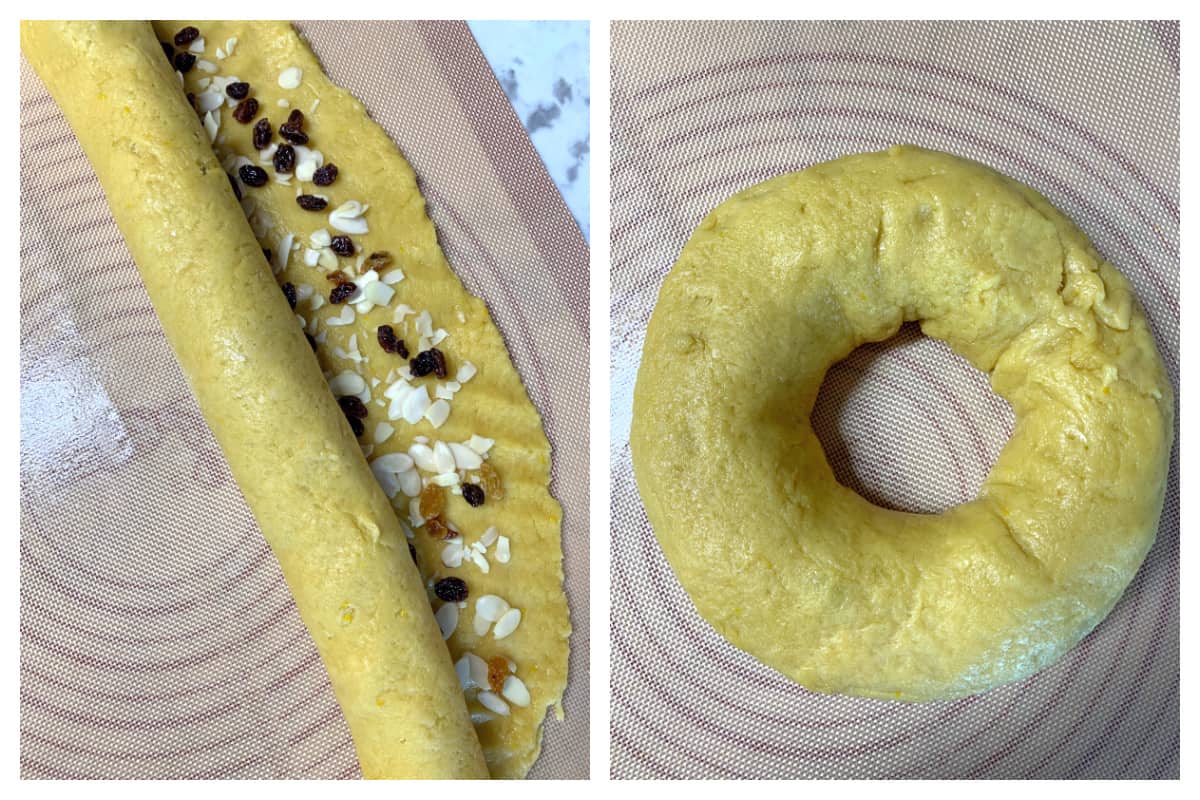 Place the ring of dough into the Gugelhupf mold and light press down to make sure it's spread out evenly in the mold.
Cover loosely with plastic wrap and put it in a warm place again (like a warmed oven) until it has risen to just barely over the top of the mold (nearly doubled in size), about another hour.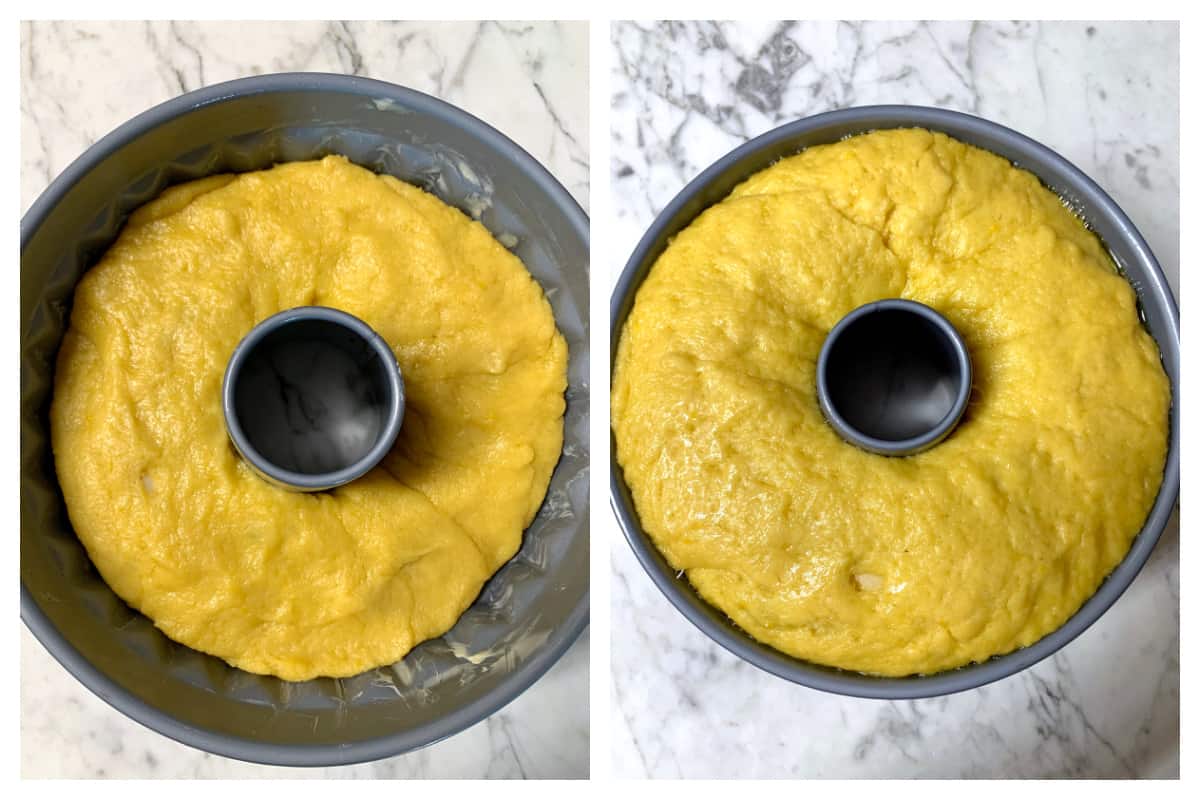 In an oven preheated to 350 F, bake the Kugelhopf until it is nicely browned an a toothpick inserted into the center comes out clean, about 30-40 minutes.
Let the cake sit in the mold for about 10 minutes after removing from the oven and then invert it onto a wire rack to cool completely.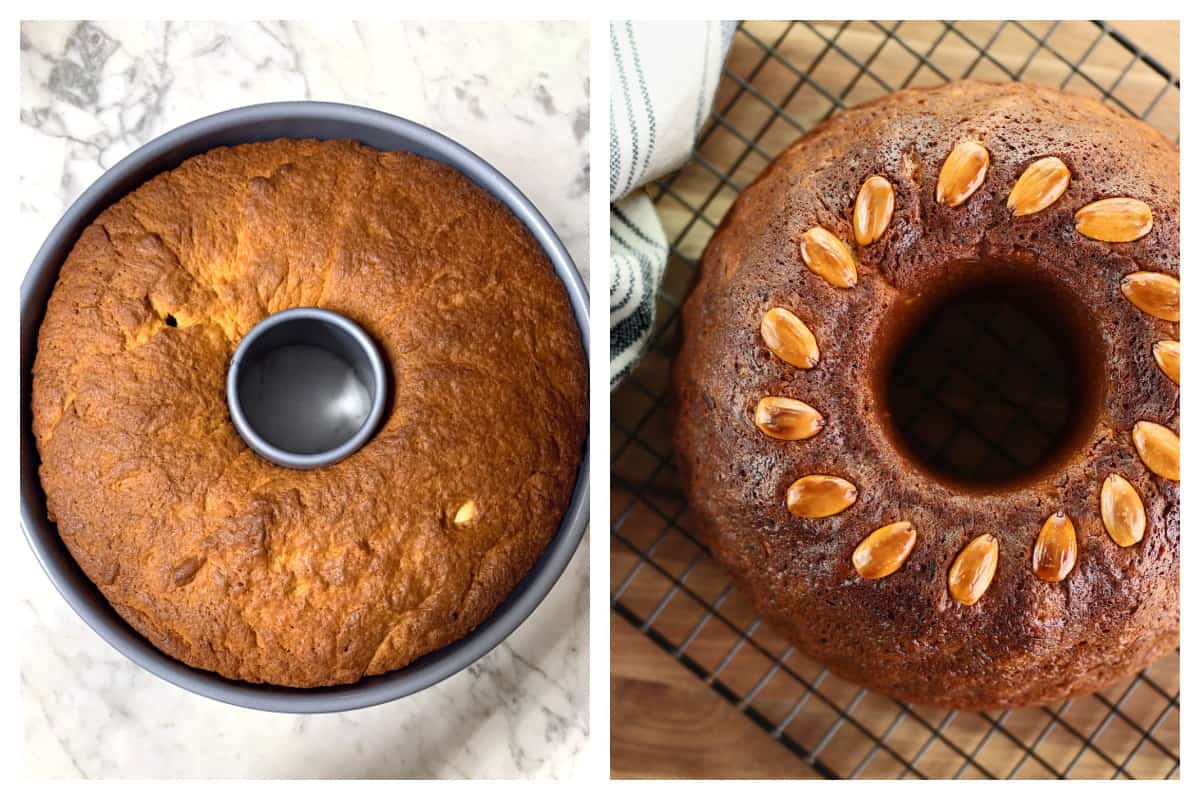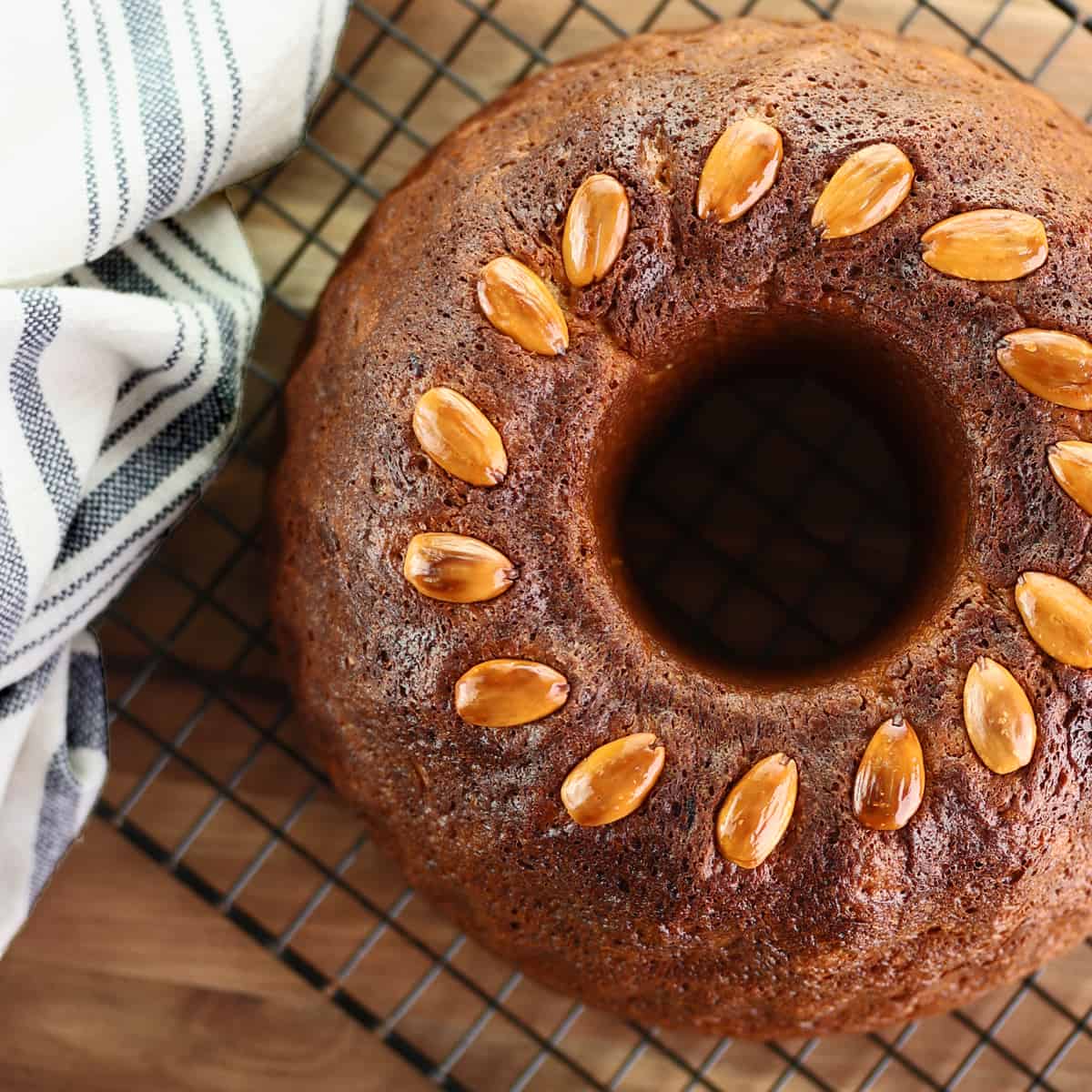 Once the cake is cool, sprinkle with powdered sugar.
Cut into slices and serve immediately.
Gugelhupf is best eaten the same day.  Wrap leftovers tightly in plastic wrap where they will keep for up to 3 days or freeze.  See suggestions above for ways to enjoy leftover Gugelhupf.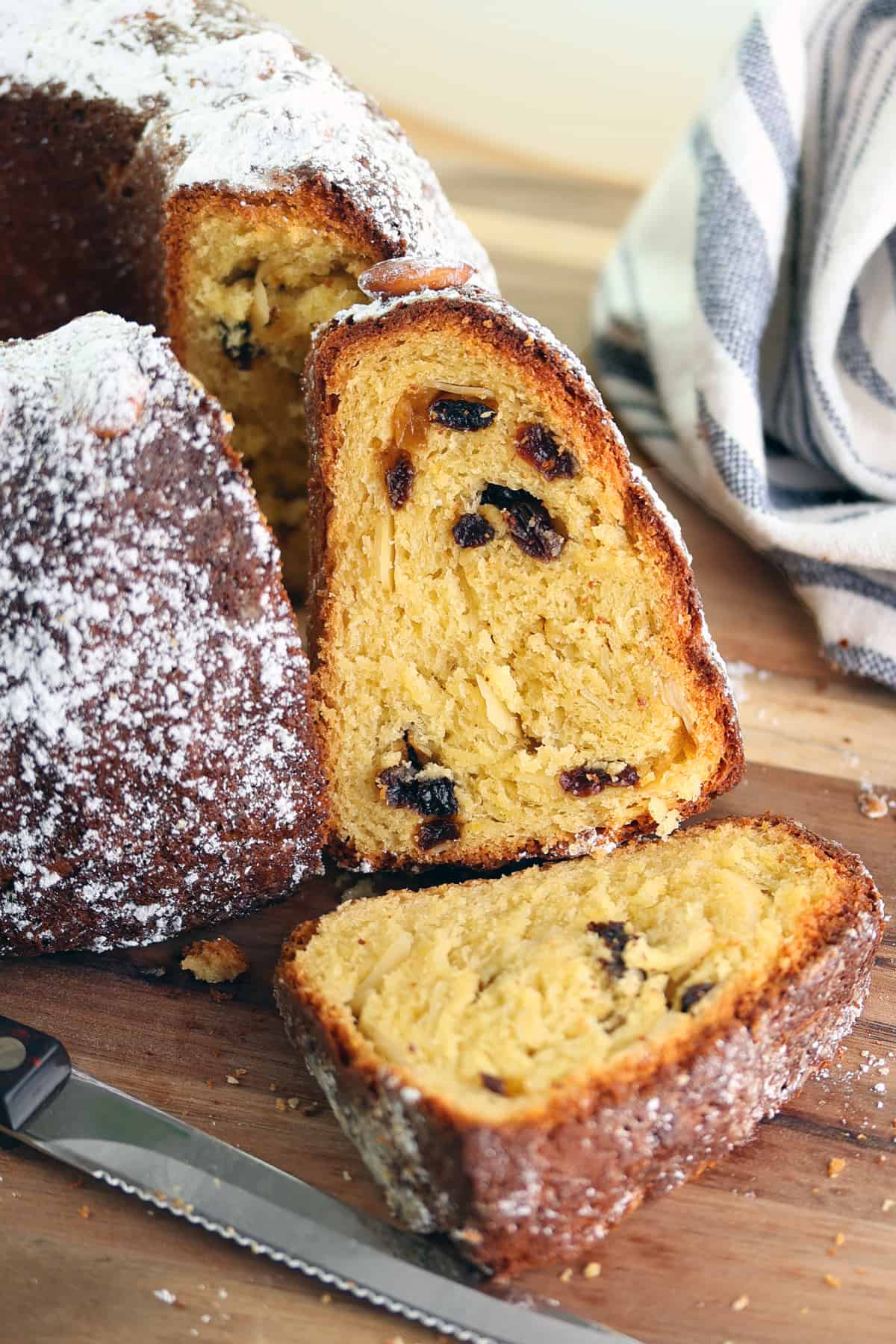 Be sure to try these other traditional goodies from Germany, France and Austria: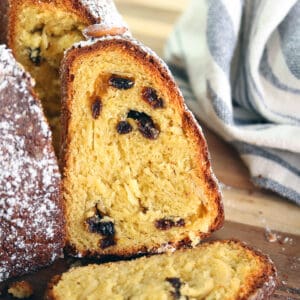 Traditional Gugelhupf (Kugelhopf)
The wonderfully fragrant and flavorful yeasted cake that has been enjoyed for centuries throughout Germany, France, Austria and Switzerland!
Ingredients
1

cup

heavy cream

, heated to lukewarm temperature (traditionally heavy cream is used for the richest results but you can substitute whole milk if preferred)

2 1/4

teaspoons

active dry yeast

1/2

cup

granulated sugar

4

cups

all-purpose flour

1/2

teaspoon

salt

2/3

cup

unsalted quality butter

, room temperature, cut into pieces

1/3

cup

lard

(traditionally used and recommended for the best texture but can substitute butter if preferred)

5

large egg yolks

, room temperature

1 1/2

teaspoons

quality pure vanilla extract

zest of one lemon

3/4

cup

combination of raisins and golden raisins

1

tablespoon

rum

1/3

cup

slivered or sliced almonds

12

whole blanched almonds

(to blanch/remove the skins, place the almonds in boiling water, let sit for one minute, drain, and squeeze the almonds between your fingers to slip the skins off)
Instructions
Butter a 8.5 inch Kugelhopf pan (8 to 9 cup capacity).

Place the raisins and rum in a small bowl, stir to combine, and let the raisins soak for at least an hour or overnight.

Place the lukewarm cream in a bowl or cup and stir in the yeast along with one tablespoon of the sugar. Let sit for 10-15 minutes until nice and frothy.

In the bowl of a stand mixer fitted with a paddle attachment, cream butter, lard (if using) and sugar until pale and fluffy.   Add lemon zest and vanilla and beat until combined.  Add egg yolks and beat until combined. 

Add half of the flour and yeast mixture and mix until combined. Add the remaining half of the flour and yeast mixture and the salt and mix until combined. Once the mixture comes together continue to knead with the paddle attachment for 10 minutes, scraping down the sides as needed.  If the mixture is too dry, add some additional egg yolk.  If it's too wet, add some additional flour.  Cover loosely with plastic wrap and put in a warm place (like a warm oven) to rise for up to two hours or until doubled in size.

Roll out onto clean non-stick work surface. Press or roll out to for a rectangle about 1/4 inch thick.  Sprinkle evenly with the raisins and almonds. Roll it up from the widest side.  Bring the ends together to form a circle, pressing the ends together, and place it into the Kugelhopf mold. Press gently down to ensure the dough is evenly spread in the pan. Cover loosely with plastic wrap and put in a warm place (like a warm oven) to rise for about another hour or until the dough has risen just barely above the mold.

In the meantime, preheat the oven to 350 F.

Bake the Gugelhupf until it is nicely browned and a toothpick inserted into the middle comes out clean, about 30-40 minutes. Let the cake sit in the pan for 10 minutes and then invert onto a wire rack to cool completely. Dust with powdered sugar.

Serve immediately. Best eaten the same day.

To store leftovers, wrap well in plastic wrap (will keep up to 3 days) or freeze. (See blog post for ideas on how to use leftover Kugelhopf.)
Nutrition
Calories:
665
kcal
|
Carbohydrates:
76
g
|
Protein:
13
g
|
Fat:
35
g
|
Saturated Fat:
18
g
|
Polyunsaturated Fat:
3
g
|
Monounsaturated Fat:
12
g
|
Trans Fat:
1
g
|
Cholesterol:
203
mg
|
Sodium:
304
mg
|
Potassium:
324
mg
|
Fiber:
5
g
|
Sugar:
13
g
|
Vitamin A:
1148
IU
|
Vitamin C:
1
mg
|
Calcium:
82
mg
|
Iron:
4
mg
Originally published on The Daring Gourmet December 11, 2021