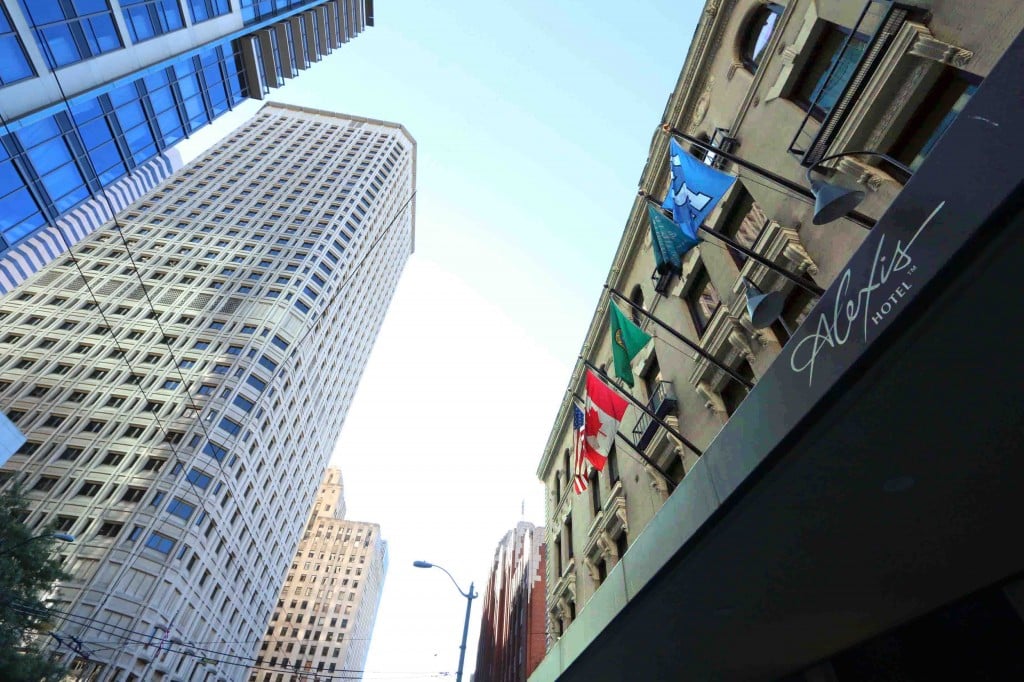 All pictures taken by The Daring Gourmet.  (Exceptions:  The two bedroom photos courtesy Alexis Hotel)
Location!  Location!  Location!  We've all seen those words slapped onto real estate flyers but they're especially applicable here.
Smack dab in the heart of Seattle, Alexis Hotel is location à la prime.  Within walking distance you can enjoy Seattle's beautiful waterfront with the Seattle Aquarium, the Seattle Great Wheel (one of the largest Ferris wheels in America), and shops and restaurants galore.  A few blocks the other direction you can take a stroll through Pike Place Market, visit Pioneer Square, or step just across the street from the hotel to one of our favorite escapes:  Benaroya Hall and it's world famous symphony.  For location you can't beat Alexis Hotel.
And as for the hotel itself, Alexis is truly one-of-a-kind.  My husband and I had the recent pleasure of staying there.  Let me tell you about our experience and take you on a virtual tour.
Not only is the location fantastic, but Alexis goes out if its way to take care of your needs.  Some of the features you'll enjoy here:  Valet parking, complimentary high-speed Wi-Fi, 24-hour onsite fitness center with a private steam room (reserve it at the front desk and it's all yours), full-service spa, business center and A+ concierge services.  There is also a complimentary wine hour every evening from 5-6pm and a coffee and tea station every morning.  Want to ditch the car but stay off your feet?  You can borrow one of their city bikes.  Complimentary of course.  Don't want to leave your pet at home?  Bring them along.  This is a pet-friendly hotel without fees or size restrictions.  Bringing your little ones along?  Check out the kid-friendly features you'll have access to.
A luxury 4-star boutique Kimpton hotel with a collection of unique signature suites, Alexis Hotel caters to the "creative class."
Let's take a look.
Enter the lobby.  Ultra chic with some vintage accents and a touch of the eccentric, Alexis Hotel is full of unexpected combinations.  In a word:  Eclectic.  And that holds especially true for the combination of the hotel and its restaurant (more on that later).  Alexis is bold, lavish, confident, and these traits are apparent throughout every step of the hotel.  It makes its statements without excuse or the need for explanation and its blending of contradictions works.  It's a modern haven inside a historic landmark and this blending pays homage to the best of both worlds.
I was immediately drawn to the coffee tables in the lobby.  Both display baskets of green apples so perfect and shiny that we wondered at first if they were fake.  But what really caught my eye was the tray of watercolors and brushes.  Next to the paint is a stack of blank Alexis Hotel postcards.  Absolutely brilliant.
On the coffee table at the opposite end of the lobby is a rustic, wooden checkers board.  The vintage touch is perfect.
At one end of the lobby is hallway with a baby grand piano and grand staircase leading down to another entrance to the hotel.
At the other end of the lobby you'll round the corner to the Art Walk, a hallway displaying original works by local artists and all great conversation starters.  Curated by the curator of the Seattle Art Museum, which is just two blocks from the hotel, the exhibitions change quarterly and feature a variety of mediums.  The art is all for sale and 100% of the sales goes back to the artists.
Down the hall from the lobby is the Bookstore Bar & Cafe with lots of wood, copies of old hardbacks, and a entire wall stacked with whiskey.  The contrast between the hotel and the restaurant hits you like a slap in the face –  it's jolting.  And riveting.
Stepping in from a lavish atmosphere of standing lamps draped with strings of crystal beads, swoopy carpets, modern art and ultra chic decor into this woody, booked and boozy restaurant…they're two completely different worlds slammed together.  It's like Sunset Boulevard meets Indiana Jones.  And it works.
We'll revisit the Bookstore Bar & Cafe in the morning.
We headed up to our room and were greeted with some welcoming refreshments, including a plate of fresh berries and grapes, crostini, artisan cheese, salami, and honey.
The room boasts tall ceilings and almost cathedral high windows.  It has an eye-catching combination of plush velvet pillows and a love seat, dark leather chair, and a chic chrome metal cube in the center of the room serving as the table.  Above the love seat, four Rorschach ink blots adorn the room, beckoning you to test your wildest imaginations against societal norms.  Todd and I compared interpretations and looked them up online:  Neither of our responses fell within the 80% most common responses.  C'mon now, doesn't the one on the top right look like a fox or pelvis to you??  I'll let you decide our diagnosis.
At Alexis Hotel you can enjoy 24-hour in-room dining, use the in-room yoga mats (if only I were that dedicated), dabble in the gourmet local treats from the minibar, and lounge in their signature animal print bath robes.  (We did.  We laughed.  And no, you cannot see the photos.)
The bathroom is nice and spacious.  I liked the pump bottles in the shower over the traditional tiny bottles that require some fumbling to screw open and squeeze out.  If there's anything you forget to bring with you, Alexis has you covered.
After freshening up a bit we stepped out for a while to grab a bite to eat.  We wanted to spend some time enjoying the city sights by night and still have time to come back to the hotel to relax, so we swung by Dick's and grabbed some burgers, fries and milkshakes to eat in our parked car overlooking the city.
Hands down, Seattle has one of the most beautiful skylines of any city.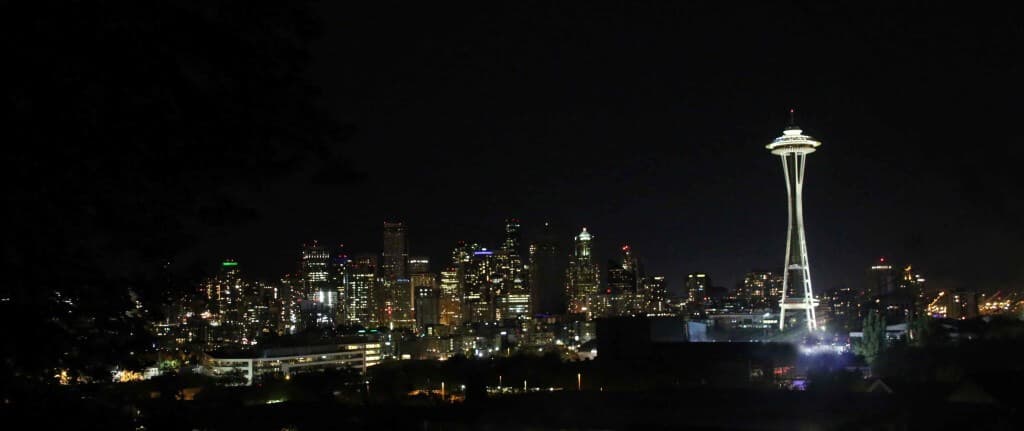 We arrived back at the hotel ready for a good night's sleep without any interruptions or super early awakenings on the part of our 2 and 4 year olds.
The bed was exquisite.  A sumptuous silence enveloped our room and we sunk comfortably into the plush pillows and luxurious Frette linens.  We slept soundly until the funniest thing happened (though not so funny at the moment).   Sometime around 2 am we both awoke to the sound of a man's voice in the hallway.  Our eyes grew wide, we looked at each other in alarm, bolted out of bed and ran towards the door to check on our kids.  We then stopped and simultaneously said,  "We're not at home!"  So we climbed back into bed and fell asleep.
The next morning we opened the drapes and enjoyed a fabulous view of the Puget Sound, Olympic Mountains and the Seattle Great Wheel.

We got ready and headed back down to the Bookstore Bar & Cafe for breakfast.  We grabbed a table next to the window across from the bar and slid our chairs up to a glass of fresh orange juice while we perused the menu.  The seating offers some great views of the city life outside and outdoor seating is also available.
We were still fascinated by the stark juxtaposition of two contrasting styles and it occurred to me, if the hotel portion represents Woman, the Bookstore Bar & Cafe perfectly represents her counterpart, Man.  Rugged but manicured, stoic yet intimate, gruff yet welcoming, and thoroughly masculine.  It was great.
Todd read the papers while we waited for our food and I did a little more perusing.  What of the "Bookstore" portion of the restaurant's name?  Simple.  It's also a bookstore.  See all the books everywhere?  They're all for sale.  5 bucks a piece.  And of course you can read them at the table as long as you want for free.  Love it.
The service was friendly and food was served promptly.   I ordered something light and relatively low cal (penance for last night's fast food indulgence) and enjoyed the Fines Herbes Omelet with Arugula and Chevre Salad and Toast.  The peppery arugula salad was a nice touch for breakfast and I wished there was more of it because it was wonderful.  While I savored my greens Todd devoured his Buttermilk Waffle with Housemade Labneh, Toasted Hazelnuts and Caramelized Honey (his high metabolism doesn't require penance).  We were impressed that the Bookstore Bar & Cafe also makes their own pickles and sausage.  To round out our breakfast we enjoyed a Fresh Fruit Plate.
After breakfast we headed back upstairs to get our things ready.  We took a final glance at the terrific view from our window, said goodbye to the friendly hotel staff, and headed back home with lots of great conversation about our experience.
For a luxury hotel in a prime downtown location with top service and unforgettable style, we recommend "Alexis Hotel:  A Work of Art."
For more information, visit their website:  Alexis Hotel.
Click HERE to view Alexis Hotel's current package deals.
For more information on Bookstore Cafe & Bar, click HERE.
1007 1st Ave
Seattle, WA 98104
(206) 624-4844
Disclosure:  Alexis Hotel hosted our overnight stay and breakfast.  As always, all opinions are 100% my own.