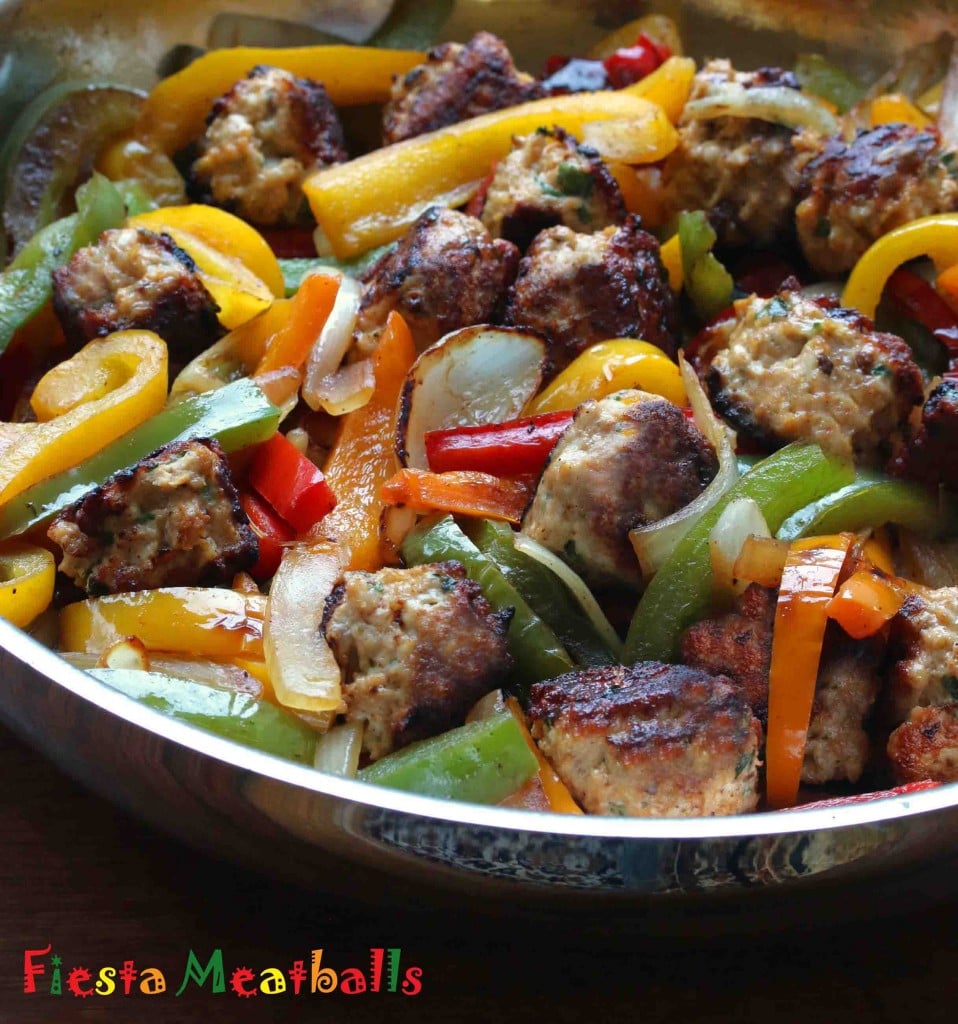 Mexican Fiesta Meatballs.  Vibrantly colorful and boldly flavorful with a touch of kick…let's get this party started!
Another impromptu creation.  I seriously had about 8 bell peppers stuffed in my two crisper drawers in the fridge screaming to be used.  That's what happens when I find a smoking deal on bell peppers – who can resist 2 for $1?  Exactly.  So you get 8.  But I hadn't had a chance to use them yet and they were ripe for using.  So I pulled them out of the crispers, stacked them on the kitchen counter, stepped back and took a look…went to the fridge, opened the door, looked inside…of the various items in the fridge,the first one that stood out to me was a package of ground chicken.  Bell peppers, ground chicken…what would you do with them?  Well the idea that came to my mind was Mexican inspired meatballs and everything fell into place from there.
It's always fun creating recipes on a whim based strictly on what you have on hand.  It's also a smart way to save money.  Think about it. How often do you go to the grocery store to get more food when you already have a ton at home that you haven't used yet?  I periodically make an inventory of what I have on hand and try to meal plan incorporating those items before I go out and buy more.  It's a fun way to challenge your cooking skills and broaden your culinary imagination.  And it's just plain good household organization sense.
These Mexican Fiesta Meatballs are packed full of flavor!  They're served with some simple sauteed bell peppers and onions that complement, rather than dominate, the flavor of the meatballs.  On it's own, it's a low fat, low calorie, low carb meal that will leave your taste buds and tummy very satisfied.  You can also serve it with seasoned rice for a nice accompaniment to balance out the meal.
And I can just see the question at the tip of your tongue and the answer is "yes":  You can serve mini meatball versions on toothpicks with some salsa as dipping sauce for hors d'oeuvres.  You're welcome.
Let's get started!
Mince the garlic and chop the cilantro.
Chop the chipotles.  There are a number of brands of chipotles en adobo sauce and all taste a little different with different ingredient ratios.  I like La Morena and pick them up from my local Mexican grocery store.  You can also purchase it online HERE.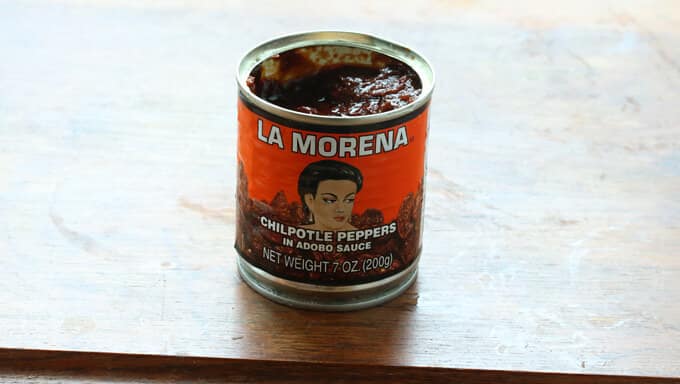 Place the garlic, cilantro and chopped chipotles in a medium bowl along with the ground chicken, egg, breadcrumbs and spices.
Use your hands to thoroughly combine the mixture.
The mixture will be very soft.  Wet your hands before forming the mixture into 1-inch balls.  Set aside.
Slice the bells peppers and onions.  Just look at that gorgeous array of colorful veggies!  That's right – FIESTA!
Heat the oil in a frying pan over medium-high heat and fry the meatballs in batches until generously browned on all sides.
Transfer the meatballs to a plate.
You simply must try these meatballs, they're SO good!
Add some extra virgin olive oil to the same frying pan and add the veggies.
Add some salt and freshly ground black pepper and cook until softened, about 5 minutes.
Return the meatballs to the skillet, stir to combine, cover the pan and simmer for another 3-4 minutes.  Serve with a salad for a low carb meal or include a serving of seasoned rice.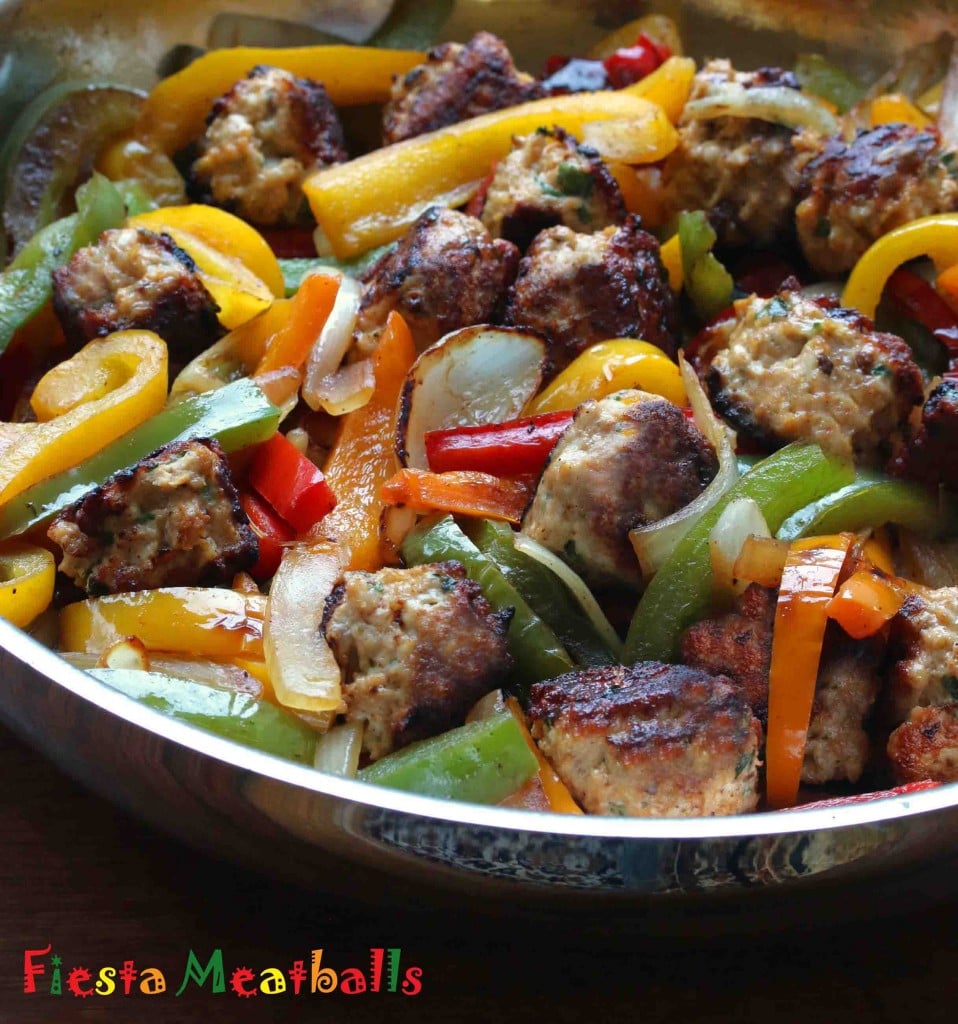 Fiesta Meatballs
:
Kimberly Killebrew, www.daringgourmet.com
Ingredients
2 tablespoons extra virgin olive oil for frying
1 lb ground chicken (or ground pork), can substitute half ground sausage
1 large egg
⅓ cup plain breadcrumbs (use gluten free if needed)
2 chipotles en adobo, chopped
¼ cup chopped fresh cilantro
1 teaspoon salt
½ teaspoon freshly ground black pepper
½ teaspoon dried oregano
1 teaspoon chili powder
1 each large red, yellow, orange, and green bell pepper, seeded and sliced into strips
1 medium yellow onion, cut in half and sliced
Salt and pepper
2 teaspoons adobo sauce (optional, for extra heat)
Instructions
Combine the chicken, egg, breadcrumbs, chipotles, cilantro, salt, pepper, oregano and chili powder in a large bowl and mix with hands until thoroughly combined.
Wet your hands and form the mixture into 1-inch meatballs.
Heat the oil in a large skillet over medium high heat. Once hot, add the meatballs and fry until browned on all sides. Transfer to a plate.
Add the peppers and onion and to the skillet along with another tablespoon of olive oil and fry until softened, 5 minutes. If you want a little more heat, add 2 teaspoons of adobo sauce from the can. Add salt and pepper to taste.
Return the meatballs to the skillet, stir to combine, cover, and cook for another 5-8 minutes until the meatballs are cooked through.
Serve with seasoned rice.