Italian Chicken Meatballs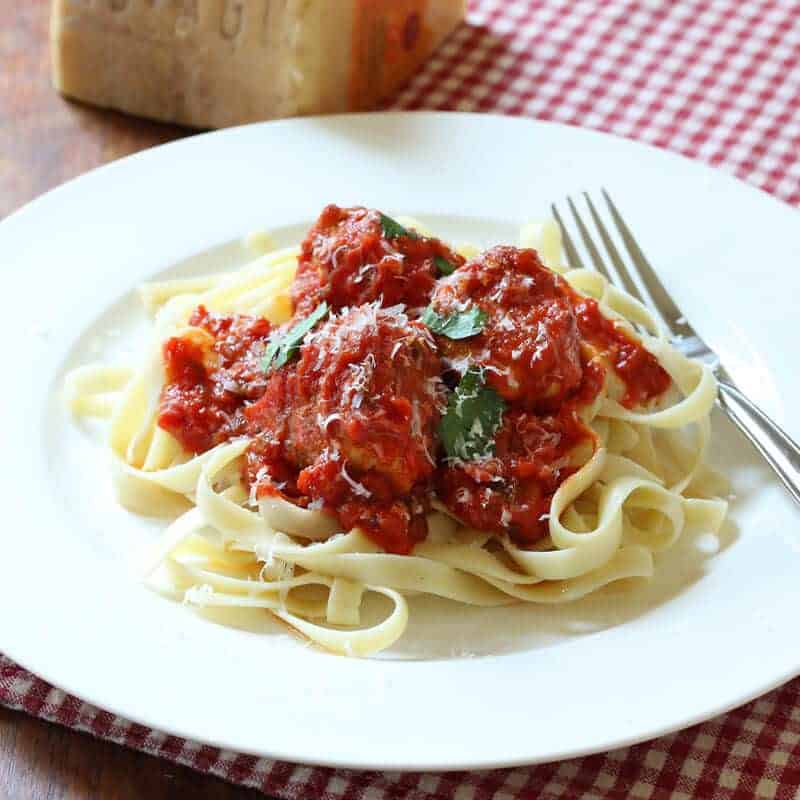 This Italian Chicken Meatballs recipe features deliciously seasoned ground chicken enveloped a simple but dazzlingly vibrant and flavorful tomato sauce!
If you prefer, you can use ground beef instead.  I'll make it both ways depending on the mood I'm in.  For the Summer I prefer the lighter, more delicate flavor of the chicken.
There are a few key ingredients in these Meatballs:  Fresh herbs, the right tomatoes (more on that below) and ground dried porcini mushrooms.  You can buy them pre-ground but I prefer to grind them myself (use a coffee or spice grinder) for optimal flavor.  They add an incredible depth of flavor that you will love!
These meatballs also freeze well.  Many of us are really busy during the week and being able to make some wholesome meals in advance that we can simply pull out of the freezer and thaw is fantastically convenient.  And our kids love these!  You can double or even triple the recipe.  You can either freeze the meatballs uncooked and then whip up the sauce when you're ready to eat them (it's super fast!) or freeze them cooked in the sauce for optimal moistness.  Then simply let the meatballs defrost and then slowly reheat them to retain the moisture.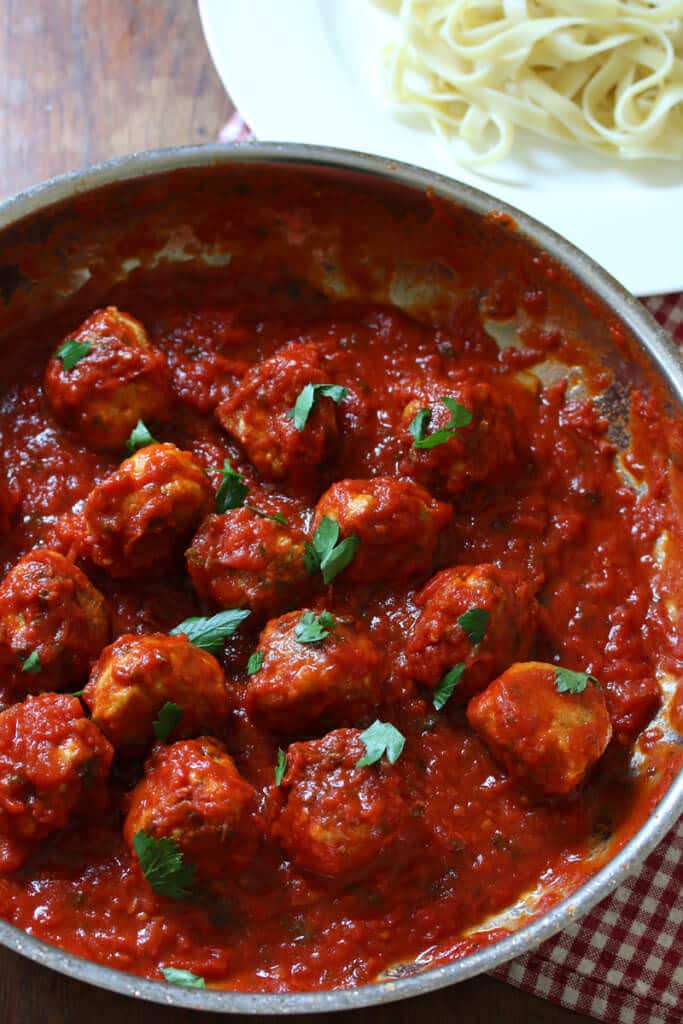 Whether you're using chicken or beef, you can either use pre-ground or grind your own.  Whenever possible I prefer to grind my own meat because it's fresher and I know exactly what's in it – and what isn't.  No, you don't need a meat grinder.  I have two of them:  A manual grinder for backup and a grinder attachment for my stand mixer.  I've never used my manual grinder (well, I did once and never again – not unless I have to in an emergency, and that's the idea) and have only used my grinder attachment once.  It's a bit of a pain in the rear to use and the meat usually needs to be semi-frozen to work properly, and it's a bit of a hassle to clean up.  I've found that grinding chicken works just as well in my food processor and the cleanup is a cinch.
I received the Cuisinart's Elite Collection 14-cup Food Processor for review and couldn't be happier with it.  In fact I'm pretty much head over heels.  It's power, features and build quality are amazing.
You've heard me mention my Cuisinart Mini Prep Food Processor on several occasions in the past.  That thing has been such a workhorse.  My husband bought it while he was an undergrad, used it through med school, and we've continued using it since we've been married.  15 years later it's still going strong!  It's with some sadness that we've retired it is because it's only a 4-cup food processor and it was high time we get a bigger one.
As happy as we were with the quality of our Mini Prep it only made sense to stick with Cuisinart.  One of the things I love about our new food processor is that it comes with both a 14 cup container and a 4 1/2 cup insert container for smaller batches.
And so, our dearest and faithful old Mini Prep, we bid you adieu and may you enjoy all the freedom that blissful retirement brings.  (That is unless some lucky family member decides to adopt you and put you back to work!)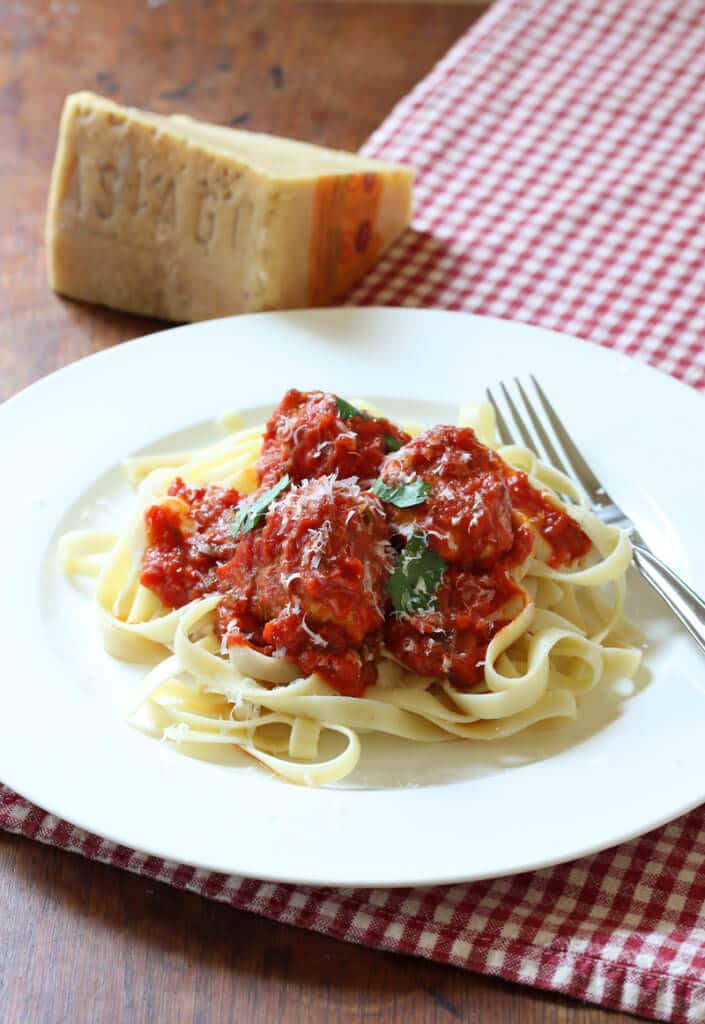 Okay, let's get to work!
Cut up the chicken breast into large chunks, add them to your food processor, and after just a few pulses you'll have perfectly ground chicken.
If you're using the food processor, you can conveniently add the remaining ingredients to the chicken and pulse the mixture together, otherwise you can just combine everything with your fingers in a large mixing bowl.
Form the mixture into 1 inch meatballs or larger if you prefer.  At this point you can either put them single-layer into ziplock freezer bags, freeze them, and then make the sauce when you're ready to eat them (be sure to completely thaw the meatballs before you fry them), or you can cook them first and freeze them in the sauce.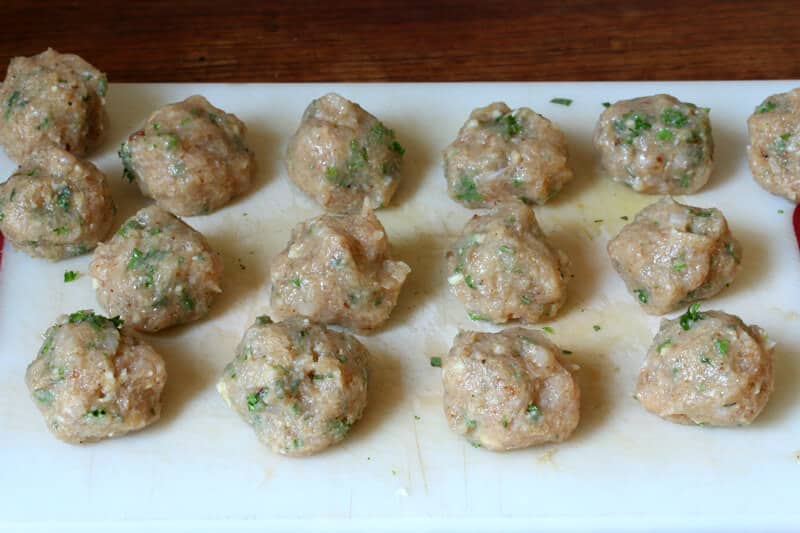 Heat the oil in a large skillet over medium-high heat.  Once the oil is hot add the meatballs.
Brown them on all sides and set aside.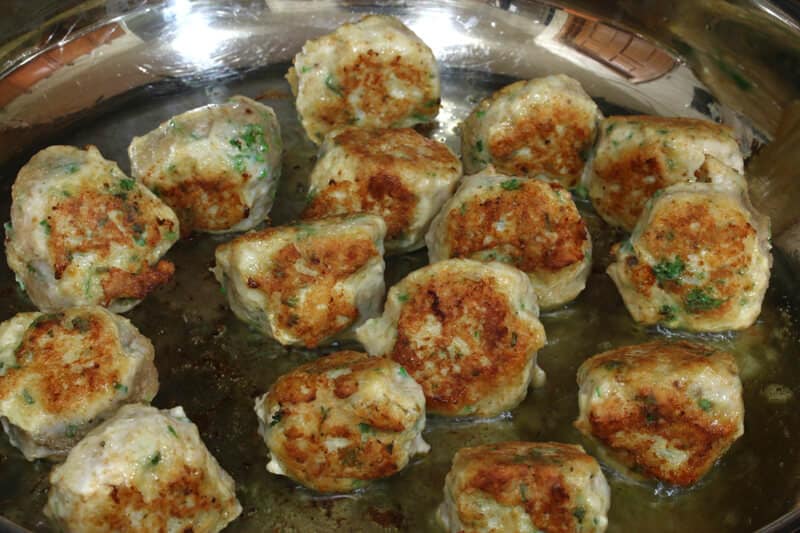 Next we're going to make an incredibly delicious and vibrant sauce.  The tomatoes you use make ALL the difference.  If you use any of the standard canned tomatoes you find in the grocery store your sauce will be pretty bland and flavorless.  Nothing compares to the imported sun-ripened tomatoes from Italy.  There are a few brands to choose from, but the D.O.P. certified San Marzano's are widely considered the best.  You can find them in specialty stores, I've seen them at World Market, and even some well-stocked grocery stores, and of course online.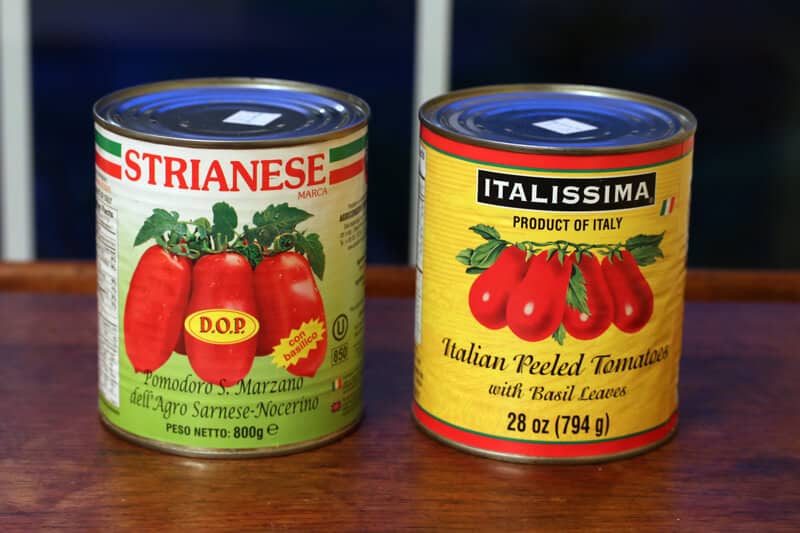 Traditionally Italians will use their hands to crush the whole tomatoes into a chunky puree.  I love my Cuisinart Immersion Blender and use it as often as I can find the opportunity.  It's 6 years old and still going strong.

Heat a little more oil in the skillet and saute the garlic for a minute.
Pour in the tomato puree and bring to a rapid boil for about 2 minutes.
Next we're going to add the herbs.  Parsley and basil are my favorite combination in this sauce.  Absolutely use fresh as dried will yield no where close the same flavor.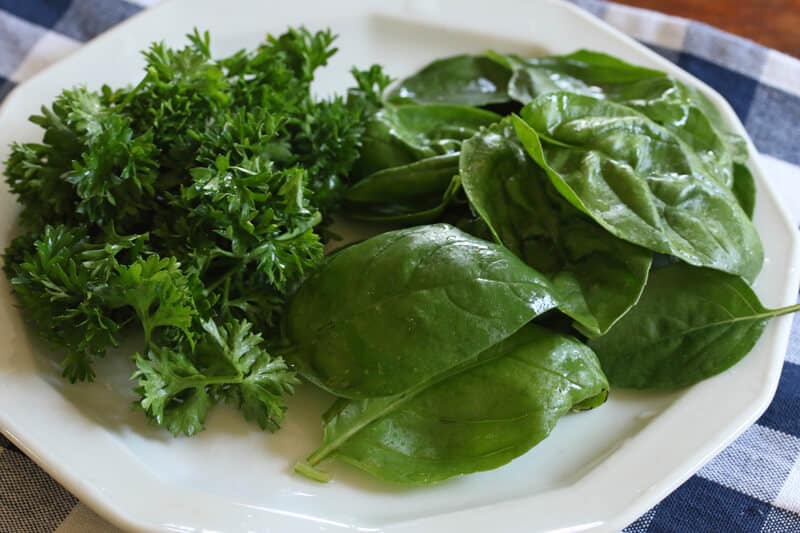 Add the herbs and salt to the sauce and simmer for another couple of minutes until the liquid in the sauce has reduced down a bit.
Return the meatballs to the sauce, stir to coat, cover the skillet and simmer over medium heat for about 15 minutes.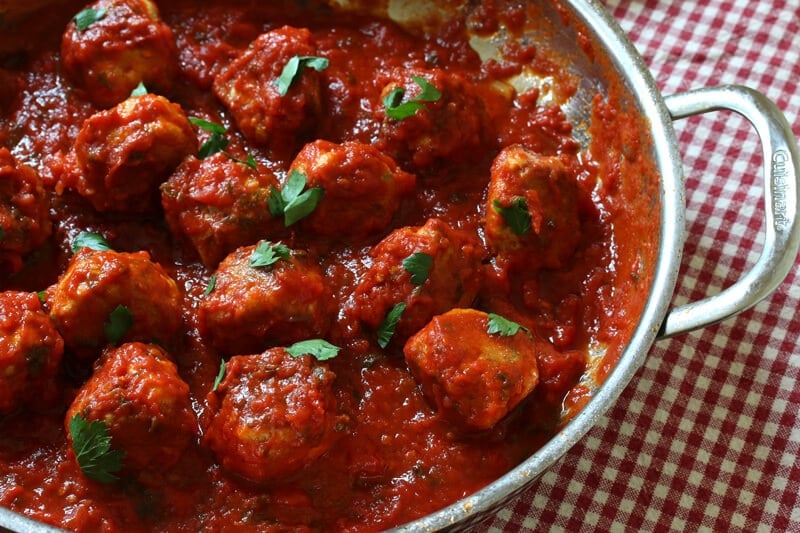 Serve with pasta and top with some grated quality aged Italian cheese such as Asiago.
Enjoy!
Best Italian Chicken Meatballs
:
The Daring Gourmet, www.daringgourmet.com
Ingredients
1 pound ground chicken breast (or ground beef)
1 large egg
½ cup plain breadcrumbs (gluten-free, use GF breadcrumbs)
1 teaspoons salt
¼ teaspoon freshly ground black pepper
½ cup chopped fresh parsley
1½ teaspoons chopped fresh thyme
1½ teaspoons chopped fresh sage
1½ teaspoons chopped fresh rosemary
1 tablespoon ground dried porcini mushrooms (buy pre-ground or grind them yourself for optimal flavor)
For the Tomato Sauce:
4 tablespoons extra virgin olive oil
3 cloves garlic, minced
1 (28 ounce) can imported whole Italian DOP San Marzano tomatoes (see Note), crushed or blended to a thick and slightly chunky puree
⅓ cup chopped fresh parsley
⅓ cup chopped fresh basil
1 teaspoon salt
Instructions
Combine all the meatball ingredients in a food processor or a large mixing bowl and combine. Form into 1-inch or larger meatballs. Heat the oil in a large skillet and lightly brown on all sides. Transfer to a plate and set aside.
Add the garlic to the skillet and saute for one minute. Add the tomato puree and bring to a rapid boil for 2 minutes. Add the salt, parsley and basil and simmer for another 3-5 minutes.
Return the meatballs to the sauce, stir to coat, cover and simmer over medium for about 15 minutes.
Serve with pasta.
*These meatballs freeze well (see Note).
Notes
*There is no substitute for sun-ripened, DOP-certified Italian tomatoes. Using the standard tomatoes from grocery stores will result in a sauce that is bland and flavorless. The DOP San Marzano tomatoes are widely considered the best. You can also find them in specialty stores. If you can't find DOP-certified San Marzano's, use another quality Italian-imported brand.
*Either freeze the meatballs raw and make the sauce the day you're ready to eat them or freeze them cooked in the sauce. Place them single-layer in ziplock freezer bags. Thaw completely and slowly reheat them to retain moistness.
Disclosure:  I received a food processor from Cuisinart without any obligation to write a positive review.  I've been a huge fan of their products for years and welcomed this opportunity.  As always, all opinions are entirely my own.