This post contains affiliate links.
We received these Amba towel warmers for review.  All opinions are entirely my own.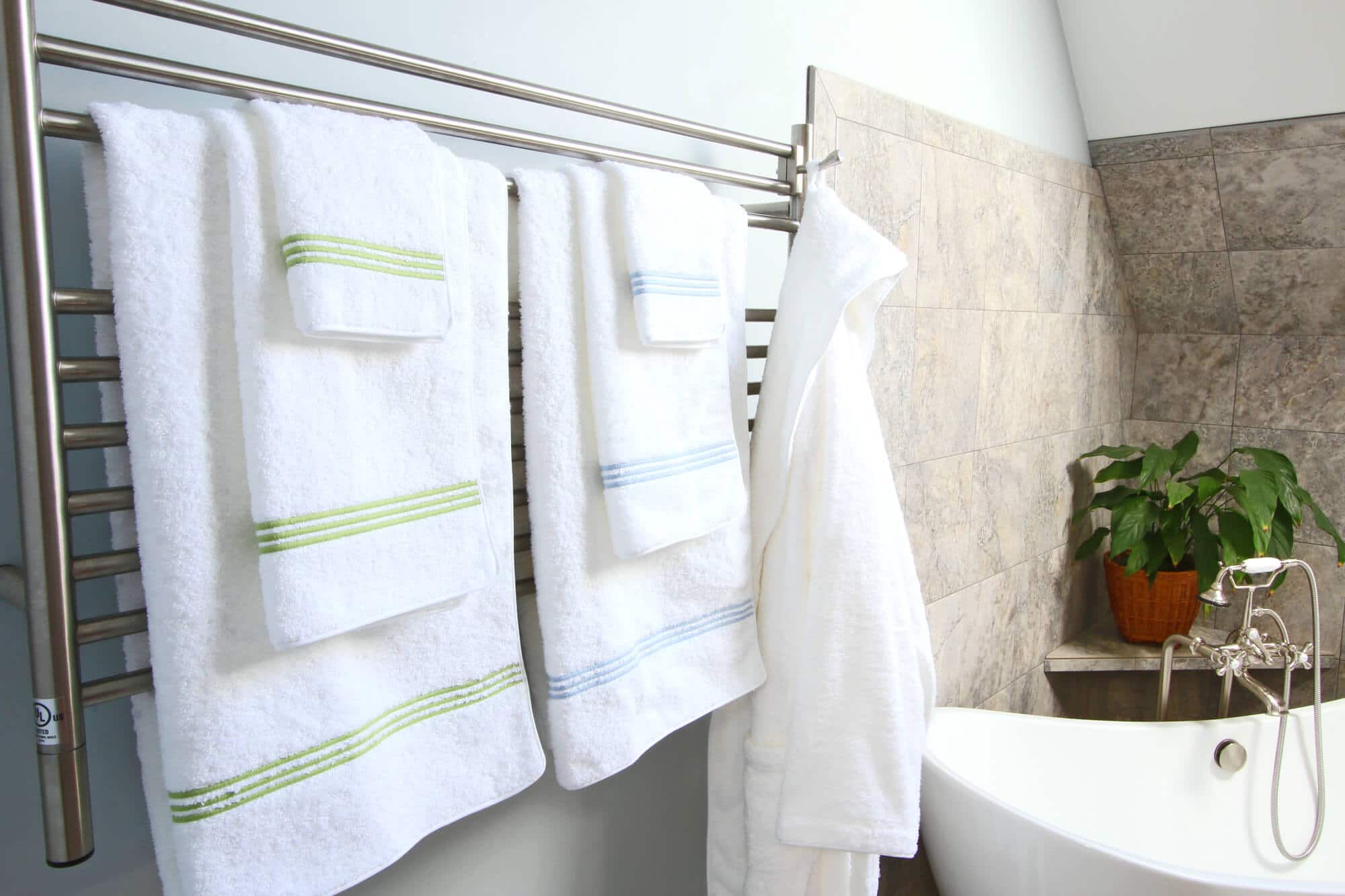 This series looks at ways you can enjoy that "luxury hotel experience" right in your own home.  Today we're focusing on towel warmers.  The great thing about towel warmers is they not only provide that luxury experience but also serve a ton of practical everyday uses (I'll demonstrate several).
In researching the highest quality towel warmers on the market, we chose Amba.  Not only are they exceptionally high quality in construction and come with great warranties, they're also sleek and stylish and come in a huge selection of styles and sizes.
We chose two for our bathrooms, the Jeeves L and Jeeves E models.  They're both identical in function and features but the L model is shorter and wider, the E model is narrower and taller.  We chose them based on the dimensions of our bathrooms.  The Jeeves models come in either straight or curved and several finish options.  We chose the straight models in brushed stainless steel for a more contemporary look.
Here are some of the features of the Jeeves line:
It comes with a 10 year warranty on the construction of the unit and a 2 year warranty on the heating element which can be replaced.
It has a classic towel bar design featuring liquid-filled round bars. These electric models are made in South Africa from locally sourced, 100% recyclable stainless steel.
Comes in a variety of shapes and sizes including the option of straight or curved horizontal bars.  Amba also offers custom sizes.
All models are available in 4 finishes: polished and brushed stainless steel, oil rubbed bronze, and white.
Like the majority of Amba's towel warmers, the Jeeves line is made with high quality Italian heating technology.  The Jeeves line has a glycol/water mixture and heating elements inside that heat up the bars.
The Jeeves towel warmers are very energy efficient with built in thermostats and internal thermal cutouts for optimal energy consumption and safety.  They way they work is that once the towel warmer reaches the ideal operating temperature it then cycles to maintain that temperature, which allows it to be left on continuously, only drawing power to maintain the ideal temperature range.  There is also an internal safety cutout that will shut off the unit if for any reason it overheated.
All of Amba's towel warmers are UL and ETL certified for safety and performance.
The Jeeves line comes with the option of either a basic on/off pilot switch or a 7 day/24 hour programmable hardwired timer, which is what we chose.
The Jeeves line also has a couple of handy accessories you can get for the towel warmers.  Like the towel warmers themselves, everything is made of extremely solid construction.
One of the accessories is a bath robe hanger which conveniently allows you to hang up your bathrobes right next to the towels where they can also benefit from some of the radiant heat.
The other is a shelf bar that can be used to store extra towels.  It can also serve many more functions, which I'll get to shortly.
Were were originally going to have an electrician install our towel warmers for us (which is what's recommended) but with all the experience we've been acquiring from our DIY guesthouse remodel (Todd learned how to do all of the wiring work himself), Todd tackled it himself and it only took him less than 2 hours from start to finish.  He did a flawless job.
The towel warmers themselves are fully assembled and the only thing requiring any actual assembly is the optional shelf rack.  Also made of the highest quality materials, the shelf rack comes with assembly instructions but it's extremely easy to do and takes less than 5 minutes.
Before long our towel warmers were up and functioning.  We couldn't wait to try them out!
Living in the Pacific Northwest it's a constant battle dealing with towels not fully drying because of the high moisture in the air. And that equates to a mildewy smell that's nearly impossible to get rid of.   I know people who wash and dry their towels after every use and that's just a crazy amount of energy consumption.   Plus it puts a lot of wear and tear on the towels.  We love being able to set the timers on our towel warmers so they can gently dry after each while lengthening the longevity of the towels.
Plus, they help reduce laundry loads and water consumption because the towels won't need to be washed as frequently.
And of course it's wonderful to have a nice and warm towel waiting for you as soon as you step out of the bath or shower.  You can program the timer to begin heating up whenever you want and then turn off at a specified time.  That way you can have nice warm towels waiting for you in the morning after you shower and then the towel warmer can dry your towels before it shuts back off again.
Aside from using a towel warmer for towels, here are a few additional ways you can put your towel warmer to use:
To dry wet shoes (whether they're light canvas shoes or your kids' wet Winter boots)
To dry wet jackets, ski clothing, hats and gloves
To warm up house slippers so you when you come in from the cold you can slip your feet into something warm
To warm up your kids' pajamas so when they come inside from playing in the snow or step out of the bathtub they can jump right into snuggly warm pajamas (and that's not only limited to children's pajamas!)
In Europe to conserve energy many people use towel warmers to dry their clothing instead of throwing them in the dryer.  It not only conserves energy but it's also much gentler on your clothing and makes them last much longer.  We regularly dry our jeans on our towel warmer (they maintain their color much longer that way than drying them in the dryer) and my husband does the same with his dress shirts.  Also, towel warmers are the perfect way to dry delicate clothing.
An added bonus of using a towel warmer to dry clothing is that it allows you to hang your clothing while drying it to un-wrinkle them.
Laundry rooms are also a great place to have a towel warmer for the convenience of gently drying clothes while using very little energy.
Amba even offers an expansive collection of towel warmers than can double as space heaters.  The can be used practically anywhere including mud rooms, saunas, spas, pool houses, kitchens, garages, basements, on boats or in any room that needs additional heat.  For example, in a finished basement where dropping the ceiling for adding central heating isn't possible or too costly, a towel warmer can act as a space heater.
Though still primarily seen as a luxury item here in the U.S., towel warmers are commonly found in many homes across western Europe.  That's because there they are largely used as practical household appliances for many of the purposes I listed above.
With their variety of practical uses, their sleek appearance and the element of luxury they add to any bathroom, towel warmers make a perfect gift idea.
Bottom line:  We absolutely love our Amba towel warmers!   Not only because they provide that "luxury hotel experience" right in your own home and make your bathroom look upscale, but also because they serve a ton of practical everyday uses.  And with the quality of their construction, we look forward to using our towel warmers for many years to come.
For more information about their products, visit Amba's website.
You can find Amba towel warmers in select stores throughout the U.S. and Canada.  Here is their store locator to find your nearest store.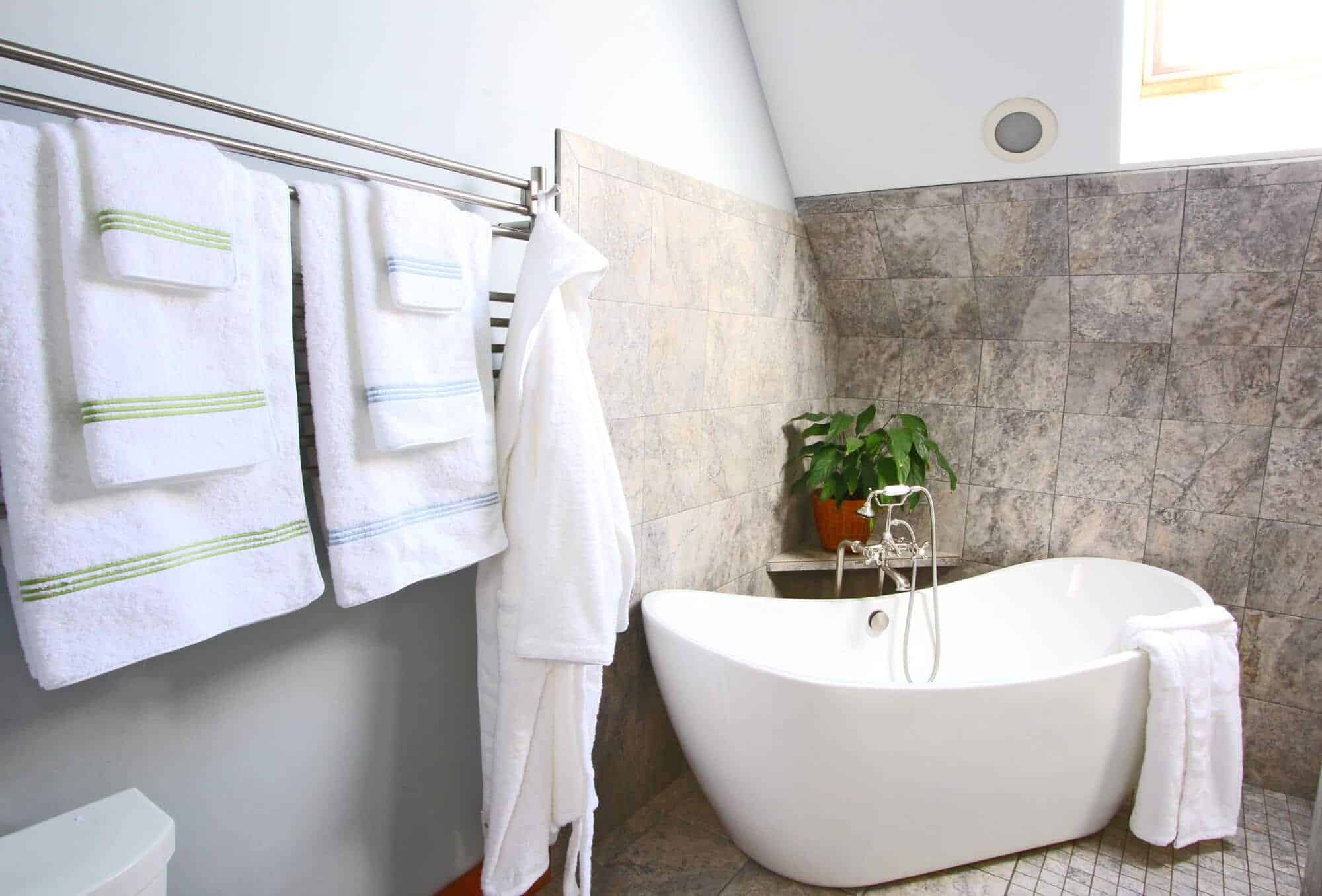 After researching the best towel warmers on the market we reached out to Amba who provided us with our towel warmers for review without any obligation to write a positive review.  I only promote products and services that we personally use and trust.  As always all opinions are entirely my own.