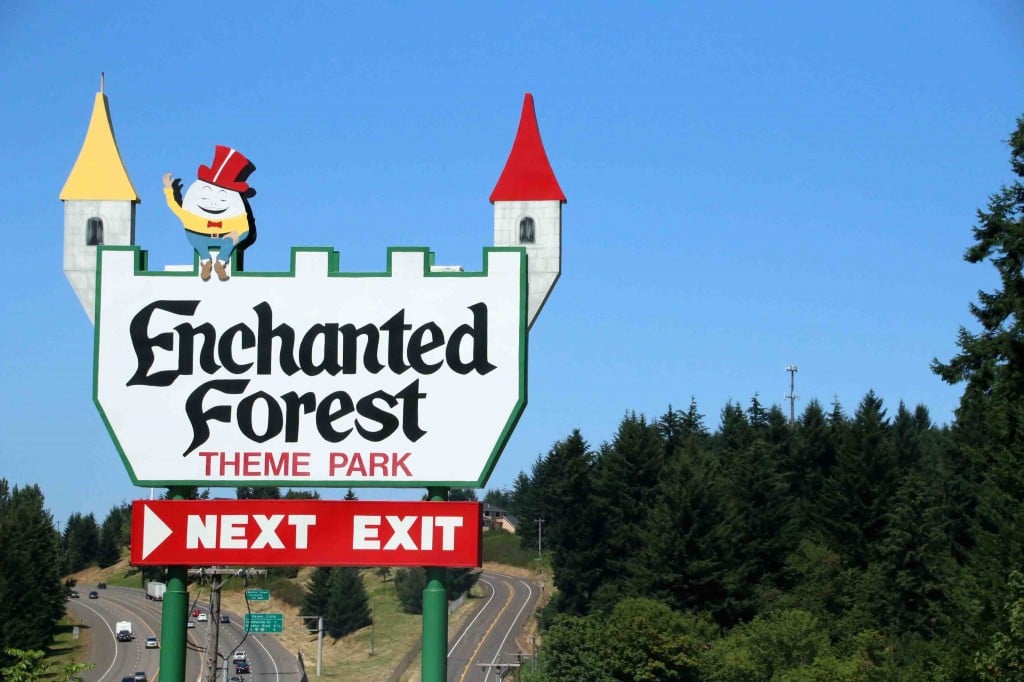 We recently packed up our car, buckled in our kids, picked up my parents, and hit the road for a family trip to Salem, Oregon.  Specifically to visit Enchanted Forest, a theme park that I hadn't been to since I was 2 years old. Just months after that visit my parents, brother and I moved to Europe where we lived for over 20 years until moving back to the U.S. 10 years ago.   And now, with a 2 and 4 year old of my own, we returned for a visit for the first time in 30 years.  It was nostalgic for my parents and we all had a blast.  Come join us on a virtual tour of the theme park!
It took us about 3 hours to get to Salem.  Good music always makes road trips go by quickly.  The kids did amazingly well, not a single whine.  We spent the night at the beautiful Grand Hotel in Salem so we could have a fresh start to our day at Enchanted Forest.  If you're looking for a place to stay in the area, you won't find a nicer hotel and it's also a great value.  If you haven't been to the Enchanted Forest before you're in for a treat.  This theme park offers something for kids of every age and adults alike.  Everything from Storybook Lane for kids to experience their favorite fairy tales and nursery rhymes to a haunted house, exhilarating rides, and an Old West, medieval, and old English town for kids and adults to engage in imaginative play.
Come join our family at Enchanted Forest!
The theme park is in such a beautiful setting.  Lush forests with winding trails and inclines.  It was a hot day but the most of the park is shaded which is really nice.  We knew it would be a long day for our 2 year-old in particular, so we brought along our Deuter Kid Comfort backpack carrier.  We like to take our kids on trips and hikes as much as possible and our backpack has been invaluable.  We can stuff the big zipable pockets full of water, snacks and other necessities and enjoy our outings hands-free.  Plus, it has a sun roof and rain cover – here in the Pacific Northwest the latter is a must!  So we strapped Emily in the carrier and headed into the park.
After entering the park we headed up to the castle.  We were greeted by an alligator in the castle's moat, which kept our son fascinated for a while.
The castle is the entrance to "Storybook Lane."   Storybook Lane winds through the forest and around every bend you'll find another classic children's story on display.
Many of them are interactive structures so the kids can experience the stories.  Our kids loved them!
You'll want to give yourself plenty of time to walk through this section.  Your kids will love exploring the mazes, slides and underground tunnels.  Storybook Lane is a wonderfully tactile experience which adds to the magic.  Our kids had fun winding their way through the Queen of Heart's maze and as soon as our son spotted Alice in Wonderland's rabbit hole he knew exactly what to do.  He crawled into the hole and scurried through the tunnel which extends for quite a ways and comes out on the other side.  Heading further through the forest we got to meet the Crooked Man and tour his Crooked House built on a hillside with sloping floorboards – even Todd and I came out a little whoozy!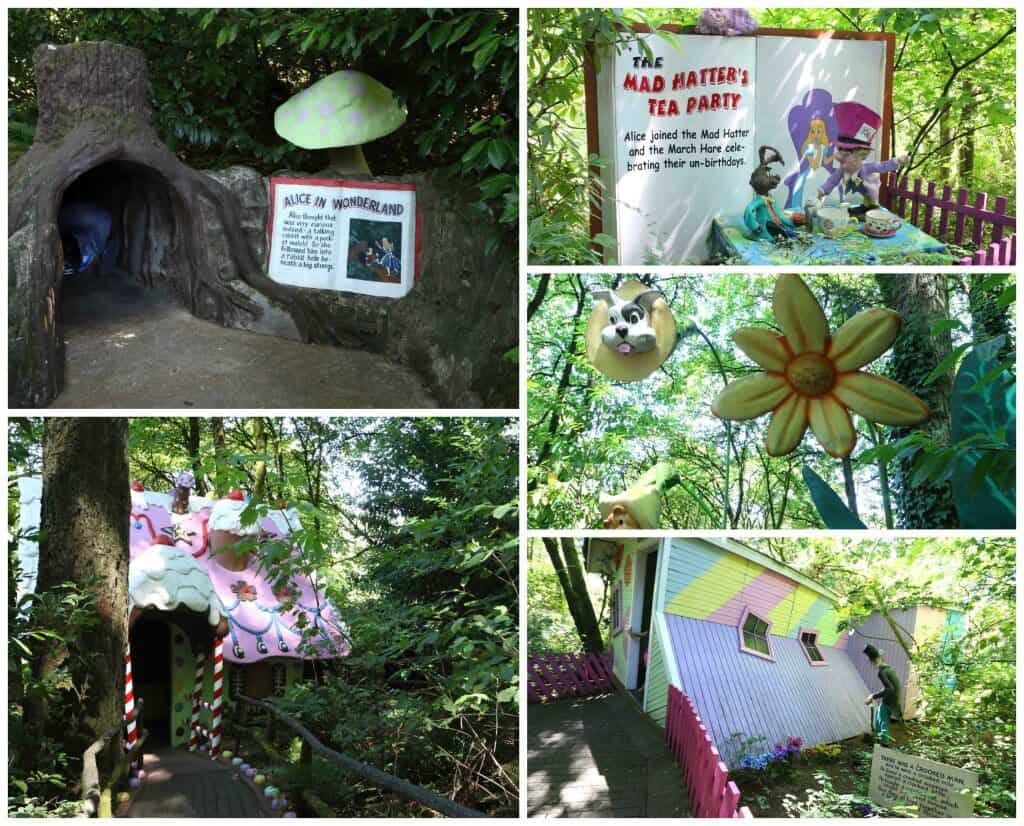 Exciting surprises await you at every corner and just around the bend you'll come up to the evil witch from Snow White.  Around 20 feet tall, her gaping mouth beckons you to enter.  I actually have a picture of me standing inside this witch's mouth at the same age my daughter is now.  My parents really enjoyed leading the kids around, reminiscing about those many years ago.
Inside you'll stumble upon the scary old witch, an interactive witch that cackles and breathes out her evil threats.  You'll also find a few stairs to walk up that lead to a slide – an escape!
The kids had so much fun – they went through the witch and down the slide multiple times before we could convince them that there were still more fun things to come!
At any point in the day you can take a break.  Benches are everywhere throughout the forest and there are also tables where you can have your picnic.  Either bring your own food or purchase some at the park.
The Old Lady's Shoe offered more sliding fun for all of us.  Our kids loved it and yes, we slid down a good half dozen times before we convinced the kids again to move on!
The Haunted House!  It comes with a warning that it's best avoided for those who scare easily, but both of our kids did fine.  It's very dark inside, just barely enough light to make out where you're walking, but we made it through without any tears.
Before long you'll enter Tofteville, the "Wildest Little Town In The West."  Grab some snacks, try your hand at using a rifle, and stop in one of the little stores for some face-painting.  Enchanted Forest did such a great job of this town!
We had already spent at least a couple of hours exploring Storybook Lane and Tofteville before reaching the rides.  You have a couple of options when visiting Enchanted Forest:  There is a flat entrance fee which allows you to explore the entire park and you can either pay for the rides as you go or purchase a bracelet that gives you unlimited access to the rides.  For those of you with little kids, there is plenty to do to keep the kids entertained at Enchanted Forest without even going on the rides.  But there are some really fun rides you'll still want to experience.
Ice Mountain is for children at least 34″ tall and we were able to take both of the kids on the ride with us, hugging them close.  I must admit I underestimated this little roller coaster – it has a lot of fast twists, turns, and steep downhill dips.  I realized just how "out of practice" I was when we got off! Both of our kids did just fine on the ride and were excited to try more.
At the top of the hill are several "kiddie rides" that our kids enjoyed:  Bumper Boats, Bumper Cars, a Happy Train Ride, Kiddie Ferris Wheel and Frog Hopper.
The Big Timber Log Ride was definitely the funnest of them all.  Our daughter didn't meet the minimum height so she stayed with my parents while we took our son into the log with us.  You'll gently glide through the forest and move up through the trees (so beautiful!) around multiple bends before taking that perilous trip up the steep incline and then plunging down head-first with a gigantic "SPLASH"!  Heads up:  You will get soaked.  I'll admit I chickened out and borrowed one of the ponchos the park has one hand for wimps, er, "people like me" not wanting to get completely drenched.
Another ride worth experiencing is Challenge of Mondor, an interactive, fantasy-type ride in a Medieval setting.  They did a great job with the music and characters.  A fun experience for the whole family.  Something we didn't have time to check out but that sounded like fun is the 7-minute water show, Fantasy Fountains.  There's also a gift shop with various games, toys and trinkets.
By this time our kids were thoroughly tuckered out but still in their characteristically happy moods.  On our way out we spent a few more minutes walking through the European Village.
Such a wonderfully charming village, it actually made us nostalgic for England.  We were so impressed with the amount of care and detail that has gone into the making of Enchanted Forest.
The park is super clean and well-maintained, the staff is friendly, the rides are fun, the villages are fascinating, and Storybook Lane with its interactive displays, mazes, slides and tunnels was truly enchanting!  We left pleasantly worn out and already discussing our return visit.
A wonderful experience for the entire family, we highly recommend Enchanted Forest for anyone who likes to have fun and experience a little fairytale magic.
For more information, visit their website:  Enchanted Forest
8462 Enchanted Way SE
Turner, OR 97392
503-371-4242
info@enchantedforest.com