That's my husband in the picture.  Okay, not really.  But he does look pretty dang good in skis and can hold his own on the slopes!
I grew up in southern Germany just a couple of hours from the German and Austrian Alps.  My parents took us skiing every winter and those are some of my best childhood memories.  My brother and I were daredevils in those days and even as young teens we tackled the black diamonds.  Since moving to the U.S. I haven't been as often as I'd like but it's a tradition my husband and I have decided to start with our own kids.
So a couple of weeks ago our family took a trip to Whistler, BC for some snow time.  We invited my brother along who hasn't gone skiing in ages.  Having a third adult was also perfect for enabling my husband and I to do some skiing on our own.  We went the last weekend in March.  Typically the ski season in Whistler extends through May, the longest season of any ski resort in North America, but this Winter was a record low for snow. Even so, though there was no snow at the base of the mountain and it was a little sparse at the beginner slopes, there was plenty of it further up the mountain when the adults went up to ski.
Ranked the #1 ski resort in North America and one of the best in the world, it's no wonder Whistler was chosen as the site for the 2010 Winter Olympics.  It was the realization of a five-decade-long dream that made Canada proud.
With over 200 marked runs, 8,171 acres of terrain, 16 alpine bowls and three glaciers, the Whistler and Blackcomb mountains are massive.  You could ski there every year for a couple of decades and try out new runs each time.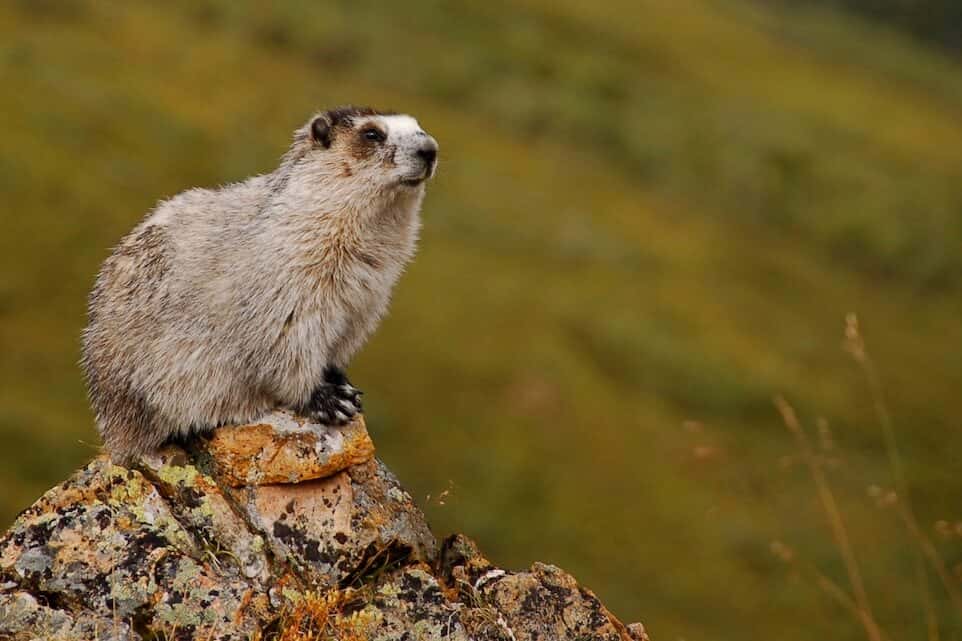 I've always loved the name "Whistler."  It just has a special ring to it.  I was curious about its origin and after digging around a bit I learned that the mountain had originally been named "London Mountain" by land surveyors in the 1860's because of the heavy fog that settled around it.  Later it was officially named Whistler.  Any guesses where it got its name?  It was named after that furry little fella on the right.  It's a type of ground squirrel known as the hoary marmot and is nick-named "the whistler" because of its high-pitched warning cry in the face of danger.
Here are the Whistler and Blackcomb mountains with Whistler Village nestled at the base.
Whistler Village is thoroughly charming and has been the recipient of numerous design awards.  All the areas of the village are connected and restricted to foot traffic only, much like the town centers I know and love in Germany.  With shops, boutiques, restaurants, gift stores, arts and culture, entertainment, nightlife and a variety of events and activities, Whistler Village has it all.
Let me tell you a little about our skiing, dining, and hotel experience in Whistler.
It was about a six-hour drive and everything was smooth-going.  Todd and I used our passports and kids only need birth certificates to cross the Canadian border and re-enter the U.S. if you're going by car.  FYI, for any of you thinking of driving to Canada, a passport isn't required.  You can use either an enhanced driver's license (which isn't much cheaper than a passport so pretty pointless in my opinion) or you can go a very affordable route and get an enhanced ID (also available at the driver's licensing office for a fee of about $10).
We arrived in the evening and checked into our hotel.  The next morning our kids could hardly contain their excitement.  They had been talking about nothing else all week – they couldn't wait to go skiing!  And kids, by the way, get to ride the ski lifts for free, which is a great perk.  Another great activity at Whistler is the Coca Cola Tube Park.  Our daughter was just barely under the age cut-off but our son was able to catch a few runs.
Here are our adorable kids dressed in their snow gear and ready to head off to pick up their skis and boots.
From our hotel the ski rental shop was just a few steps away.  The rental shop is located within the hotel's sister property, the Pan Pacific Mountainside Hotel.  Everything was super close and within a short walking distance – the hotels, restaurants, ski rentals, ski lifts – it was great.
Straight ahead to the right is the Pan Pacific Mountainside with the rental shop below.  Immediately behind me are the ski lifts – they're that close.  It was fantastic being able to get our gear and then just walk a few steps to the lifts.
For convenience Todd and I left our skis at home and just brought our boots.  Our boots were fitted to some skis and the kids were up next.  It was so adorable seeing them in their little boots and skis!  If you're renting ski equipment they recommend giving yourself about 30 minutes' time and that's about how long it took.  Below is our son having plopped himself down on a chair in the ski shop for a little break before heading to the slopes.
Equipped with our ski gear we were off to the mountain!  Up the gondola…At the base of the mountain in late March there wasn't any snow but as we ascended the mountain on the gondola we were soon surrounded by white.
Our kids LOVE the snow.   Todd and I were excited to take them skiing for their very first time.
Not that there was the remotest chance of them picking up much speed on the smallest incline of the bunny slopes, but helmets are always a good precaution.  But as massive as they are I did wonder if they'd make the kids so top-heavy that they would just topple over as soon as they stood up!
Tiny kids on tiny skis are just the cutest sight ever!  And there were lots of young kids on the slope.  Whistler is extremely kid- and family-friendly and offer a full range of services for children, including lessons beginning at age 3.  For more information about their various children's programs, see Whistler Kids.
Our daughter isn't quite 3 years old yet and we almost enrolled our son but opted instead to show them the ropes ourselves this first time.
And speaking of ropes, to get back up the hill you can either use the rope tow or…bring along the kids' uncle and have him carry the kids up the hill!
Our daughter was perfectly happy with that arrangement.
For our accommodations we stayed at the Pan Pacific Whistler Village Centre, an award-winning 4-star hotel.  Extremely family-oriented, they have two-bedroom suites with full kitchens, two bathrooms, gas fireplaces, laundry access, and they offer a complimentary full breakfast buffet which was the cherry on top.  Featuring 83 alpine-chic suites, it offers the charm and service of a boutique hotel.
The atmosphere is stylish, warm and cozy with fireplaces in the lobby, the lounge, and the guestrooms.  Happy hour is offered every afternoon in the room below and we took advantage of their hot chocolate each day.
As its name suggests, the hotel is right in the center of Whistler village with immediate access to restaurants, shopping, ski rentals, etc. Here is the view from the balcony of our hotel room.
Our 2 bedroom suite had a living room with a gas fireplace and the master bathroom was huge.  Everything was immaculately clean.
The kitchen comes equipped with an oven, fridge, microwave, dishwasher, plates and silverware, pots and pans, etc, and has a bar area for eating.  Without us even asking, the front desk staff told us we were more than welcome to bring our breakfast up to our room if we preferred.  That worked out perfectly for our rambunctious little kids.
On site is a gym with a sauna and day spa.
Our favorite feature was the outdoor heated salt-water pool and hot tubs.  Our kids LOVED it.
We didn't notice the sign until afterwards that young children aren't allowed in the hot tubs – and fortunately no one threw us out!
The front desk provided the kids with their own little bathrobes and they had a blast streaking through the hotel in them.
The breakfast dining room is bright and cheerful and the buffet is varied and satisfying.  As the most important meal of the day, buffets are always my favorite choice.  I love being able to take my time and choose from a variety of foods.
For dinner we headed over to the hotel's sister property, the Pan Pacific Whistler Mountainside.  As it's name suggests, it's located right at the foot of the mountain – you walk out of the hotel and the ski lifts are right there a few feet away.  For location it's unbeatable.
A nice feature of these sister properties is that your hotel key gives you access to both hotels' amenities.  What was extremely convenient was that our hotel key gave us access to the Pan Pacific Mountainside locker room where we could store our ski equipment rather than having to lug it around.  Below is the hotel lobby.  I love the modern cabin feel with the antler chandelier and grizzly bear painting with stonework around the fireplace.
The Mountainside property has a much busier feel than its sister property, largely because it's also home to the Dubh Linn Gate Irish Pub and the ski shop.  The Whistler Village Centre property was more low key and still super close to everything, which was perfect for our family with young kids.  Both properties though are in perfect locations and are a couple of the top hotels in Whistler.
Our breakfast was taken care of each morning at our hotel and with a full kitchen we had lunch in our room.  But with my brother along, Todd and I were able to steal away for dinner.  We headed over to the Pan Pacific Mountainside Hotel's restaurant, the Dubh Linn Gate Irish Pub.  During peak season it's packed to the gills but having come the first week of Spring we were able to find a table without any trouble.
Featuring live music and a 90-seat outdoor heated patio and open fire, the Dubh Linn Gate provides an atmosphere that's both fun and friendly.  It's a great place to unwind, kick back and enjoy some comfort food.  The atmosphere is also cozy with lots of wood and a staff that is warm and friendly.
The menu features a nice variety of food with the emphasis being, of course, Irish fare.   We shared and enjoyed a couple of appetizers while waiting for our entrees.  How can you go wrong with freshly baked soft pretzels dipped in a crock of cheese and grainy mustard?  Or rosemary garlic chips dipped in bacon chive mayo?  The answer:  You can't.
Although a pub, the presentation of the food is several notches higher than what you would find in the traditional pubs of Great Britain.  Under the creative direction of Executive Chef Michael Guy, the Dubh Linn Gate takes pride not only in the flavor of the food but its presentation.  The Steak & Guiness Pie was gorgeous and I love the whimsical addition of the sprig of rosemary.  The solid wooden trays the food came on are custom made for the Dubh Linn Gate with a dedicated groove for the condiment cup and the restaurant's name burnt into the wood.  The bangers at the Dubh Linn Gate are specially made for them at a local sausage shop in Vancouver.
And just look at these desserts.  The Banoffee Pie was one of the best desserts I've had in a while and the Spiced Apple Crumble, a ginormous serving, was delicious.
The Dubh Linn Gate advertises they're open for "breakfast, lunch, dinner and dancing" with a wish for the following:  "May the sound of happy music and the lilt of Irish laughter fill your heart with gladness."  The Dubh Linn Gate Irish Pub provided a fun atmosphere, satisfying comfort food, and fast and friendly service.
With lots of great family-oriented activities, fabulous hotels and food, our family had a great time in Whistler and are looking forward to a return trip!  
For more information about the Pan Pacific Whistler Village Centre Hotel, visit their website:  Pan Pacific Whistler Village Centre hotel
For more information about the Dubh Linn Gate Irish Pub, visit their website:  Dubh Linn Gate Irish Pub
For more information about Whistler and to plan your vacation, visit: Tourism Whistler
That's me below.  Okay, not really.  But maybe next time!
Discosure:  Our stay was hosted compliments of the Pan Pacific Whistler Village Centre and Tourism Whistler.  We enjoyed a complimentary meal at the Dubh Linn Gate Irish Pub.  I was under no obligation to write a positive review and as always, all opinions are entirely my own.