Above image courtesy of Hotel Murano.  All other images, unless otherwise noted, copyright The Daring Gourmet.
Enjoy this virtual tour of the beautiful Hotel Murano.  A stunning hotel of glass in the heart of Tacoma.
I love the South Puget Sound region of Washington State.  It's simply beautiful and it's my home.  And with so many attractions and things to see and do it's a wonderful vacation destination, whether for a romantic couple's getaway, a great outdoors adventure, or a fun family trip.  (For information on the area's attractions, visit Travel Tacoma)
A few weeks ago I was thinking about Tacoma and the surrounding area from a traveler's perspective, specifically places to stay.  A Google search turned up several results and one of them caught my eye:  Hotel Murano.  This Forbes 4-star rated luxury boutique hotel had before now, somehow, managed to escape my awareness.  As Tacoma's only 4-star hotel, my curiosity was especially piqued.  I contacted Hotel Murano and my husband and I were invited for a stay.  This luxury hotel in the heart of downtown Tacoma turned out to be one of the most unique and fascinating hotels we've visited.
Hotel Murano is located just steps away from some of Tacoma's finest restaurants, theaters and museums, including the world famous Tacoma Glass Museum and LeMay Car Museum.  It's also just minutes from Chambers Bay, the location of the 2015 US Open, and will no doubt be the hotel of choice for many of the competitors and spectators alike.
Tacoma Washington is the epicenter of the American glass art movement and in honoring this heritage Hotel Murano is built around a theme of glass art.  Lofty cathedral-high ceilings of glass adorn the main floor and on display throughout the hotel is a museum-worthy collection of glass art from around the globe, some of them commissioned specifically for the hotel.  A total of 45 glass artists from 12 countries are showcased throughout the hotel.  Docent-led tours of the collection can be arranged by appointment upon request.
Let me show you around the premises.
Hotel Murano is ultra chic, modern and lofty in its design and decor, yet somehow thoroughly unpretentious.  On the contrary, it's very welcoming.   Even amidst the sweeping ceilings and open floor plan, it feels intimate and surprisingly cozy.
Looming over the lobby is Massimo Micheluzzi's incredible glass blown-and-silvered sea anemone-like chandelier.  Works by world-renowned Tacoma born glass artist Dale Chihuly are also on display.  The lobby is absolutely gorgeous and can be viewed from multiple levels of the hotel.
Also on display in the lobby is Karen LaMonte's Pianist's Dress, a life-sized, floor-length gown made of cast glass.   (And seated in the lobby is another crowning work of art:  My husband.)
Suspended high in the air above the Grand Corridor are three giant, stunning Viking boats created by Danish artist Vibeke Skov.  The stained glass ships depict the Norse creation myths.
The beautiful lobby and works of art I mentioned can be admired from the full view of the Lobby Bar and lounge where you can enjoy hand-crafted cocktails and delicious appetizers.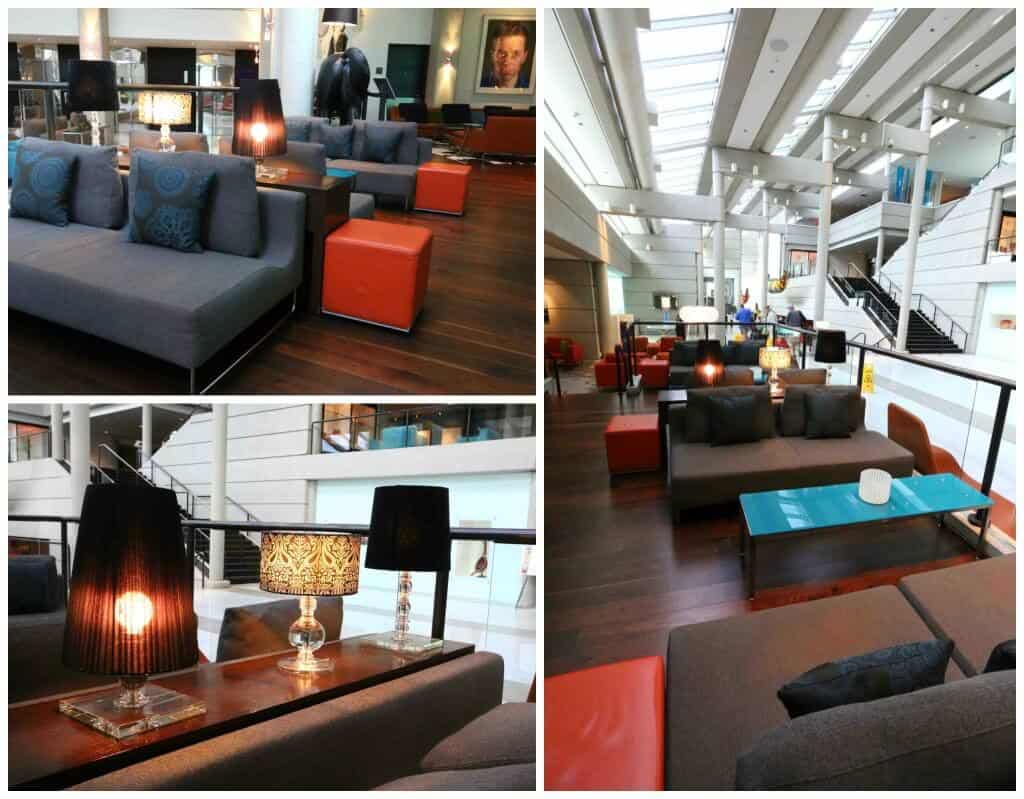 Enjoy the soft light from the fire and more artwork to inspire your conversation.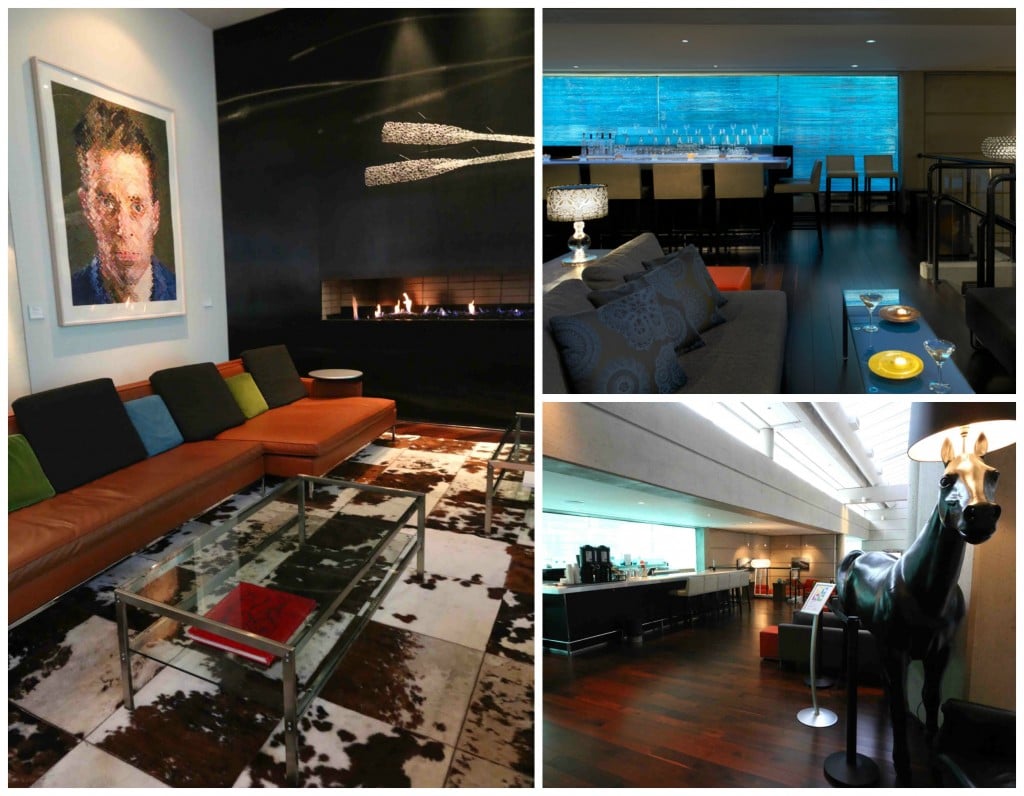 A jazz trio began to play and we enjoyed the live music from several locations in the hotel.  Playing in the open lobby below, the live music can be heard throughout the main floor, sitting areas on the second level overlooking the lobby, and from within BITE, the hotel's restaurant on the third floor.  The acoustics are excellent and as musicians ourselves we enjoyed the live music resonating throughout the hotel.
There are several comfortable areas for sitting and relaxing throughout the hotel, below are just a few examples.  And of course there is always ample artwork nearby to peruse.
And if you're looking for the perfect souvenir to take home with you be sure to visit Creative Forces Gifts & Sundries.  Run by local artist Carolyn Osborne, the gift shop and gallery is located off the hotel's lobby and features the artwork of over 40 local artists.  You'll find everything from jewelry to glass, bronze, pottery, leather, paintings and more.  For locals interested in visiting the gift shop, complimentary Hotel Murano parking is available for your shopping convenience.
After enjoying the music and some food, we headed back to our room.  (Click Here for our previous dinner review of Hotel Murano's restaurant, BITE).
On the way up we discovered another unique and thoroughly fascinating feature of the hotel:  Each of it's 21 guestroom floors is fully dedicated to a different glass artist.
On the sign in the elevator:   "Upstairs a private collection of some of the world's finest contemporary glass treasures awaits you.  Each floor introduces you to an internationally acclaimed glass artist, their work and inspiration.  Come, explore but be ready:  It's glass like you've never seen before."
When the elevator doors open the first thing you'll see is an artistically designed illuminated glass panel with the name of the artist, their picture, quotes about their philosophy and work, and a sample of their art encased within the wall. Completely fascinated, we visited each floor and came away enriched by a better understanding and appreciation for the complexities of glass art.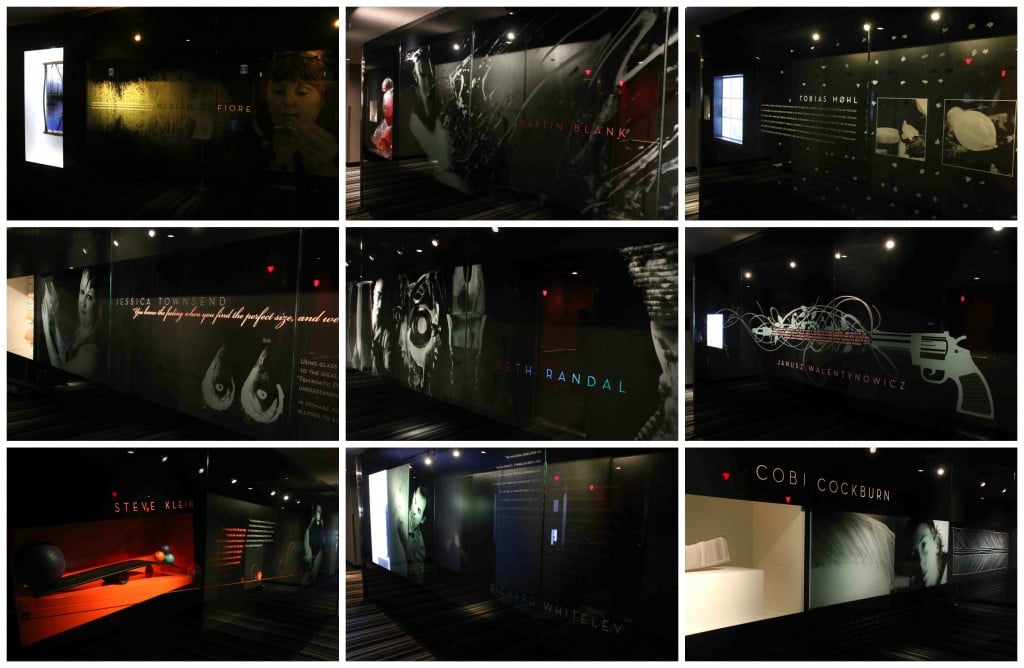 A former seamstress, Susan Taylor Glasgow now creates fused glass corsets:  "Misguided domestic talents eventually grew into concepts of sewing an unyielding medium, baking inedible creations, and stitching glass clothing no one can wear.  Housekeeping is last while instead I cook, arrange, and sew glass….My work embraces the feminine ideals of sewing and cooking, but in a contrary material."
"My life and art are the result of homemaking gone awry.  I have the luxury of exploring the complexities of domestic life from the safe distance of my studio."
Widely-traveled Dutch born Peter Bremers creates cast glass sculptures inspired by nature's most extreme landscapes:  "I can only say that, for me, the overwhelming emotion was my sense of insignificance in the face of the savage energy of the oceans and of delight at the sight of yet another majestic sunrise over a flawless snow-covered landscape.  How can I express my gratitude for this inexhaustible source of inspiration other than by trying to depict the awesome power and majesty of nature in my sculpture?  Not aiming to imitate or equal it, but simply to express my sense of wonder as a human being and an artist."
But the themed floors don't stop at these glass panels at the elevator door.  The entire floor and each guestroom showcases that particular artist's work.  The thought and planning that went into the construction, design and decor of Hotel Murano is truly remarkable.  One could easily spend a couple of hours touring each floor, learning about the artists and viewing samples of their work.  For us it was relaxing, fun and educational.
Time for bed.
We spent the night in the King Superior Suite.  Bigger than the Seattle condo we owned when we first got married, the suite features a large bedroom and separate living room, both with 42 inch LCD TV's and iPod docking stations.  The suite also has two full bathrooms.  Featuring Adam and Viktoria pillows and high thread-count duvets, the king bed was thoroughly comfortable.
Nothing has been overlooked to ensure your comfort.  Peruse their menu of specialty pillows to customize your sleep.  Borrow a copy of your book of faith.  In the mood for some music?   You can borrow an iPod preloaded with your choice of musical genre.
And get this, not only is Hotel Murano thoroughly pet-friendly, they've gone the extra length to ensure your pet's comfort as well:  They have pet beds, bowls, toys, treats and a comprehensive list of local pet resources.  If your pet likes to be pampered, they have a pet-friendly menu designed to meet your pets' nutritional needs.  You can even borrow your choice of books on everything from dog massage to pet psychology.
Whether man or beast, Hotel Murano has you covered.
We had a very comfortable stay and, to top it all off, the views from our hotel room overlooking city and port were beautiful.  The next morning we enjoyed a full view of Mt. Rainier.
In the morning, if you feel so inclined, you can hit the gym before breakfast.  And after your workout you can indulge yourself in a trip to the hotel's full-service Savi Day Spa for some lavish pampering.
And the pampering doesn't have to stop there.  You can head over to Salon Miro in the hotel for an artful approach to your hair.  They also offered personalized services for wedding parties and other important events.
Time for breakfast!
After our nice dining experience at BITE, we looked forward to a return visit for breakfast.  BITE is located on the third floor of Hotel Murano and is open to the public.  Here Chef Matt Stickle carefully selects the finest local ingredients and transforms them into culinary works of art.
Filled with more art, BITE offers a bright and cheerful setting for your most important meal of the day.
The breakfast selection at BITE is fabulous.  You can order your traditional favorites or sample something more creative.
We ordered the Fruit Kabobs with seasonal fruit and raspberry yogurt.  Todd ordered the Meyer Lemon Pancakes with maple syrup and whipped butter.  I had the Gingerbread French Toast with orange butter, mint Crème fraîche and maple syrup. Exquisite.
The texture of the pancakes was perfect, their aromatic Meyer lemon flavor was heavenly, and I totally fell in love with the Gingerbread French Toast.  The combination of the whipped orange butter, mint crème fraîche, gingerbread and maple syrup was divine.  
And yes, I ate my fruit kabob, sampled my husband's pancakes, and ate all three of those luscious French toasts.
After we got home and I started editing the pictures I took, I became curious about the hotel's name.  Murano.  It sounded faintly familiar and I looked it up online.  I smiled to find yet another layer of careful thought that went into the making of Hotel Murano.
Murano is an island chain in northern Italy less than a mile north of Venice. It's claim to fame since the 13th century:  Glass making.  Particularly lampworking and chandeliers.  For a while Murano was the main producer of glass in Europe and is still its main industry.  Glasswork produced in Murano is given a special designation and trademark for its geographical origin and the glass industry remains an inherent, integral part of Venetian historical and cultural heritage.
Given a Forbes 4-star rating and awarded the 2014 TripAdvisor Certificate of Excellence, if you're planning a trip to the area and are interested in experiencing comfort, luxury, inspiring art, delicious food and top-notch service, we highly recommend Hotel Murano.
Whether you're an art lover, avid golfer, Pacific Northwest resident, classic car nut, a couple seeking a romantic getaway, or are celebrating a special occasion, Hotel Murano has several special package offers.
And if you're just passing through or live locally, stop by Hotel Murano for some breakfast, lunch or dinner and enjoy a tour of the beautiful lobby on your way upstairs to the restaurant.
For more information about the hotel, visit their website:  Hotel Murano
1320 Broadway Plaza, Tacoma Washington 98402
(253) 238-8000
*  The very first two pictures in the post, the outdoor image above, and the bedroom pictures provided courtesy of Hotel Murano.  All other pictures taken by The Daring Gourmet.
Disclosure:  Hotel Murano hosted us for a night without any obligation to write a positive review, all opinions are entirely my own.