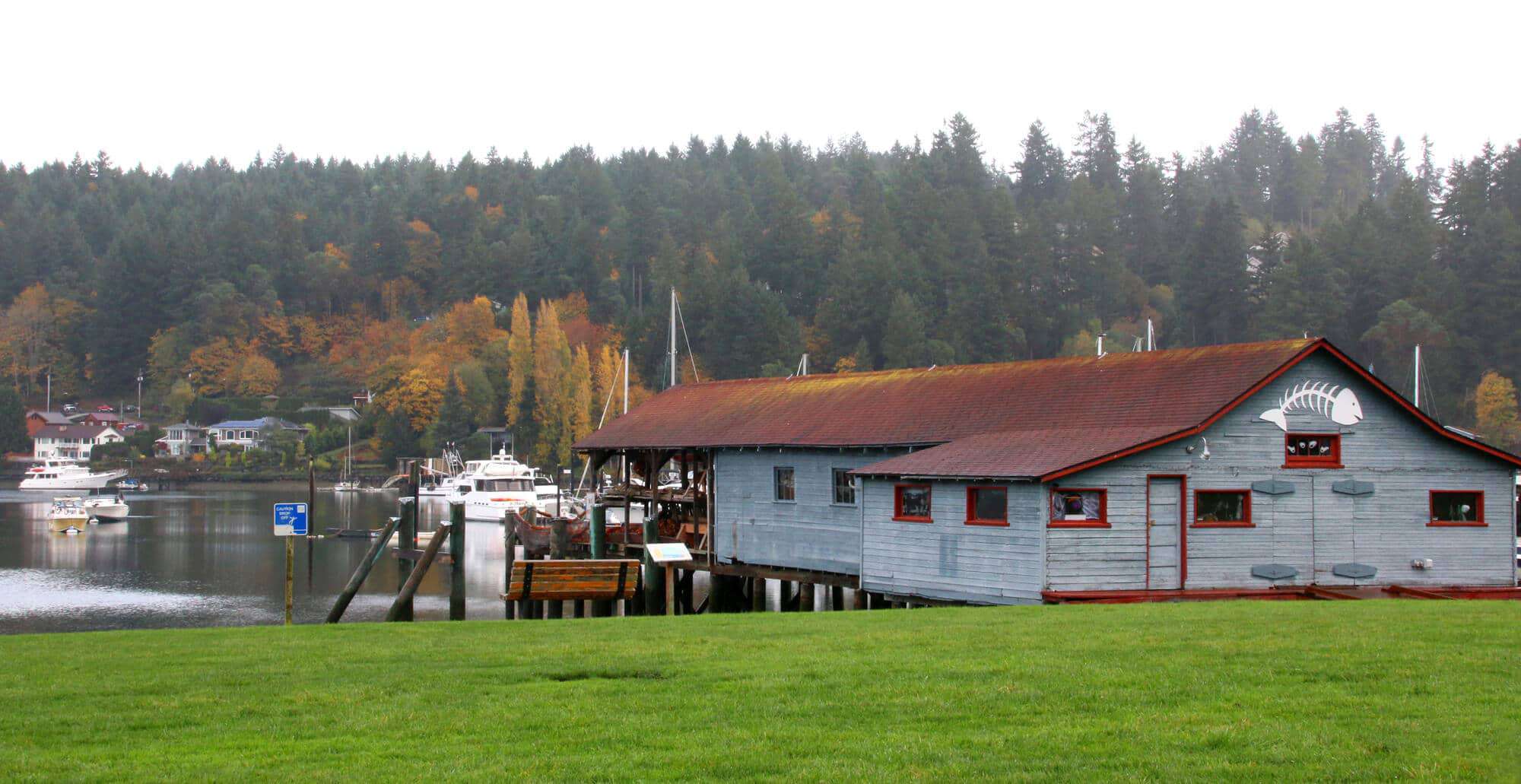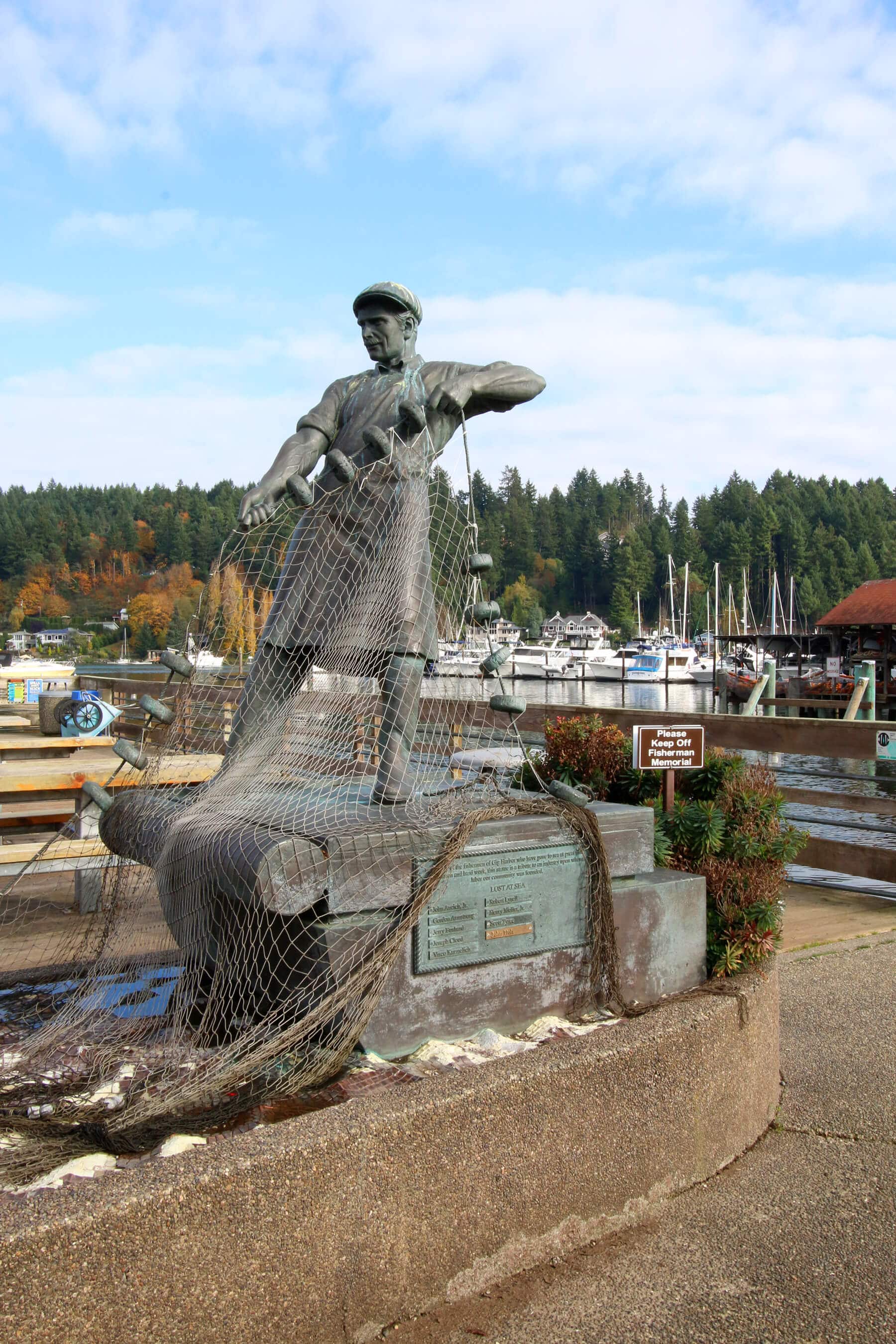 Once again we bring you to the beautiful South Sound region of Washington State to historic downtown Gig Harbor.
And this time we're taking a look at JW Restaurant.
Based on outward appearances, JW is the most unassuming restaurant you can imagine.  Located in a building so tiny you'll miss it if you blink your eyes, it resembles something more like a small fast food takeout than the romantic restaurant it really is.  JW is an embodiment of the old adage "you can't judge a book by its cover."  The moment you walk in and are enveloped in its charming, elegant atmosphere you can't help but release a slow "aaaaahh."  And then of course once you taste the food…
And it's for these reasons that JW has won the following distinction – 5 years in a row!
JW first opened its doors 5 years ago, the dream of owner Jason Winniford who has a long history in the restaurant industry, along with the support of co-owners and parents Joe and Karen Winniford.  He and his sister-in-law, Jamie Lindsey, are co-owners and together have created a true culinary gem in Gig Harbor.  It just won "Best Romantic Dinner" in the South Sound.
Chef Eddie Williams, joined them a few months later and brought with him his own style influenced by his years in Europe growing up in a military family.  In chatting with him I learned that he went to high school in my hometown of Stuttgart, Germany.  A second-generation cook, his father was a mess sergeant and Eddie's son has likewise followed the family pattern and cooks alongside his father at JW.  Chef Eddie was just recognized as "Best Chef" in the South Sound.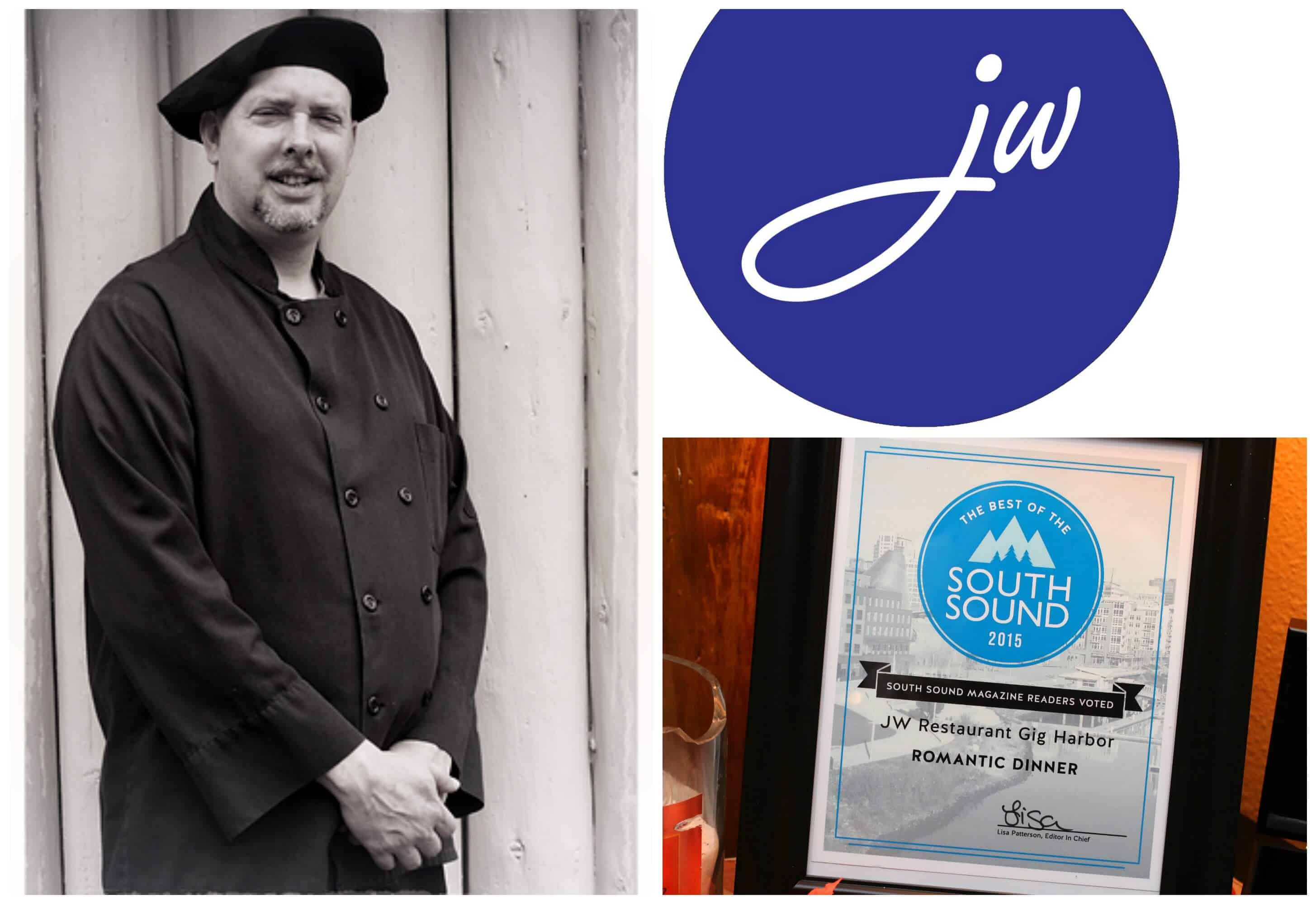 JW offers a cozy and thoughtfully decorated atmosphere that is romantic without being remotely stuffy or pretentious.  It has a very friendly and dedicated staff who clearly have a passion for both good food and top service.
One of JW's hallmarks is the complimentary wine you're offered while perusing the menu. We were well attended to, our flatware readily replaced, our glasses never allowed to run dry, and the table cleared swiftly and smoothly without ceremony.
JW features "creative comfort cuisine" with new twists on old classics.  The dishes are thoughtfully created and expertly executed.
We visited on a Tuesday and every Tuesday and Wednesday JW features a "3 for $30" deal: An appetizer, main course and dessert for just $30.  For a restaurant of this class I don't think I've ever seen a deal this good.
After perusing the menu we made our first selections.
For our appetizers Todd ordered the Honey Almond Prawns which had an excellent texture and flavor.
I had the Sweet & Savory Flatbread with goat cheese, grilled pears, pan-fried prosciutto, arugula, toasted walnuts and honey drizzle.  Need I say more?  I'd come back again just for that flatbread!
The bread was perfectly crispy on the outside, soft and chewy on the inside, and topped with a delicious medley of flavors and textures.
Our table gave us a good vantage point to the kitchen and we were close enough that we were able to chat with the friendly kitchen staff throughout their preparations.
As we sat waiting for the next course it was really fun to watch the kitchen staff at work and to visually savor all of the finished dishes coming out and smell all of the mouth-watering aromas.
A few that we saw come through included the Apple & Parmesan Salad and the Lobster Mac & Cheese.  The latter features large conchiglie shells stuffed with white cheddar, mozzarella, pepperjack, pecorino and romano cheeses.  It's then baked with a creamy cheese sauce with sun-dried tomatoes and green onions.  Guess what I'm wishing I had for dinner right now?
Before our entrees arrived I also wanted to try the Roasted Red & Gold Beet Salad.  I love beets and the flavor combination sounded (and was) superb: Cherry vinaigrette, arugula, goat cheese and pistachios.
There were some excellent-sounding entrees to choose from, selections like Duck & Dumplings, Seared Sea Scallops, Eggplant Parmigiana and Wild Salmon with a sweet chile sauce, but the one that really hooked me was the Bacon-wrapped Pork Tenderloin with a sage mushroom demi, crispy smashed potato and seasonal veggies.  I mean, just look at it!
I think I unnerved the chef a bit by requesting the tenderloins be cooked to well done, but as requested there wasn't a trace of pink and it was still perfectly, lusciously tender.  I savored every last bite.  The crispy, crackly-skinned smashed potatoes and asparagus were the perfect accompaniment.
Todd was craving something similar and ordered the flat iron steak with the same accompaniments.  Perfection.
We were full.  But there was no way we were leaving without sampling dessert.
The chocolate mousse cake and pumpkin cheesecake were both absolutely sublime.
We were the last ones to leave the restaurant that night (can you tell we enjoyed ourselves?) and Chef Eddie came over and sat with us while we finished our desserts.  I complimented him on his chocolate mousse cake and he chuckled as he told us that the base crust is made out of crushed up chocolate Teddy Grahams, inspired by his 3 year old grandson.  I like hearing stories like that.
The cheesecake was made by Chef Eddie's son who is also a cook at JW.  Todd and I shared each other's desserts – they were outstanding.
For delicious creative comfort food, a warm romantic atmosphere, friendly service and an affordable middle price point of around $20, JW is a winner indeed.  We highly recommend it.
JW only seats about 40 people so unless you're coming on a weeknight it's definitely best to make a reservation.
For more information visit their website:  JW Restaurant
4107 Harborview Drive
Gig Harbor, WA 98332
253.858.3529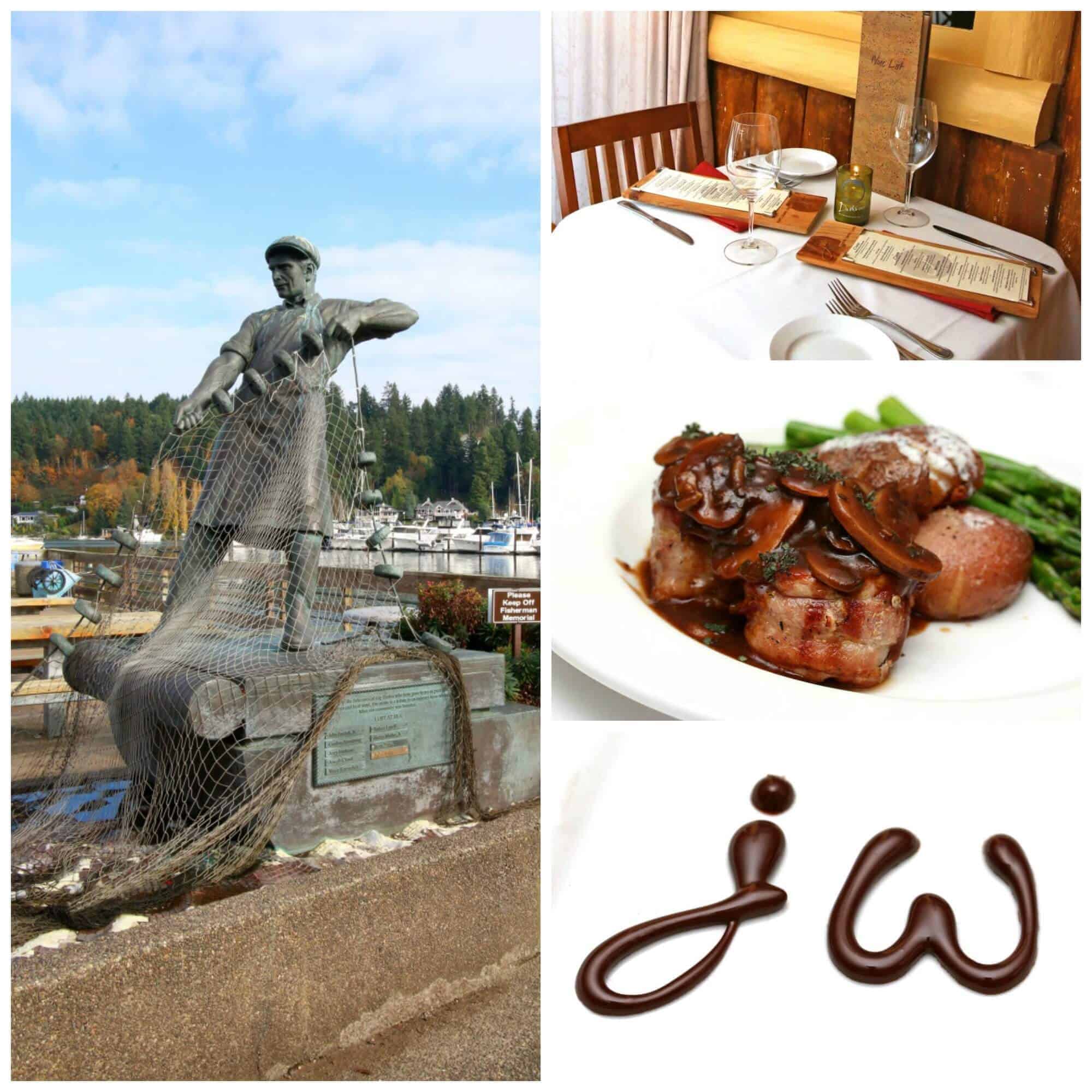 JW Restaurant hosted us for a meal without any obligation to write a positive review.  As always, all opinions are entirely my own.