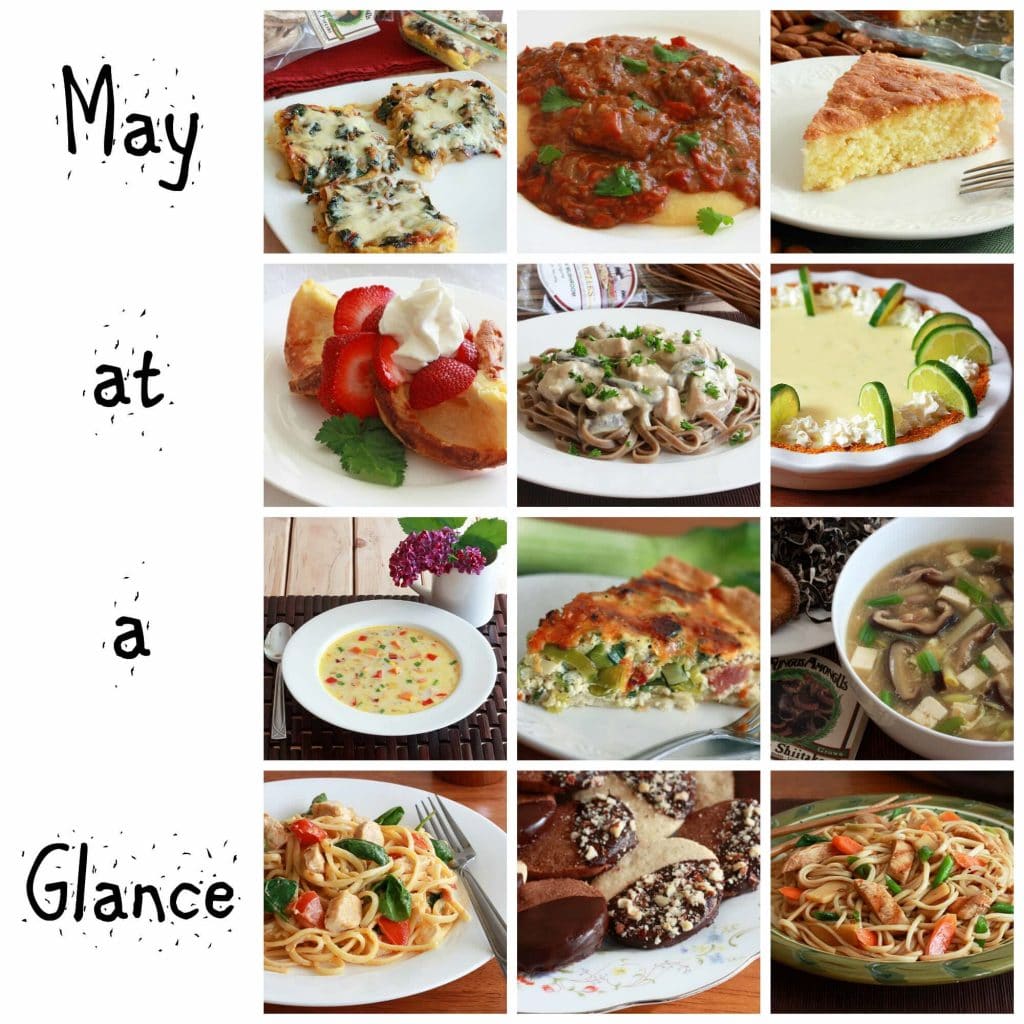 We really enjoyed some great food in May, didn't we?  I had forgotten just how good until I compiled the recipes.  Soups, pastas, cookies, cake, pie, quiche, and some daring originals!
To summarize, we enjoyed (from top to right):
Baked Polenta with Mushrooms, Bacon and Swiss Chard – a "Make a Request!" fulfillment and a recipe truly destined to become a favorite.
Mexican Grillades and Grits – a thoroughly original recipe and possibly even better than the traditional version.
French Almond Cake with Green Tea Honey Glaze – another "Make a Request!" fulfillment with results that went way beyond my wildest expectations.
Strawberries and Cream Popovers – another Daring Gourmet original, a twist on traditional strawberry shortcake.
Porcini Mushroom Linguine with Chicken, Shittakes and Gorgonzola – pure, creamy yumminess.
Key Lime Pie – scandalously delicious, ridiculously easy.
Sweet Potato Corn Chowder – yet another original.  Sweet potatoes, sweet onions, sweet cream, sweet corn combined with salty bacon.  Heaven.
Bacon and Leek Quiche – butter leek combines with savory bacon.  A match made in heaven.
Restaurant-Style Chinese Hot and Sour Soup – this rivals the best you've had at any Chinese restaurant.
Creamy Pasta with Chicken and Sun-dried Tomato Pesto – simple, quick, delicious.  Perfect for a busy weekday dinner.
Hazelnut Shortbread Cookies – the cookies get a mega boost of flavor from a secret added ingredient.
Chicken Teriyaki Noodles – another quick and delicious meal to whip up in a hurry.  It also features a Daring Gourmet Homemade Teriyaki Sauce that is destined to become a staple in your home.
and last but not least, today's featured recipe:
Honey Mustard Dilly Cheese Chops – enjoy pork chops like you've never enjoyed before!
Yes, the month of May was a truly delicious one!  Thanks so much for sharing it with me!
Be sure to "like" The Daring Gourmet on Facebook so you'll never miss a recipe!