We purchased our 105 year old farmhouse a little over a year ago and have been working on renovating a tiny guesthouse on our property.  The guesthouse is 96% complete!  We're just installing the baseboards in the upstairs loft and then need install a railing on the outside deck.  Then we'll finally be FINISHED!!
While we're working on that I wanted to address another essential "nuts and bolts" item of this remodel project.  Last week we talked about heating and today we're turning our attention to another critical matter:  
That's a pretty important detail, right?  I don't know about you but I'm not a fan of cold showers, no siree.  A hot shower is my morning therapy.  And likely our visiting family and guests will feel the same.
And so we carefully researched the best water heaters on the market and then made our choice – and we are very happy with it!
We're fans of Rheem water heaters in general and after researching the best options for non-tankless water heaters, we felt all the more confident going with Rheem.
We would have liked to go with a tankless water heater like we have in our main house, but we didn't want to go through the hassle, expense and permitting of running another propane line.  And an electric tankless water heater would have been too much for the service panel in that building to handle.  So the best choice:  A traditional electric water heater.
Rheem has several great options that fit that bill but there was one in particular that stood out to us and had excellent reviews:  The Marathon.  It's regarded as "the most durable water heater ever made."  While it's non-tankless and electric, the Marathon is far from traditional:  It has a non-metallic tank (meaning it won't rust or corrode), is lightweight when empty, it's an Olympics athlete when it comes to performance, and it's very well-insulated.
On that latter point we put it to the test:  After letting the Marathon fully heat the water, we shut the breaker off and let it sit for three days.  After three days we went out to check the water temperature and it was still very warm.
We went with the 40-gallon Marathon water heater which is slightly oversized for this small of a place, but will provide an ample hot water supply for our visiting family and friends.
Especially comforting is the Marathon's impressive Lifetime Warranty on the tank.  Something we learned years ago is that for certain things it's worth it to pay more for quality.  The Marathon is an incredible water heater and it's one of those purchases where you may spend more initially but it ends up saving you a lot of headache and money – replacement cost and energy usage – in the long run.
Here are a few more details:
High efficiency design and a lightweight tank that won't corrode
Seamless, blow-molded, polybutene tank – impervious to rust and corrosion
Multiple layers of filament-wound fiberglass give the tank unmatched strength
Polyurethane insulation helps reduce energy consumption
Tough molded polyethylene outer shell resists dents, scratches, and salt air
Efficiency
.95 EF
Well insulated for reduced standby heat loss
Pipe wrap energy saving kit included to achieve maximum energy savings
Performance
FHR: 42 – 61 gallons, depending on model
Recovery: 21 GPH at a 90° F rise
Easy Installation & Service
Marathon's lightweight tank is easier to maneuver and position. Bowl shaped tank bottom drains completely.
Water tight grommets keep out overhead moisture and condensation
Titanium lower element for superior resistance to lime build-up
Visit Rheem's website for more information about the Marathon and check out the YouTube video below.
https://www.youtube.com/watch?v=EN_mGd53nC8&feature=youtu.be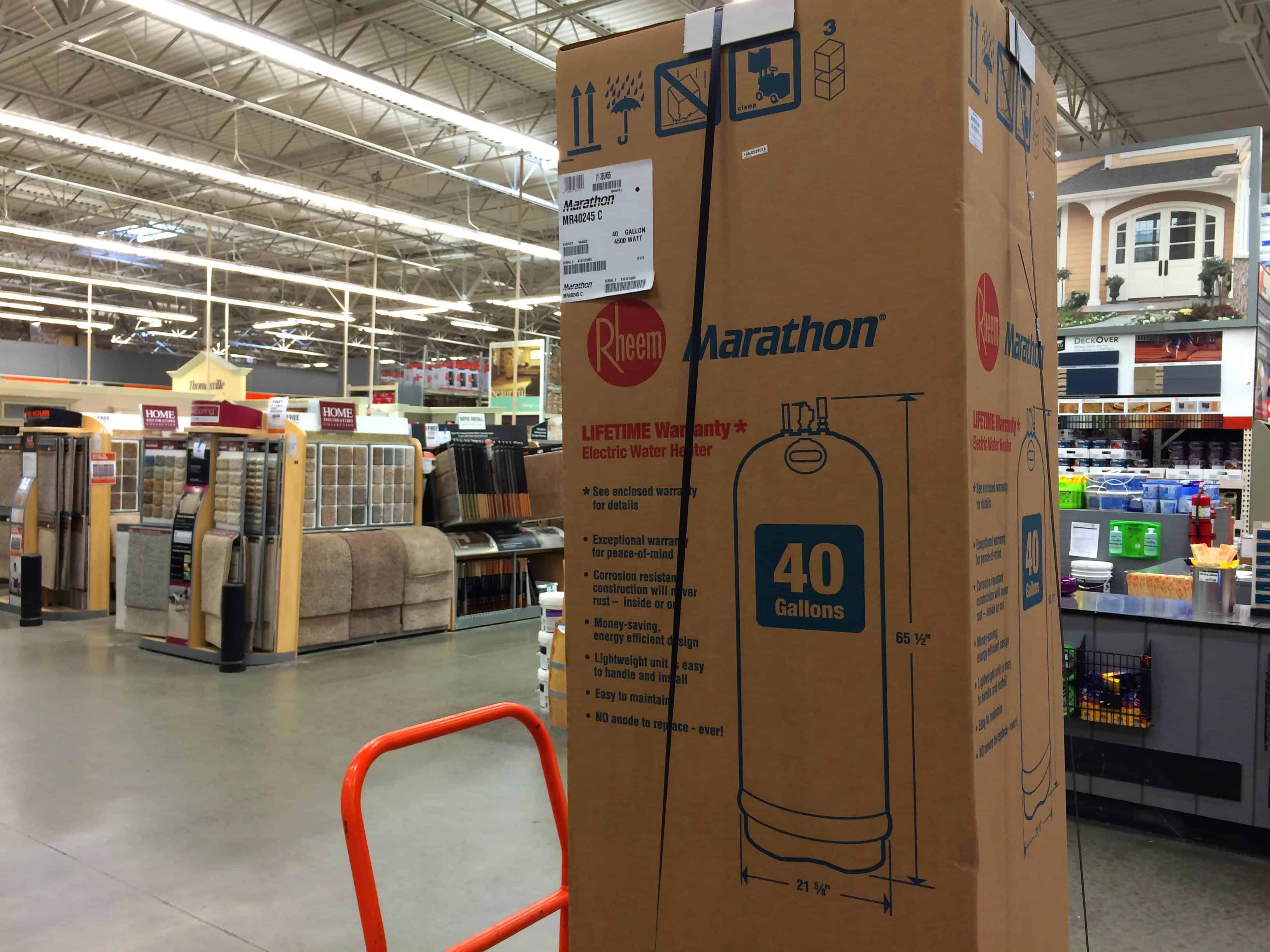 We picked up our Rheem Marathon at our local Home Depot.  They have a very large selection of Rheem water heaters.
We brought it home and had it set up within a few hours next to our well pressure tank.
In our area, code and insurance requires the use of earthquake straps so we installed those as well.
Isn't that a gorgeous appliance!  Aside from being an amazing performer, the Marathon is also quite attractive for a water heater with its sleek lines and rounded top (just sayin').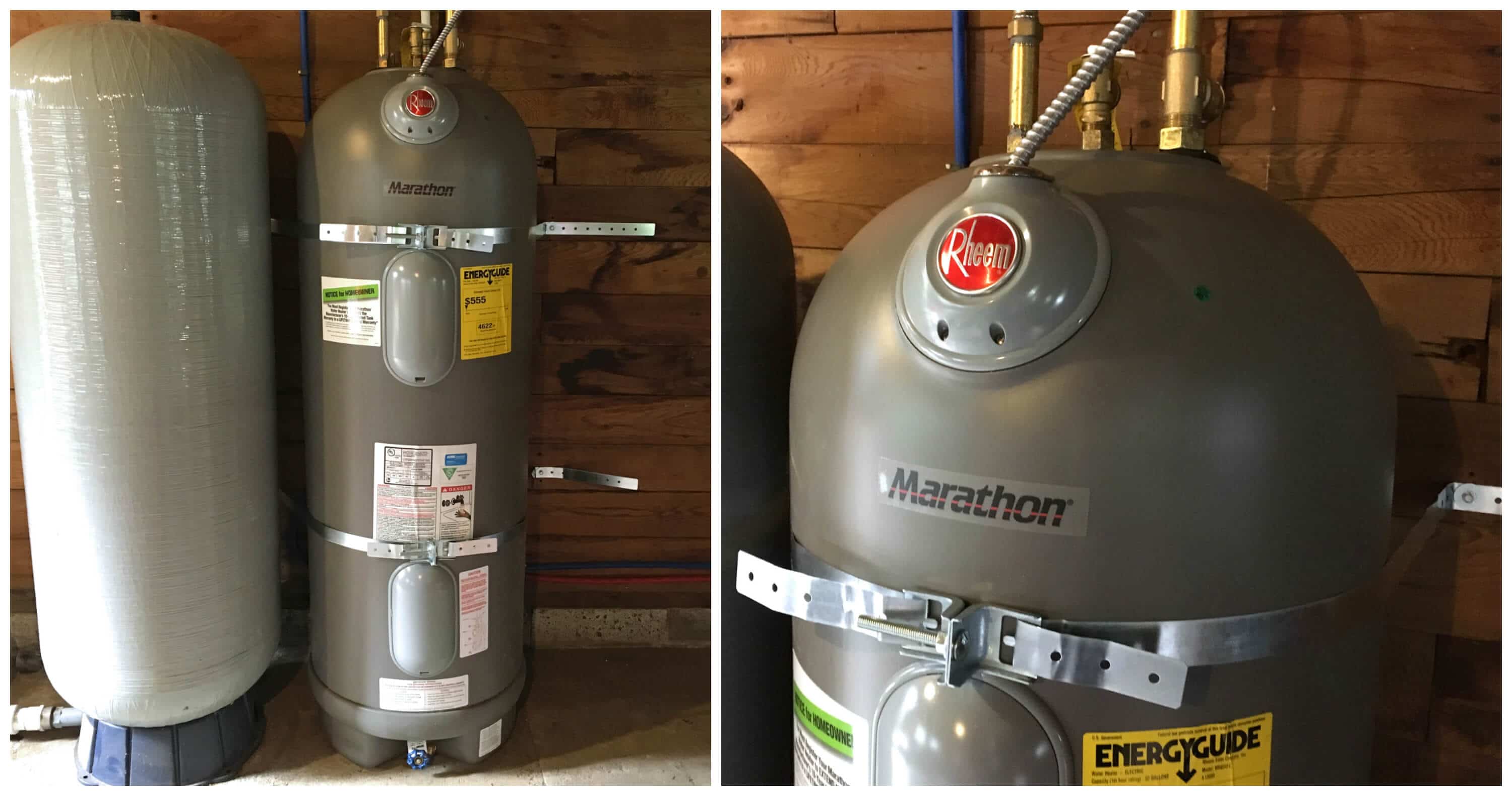 Within no time we had hot running water in the sinks and in the shower – glorious!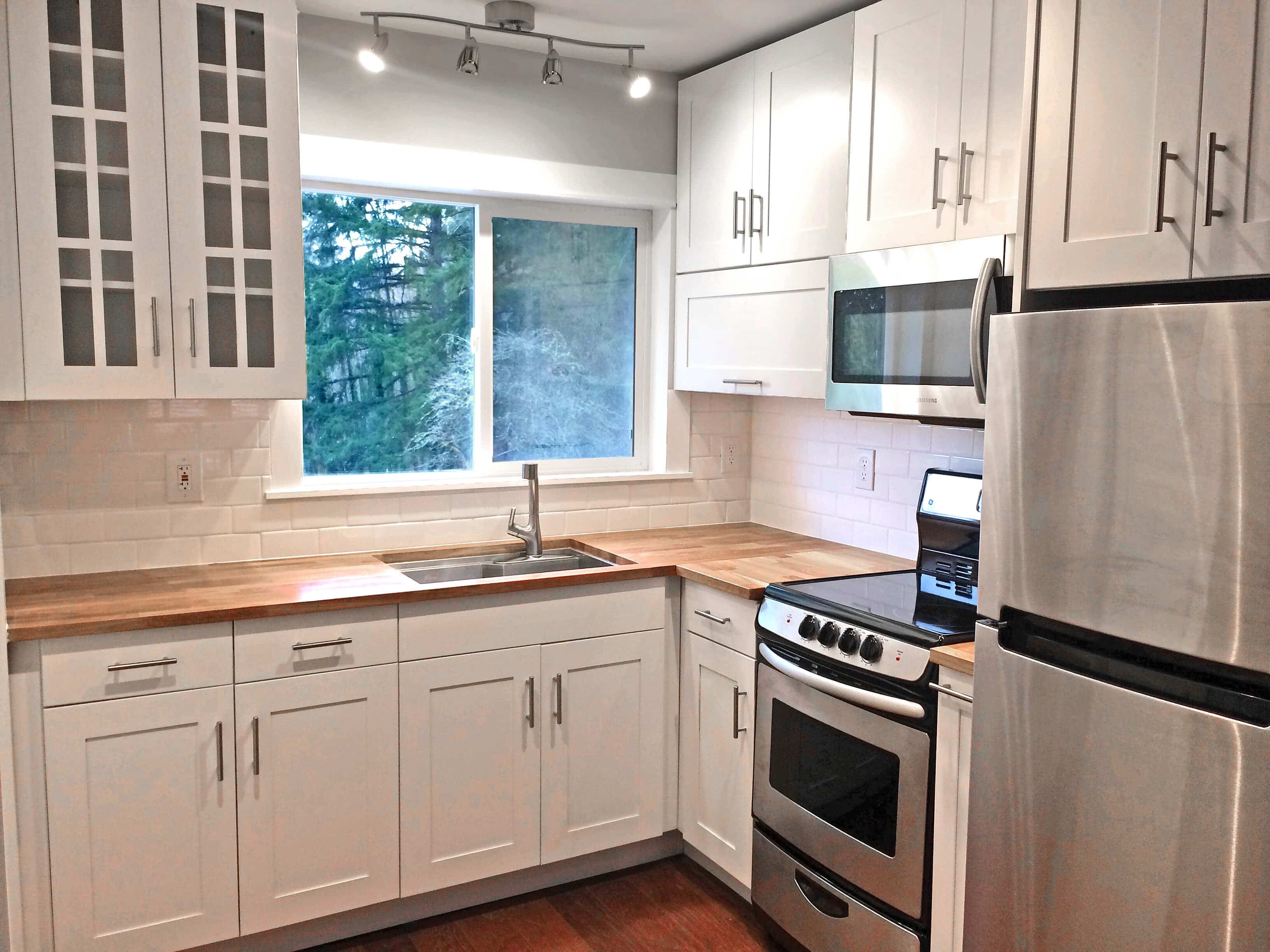 We couldn't be happier with our Rheem Marathon water heater and highly recommend it!
For more information about Rheem and to learn more about their water heater options, visit Rheem.
A special thank you to Rheem for partnering with us on this project and to my readers for supporting the brands who make The Daring Gourmet possible!