I received these D-Link cameras for review.  All opinions are entirely my own.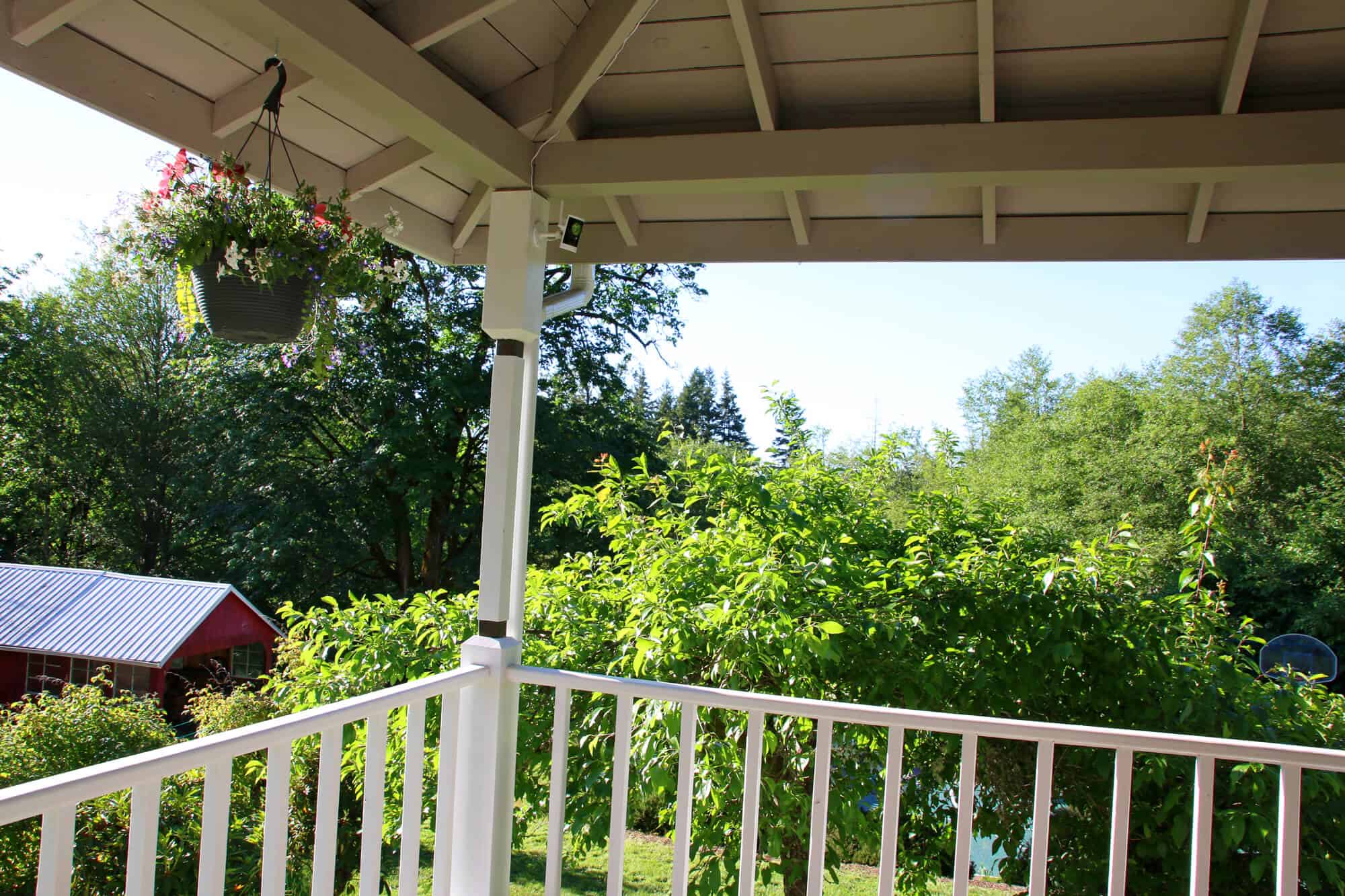 I'm not an overly paranoid kind of person.  But I'm also not excessively carefree or naive.  I'm not oblivious to the fact that there are people out there, even in the best and otherwise safest neighborhoods, who will trespass onto your property, break into your cars and into your home.  And especially since becoming a mother with children to protect, I feel more vulnerable than I used to and have felt the need to take more precautions to ensure my family's safety.
We bought a new home a few months ago on nearly 8 acres of property with multiple outbuildings.  That's a lot of property to look after.  And though rural areas generally have less crime and lower break-in rates than urban areas, when you don't have a neighbor right next to you, you tend to feel a little more vulnerable.  So shortly after we moved in we started talking about measures we could take to ensure our family's and property's safety beyond the basic alarm system we already had.  A guard dog would be great.  Better yet, two of them.  Loyal, loving dogs that our kids can snuggle with, but ones that snarl and bare sharp fangs towards the right (or rather, the wrong) people.  But though we do plan on getting a dog at some point, we don't want to have to resort to that in order to feel safe.
Then we heard about D-Link.  And we were really intrigued.
We immediately took the opportunity to try out a few of their products and we're glad we did.  Let me share our experience with you.
We installed two indoor and two outdoor cameras, all of them PC Magazine Editor's Choice picks.  More on the cameras in just a moment.
We hooked them up to D-Link's Ultra Wi-Fi Router which is also PC Magazine Editor's Choice pick.  And I'm not surprised because it's so powerful that we have connectivity across most of our nearly 8 acre property.  We're able to connect everything to it including our laptops, iPhones and AppleTV.  It's awesome!
Here are a some of its features:
Built for today's connected family and to support a range of devices all connected at the same time – from laptops, smartphones, Smart TVs, gaming consoles and beyond.

Stream HD multimedia across your home without interruption.
Control your network by enabling parental controls, blocking unwanted devices, monitoring internet activity, and creating Wi-Fi guest networks is simple with the user-friendly user interface.

Ultimate Wi-Fi performance with AC3200 Tri-Band speeds (1 x 600 Mbps in 2.4GHz + 2 x 1300 Mbps in 5GHz) to support more connected Wi-Fi devices to your high speed home network

Enjoy 4K/HD video and online gaming simultaneously with 3 x 3 data streams and 6 high-performance antennas

The 1GHz Dual Core processor gives you powerful wired and wireless speeds
We set up two cameras outdoors in locations that made the most sense:  One captures a view of the back of porch that has french doors going into our living room and the other has a full view of the front of our house, porch and front door.  Here are some of the features of this camera:
Weatherproof: Durable IP65 rated casing
HD 720p video resolution
Equipped to handle dust, rain, and snow
Picks up on loud noises, like breaking glass, and automatically sends alert notification

Built-in microSD card slot supports 32 GB capacity to record video clip recordings based on motion triggers, schedules, or continuously

Motion detection sensor sends you automatic push alerts and triggers clip recording that can be viewed on the mydlink app or web portal

View, control and pinch to zoom up to 10x using the free mydlink Lite app available for iOS, Android devices and Windows Phones

15 feet of night vision
Setup is an absolute breeze!  Seriously, anyone can do it.  And that simplicity is part of the D-Link hallmark.
We installed the first one at the top of one of the posts on our back porch.
It's able to take in the length of our back porch and the steps that lead down to the lawn as well as monitor the french doors that go into our living room.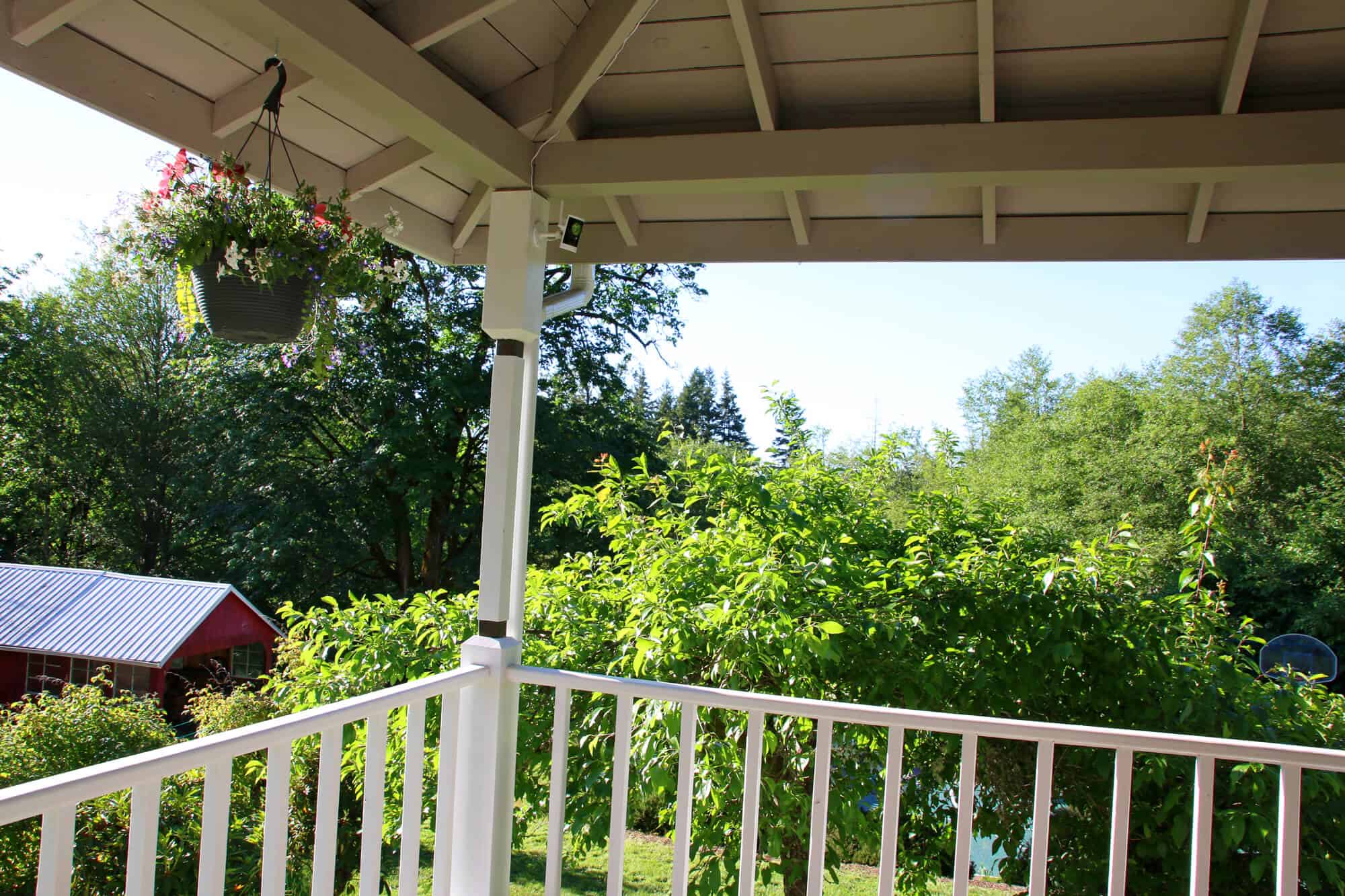 The second one we installed at the top of a pole in our pole barn adjacent to our house.
This camera covers the driveway leading up to the house, part of the front lawn, the front porch and the front door.
And in case intruders don't see the cameras and change their minds about doing anything stupid (which in and of itself is a good security measure), we want people to know that we have cameras.  You can make it easy for them by enlisting the help of a sign or two around your property.  We picked up two of these signs on Amazon.
And so what if it looks a little redneck, right?  All that matters is that your home, family and property are safe.  Redneck or not, as long as it keeps creeps off our property, I'm good with that.
No matter where you are – at work, at the store, on vacation far away – within seconds you can pull out your smart phone and connect via the D-Link app to your cameras.  And if anyone's there who shouldn't be or someone's doing something they shouldn't, within seconds you can have 911 on the line.
You can select which resolution you want and even tap into audio so you can HEAR what's going on, too!
The resolution and clarity of the image is very good, so is the quality of the audio.  So that if any intruders at any point come onto your property you can….
Aha, GOTCHA!
Um, never mind.
That's my husband.
*Ahem*
View of the back yard…in case the burglars try to steal a game of tennis.
The front porch with a clear view of the front door.
Eventually we plan to place cameras in multiple locations and with a simple tap of the screen you can instantly toggle between cameras.  It's pretty incredible.
Okay, now what about at NIGHT?
The first shot below was taken after 8:30pm when the light was very dim outside.  As you can see it does really well even in dim light.
We have found that in order for the night vision functionality to work in pitch darkness you need to have a light source next to it. Moonlight is inadequate.  That said, you can alter some of the camera settings to improve visibility and we still need to experiment with that.
This is two hours later around 10:30pm when it was pitch dark outside.  There are no lights near where the camera is installed and that's our next task, to mount an outdoor light near the camera.
That's what we did on our porch – we have several lights installed and the cameras perform perfectly at night.
Another really cool feature that  I already mentioned is that these cameras record video directly onto a microSD card.  So you can review past footage at any time.  You can't pull out your smart phone or look at your computer screen 24/7 when you're away from your home or sleeping and let's say that someone breaks into your car while you're not monitoring it.  But since you have the footage on video, guess what?
BUSTED!
Indoors we currently have two cameras and have them placed in two central areas of the home that have multiple entrances:  Our living room and our dining room.   Here are a few features:
180-degree Ultra-Wide View lets you see more of your home at a glance
Two-way audio: Picks up on loud noises, like breaking glass, and automatically sends alert notification

Sound detection and enhanced motion detection with 2 PIR sensors sends you automatic push alerts and triggers recording to a microSD card that can be viewed on the mydlink app or web portal

Designed for wall-to-wall coverage in expansive rooms with multiple entry points
Full HD 1080p video

Built-in microSD/SDXC card slot supports 128 GB capacity to record approximately a week's worth of 1080p clip recordings, based on motion or sound triggers, schedules, or continuous recording

Night vision up to 16-feet
We put one on top of a high bookshelf and the other on top of a high dining room hutch so they're out of the way and have a full vantage point of the room.
(And to eliminate the creepiness factor of feeling like you're being spied on, we simply remove them when we have guests over.  You know, just in case you ever come over for a visit.)
The picture quality and audio on this camera are excellent!
As with our outdoor cameras, we keep a small light source on indoors to assist with the night vision viewability.
Some additional features of these cameras is the ability to zoom in closer, schedule specific times for your camera to start recording and receive alerts the moment motion or noise is detected.
We're blown away by what technology today has made possible.  It's incredible that you can pull out your phone anywhere in the world and see what's going on within and outside the walls of your home.   It allows you to be there, even when you're not.  And even when you are there, it enables you to see different areas of your home – the downstairs, the upstairs, your driveway or front door.  All with the touch of your smart phone screen.  And the best part about it:
Based on our experience with D-Link thus far we look forward to adding more cameras around our property and trying out some of their other smart devices.
Bottom line:  D-Link offers state-of-the-art technology to protect your home and family for a minimal one-time fee, the cameras are very easy to set up yourself, the equipment can be added upon and expanded to further equip your home, the devices all work via the Wi-Fi you already have set up in your home so nothing further is needed, and there's no additional monthly charges whatsoever.
It's a no-brainer.
For more information about D-Link and to explore an awesome variety of home security products, visit their site:  D-Link.
Now, we want you to be able to experience one for yourself and so we're giving one away to a lucky winner!
To enter, simply leave a comment at the end of this blog post telling us why you'd like a camera for your home and how you plan to use it.  Then be sure to check off that you commented in the Rafflecopter box below so that your entry is reported!  (Plus note the bonus entries!)
THIS GIVEAWAY HAS ENDED.  THE WINNER IS:  TINA W.
Disclosure:  We received these products from D-Link for review without any obligation to write a positive review.  As always all opinions are entirely our own.