Learn how to can peaches with syrup, honey or without any sugar at all and then sit back and enjoy your labor of love all year long!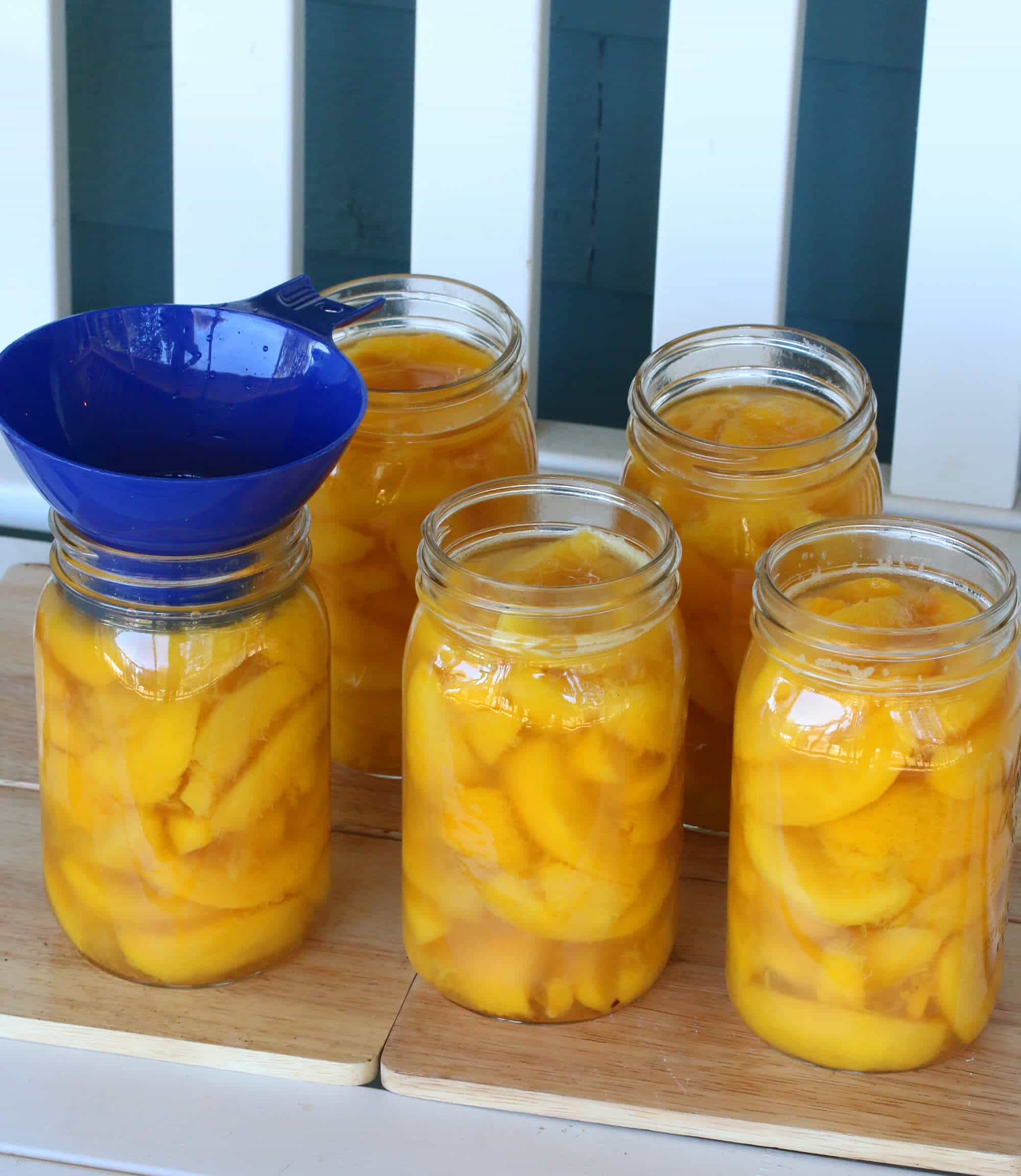 Canning is such a great way of preserving food to enjoy over the long haul.  Buy your produce locally when it's in season, can it and then you can enjoy it all the year round.  Canned peaches are an especially wonderful treat, whether you're enjoying them straight out of the bottle, cutting them up into a fruit salad or baking with them.
There are a variety of approaches you can take to canning peaches whether it's using the hot pack or cold pack version or making them with or without sugar or with a natural sweetener.  The choice is yours!
If you want to can peaches using sugar you have the option of making a syrup to whichever degree of sweetness you prefer.  A heavy syrup will typically be a ratio of  about 6 1/2 cups of sugar to 10 cups of water.  A medium syrup calls for about 4 1/2 cups of sugar to 10 cups of water.  A light syrup will use about 2 cups of sugar for 10 cups of water.  And you can go either heavier or lighter on each end of the spectrum.
To make a syrup you simply combine the water and sugar in a stock pot and bring to a boil.  Let the sugar dissolve completely.
You'll follow the same procedure if you're making a syrup with honey.  I like to use honey because it avoids the use of processed sugar and I'm only using just enough to preserve the color and enhance the flavor.  So I make a very light honey syrup using just 1/2 cup of honey per 12 cups of water.  And then I add 1 1/2 teaspoons of fresh lemon juice to each quart jar to help further preserve the color.
If you prefer to avoid any kind of sugar altogether you can do that as well.  Peaches can be canned without sugar, their natural acidity is high enough, but they will discolor and their flavor will deteriorate.  However, if you opt to can them without any sugar they are perfectly safe to eat.
Hot-packing means adding the fruit to the lightly boiling syrup, returning it to a boil and then immediately pouring the contents into jars.  (If you're not using any sugar you would simple boil the fruit in water.)
Raw-packing skips the step of boiling the fruit and with this method you pack the fruit into the jars and then pour the hot syrup over it.  It's generally considered most suitable for making things like pickles where you're wanting to retain some crispness.  It's also used for processing things in a pressure canner since that already requires a long cooking time.
Comparing fruit that has been hot-packed versus raw-packed, over time the hot-packed fruit both retains its color better and has a better flavor.
So to summarize the general guideline is this:
Hot-pack Method:  Use this if you're canning high-acid foods that you'll be processing using the water bath method.
Raw-pack Method:  Use this if you're making pickles or canning vegetables that need to be processed in a pressure canner.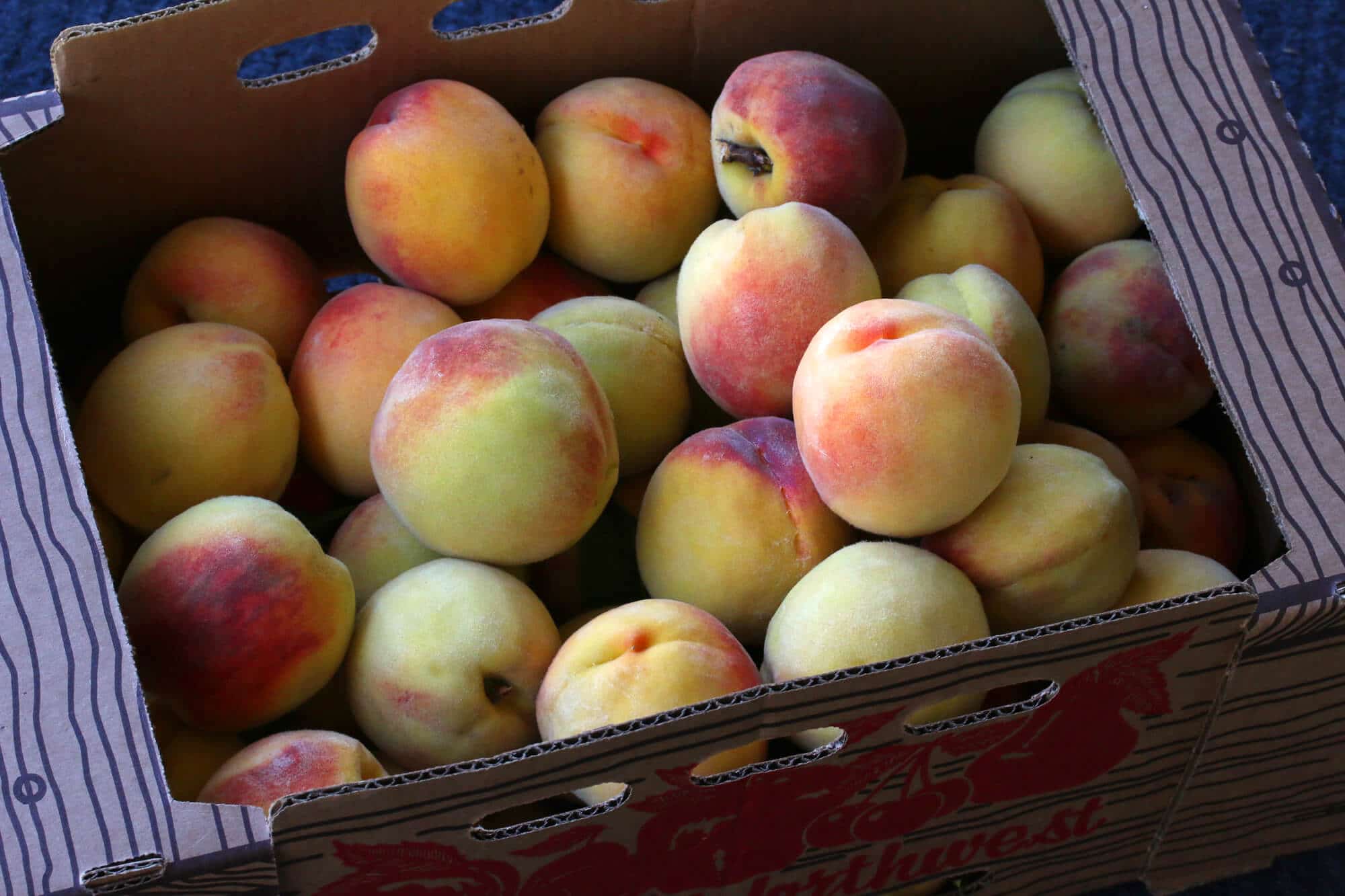 I'm going to make about 5 quarts of canned peaches in a very light honey syrup.  You can increase or decrease the number of quarts you want to can, just tweak the sugar or honey-to-water ratio accordingly.  
**And remember, none of this has to be exact, it's all strictly personal preference because the peaches don't have to have any sweetener at all to be safe.  So don't worry about not getting the ratio "right."  Simply taste the syrup and decide if you want it sweeter or not.
Select ripe but firm peaches otherwise they'll get very mushy once canned.
The best way to peel peaches is to briefly blanch them in boiling water for about 45 seconds – the peels will slip off easily.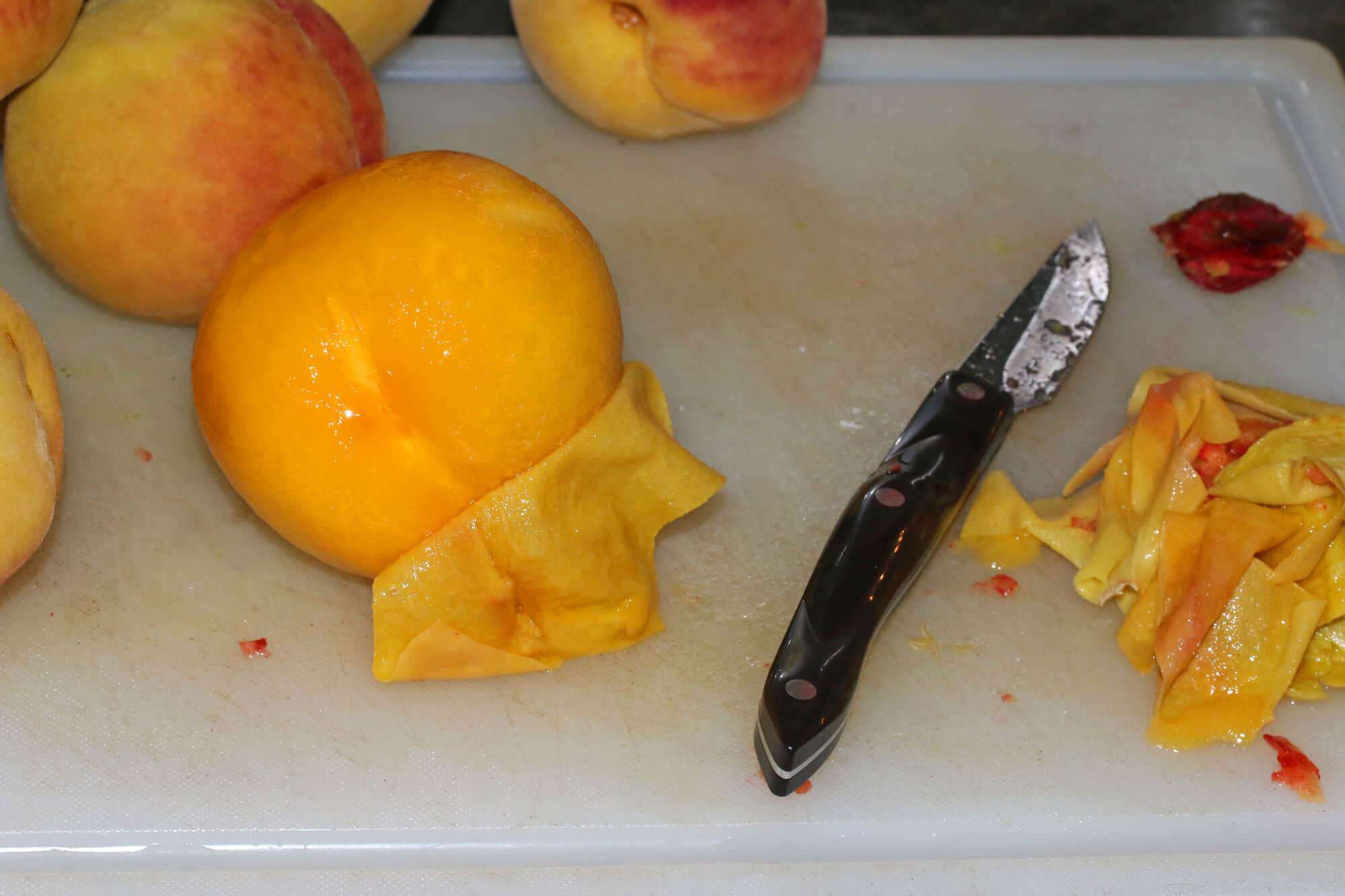 Next cut the peaches in half and remove the pit.  Cut out most of the red interior (otherwise it will become really discolored after a while).
You can either leave the peaches in halves and can them or cut them into slices, whichever you prefer.
Place the peaches in the lightly boiling syrup.  Return to a boil then turn off the burner.  Some people will boil the peaches for a few minutes but I don't because they're going to boil in the water bath canner.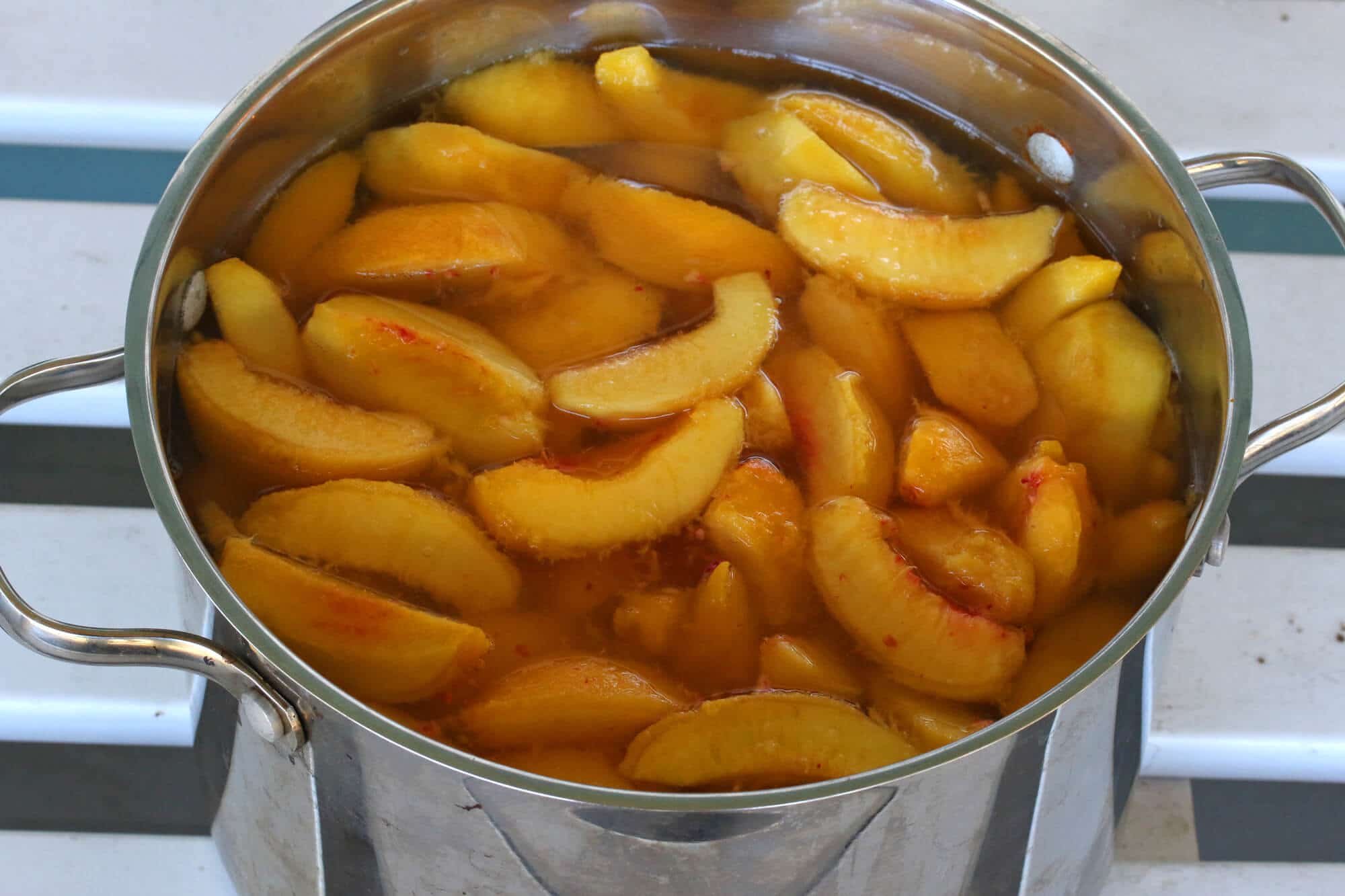 Immediately ladle the hot contents into sterilized jars leaving 1/2 inch headspace from the top of the jar.
Air pockets/bubbles will form in the bottle which will compromise the end result of your canned peaches.  To remove the bubbles take a butter knife and move it around between the peaches and jar.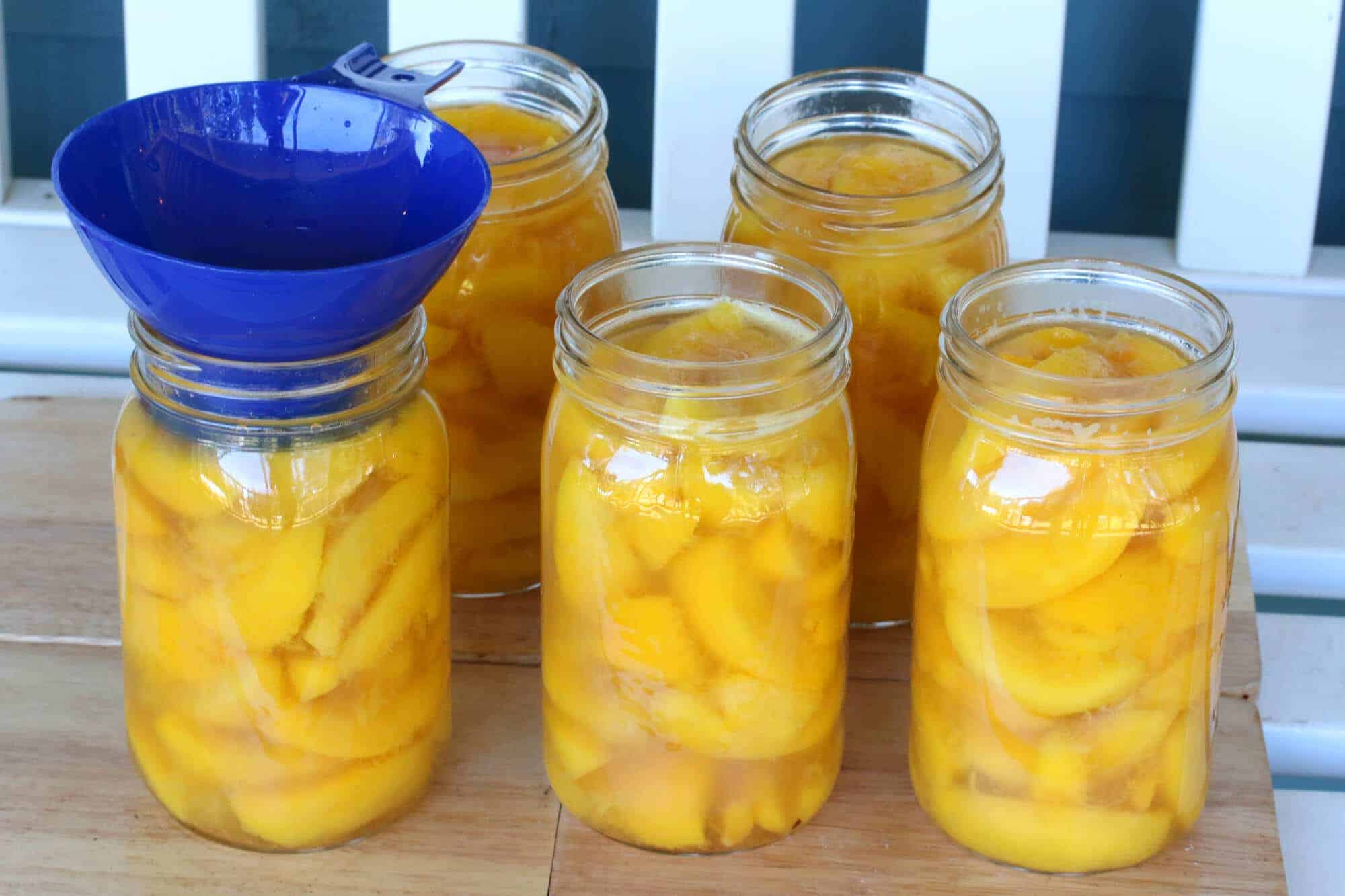 To help further preserve the color you can add ascorbic or citric acid but I prefer just to use a little lemon juice.  Add about 1 1/2 teaspoons in each quart jar.  Half that amount for pint size jars.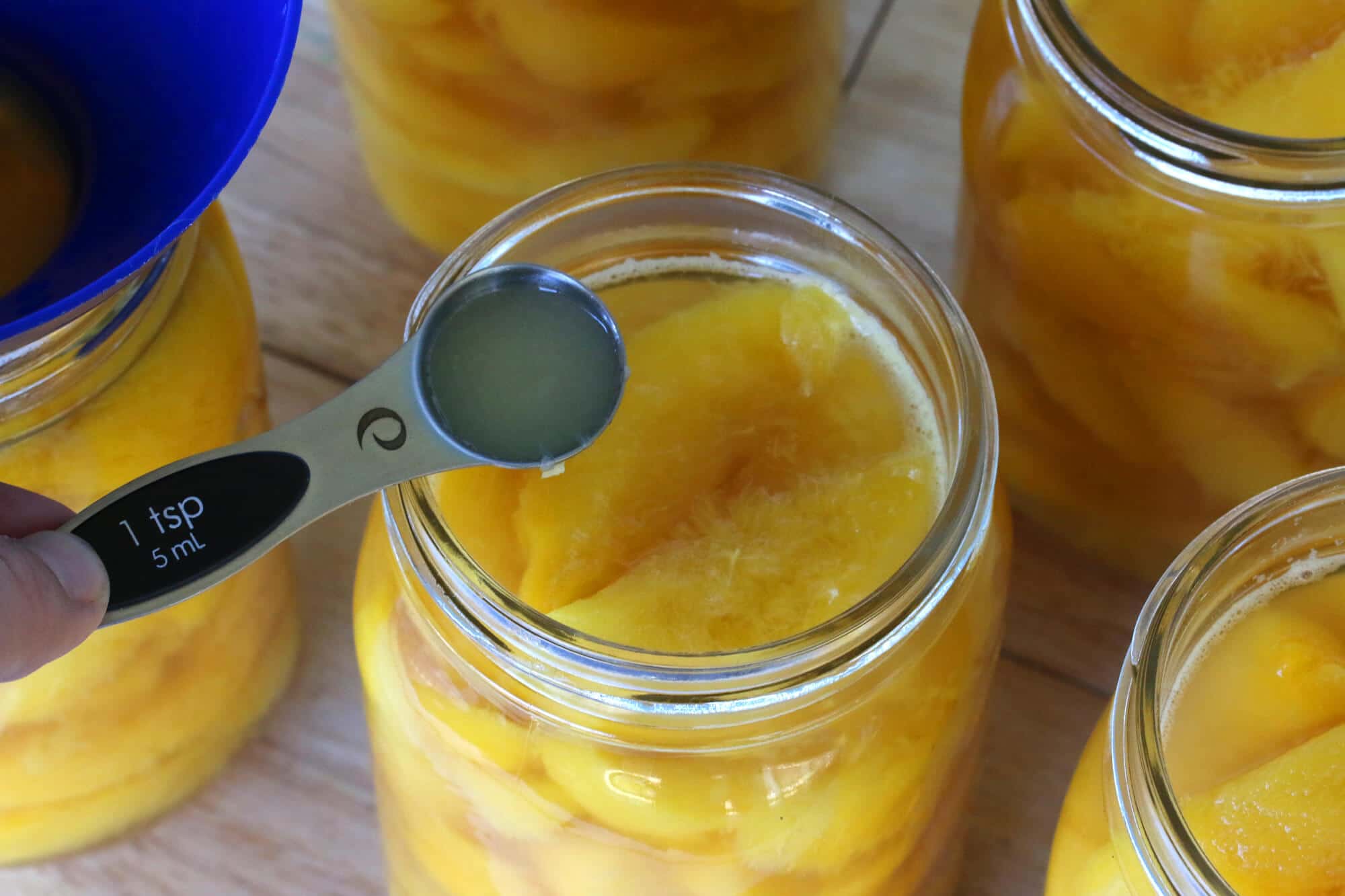 Put the lids on the jars and process them in a water bath canner for 25 minutes for quart size jars and 20 minutes for pint size jars.  That time will vary depending on elevation.  See chart below from the National Center for Home Food Preservation:
Table 1. Recommended process time for Peaches, halved or sliced in a boiling-water canner.
–

Process Time at Altitudes of

Style of Pack
Jar Size
0 – 1,000 ft
1,001 – 3,000 ft
3,001 – 6,000 ft
Above 6,000 ft
Hot
Pints
Quarts
20 min
25
25
30
30
35
35
40
Raw
Pints
Quarts
25
30
30
35
35
40
40
45
Remove the jars and leave them on the counter untouched for 24 hours before moving them to a dark, cool place for long-term storage.
Enjoy your peaches all year round!