Today we're featuring Savor Creperie in Tacoma, Washington.
A touch of class in the heart of Tacoma.  Standing just across the street from the Tacoma Glass Museum, Art Museum, State History Museum, and the historic Union Station Courthouse, Savor Creperie is worthy of its prime location.  With its sleek modern design and the logo "Savor" printed on the window, it's eye-catching and curiosity-arousing.  At any given time you can peek through the windows and observe smartly-dressed staff in white button-up shirts and green ties and watch the chefs, decked out in formal white double-breasted coats and tall toques, create the crepes right in front of you through the glass.  It's a thrilling sight!
Enter Savor Creperie.  Clean, classy and modern while still providing a cozy atmosphere.  Instrumental jazz standards were playing – Gershwin, Porter, Ellington – and I immediately felt at home.  As you look around you'll notice the fine art along the walls.  Savor Creperie regularly features local artists, currently the work of Terry Rishel, Dale Chihuly's photographer for many years, and we really enjoyed viewing the collection while we waited for our food.  Which wasn't long.  On the wall behind the counter is a large chalkboard with at least two dozen different crepe options listed, about half of which are savory and the other half sweet.  The flavors and ingredients all beautifully composed and balanced. Here are just a few examples you can enjoy through the palate of your imagination:  Maple Roasted Butternut Squash, Stilton Cheese, Candied Hazelnuts, and Fresh Thyme.  And what about Leek, Apple, Chicken Fennel Sausage, Goat Cheese?  Or how about Shredded Pork, Mushrooms, Cabbage Slaw, Hoisin Sauce?  The list of deliciously creative crepes goes on and on.  And then there's the dessert list.  How about Crème de Coconut with Mango Lime Sauce?  Or Strawberry with Brown Sugar Pecan Crumb and Vanilla Crème Fraiche?  Looking through the menu is like reading poetry!  But before we get too carried away with the crepes, let me show you around the place.
We settled into our seats and eagerly awaited our crepes.  Having grown up in Europe and enjoying crepes for many years, I was especially excited to try them.  We had the privilege of meeting and chatting with the owner of Savor Creperie, Tom Vigue, who left the corporate world as well as his restaurant on the east coast to settle in Tacoma with his wife and open up a creperie inspired by his recent tour through Europe.  Friendly and personable, Tom was gracious to take a good amount of his time chatting with us.  He told us about the inspiration behind some of his crepes, including a family recipe and currently his most popular crepe: Rosemary Chicken, Roasted Sweet Potato and Toasted Pecans with a Balsamic Reduction.  Tom loves visiting the local farmer's markets and many of the ingredients in his crepes are sourced there.  Our crepes arrived and it was time to eat!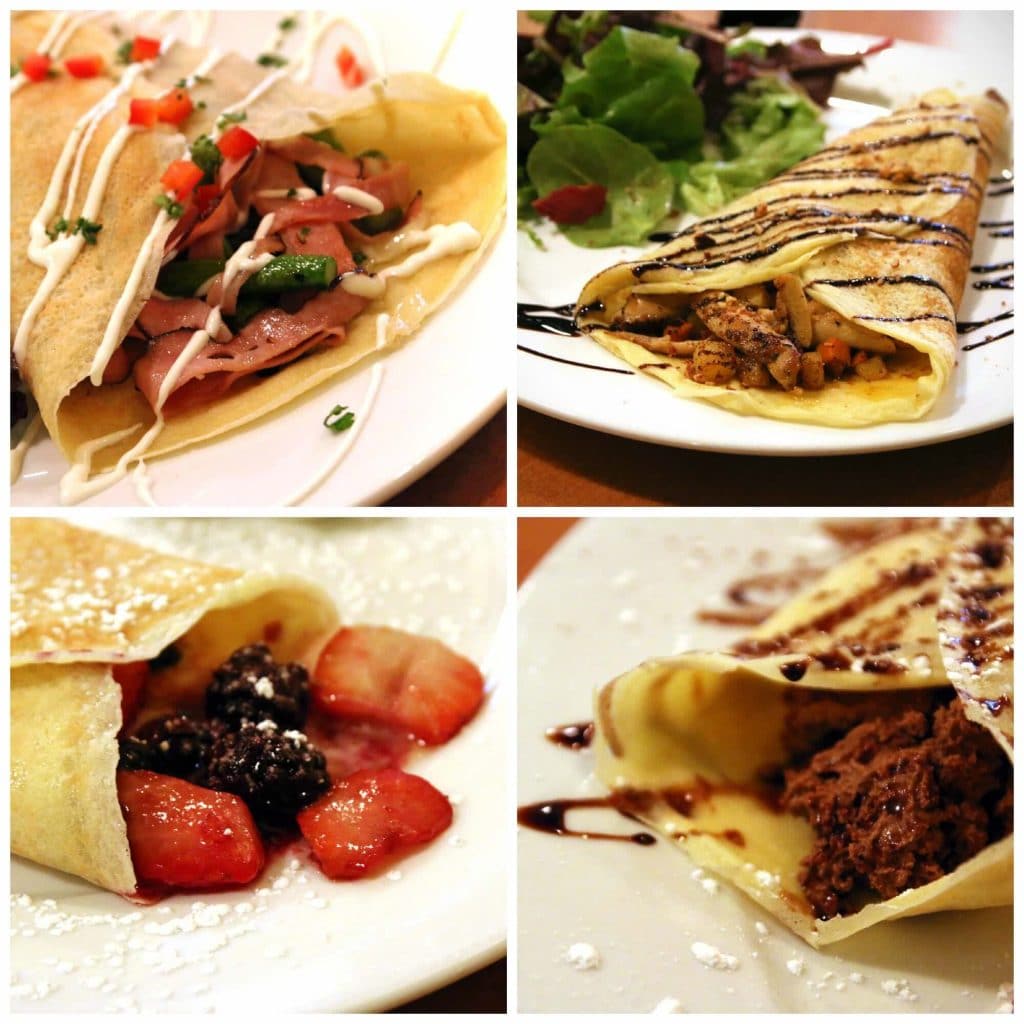 In addition to the rosemary chicken crepe described above, we tried the Ham, Roasted Asparagus and Gruyere with Dijon Crème Fraiche and the Smoked Salmon with Boursin, Tomato, Red Onion, Chives and Capers.  My heart sped up as I watched the crepes nearing our table.  Each crepe comes with a fresh leafy salad, the perfect accompaniment.  The various sauces are artistically whipped over    The tops of the crepes are artistically drizzled with their various sauces they're sprinkled with fresh herbs and other garnishes.  The balsamic vinegar reduction is the best I've had and Tom explained to me that making it is about a 3 hour process.  The roasted asparagus was the perfect texture with just the right amount of crunch, another example of the kind of care and detail that goes into Savor's crepes.   All three of the crepes were delicious.  Our favorite was the Ham, Roasted Asparagus and Gruyere with Dijon Creme Fraiche.  We're both die-hard Swiss cheese fans and Gruyere is king of them all.
For the dessert crepes we tried the following:  Bittersweet Chocolate Whipped Cream with Mocha Sauce and Mixed Berry with Ginger and Mascarpone Cheese.  As these were set out on our table I exclaimed to Todd, "Where was Savor Creperie back when we were still dating?  I would have had you take me here every weekend!"  The crepes are simply beautiful.  This time we had them put half of each crepe on each of our plates so we could sample both more easily.  We thoroughly enjoyed each one.  The berries are simmered in a sauce of their juices with bits of candied ginger added.  Superb!  The bittersweet chocolate whipped cream in the other crepe was exquisite.  Though I was already pretty full from the savory crepes, I could easily have handled two more of those dessert crepes.  Easily.  And just writing about them is inducing a massive craving attack.
And though I haven't tried them yet, Savor Creperie also features real Belgian Waffles.  Liege waffles are made with an elastic yeast dough, not the watery waffle batter we're used to here in the U.S..  I've heard wonderful things about Savor's waffles and look forward to trying those next.
At first sight, Savor Creperie may seem a little intimidating with its modern chic design and professionally dressed staff, but the moment you walk in you realize you're in a warm and welcoming environment with a staff that delivers prompt and  friendly service.  And the crepes are simply delicious.  Tom Vigue's culinary creativity is fun and inspiring.  The first thing you see on the wall in front of you as you walk through the front door is the sign inviting you to SAVOR.  And savor we did.  Every last bite.
For more information visit their website:  Savor Creperie
1916 Pacific Ave, Tacoma, WA 98402
*Savor creperie hosted us as their guests, as always all opinions are entirely my own.