I've partnered with Aneto to bring you this post.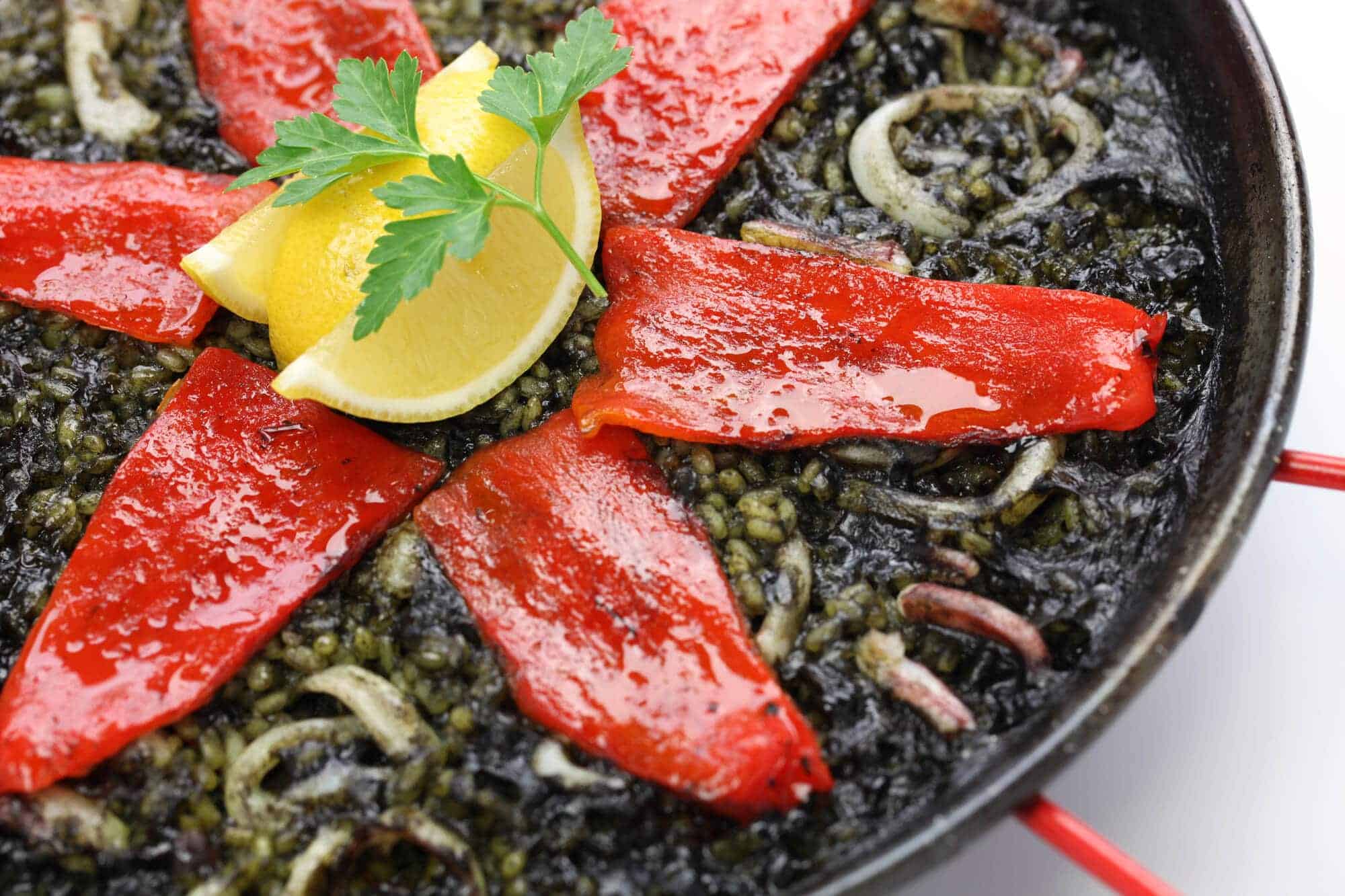 If it isn't obvious by now how much I love paella then let me say it again:  I LOVE PAELLA!
For a national dish that's thoroughly unique, super fun to make and incredibly delicious, it's hard to rival Spain.
Another plus is that there are several kinds of paella, so as long as you like rice there's bound to be a paella that will win you over. Love seafood?  A Seafood Paella is the ULTIMATE seafood dish combining a variety of your favorite seafood selections.  For something a little more adventurous you can dive deeper with today's featured dish, the Squid Ink Paella.  Prefer chicken?  The Valencian Paella (my favorite) is a MUST.  There are also mixed paella's featuring seafood, chicken and sausage.  Vegetarian? There are numerous vegetable paella's to choose from.  Bottom line:  There's a perfect paella to fit every palate.
Today I want to introduce you to another amazing product from my favorite broth manufacturer, Aneto.  Based in Barcelona Spain, Aneto is the world's premier maker of artisan broths made from the highest, 100% natural, whole food ingredients.
We took a tour of their factory in Barcelona last year, saw the entire broth-making process from start to finish, and it was honestly the most inspiring food-based experiences we've ever had.  Check out my article and virtual tour of Aneto's factory in Barcelona.
You can find Aneto's broths and paella cooking bases in a variety of stores throughout the U.S..  Here is a list of store locations where you can find Aneto's products and more stores are continually being added. You can also find their products online, including on Amazon.
I previously introduced you to two of Aneto's paella cooking bases – Seafood and Valencian.  These paella cooking bases make creating an exquisite paella an absolute breeze – everything you need for the flavorful broth, including the saffron, is already in the cooking base.  Only the highest quality ingredients are used to ensure a thoroughly delicious outcome.  And there's no need to make a sofrito because the flavor of these cooking bases already has all of those ingredients in it.  Today I want to introduce you to their cooking base for squid ink paella, made from the finest, purest and all-natural ingredients.

If you've never cooked with squid ink before it's a fun and unique experience.  Its most popular application is rice.  Originating in Valencia, Spain and known as Arròs negre ("black rice") in Catalan, squid ink paella, or black rice, is also popular in Cuba and Puerto Rico where it's called arroz con calamares ("rice with squid").
The squid ink adds an incredibly rich black color to the rice while simultaneously enhancing the flavors of the seafood.  Aneto's Squid Ink Paella Cooking Base already has everything already in it you need to make black rice or paella:  It combines a premium seafood stock with squid ink and saffron, so need to to purchase all those ingredients separately.  Squid ink paella is quick and easy to make:  Simply add the squid ink paella cooking base to the rice and seafood, add some roasted red peppers (Spanish piquillo's are amazing) and you're done.
Just look at this luxuriously rich squid ink paella cooking base!
"Black rice" is certainly a fitting name for it.  And once you add the seafood and red roasted peppers you'll have a bold and beautiful contrast in colors that is eye-catching in presentation and pleasing to the palate.
Quite simply, if you love seafood, this is a dish you have to try!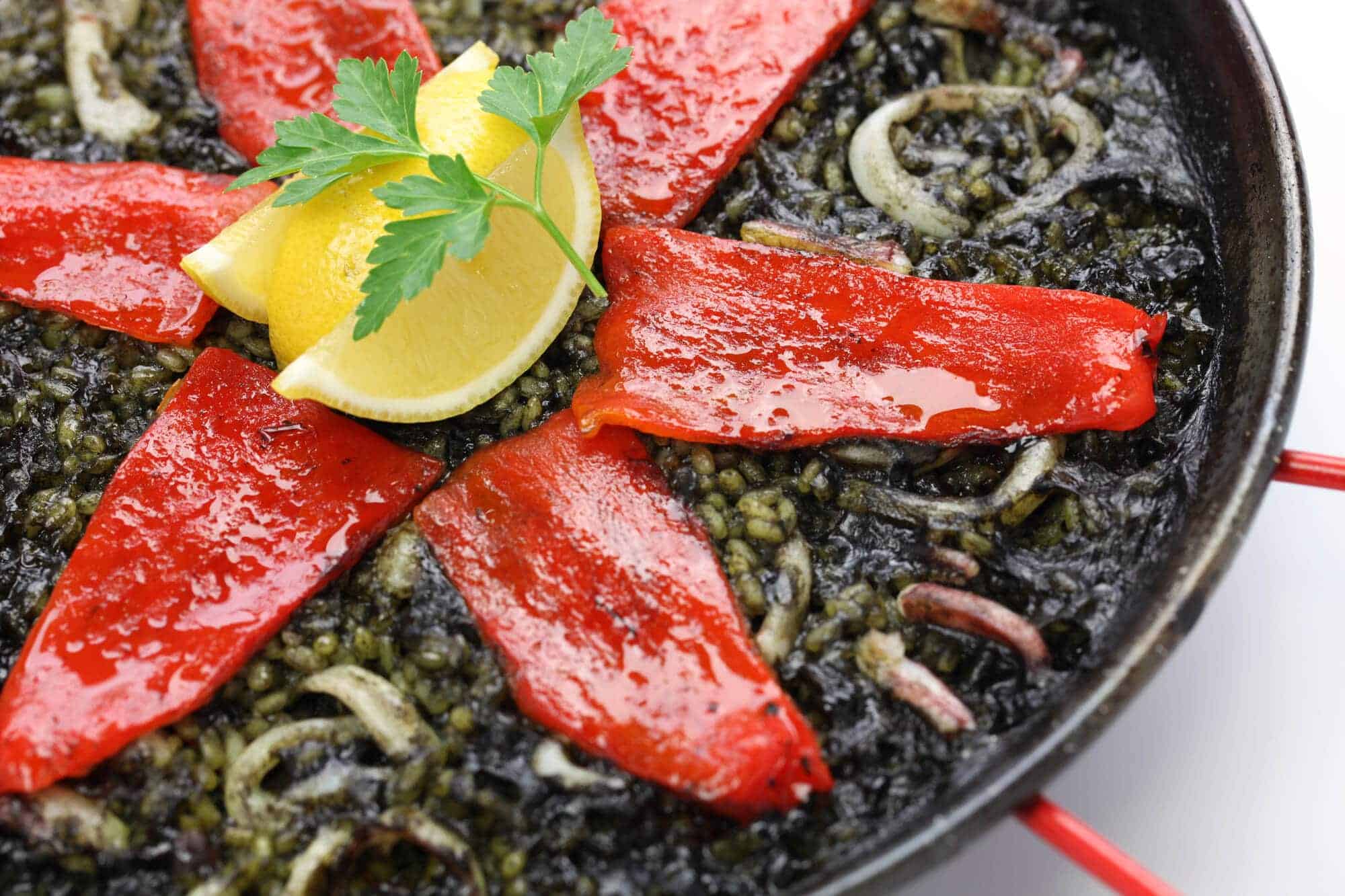 © Ppy2020ha | Dreamstime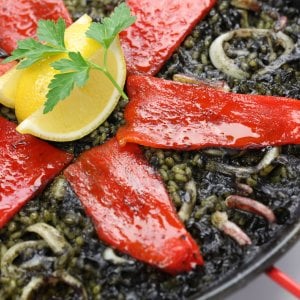 Squid Ink Paella (Arròs Negre/Arroz Negro)
This luxurious paella is sure to win the hearts - and bellies - of seafood lovers!
Instructions
Heat the oil in a 38cm paella pan over medium-high heat. Add the squid and cook until slightly firm.

Remove and set aside. (If using prawns, cook those until they change color and also set aside.)

Add the rice and cook briefly until the grains are coated with the oil. Pour in the squid ink paella cooking base, stir in the smoked paprika and salt, and bring to a boil. Reduce the heat and simmer for about 10 minutes or until half of the liquid is absorbed. Do not stir the rice.

Position the shellfish and piquillo peppers the way you want them to appear in the final dish. Continue to simmer over medium-low heat for about another 20 minutes until the seafood is cooked through. Turn the pan every few minutes to position the different section over the flame to create that crispy bottom crust, the socarrat.

Remove from the heat, add the squid and prawns (if using) and tent the pan with some aluminum foil for 5-10 minutes to allow the shellfish to open. Garnish with some lemon wedges and fresh parsley and serve immediately.
Nutrition
A special thank you to Aneto for sponsoring this post and to my readers for supporting the brands that make The Daring Gourmet possible!