We were provided with this product for review.   As always, all opinions are entirely my own.
When my husband was 16 years old guess what he requested for Christmas?  Of all the things a 16 year old could request, he asked for a leaf blower.  And he got one.  (You know that one made his mom smile – a gift that simultaneously benefits the household?  Score.)
But he hasn't had one since and so we started looking around, researching the various options out there.
We decided to go with a cordless blower and here's why:
Disadvantages of Gas and Electric:  Gas-powered blowers are notoriously difficult to get started, emit noxious fumes, and they wake up the whole neighborhood.  Electric blowers don't have any of those problems but they have cumbersome cords.  And you're constantly tethered to an outlet and can go no further than the length of that cord.
Advantages of Battery-operated:  Easy to start, no fumes, quieter than gas, virtually maintenance-free and total freedom to roam.
Another thing we like about battery-operated is that it's something we can feel comfortable letting our kids use as they get older to help out around the property and to earn some money around the neighborhood.  (Remember the days when kids and teenagers actually used to do that?  Well, we're bringing those days back for our kids.)
However, battery-operated blowers are notorious for being weak.  Until now.
After researching the options on the market we decided to go with WORX for our cordless blower.
Having read a ton of great reviews we went with the Worx 56V Air Turbine Cordless Leaf Blower.  Worx also makes a 20V and 32V model but we went with the most powerful model, largely because of the size of our property.
Here's just one of the reviews that caught our attention, from a Wall Street Journal headline:  "At Last, A Cordless Leaf Blower With Power."  The article continues, "Inspired by a jet engine, the Worx 56V Air Turbine cordless leaf blower unleashes a torrent of yard-cleaning fury."
The specs:
TURBINE fan technology delivers forceful, high-capacity air volume
Highly efficient Brushless Motor for long lasting power
Multi-speed fan control with TURBO boost
Features a Hyper-Stream air nozzle for extra tough conditions
Powerful 56V MaxLithium battery provides cordless convenience to quickly clean up your outdoor spaces such as decks or patios
When our WORX blower arrived Todd wasted no time getting it out of the box.  No tools are required to assemble it, you simply attach the nozzle, insert the battery and it's ready to roll.
The power of this blower is impressive.  It's turbine and brushless motor delivers 465cfm of air velocity (a measurement of the volume of air released).  That equates to 125mph and that's some serious air capacity.  Piles of heavy wet leaves?  No problem.  The WORX 56V blower is built to get the job done, and to get it done faster.
It has variable speed options so you can adjust the power to suit the task.  For example, you can adjust it to a low enough setting to where you can, for example, take on the delicate task of cleaning out a car filter without damaging its structure (an air compressor would likely tear a hole through it).  Or you can use it to clean out your dryer vent with a solid blast or two.  A blower also comes in handy if you want to avoid water spots on your car after washing it.
At the lowest setting the battery life is about 50 minutes.  At its fullest power it lasts about 10 minutes.  Its 56V MaxLithium battery takes about 90 minutes to recharge.   At full power this blower works fast and effectively.  For most average-sized lawns 10 minutes at that air capacity is enough to get most moderate jobs done.  With nearly 8 acres to manage, we got an extra battery for larger jobs.
The WORX Turbine 56V Cordless Leaf Blower is incredibly lightweight in its design, made from a high-impact nylon composite, and is something that practically anyone can carry around with ease.  In addition to its light weight, it has an ergonomic handle that is designed for one-handed operation making it very comfortable to carry and use.
Though it's nearly Summer and we didn't have any large areas of leaves to blow, this blower has been great for keeping our lawn cleared of stray leaves.  With all of the maple trees on our property we'll be putting it to good use come Autumn!
The speed control options are also great for low settings when you want to be able to work in sensitive areas like flower and herb beds or gravely areas.
It's also been really useful for cleaning up our deck, patio and driveway.
*Kids, don't try this at home*
Need to clear some debris off your roof?  Our blower worked like a charm.
While you can certainly climb on top of the roof to blow out the gutters, there's a much easier way:  We discovered Worx also has a gutter cleaning attachment kit for the blower.
Extremely easy to assemble, it's just a matter of screwing the pipes on and it's ready to go.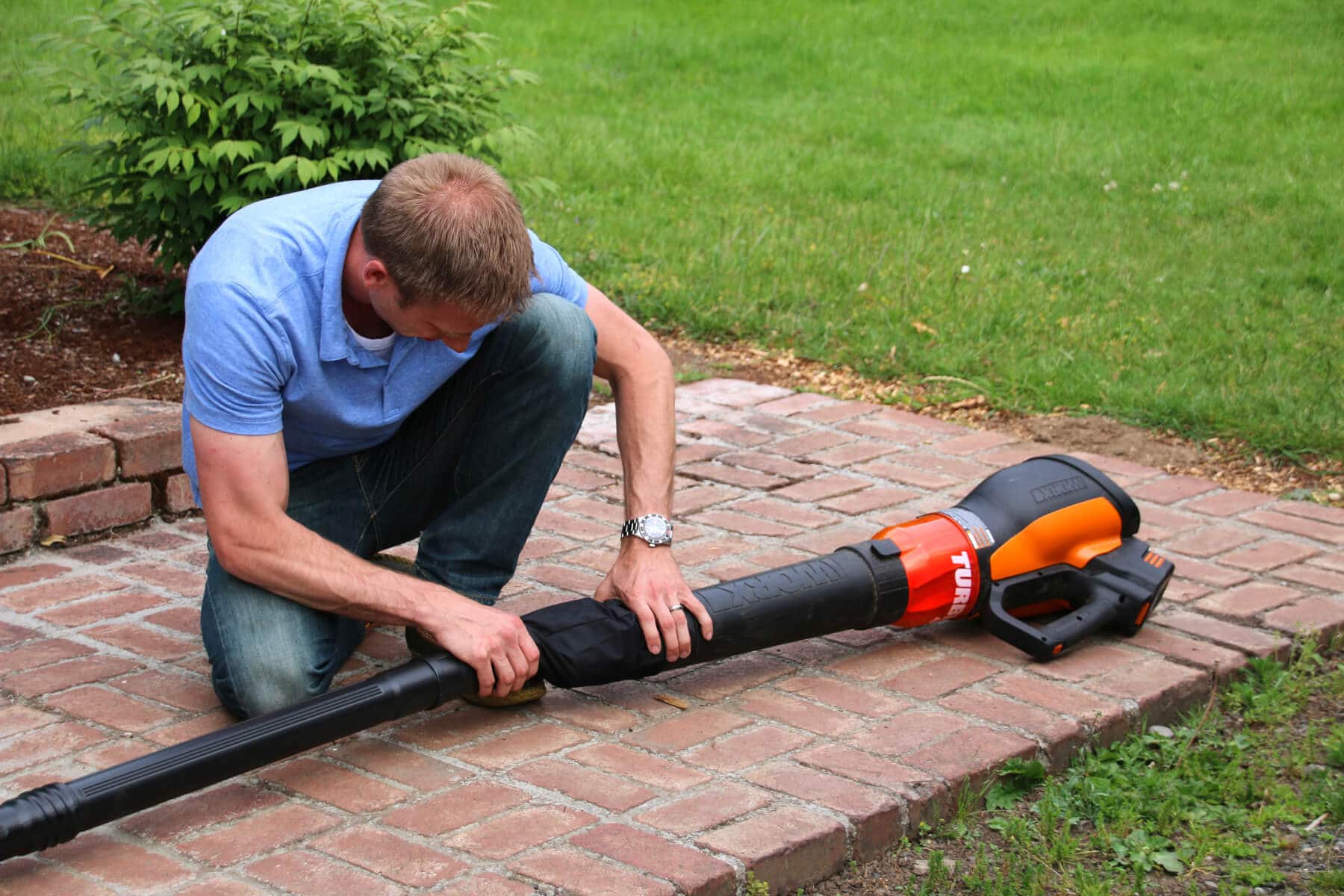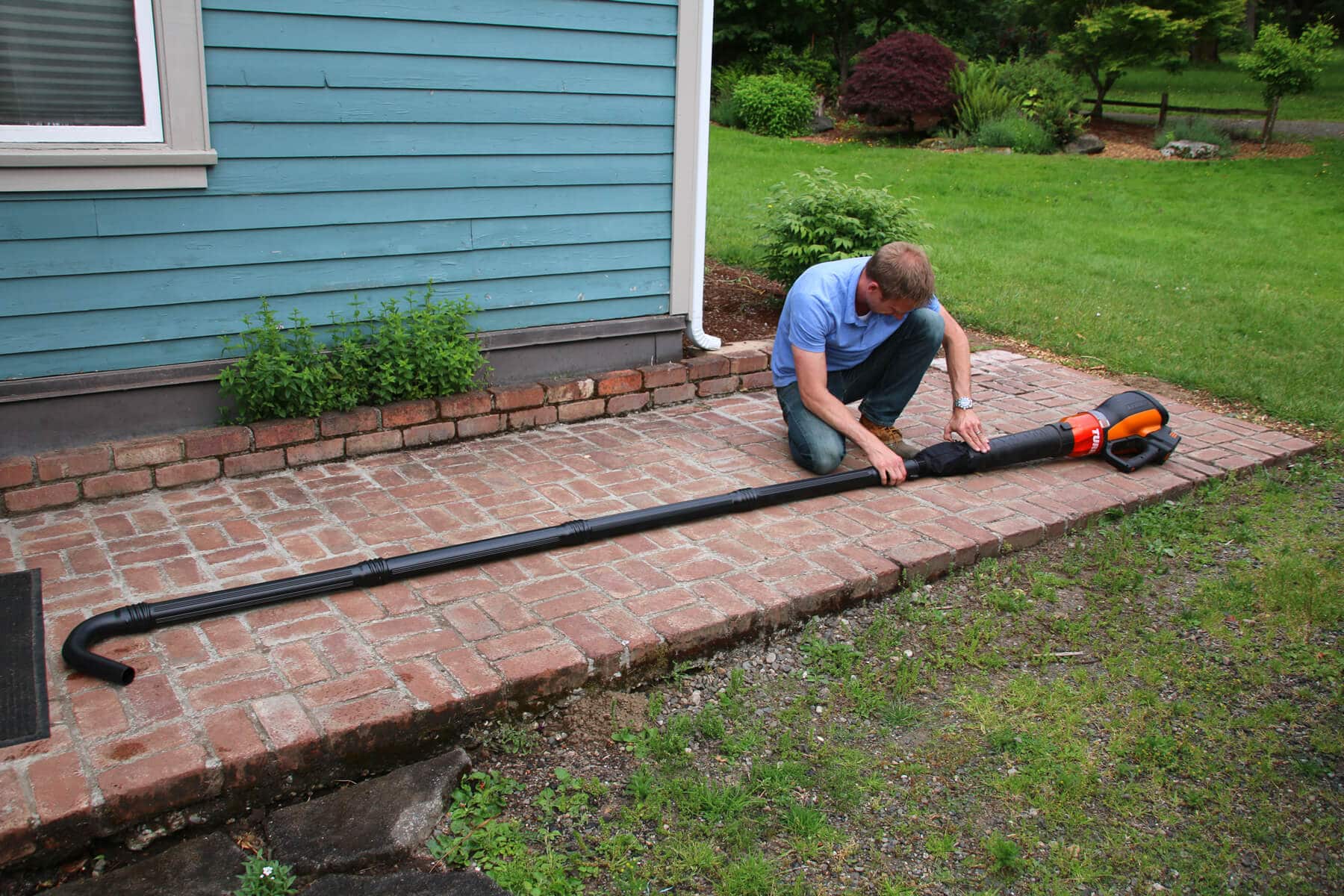 Cleaning out our gutters has never been so easy.
The separate gutter cleaning kit is a great addition to have.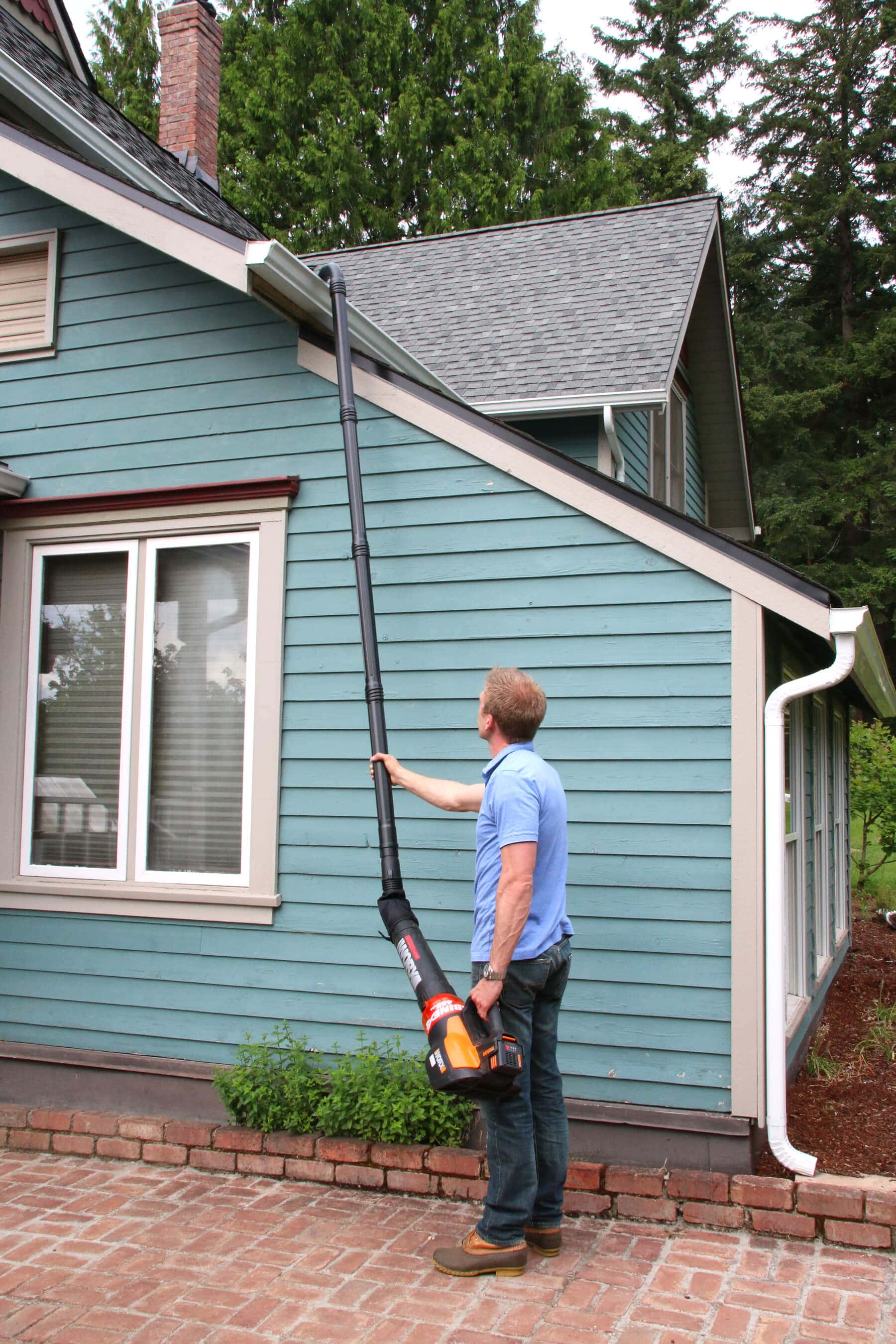 Our just-turned 6 year old son has quickly gotten the hang of it and has even figured out on his own how to check and charge the battery.  The blower is still too heavy for our 4 year old daughter but her turn will come :)
In conclusion, we are very happy with the WORX Turbine 56V Cordless Leaf Blower and the Gutter Cleaning Kit.  Lightweight, comfortable to carry and work with, incredibly powerful to get jobs done quickly, and complete with a 3-year warranty, we highly recommend it.
And if you're looking for a great gift for father's day, birthday or any other occasion, I think it's a safe bet he's going to love one of these.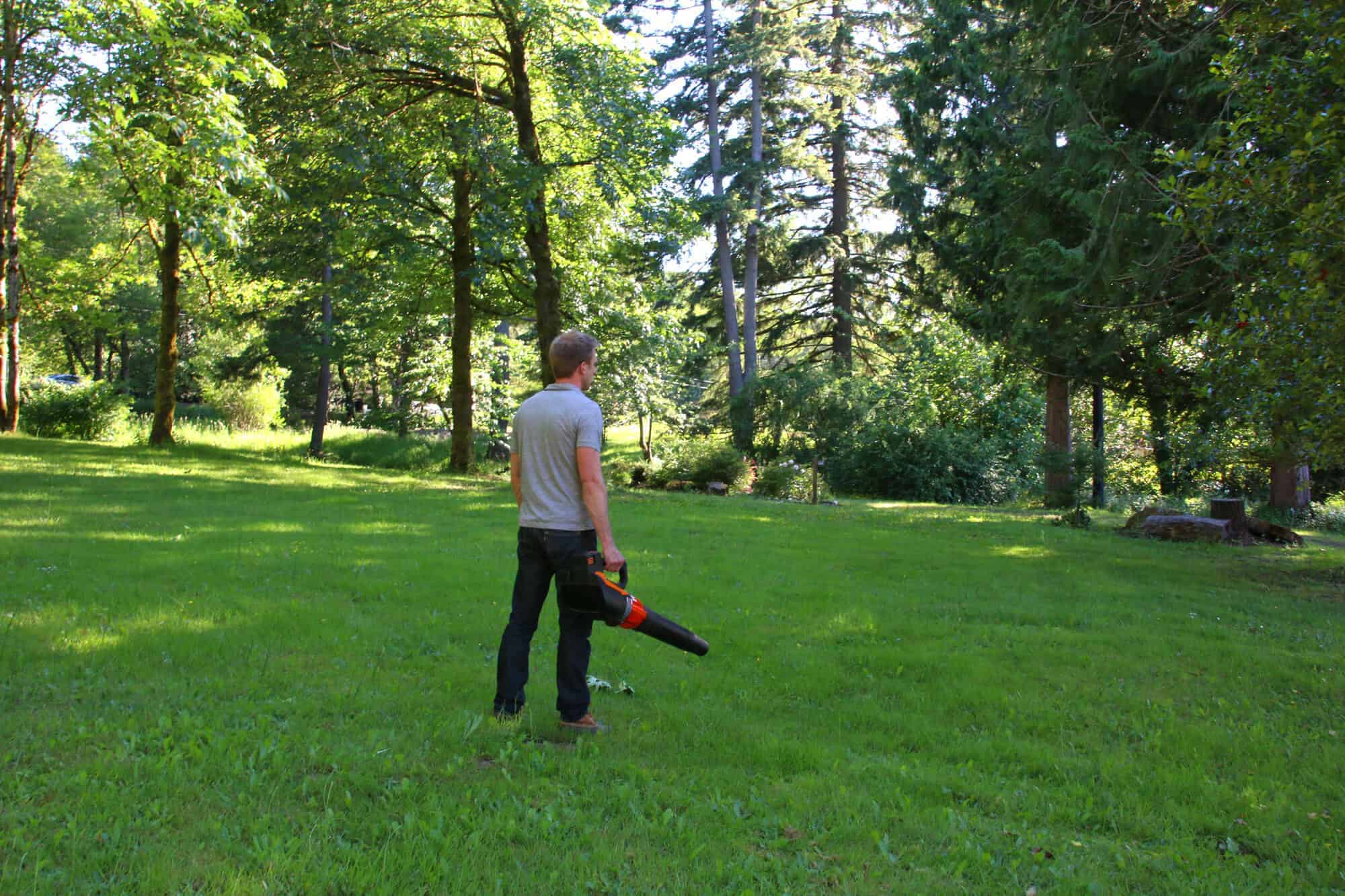 Disclosure:  We were provided with this product for review without any obligation to write a positive review.  As always all opinions are entirely our own.