I received this Masterbuilt smoker for review.  As always, all opinions are entirely my own.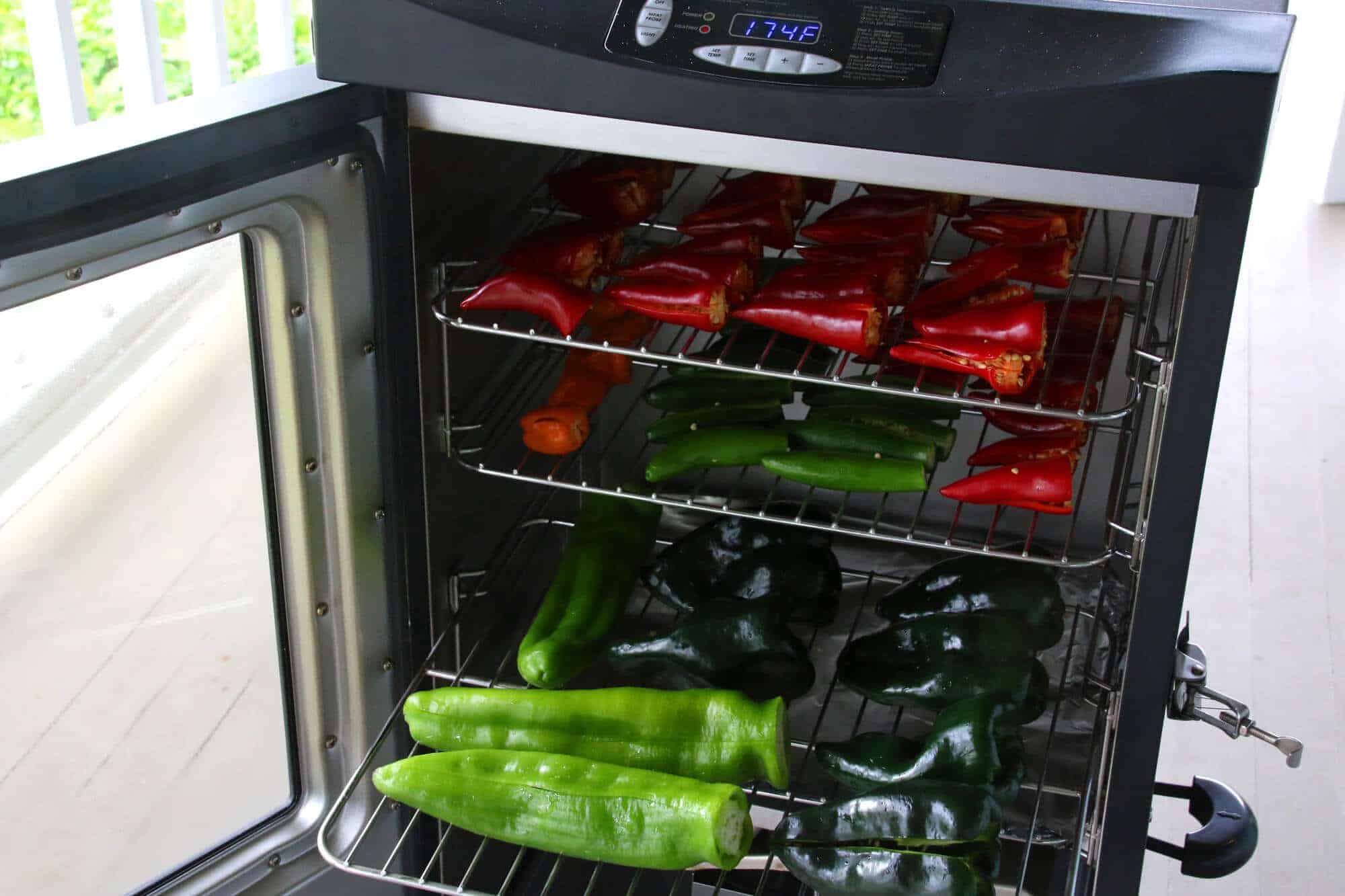 Masterbuilt, where have you been all my life? 
I've had two other smokers before, both of which I used a grand total of…two times.  Ever.  They were a hassle to use, had virtually no features, lacked the ability to make adjustments…and just plain weren't fun.
So they got stuffed in the garage…or sold at a garage sale…heck, I'm not even sure where they are.  They're around here somewhere.  I think.
I've used our new 30″ Masterbuilt Digital Electric Smoker four times in a week (that says it all), including smoking ingredients I'm going to be using for some canned condiments.  It's so dang simple to use and with great results!
But before I get ahead of myself, let's take a look at the setup and features.
Assembly was pretty easy and straightforward.  It took my husband about 40 minutes to get everything set up (yes, I delegated that job to him.)  We also got the smoker cover and a set of Carve and Serve Gloves designed for handling anything hot during and after the smoking process.
Here are some of the features of the 30″ Masterbuilt Digital Electric Smoker with Window and RF Controller:
Four chrome-coated smoking racks — smokes up to 80 lbs. of food
Watch food cook with viewing window and internal light
High output LED lights illuminate food in low light when door is open
Integrated thermostat temperature control for even, consistent smoking temperature
Top air damper for smoke control
Built-in meat probe thermometer for perfect results every time
Front blue LED digital control panel design allows for more prepping space on top of the smoker
Removable water pan, drip pan, wood chip tray, and front access grease pan for easy cleanup
Drip deflector diverts drippings for easier cleanup
Rear-mounted handle and wheels for easy mobility
The door latch is also adjustable to allow you to get a super tight latch so no hot air escapes.
A super nifty feature, the RF remote controls on/off, temperature, time, light and monitors internal meat temperature so you don't have to keep going outside to check on it.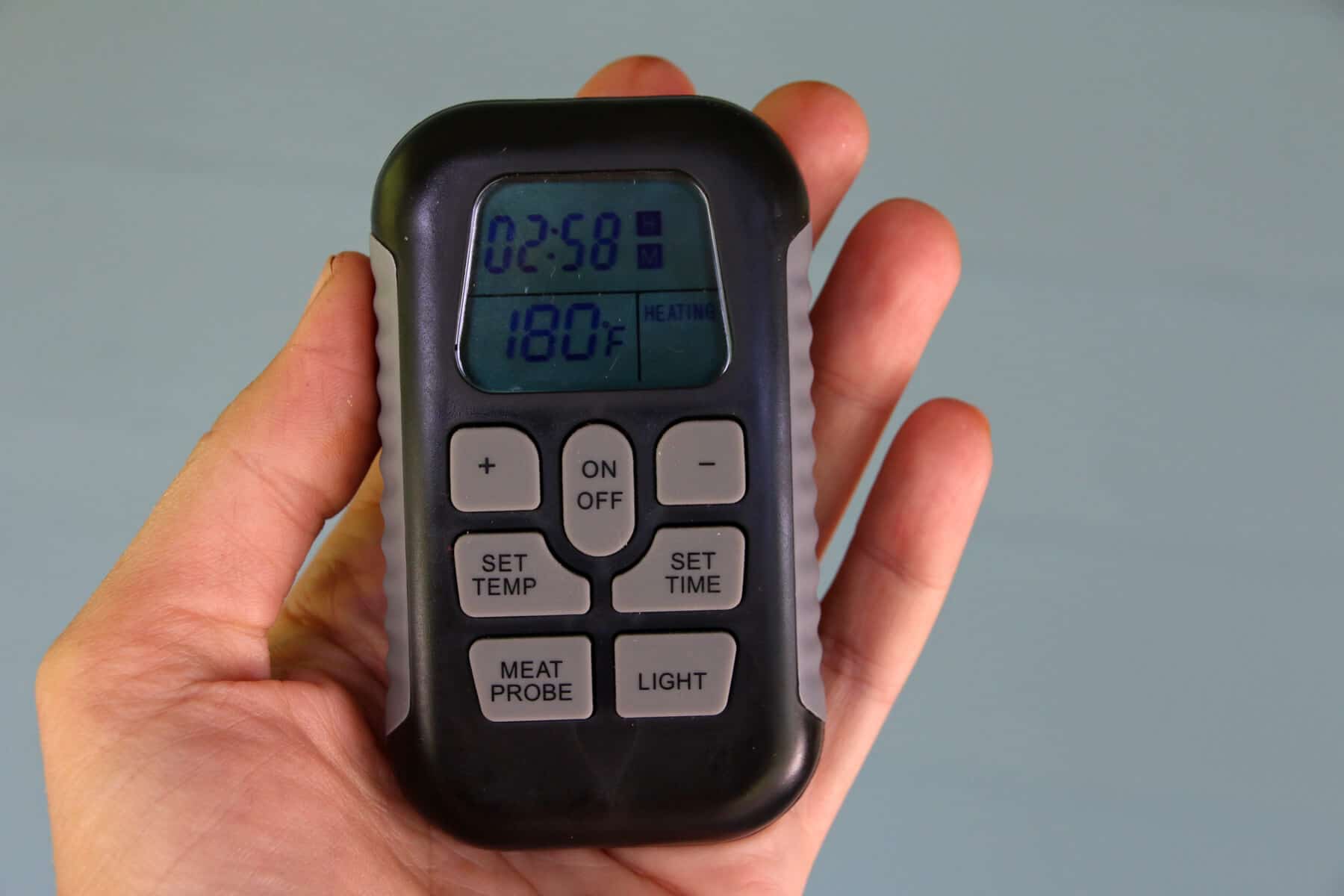 Adding wood chips throughout the smoking process couldn't be easier.
The Masterbuilt smoker features a patented side wood chip loading system that allows you to add chips without opening the smoker door.

Now let's test put this smoker to the test!
First order of business:  Smoked jalapenos for making my own homemade chipotles en adobo sauce.  (Will I be posting the recipe?  You'd better believe it!)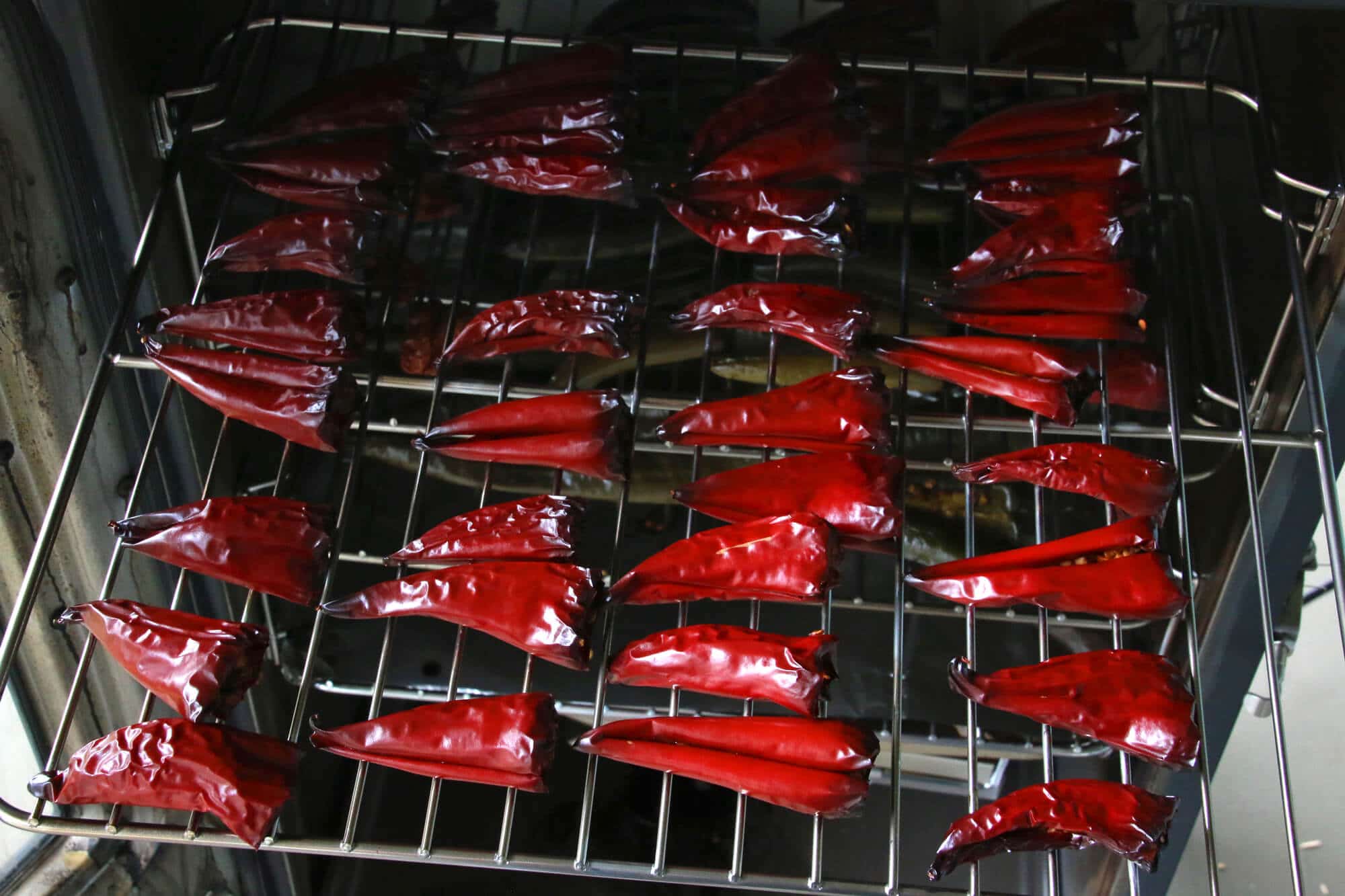 Next up I wanted to make some Mexican pulled pork burritos and I wanted to experiment with pre-smoking the roast before adding it to the slow cooker.
I set the temperature to very low and added a few doses of wood chips.  Just long enough to smoke the roast without cooking it through.
The outcome:  It infused the roast with a smoky flavor that contributed beautifully to the pulled pork!  (I even added some diced smoked green jalapenos, yum!)

With the success of my smoked chipotles I next smoked a variety of peppers which I later finished off drying in my food dehydrator to use for grinding my own smoked pepper-based rubs and adding to stews.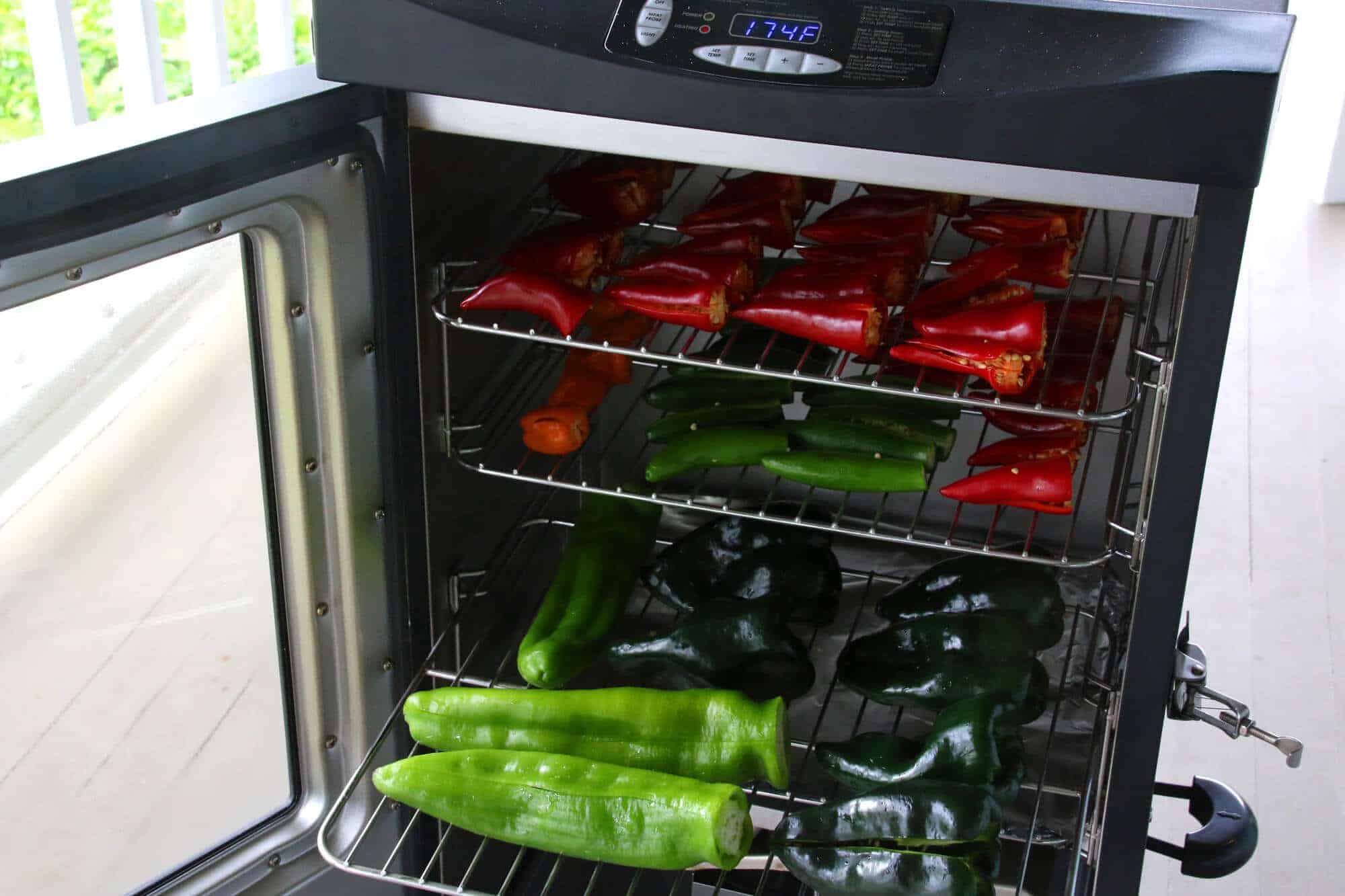 Poblanos, serranos, Anaheims, habaneros…absolutely smokin' beauties!

Then it was time for something ultra delicious – smoked homemade sausages!
I made some sun-dried tomato, basil and mozzarella chicken sausages – real hog casings and all.  (Oh yes, the recipe's coming up!)
Normally I would have just fried these up like regular brats but I wanted to smoke this batch and create a sliceable smoked sausage that we could enjoy with cheese and crackers.
DANG, they were good!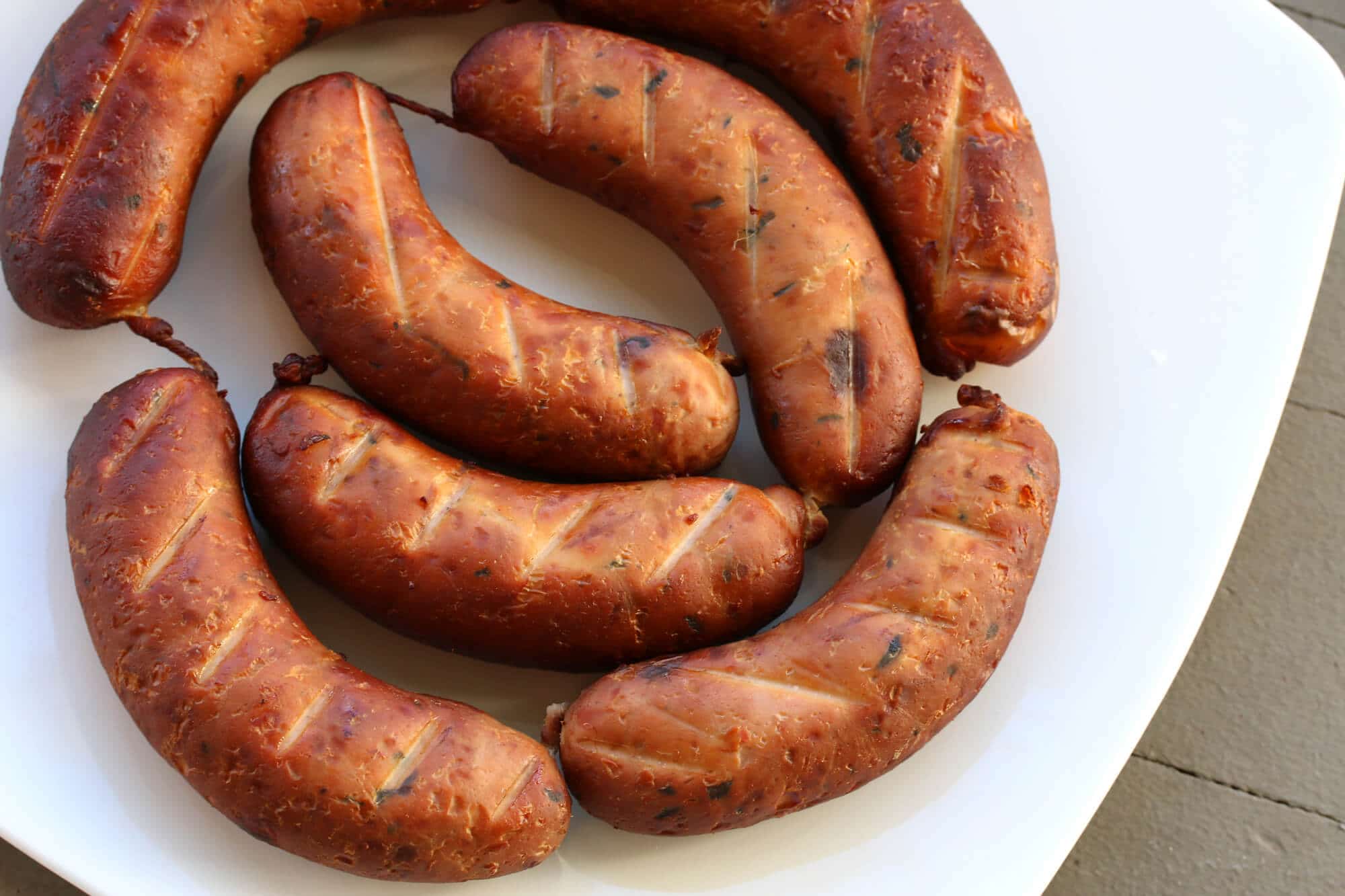 Since making these sausages I've picked up Masterbuilt's Sausage Hanger.  I am soooo excited to put it to use making more sausages, including my own hard salamis!
Additionally, I also got the Rib Rack for perfectly smoked ribs and the Fish/Veggie Mat for perfectly smoked fish and which will be super helpful for smoking peppers and other smaller items that could fall through the grates.  And here's a Masterbuilt Accessory Kit that includes the rib rack, fish/veggie mat and some heavy duty gloves to protect your hands from heat and while carving.

While the sausages were smoking, out of nowhere I had this idea for another dish:  Smoked Jalapeno Mashed Potatoes.  So I threw jalapenos in the smoker and whipped up the potatoes as a side dish for dinner.
My goodness, it was delish!
Conclusion:
We LOVE this smoker!  Love it!
This smoker is such a BREEZE to use.  It's seriously so simple.  And that's important to me because if it's complicated or a hassle to use it's just going to wind up sitting in the back of the garage.
This Masterbuilt smoker is constructed in such a way that makes it intuitive and extremely easy to use.  You simply plug in the smoker, set the digital controls and go about your business while the smoker does the rest.
Whether you're a beginner or a pro, if you're looking for a great electric smoker we highly recommend the 30″ Masterbuilt Digital Electric Smoker with Window and RF Remote.
For more information about their products, visit Masterbuilt's website.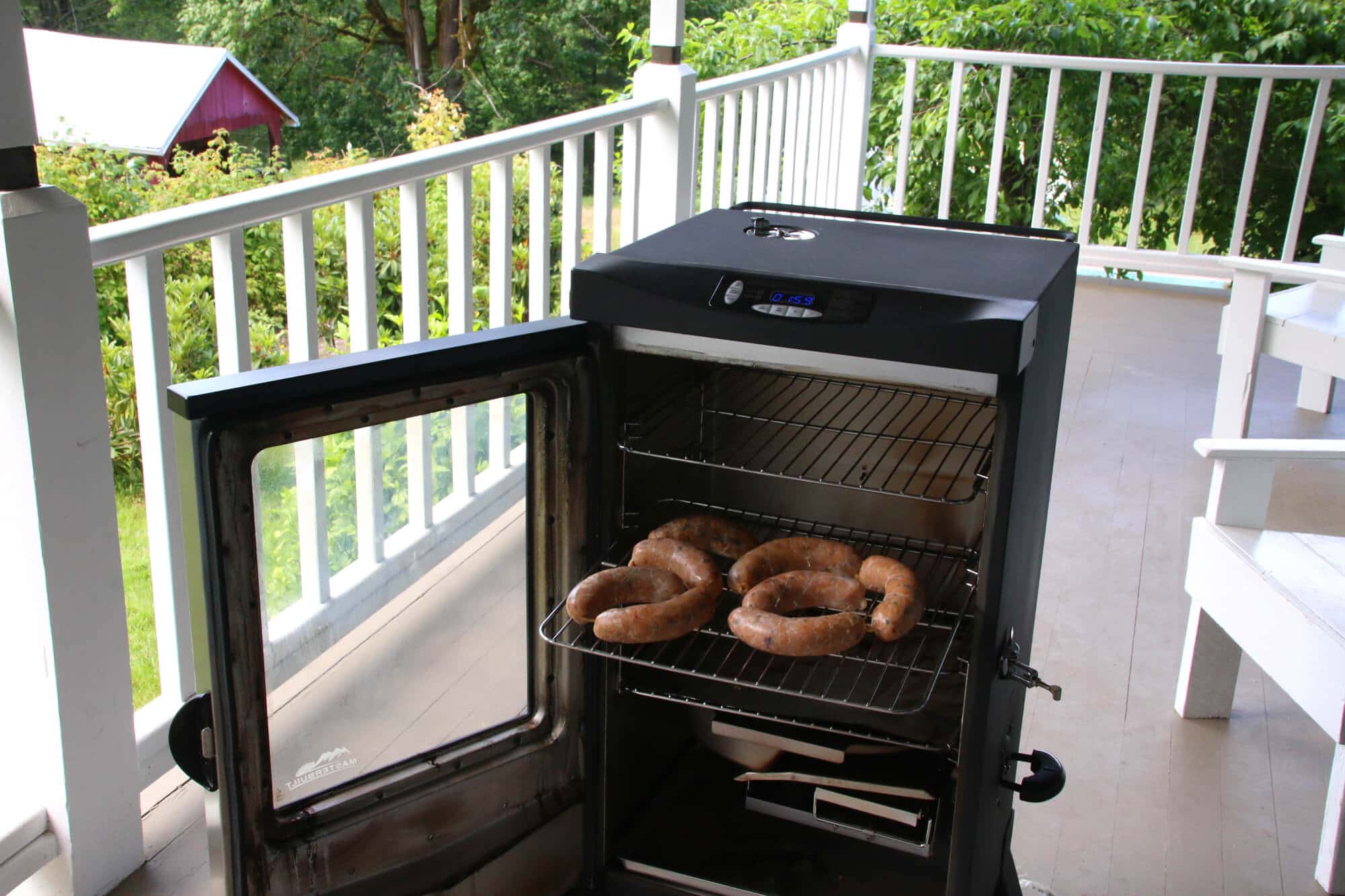 And before you go…
Here's a fun YouTube video I found from the Masterbuilt team to help you get your groove on!
Also check out these great YouTube videos about Masterbuilt, the smoker, how to properly season and clean it as well as recipe videos:
-History of Masterbuilt – https://www.youtube.com/watch?v=qW9OT2sGTDw
-Features & Benefits – https://www.youtube.com/watch?v=3A-lMHNSFeI
-Assembly & Pre-Seasoning – https://www.youtube.com/watch?v=BfLhUCfcj7I
-Cleaning & Storage – https://www.youtube.com/watch?v=TqVY-dzr-oU
-Dadgum Good Recipes – https://www.youtube.com/watch?v=MXw8UPI3yTk and https://www.youtube.com/watch?v=D4xaOgTjttI
****  THIS GIVEAWAY HAS ENDED ****  Congratulations to our winner, Cary!
Here is your chance to win this smoker complete with several accessories!  
To enter the giveaway, simply leave a comment below.  One winner will be randomly selected and notified via email.  The winner has 48 hours to respond or another winner will be chosen.  This giveaway is open to U.S. residents only.  Giveaway ends October 14, 2016.
Disclosure:  I received this smoker without any obligation to write a positive review.   I've used this smoker several times now, love it and wanted to share my experience with you.  As always, all opinions are entirely my own.