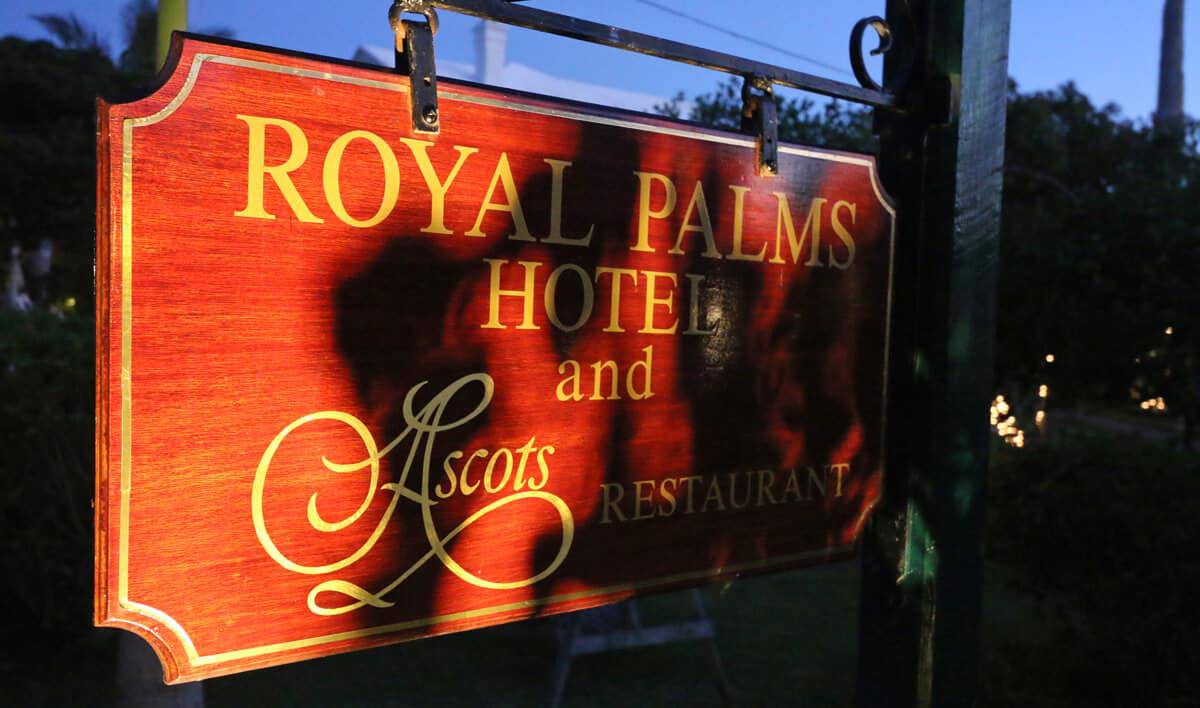 We recently went on a couple's getaway to Bermuda and with only 5 days' time and so much we wanted to see and do, so we had to be very selective with our activities.  And that included our choice of restaurants.  Choosing a restaurant not only involves an investment of money but of time, and sometimes the latter is even more important because, after all, time is precious.  Especially when you're in an amazing place like Bermuda.  And so we chose carefully.
Never having been to Bermuda, we did a lot of research to plan our itinerary and our vacation couldn't have turned out more perfectly.  Our accommodations at the Hamilton Princess Hotel & Beach Club were exquisite, and we visited a ton of breathtaking places, including historic St. George's (much more to come, so stay tuned!).
All that was still needed to make our trip complete was a singular Bermudian dining experience.  And we found it.
Located in the Royal Palms Hotel and just a 3-minute cab ride from downtown Hamilton and a pleasant 5-minute walk from the Hamilton Princess is Ascots, Bermuda's #1 ranked restaurant and according to USA Today a "Place Not To Be Missed."  That was enough to pique our interest but the list of accolades continues:  Ascots is also the recipient of the Department of Tourism's most prestigious "Bermuda Longtail Merit Award", a 6-time recipient of Bermuda Gold Awards for "Best Ambience", "Best Wine List," "Best Catering", "Best Dessert", "Most Attentive Staff," "Best Venue for Private Parties," and "Most Imaginative Menu."  Ascots received TripAdvisor's "Award of Excellence" as well as Wine Spectator's "Award of Excellence" for having one of the most outstanding wine lists in the world.  And the awards list continues.
There are few dining establishments that not only leave you feeling satisfied physically but also captivate you on an emotional level.  In other words, they create a lasting connection.  The forging of such a relationship is made possible not just through great food alone but a special ambience, a distinctive history, attentive staff who have been there forever and are so personable you feel like you're family.  In other words, the kind of place that upon entering feels like home.  A place that creates lasting memories.  Thus far we've encountered two such places: Hollywood's Musso & Frank Grill and Bermuda's Ascots Restaurant.
Ascots also reminded us of Musso's in that the same staff have been working together for decades.  And that says a lot about an establishment when the staff hangs in there together, toughing out the storms, rejoicing in the victories, united in their love of food and service.
One of the things that made our visit to Ascots so special was being able to meet its co-proprietors, Angelo Armano and Edmund Smith, and the communication I've had with Angelo since, learning more about their backgrounds and experiences.  Having caught a glimpse of not only the talent and passion but also the love behind their joint endeavor, it's no wonder to me that Ascots is the shining star of the island.
Edmund, Ascot's executive chef, is originally from Ireland.  His father owned a hotel in Dublin and so Edmund was raised in the hospitality setting from an early age.  He went on to culinary school and after graduating worked in London before moving to Switzerland to further his career.  He eventually found his way to Bermuda where he opened Ascots 25 years ago.
Angelo, Ascot's director of operations, is from Naples and similarly got his start in the food business at a young age.  He got his first job in a bar in Naples at the age of 9 making espresso coffee.  "I had to put a Coca Cola box under my feet because I couldn't reach the machine."  He eventually worked his way up to the job of waiter and fell in love with it so he moved to Sorrento where he graduated after two years from The Service and Culinary Institute.  He, too, moved to Switzerland to work and then moved to London where he worked for 10 years managing the two restaurants of the Four Seasons Hotel.
Then the two of them converged in Bermuda.  Angelo was there on his honeymoon and he and his wife were dining at Ascots where a friend of his had opened the restaurant with Edmund a couple of years earlier.  Angelo and his wife happened to be there on a particularly busy day, Mother's Day, and the restaurant was so packed that Angelo's friend asked him to help out.  "I never sweated in my life like I did that day."  He adds, "two years later my wife and a 6 month old little girl moved to Bermuda and here I am still 21 years later."
Both Angelo's and Edmund's children are pursuing professional degrees in England and Canada and quite adamant to do their own thing.  Angelo responds, "but who am I to object, after all I did the same thing to my dad."  But this duo is still crossing their fingers that maybe one day one of their offspring will take the reins of Ascots.
When you put an Italian and an Irishman together magic is bound to happen, right?  This dedicated duo have created and maintained a true gem on the island of Bermuda.  "I can tell you that both Eddie and myself are doing this job because we have always loved it from when we were teenagers. And we have never looked at any other profession.  I think both of us have been blessed with a great job and we are fortunate to work with great people."
Relaxing, quiet and intimate, Ascots is the perfect escape from a busy day, the perfect way to spend an evening in good company surrounded by top-notch service and some of the best food in Bermuda.  It's the place to come for special occasions, romantic nights out, business dinners, as well as for the everyday casual lunch (see more below about their new lunch venue, Just 24).
The staff is attentive but knows how to give you your space.  The staff moves around quietly so as not to disturb the ambiance.  Anil, the assistant manager and who has been there many years, made excellent menu recommendations and took care of our every want and need.  Professional and friendly, he carried himself with a quiet dignity.  We noticed that as other guests came in they were greeted by the staff with such respect, like cherished old friends.
Let's take a look around Ascots.  When you enter you arrive in their cozy lounge where you can start with cocktails before moving into the dining room.
Something we appreciate about the layout at Ascots is the spacing of the tables.  More emphasis is given on providing room and privacy than on cramming as many patrons in as possible.
I mentioned earlier that Ascots has won numerous awards for having one of the most extensive wine lists in the world and we were able to take a brief peek into their wine room.
Adjoining Ascots is Just 24, their lunchtime establishment open from 12:00-2:30pm.  It's a bright and cheerful, casual dining setting that opens up to the beautiful garden grounds.
Ascots' menu features the freshest ingredients, including local seafood and other seasonal ingredients, prepared in the most thoughtful, creative ways. Their cuisine can best be classified as Progressive Continental Mediterranean and many of their dishes are prepared with a Bermudian twist.  An example is one of their signature dishes, the popular Chilled Banana Soup made with sun-ripened bananas, Bermuda black rum and toasted almonds.
Each dish we enjoyed at Ascots was executed with tremendous thoughtfulness.  That kind of care and thought not only connotes a genuine respect for their patrons, but reflects their pride and passion for what they do.  When I'm served food that reflects thought and individualized detail, I feel like I'm being given a gift from the heart and I feel honored to receive it.  And in return I want to offer continued support of the business.  Successful restaurants are all about building relationships.
Let me show you the amazing food we enjoyed.
Our virgin cocktails foretold of great things to come and while we mused over the menu we enjoyed some bread and butter with some delicious olive and tomato tapenades.  (Take a look at the butter in the bowl.  And the "A" in our drinks.  That's the kind of detail I'm talking about and there is much more to come.)
For our appetizers Anil brought us a platter with a sampling of several wonderful bites.  Everything, from texture to flavor, was wonderful and those homemade potato chips were phenomenal.
I have to show you this amazing dedication to detail by zooming in on one of the appetizers.  Look at the detail here on this less than 2-inch sized hors d'oeuvre.  Isn't that beautiful?
Next we enjoyed some soup.  Todd had the Bermuda Fish Chowder.  What makes it Bermuda-style?  It's laced with black rum and sherry peppers.  I took one bite of it and yowza!  Let's just say it keeps you on your toes!
I had the cream of asparagus soup and, again, was delighted at the presentation.  Instead of the typical swirl of cream, it was added in the form of Ascots' "A."  And a little dash of paprika and sprinkling of fresh herbs goes a long way in the presentation of a dish.
Our salads were fabulous!
I had the Feta and Fire Roasted Pepper Salad with toasted homemade onion bread and mixed greens topped with sautéed onions, Greek olives, and roasted peppers sprinkled with feta cheese and dressed with an extra virgin olive oil and aged balsamic.  It was as delicious as it was beautiful.
Todd had the Hot Mushroom and Chicken Salad with portobello mushrooms and grilled chicken sautéed in shallots, garlic and bacon butter on a bed of mixed lettuces.  Absolutely gorgeous!
And look at the beautiful garnishing at the top left!
Yes, the meal was only halfway through and we were already in love.
For our entrees I had Ravioli Ascots.  The pasta is homemade and filled with butternut squash and arugula, sautéed with fresh sage butter, tomato concasse and green kalamata olives.  The pasta was perfectly al dente with just the right amount of bite and the flavors were fresh and vibrant.  And I saved that gorgeous parmesan rose for last!
Todd had the Barbury Duck.  Oven-roasted duck with a panko-crusted confit duck thigh edged with a rich cherry port jus and served with a separate side of vegetables.  The duck was tender, the sauce wonderful, and I admired the artistic garnishing from across the table.
The dessert was one of the most jaw-dropping displays we have ever been served and the photo doesn't begin to do it justice.  We were speechless!  Edmund surprised us with a specially prepared dessert platter featuring a little of several signature desserts.  It was like a dessert wonderland where at every turn and angle we were met with another surprise.  It was absolutely phenomenal!
At the very end, as is their custom, we were brought a plate of biscotti along with Ascots' version of a fortune cookie  –  fortune-wrapped dark chocolates. Even better!
Our trip to Bermuda was unforgettable.  What an incredible place!  To quote a song every local knows, "Bermuda is another world."  And indeed it is.
What made our trip so special wasn't only the places we saw and the things we did, it was the people we met and the connections we made.  Ascots contributed to our wonderful experience in Bermuda not only because of the fabulous food we enjoyed, but because of our association with its proprietors, Angelo and Edmund, and their fine staff.  Todd and I still talk about our evening at Ascots and the next time we visit Bermuda you will most certainly find us dining there.  It will feel like a reunion with a dear friend.
In short, we cannot recommend Ascots highly enough.  It was by far our most memorable meal in Bermuda and that's saying a lot because we had some excellent meals.  Not only is Ascots one of Bermuda's premier dining experiences, it's one of the best dining experiences you'll have anywhere.
And for those of you living on the east coast, it's only a two-hour flight from New York!  So if you're looking for a romantic weekend getaway…
Come to Bermuda.  It's one of the most incredible places you'll ever visit.  And when you do, do yourself a favor and make Ascots your choice for dining.
For more information, visit their website:  Ascots Restaurant
24 Rosemont Ave, Hamilton, Bermuda
+1 441-295-9644
Disclosure:  A heartfelt thank you to Ascots for hosting us for an incredible evening!  As always, all opinions are entirely my own.