Depending on what you plan on doing there, Victoria offers fun, beauty, elegance, charm, history and adventure.  A few weeks ago in early March I invited my mom to join me for a weekend getaway.  Victoria is reminiscent of England in some aspects of its culture and architecture and, having lived in England for 6 years, we were looking forward to delving into some of the more traditional accents of the city.  The focus of our trip was iconic sites of Victoria and we visited as many as we could.  I'm going to highlight some of the legendary places and quintessential experiences that have become the representative hallmarks of this beautiful city.
Victoria's history dates back to 1778 when Captain James Cook set foot on the west coast of Vancouver Island, the first non-aboriginal man to do so.   Then, 65 years later, James Douglas chose as a Hudson Bay Trading Post what would later be named Fort Victoria in honor of Queen Victoria.  In 1858 the Fraser Gold Rush ensued which led to rapid growth of the settlement.
By 1862 Victoria was incorporated as a city and in 1871 became the capital of British Columbia as well as Western Canada's oldest city.
A unique blend of old world charm and new world experiences, Victoria offers heritage architecture, a variety of beautiful gardens, traditions like afternoon and high tea, a bustling restaurant scene, and a myriad of outdoor adventures.  That, combined with its mild climate and year-round greenery, has earned Victoria the designation as one of Travel+Leisure's 2014 "Top Ten Islands in the World" as well as the 2010 TripAdvisor's Traveler's Choice Award for the "#1 Destination To Visit in Canada."
Are you ready for a visit?  Let's go!

If you're traveling from Western Washington or Vancouver, BC you have it particularly convenient as entering Victoria is just a ferry ride away.  From south of Seattle, ours was only a two hour drive to the ferry docks and then a 90 minute ferry ride from there.  We took the Black Ball M.V. Coho Ferry.  You have the option of boarding as a foot passenger or taking your car.  The Coho offered more flexibility in departure times than the other options and, important to us, allowed us to take our vehicle for more convenient access around the city.  The process was a breeze.  And if you're worried about sea-sickness, don't let that hold you back because the ferry is very large and stable.
We sat by the window during the ferry ride and before we knew it Victoria was in sight.
We stepped outside to take in the view.  A sea plane landed in front of us and made its way toward the harbor.
The closer we got the more excited I became as I saw in person what I had only previously seen in pictures.  And there it was, the majestic Fairmont Empress Hotel overlooking the harbor.  My heart skipped a beat at the thought that we would soon be her guests.
Getting off the ferry was as easy as getting on and within a few minutes we were on the road turning the bend towards our hotel.  We checked in at The Empress, freshened up a bit, and headed back out.
We took a little drive to acquaint ourselves with the city.
We brought our car along for convenience but with public transportation Victoria is easy to get around.  If you're staying downtown everything – shops, restaurants, museums, etc – is within walking distance.  And if you want to catch some sun and enjoy a leisurely tour of the city, these charming horse-drawn carriage rides are available.
Another great way to take in the city is via its bus tours.  CVS Bus Tours offers a few different options and we took the 90-minute bus tour of the city.  It's fully narrated by the bus driver and includes stops like Mt. Tolmie viewpoint for a panoramic views and Oak Bay Marina.  It's the perfect introduction to Victoria for first-time visitors or for those who haven't ventured beyond the downtown area.
We arrived in Victoria on Friday afternoon and had exactly an hour before the Parliament building closed for the weekend.  So we headed over there to take a brief tour.
Facing the Inner Harbour and sitting diagonally across from the Fairmont Empress Hotel is the Victoria Parliament building, home to the Legislative Assembly of British Columbia.
With its Neo-baroque architecture designed by Francis Rattenbury, this stately building is impressive to say the least.
Construction of the Parliament was completed in 1893.  The original budget was set at $500,000 and ended up costing $923,000.
Free guided tours of the facility are offered year-round and when the legislative assembly is in session visitors are welcome to come in and see the Parliament in action.  The next time we visit we plan to sit in a session.
Remember when I referred to this building as impressive?  As impressive as it is in daylight, I especially love it at night all aglow with 3300 lights!
Even though it was early March, the weather was quite mild and even at 10 o'clock at night the temperature was pleasant enough that I was was able to take a late stroll in just a light sweater.  The Parliament's complex was so peaceful by night.
Hardly anyone was there, which surprised me considering how peaceful and serene the setting is.  Now, I don't normally go on strolls by myself downtown at 10pm, but there were two security guards at the Parliament and I learned from them that they patrol the grounds 24/7.  I felt safe and really enjoyed walking around the Parliament, sitting on the front steps, and gazing off towards the Inner Harbor and The Empress.
On my way back to the hotel I took a few steps down to the harbor to take in the Parliament from a distance.
And I walked over to the wall overlooking the harbor where the reflection of the Parliament danced in the water.  It was gorgeous.
The Fairmont Empress Hotel.  It doesn't get any more "iconic" than that.  Built in 1908, this Edwardian, château-style hotel has something in common with Victoria's parliament building:  Both were designed by the architect Francis Rattenbury.  How fitting that they face each other. The Empress has been host to the full range of royalty, nobility and celebrity.  For many years there was no sign above the hotel entrance.  The story goes that the day the first sign was mounted an irate gentleman snipped, "Anyone who doesn't know this is The Empress shouldn't be staying here."
In 1965 there was a debate whether to renovate or demolish The Empress.  Feelings and emotions surrounding the iconic hotel run strong in Victoria and a local newspaper at the time warned:  "Without this splendid relic of the Edwardian era, literally tens of thousands of tourists will never return.  This is the Mecca, this is the heart and soul of the city."  The hotel has since undergone two renovations and yet another extensive renovation is currently being planned.
Indeed, it is impossible to imagine Victoria without its Empress.
For our Iconic Tour of Victoria there was no getting around it:  Staying at The Empress was a must.  And I am so glad we did, otherwise I never would have discovered the extent of its beauty.
Before walking through the front doors of The Empress my conceptions were based on pictures I had seen, reviews I had read, and people I had spoken to.  That coupled with what I already knew of Fairmont's stellar reputation is what influenced our decision to stay there.  From the moment we walked in I knew we had made the right choice.  The Fairmont Empress Hotel far exceeded our expectations.  This beautiful, historic hotel was a major highlight of our stay.
In fact, I was so impressed by The Empress that I will be publishing a full-length, detailed article on the hotel with lots of photos of this stunning hotel.  You won't want to miss it, so stay tuned!
But whether you're staying at The Empress or not, Afternoon Tea is available to everyone, and Afternoon Tea at The Empress is probably Victoria's most iconic experience. A tradition going back many generations, Afternoon Tea can be traced back to Queen Victoria and Anna the Duchess of Bedford who served as her lady-in-waiting (ie, personal assistant) for 10 years.
During her service to the Queen, Anna discovered that every day around late afternoon she would experience what we now know  as carb cravings.  So she started a personal tradition of setting aside that time of day with her servants to enjoy a cup of tea to help wash down a few sweet indulgences to hold her over until dinner.  The idea gained popularity (no surprise!) and before long she began inviting guests to join her.  Queen Victoria also began hosting lavish tea parties and guests were expected to attend wearing formal attire.   Soon a whole spectrum of tea-time desserts made their way into British food culture.
Bottom line:  This long-held tradition of afternoon tea provides the perfect excuse to indulge your sweet tooth in the middle of the day. But indulging in the guise of "afternoon tea" manages to turn what would otherwise be a primal-driven physiological carb-craving response into something refined and "proper."
And that works for me.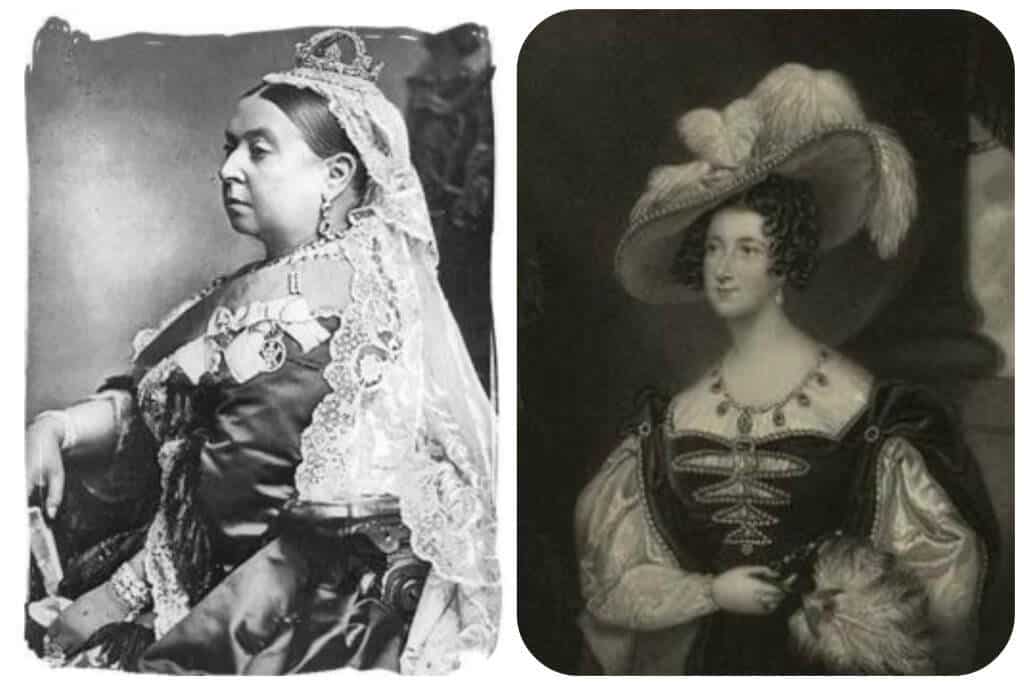 During peak season The Empress hosts an average of 800 guests per day for Afternoon Tea and reservations are often required a week or two in advance.  In terms of the dress code, I had heard a story of Barbara Streisand being turned away for not following code, which I highly doubt is true, but then again, who knows what the "don't rain on my parade" Ms. Streisand was wearing.
The truth is, the dress code for Afternoon Tea at The Empress used to be much more formal.  Though nice dress is still encouraged, really the only restrictions are torn jeans and flip-flops.  And that's a shame.  Because an institution such as Afternoon Tea, and in such an elegant setting, really deserves to be honored with a little more dignity than jeans and baseball caps.  And if you're going to pay a good amount of money (and it is a good amount) to enjoy Afternoon Tea, do yourself a favor and wear something a little nicer than you usually wear to kick around.  Trust me, it will add to your experience.
Our Afternoon Tea started out with fresh strawberries and cream.  We had chosen their refreshing orange-pineapple tea which was brought out next along with the food.  It's a 3-tiered serving tray starting with savory sandwiches at the bottom and you work your way up to the scones and, finally, dessert.  The dessert was the best part.
Afternoon Tea at The Empress is expensive.  You will have to decide for yourself whether your budget allows for such a splurge.  But if you're looking for the ultimate iconic experience in Victoria, this is it.  When you go, bring time with you and rediscover how it feels to set aside the hustle and bustle of life and slowly enjoy the moment.
Constructed in the late 1800's with 39 rooms and over 25,000 square feet, Craigdarroch Castle, a Scottish Baronial mansion, was originally the residence of the wealthy coal baron Robert Dunsmuir and his wife Joan.  Robert died before the mansion was completed, as did its initial architect, and his sons took over its remaining construction with a new architect.  Its cost was estimated at around $500,000.
During its lifetime it has passed through several hands, including the original Dunsmuir family, then converted into a military hospital, the Victoria College, and finally a music conservatory.  Today it is run by The Castle Society, is a registered charity and one of the few museums in Canada that receives little government funding.
A tour of the mansion takes roughly 45-60 minutes.  Open all year round to tourists with extended hours in the Summer, Craigdarroch Castle attracts over 150,000 visitors each year. Four story-high Craigdarroch Castle is known for its intricate woodwork and stained glass and, sitting on a hill, is the highest point in Victoria.  Filled with elegant furnishings from the 1890's it's a very nice glimpse into Victorian living.
Not far outside of Victoria in Brentwood Bay is Butchart Gardens.  Named among the Top 10 Magnificent Gardens in the world by National Geographic, The Butchart Gardens is a total of 135 acres, 55 acres of which are fully manicured and planted.  During peak season The Butchart Gardens employs a staff of 550.  The Gardens has 50 full-time gardeners all year round and during peak season they employ up to 70.  Each year over a million bedding plants in some 900 varieties give you uninterrupted bloom from March through October.
Part of the beauty of Butchart Gardens is its remarkable history of how it originally evolved from a cement quarry into the magnificent manicured landscape we see today, and all at the hands and oversight of Mrs. Butchart and later her grandson who fully realized her vision.
We were there in early March when High Tea was being served.  In the warmer months Afternoon Tea is available.  In order to enjoy High or Afternoon Tea at the Gardens, an entrance ticket is required.  But the pairing of the two experiences is the perfect way to spend the day.  High Tea was a delight and both the savory and sweet selections were delicious.  The atmosphere was bright and cheerful surrounded by potted plants and flowers with views of the Gardens through the windows.  High Tea at The Gardens fully converted me to scones.  In a word, they were perfection.
For a in-depth look at these beautiful gardens, high tea, and stunning virtual tour, read my article:  Breathtaking Butchart Gardens.
Pure and simple, a visit to Victoria is incomplete without a tour of The Butchart Gardens.
Victoria has a bustling restaurant scene featuring the freshest of foods prepared in both traditional and highly creative ways featuring cuisine from around the world.
For our two evenings in Victoria we dined at the following two restaurants:
10 Acres Bistro.  Fully renovated and rebranded in 2013, this restaurant owns it's own 10 acre farm from which much of its produce and meats are sourced.  The food is fresh, vibrant, flavorful and creatively prepared.  For starters we had the roasted cauliflower dip oozing with gruyere cheese and served with artisan bread.  For entrees we chose the Tagliatelle and the Hoyne Pilsner Battered Fish and Chips.  For dessert we had the Chocolate Fudge and Farm Zucchini Cake and the Carrot Beet Cake. From start to finish everything was truly delectable, the atmosphere was fun and welcoming and the staff was super friendly.
Ferris' Upstairs Oyster Bar.  This is actually a 3-in-1 restaurant.  There's the downstairs grill, the upstairs oyster bar, and Perro Negro, also upstairs in another room, features Spanish food.  Based on our great experience at the Oyster Bar, we would have loved to try all three had we more time.  Ferris' Oyster Bar Upstairs features the freshest local and East Coast raw oysters, and the finest ingredients in pastas, steaks and seafood dishes.  To start we had the Black Olive & Fig Spread and for our entrees we had the Prosciutto-wrapped Fresh BC Halibut and the Charmoula-marinated Free Run Chicken Breast with hummus, minted labneh, and fattoush salad.  For dessert we chose the classic creme brulee.  Thoughtfully prepared with an artistic flair, the food was excellent.
A few of Victoria's other popular restaurants include:
Restaurant Matisse – French
IL Terrazzo – Italian
Ithaka Greek Restaurant – Greek
The Blue Fox Cafe – Breakfast & Brunch
Blighty's Bistro – West Coast Fusion
Hank's Untraditional BBQ – American, BBQ
Rockn' Rolls – Sushi
Murchie's – est. in 1894, the highest quality tea and coffee.  Also very popular for breakfast and their pastries.
In closing…
I hope you enjoyed a glimpse of what we experienced during our weekend in Victoria.  We had a wonderful time and look forward to a return visit.  For things to do, places to see and food to eat, Victoria offers something for everyone.
To plan your trip be sure to visit Tourism Victoria.
For our giveaway I wanted something fitting of our "Iconic Victoria" theme.  This being the city famous for its Afternoon Tea, what could be more fitting than tea, scones and preserves?
Now I have to admit, I don't drink black tea or coffee, but I do like fruit and herbal teas and I especially love scones with gourmet marmalade!  So I made sure to arrange a couple of giveaway options.
I contacted Victoria's very own beloved Murchie's about providing our giveaway and they kindly agreed to provide a gourmet gift basket to TWO lucky winners!  The winners will get to choose one of the following two baskets, each of them a $35 value.
You'll have your choice between the Spot of Afternoon Tea Gift Set or the Libre To Go Gift Basket. 
I have already sampled Murchie's Lemon Curd and Blueberry Orange Marmalade and a couple of their herbal/fruit tea blends and they are delicious!
Giveaway Rules To enter this giveaway simply leave a comment below about what you think about Victoria!  Two winners will be randomly chosen and then emailed to request their mailing address and which of the gift boxes they would like to receive. Winners must respond within 48 hours or another winner will be chose.  This giveaway is open to U.S. and Canadian residents.  Giveaway ends at midnight on May 1, 2015.
**This giveaway is now closed.  Congratulations to our two winners, Alice and Shelley!**
Disclosure:  We were given media passes to the various attractions and our stay was hosted by The Fairmont Empress Hotel.  No other compensation was received.  As always, all opinions are entirely my own.