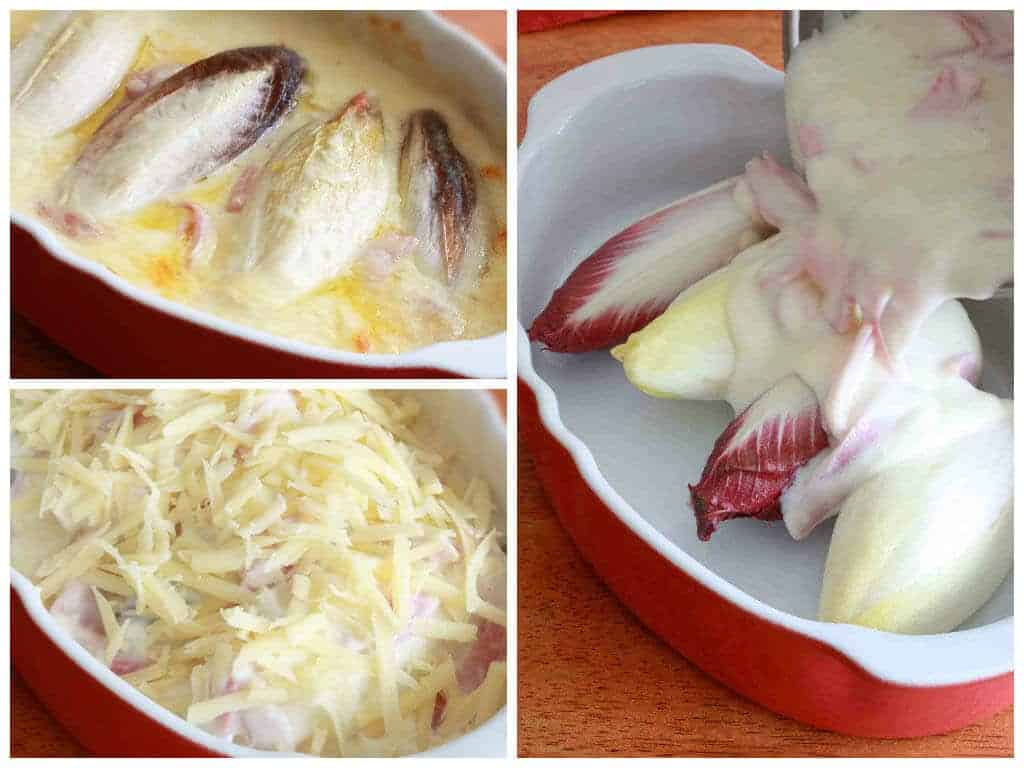 If you've never had endives before, let this be your first experience.  And if you have had them before, be prepared to fall head over heels.
This dish is very easy to prepare and you can serve it as a side dish or as a light entree with some crusty bread and a side salad.  I honestly can't even express how delicious these baked endives are.  The flavor is beyond incredible and you're going to score points with whomever you serve these to.
But first, let's talk ENDIVES.
We've all heard of endives but many of you have probably wondered, what the heck are they??  Well for starters, they're members of the daisy family.  Endives have been referred to as the "queen of vegetables" and are rich in a variety of vitamins and minerals, especially folate and potassium, and also vitamins A, B, C and K.  They're also a good source of fiber.  Their growth process is really interesting, requiring two stages. From the California Endive website: "Chicory seeds are sown in the spring producing a root the size of a large carrot by fall. Those roots are harvested from the field and then placed in dark, humid, "forcing" rooms to produce endives. Yes, endive is actually the second growth of a chicory root!"
Take a look at this photo, courtesy of California Endive.  They're really fascinating!
Endives can be eaten raw or cooked.  They have a slightly bitter flavor and a delicate crunchy texture which makes them a great addition to salads or used as an elegant bed for appetizers (eg, filling the leaves and serving them as hors d'oeuvres).  They're also wonderful baked or added to a variety of soups and entrees.  Leave a comment below:  How have you prepared or eaten endives?
A couple of weeks ago I attended the International Food Bloggers Conference in Seattle (IFBC) and California Endive was there with some product samples of their Belgian-style endives.  They were in attendance at last year's conference as well and both years I had the privilege of trying some of their endives.  They're the only major Endive grower in the USA and if you find endives in your local stores, chances are they're from the California.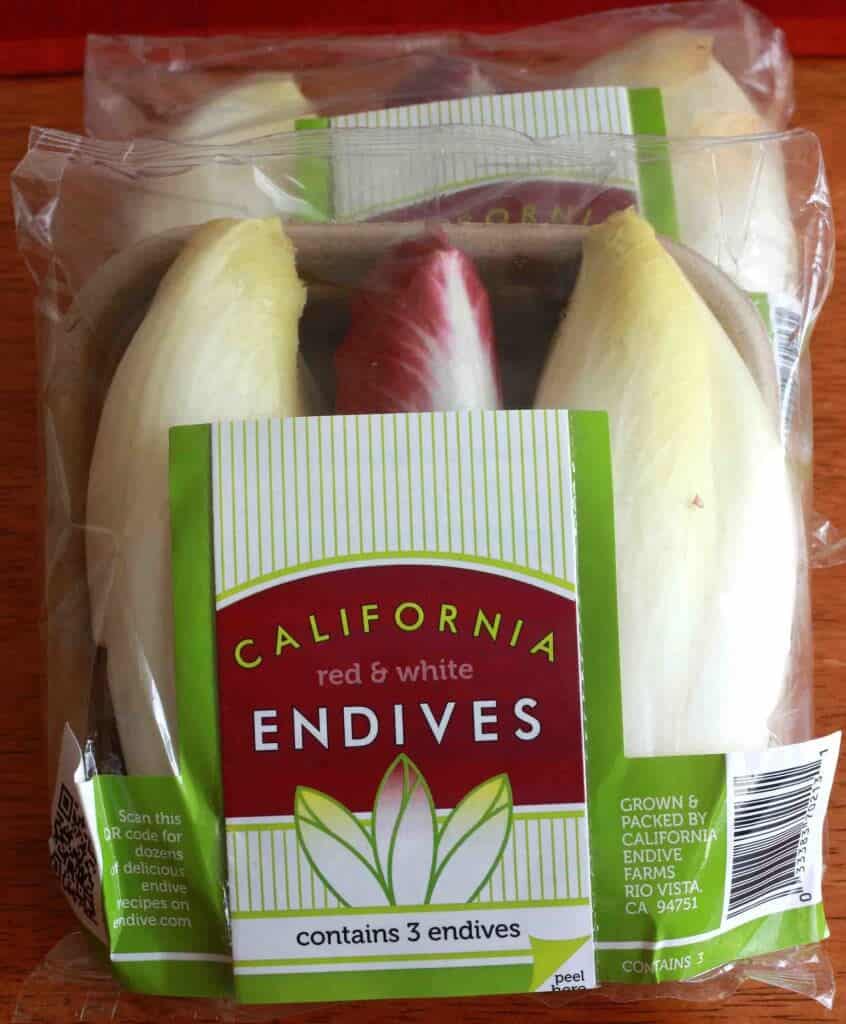 So I had some endives on hand and was really craving some good comfort food…something creamy…something cheesy.  And so I threw together this dish, we invited my parents over, and everyone was oohing and aaahing.  Yes, it's that good.
Baked Endives with Ham and Bechamel Recipe
Let's get started!
Select 4 largish endives that are about the same size.  White, red, a combination of the two, it doesn't matter.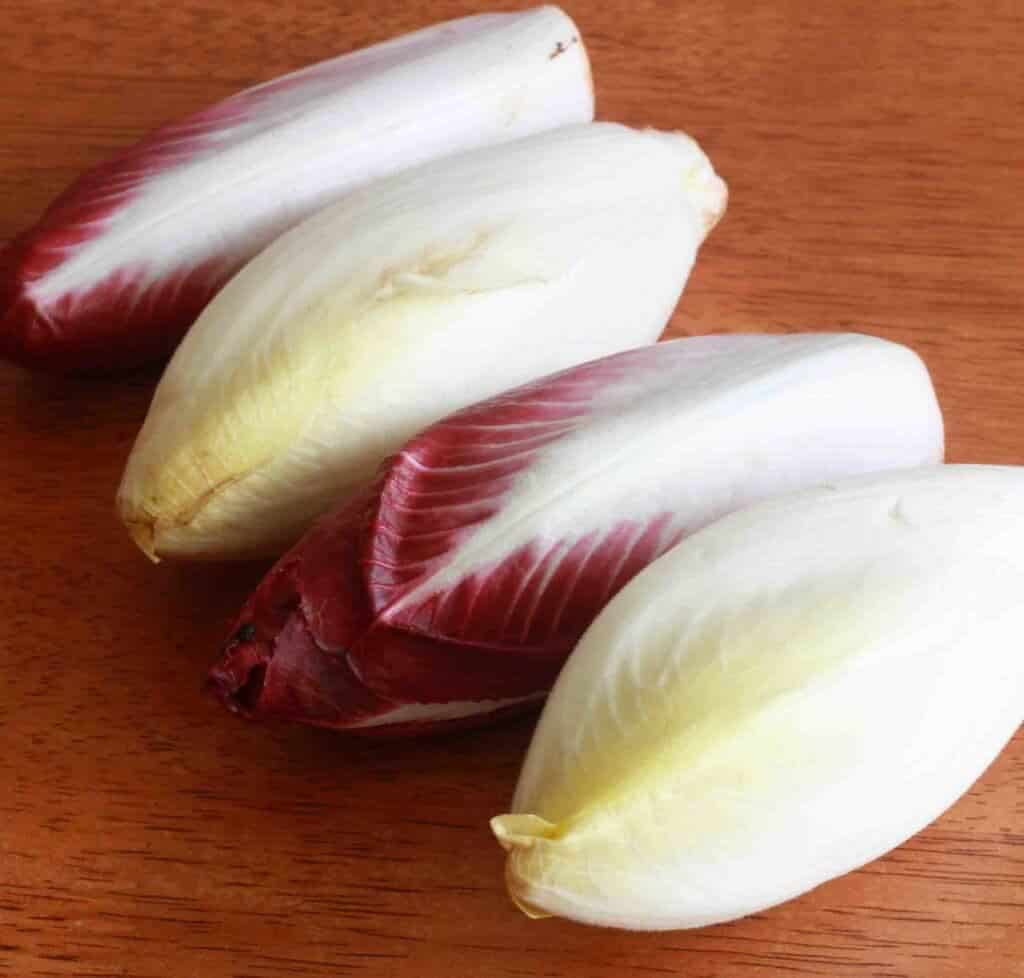 Give them a rinse and slice the very ends off.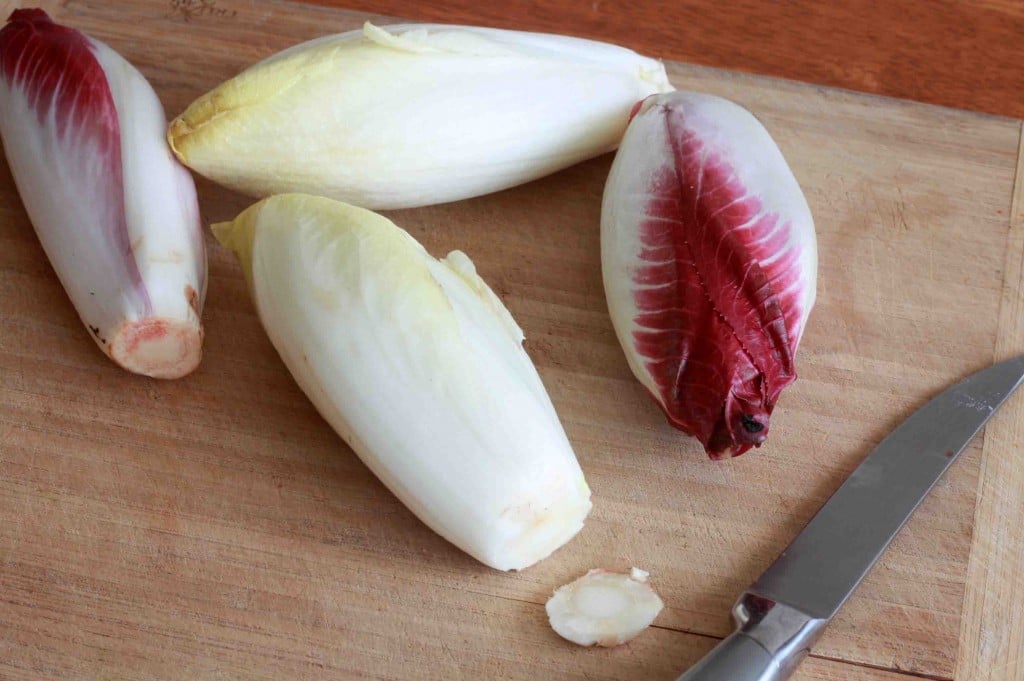 Lay them in an oven-proof baking dish.
Prepare the bechamel sauce.  Yep, I just published the recipe for it a couple of days ago and now you have the opportunity to put it to good use!  This version of the bechamel is altered a little for this specific recipe though.
Use the ingredient quantities listed in the recipe box below, but for step-by-step pictures on how to prepare the sauce click here:  Bechamel Sauce with Parmesan Cheese.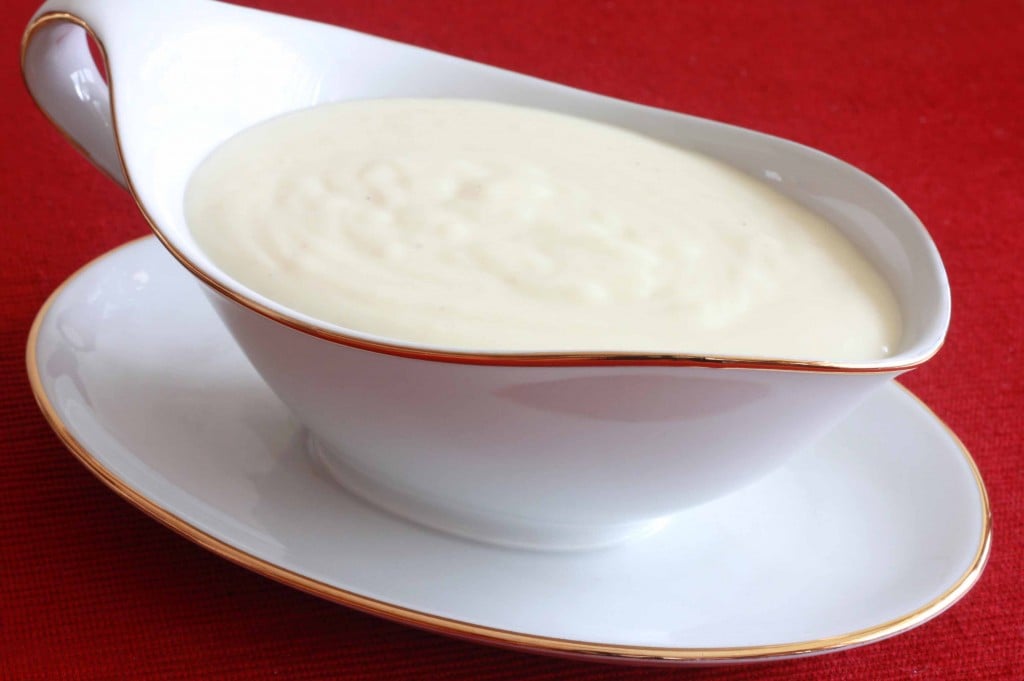 Add the ham to the bechamel sauce.
Pour the ham-bechamel sauce over the endives.  Getting excited yet?  I am!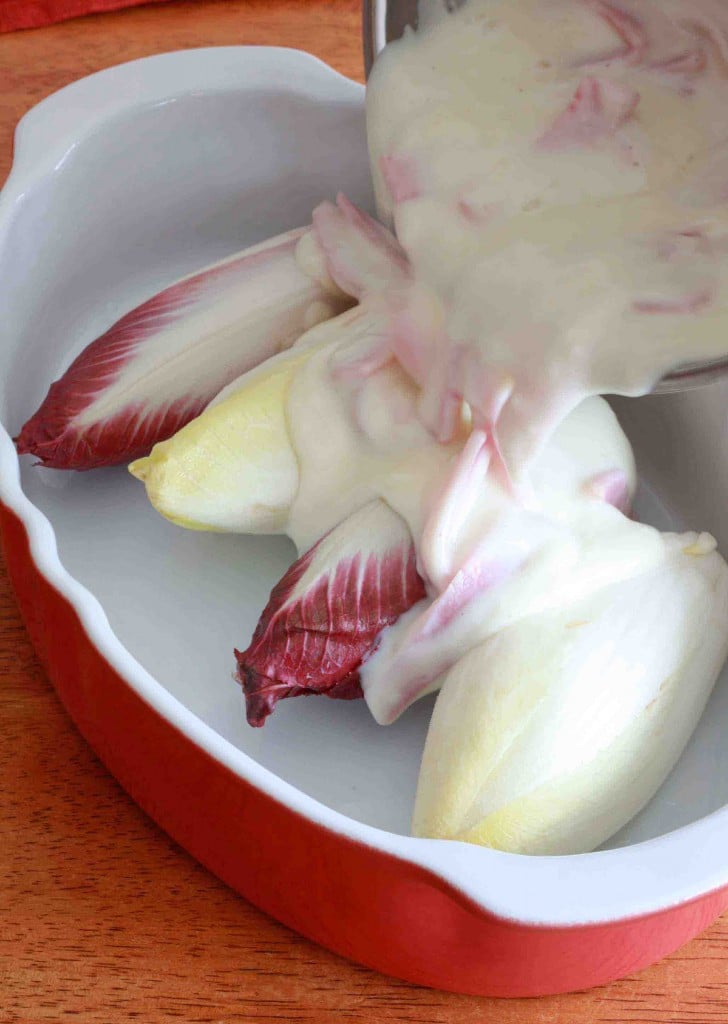 Look at that delicious, creamy goodness!
Use your choice of Swiss cheese.  I love Swiss cheese!  Gruyere has the strongest flavor and Emmentaler is medium, which is what I used this time.  You could use a flavorful Gouda, too, or even a white cheddar, but I really recommend Swiss/Emmentaler.
Sprinkle the Swiss cheese over the top.
Cover the baking dish with aluminum foil.  Preheat the oven to 350 degrees F.  Bake for 35 minutes then remove the foil and bake uncovered for another 20 minutes or until the endives are soft and the top is golden brown.
Serve immediately and enjoy!  (You will, I promise!)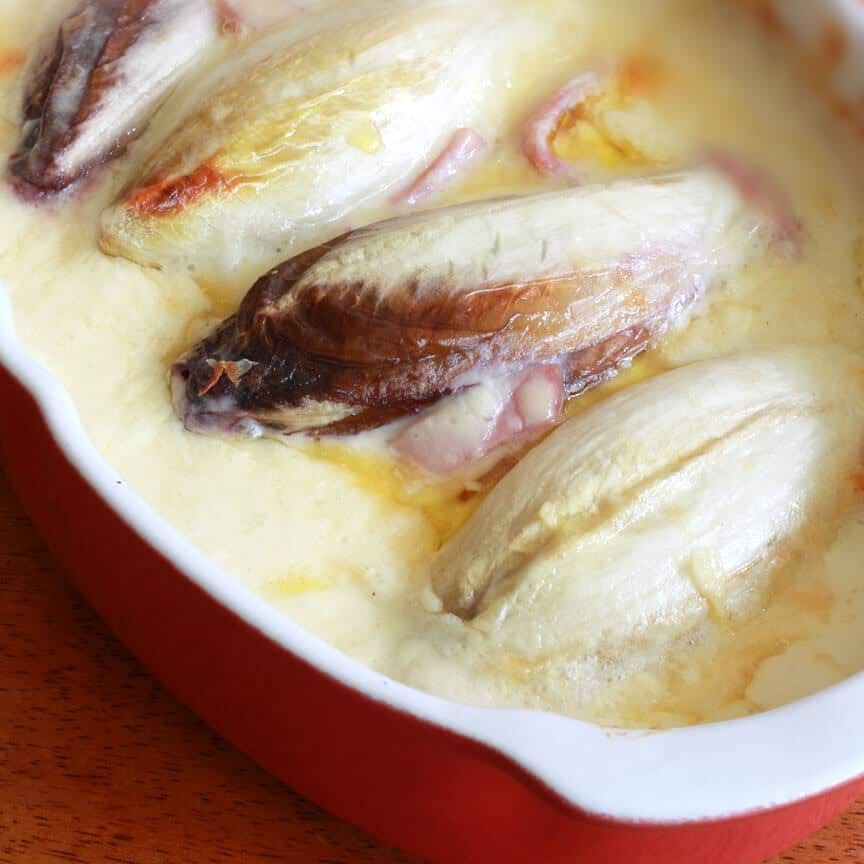 Baked Endives with Ham & Bechamel
:
Kimberly Killebrew, www.daringgourmet.com
Ingredients
4 large endives of uniform size
¼ cup unsalted butter
3 tablespoons flour
1½ cups whole milk
1 teaspoon salt
⅛ teaspoon freshly ground nutmeg
2 egg yolks
¼ cup grated Parmesan cheese
4 ounces Canadian bacon or good quality ham, diced
½ cup Emmentaler or other Swiss cheese, grated
Instructions
Preheat the oven to 350 degrees F.
Melt butter in saucepan over medium-high heat. Add flour and whisk 2 minutes. Gradually add the milk, whisking constantly to prevent lumps. Add the Parmesan cheese, salt and nutmeg and continue whisking until the cheese is melted and the mixture is smooth. Simmer for 5 minutes, whisking occasionally. Remove from the heat and let cool for 20 minutes. Whisk in the egg yolks and stir in the Canadian bacon. Add salt and pepper to taste.
Arrange the endives single-layer in a baking dish. Pour over the bechamel-ham sauce and sprinkle the Emmentaler evenly over the top. Cover the dish with aluminum foil and bake for 35 minutes. Uncover the dish and bake for another 20 minutes until golden brown on top. Serve immediately.
Serve as a side dish or a light entree with crusty bread and leafy green salad.