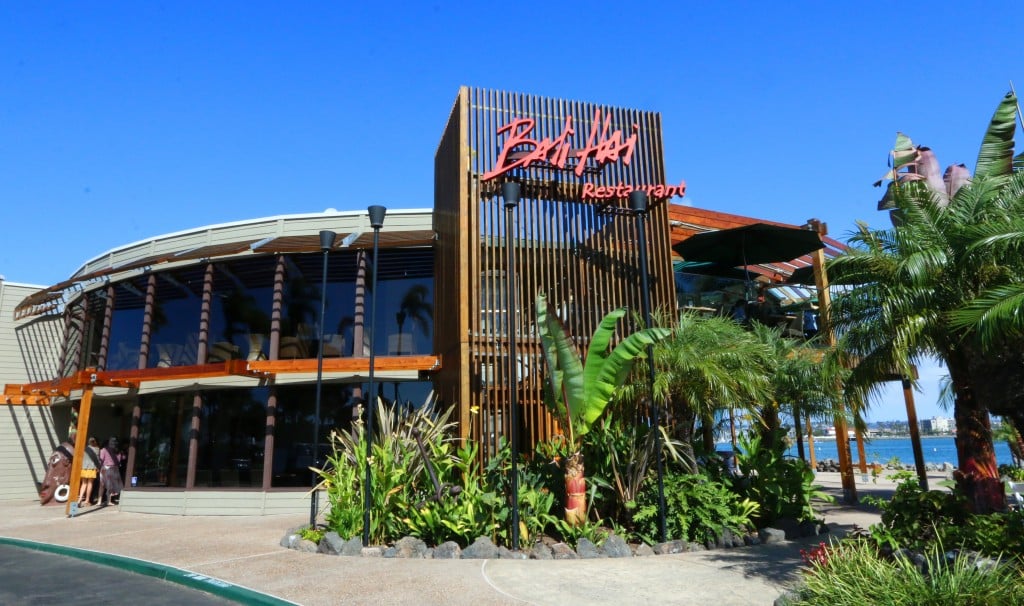 Here's some sunshine and palm trees for you to enjoy during this chilly season.  Our dining experience at Bali Hai Restaurant on Shelter Island in San Diego, California.  You've got to see the setting and views!
A few weeks ago our family spent a few days in San Diego seeing the sights and taking full advantage of this super fun and family-friendly city.  We spent time at Coronado Beach, took some surfing lessons (pics to come!), Balboa Park and it's gazillion museums, and visited the San Diego Zoo and SeaWorld (click to read about our experience).
Bali Hai Restaurant was one of the places that came highly recommended and we're glad we went.  Let me tell you a little about it!
Sunny, happy Shelter Island is the setting for today's featured restaurant.  Don't worry, you don't have to take a ferry to the island.  It's called an island but it's actually connected to the mainland by a narrow strip of land.  The island is 1.2 miles long and only a few hundred feet wide.  It was developed in the 1950's and is home to marinas, hotels, restaurants, and public parkland.  Containing one of only a few marinas in the San Diego Bay with deep enough waters to accommodate them, Shelter Island is a popular destination for superyachts.  It's also a popular viewpoint for 4th of July fireworks as well as the Parade of Lights, an annual event where Christmas-decorated boats parade on by for spectators to watch.   Shelter Island is also home to an annual Summer event where nationally known musicians and comedians come to perform in an outdoor concert.
Winner of the 2014 OpenTable Diner's Choice Award, it's easy to see why Bali Hai is such a popular place.  It's not only a restaurant, it feels like a mini tropical retreat where you can escape, leaving the world behind for a moment, and enjoy some fabulous scenery and food.  We had the pleasure of meeting the owner, Larry Baumann, and learned that the restaurant has been in the family since the 50's and that they played a central role in transforming the island into what it is today.  And he confirmed what I was wondering:  The restaurant was named Bali Hai a couple of years before South Pacific came out.  The family also owns the stunning Tom Ham's Lighthouse just across the way, a restaurant that's on our list for our next visit to San Diego.
The structure and decor of Bali Hai Restaurant gives you a sense of stepping into a Polynesian hut, complete with carved statues and Polynesian weapons.
Upstairs I almost had a slight deja vu experience of the Seattle Space Needle with the elevated setting, circular structure and windows overlooking the water and city. Of course the palm trees (and sunshine, ahem) quickly reminded me of where I was.
The setting is unbeatable.  Just look at that view!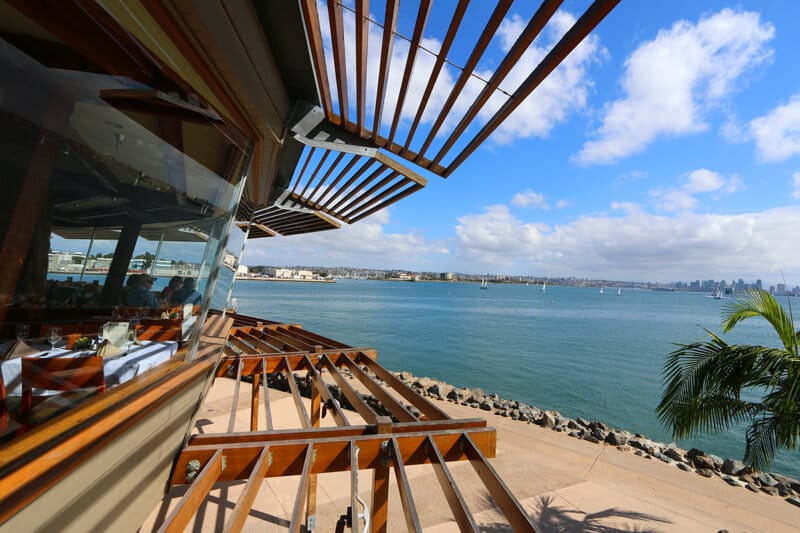 The San Diego Bay, city skyline, palm trees and sunshine…a slice of urban paradise.

We stopped at Bali Hai on our way back to Los Angeles to catch our flight back home to Seattle.  It was the perfect "farewell" lunch!
While we waited for our food our server brought out some coloring materials for our kids.  The kids menu was also a coloring sheet and it kept them busily content for a while.  The kids meals were very generous in size and our son and daughter split a plate of solid breast meat chicken tenders, sweet and sour dipping sauce, broccoli and rice.
While we perused the menu our server brought out some nice crusty bread.  And of course we had to start things off right – with some tropical pina coladas. Even in mid-October the weather was sunny and in the 80's.
While we munched and drank we soaked in the setting and watched sailboats and kayaks float by.
The setting was so idyllic that I probably could have eaten practically anything and been happy.   But here at Bali Hai you not only get the setting and views, you get the food.  Bali Hai's California-Asian menu focuses on the heart of Hawaii and offers a delightful selection.
For starters we had the Coconut Shrimp with Papaya Salad and Ginger Lime Dipping Sauce.  Flavorful and perfectly crisp, even our 2 year old enjoyed them.
We also had the Island Beef Skewers with Pickled Pineapple Salad.  The beef was very tender and the sauce was excellent.
For our entrees my husband ordered the Seafood Plate with Miso Glazed Salmon, Firecracker Grilled Shrimp and Furikake Rice.  Everything was delicious.  The sticky rice had a great texture combined with the crunchy toasted black and white sesame seeds.  Accompanying the seafood and rice was a flavorful vegetable blend of what appeared to be pickled cucumber, onion and seaweed.
I ordered the Mixed Grill Bento consisting of Korean Bbq Ribs, Sweet & Sour Chicken and Furikake Rice.  The ribs were amazing and that sauce…a total flavor explosion.  Finger-lickin' good describes these perfectly.
We really enjoyed our family meal at Bali Hai Restaurant and the setting was so idyllic.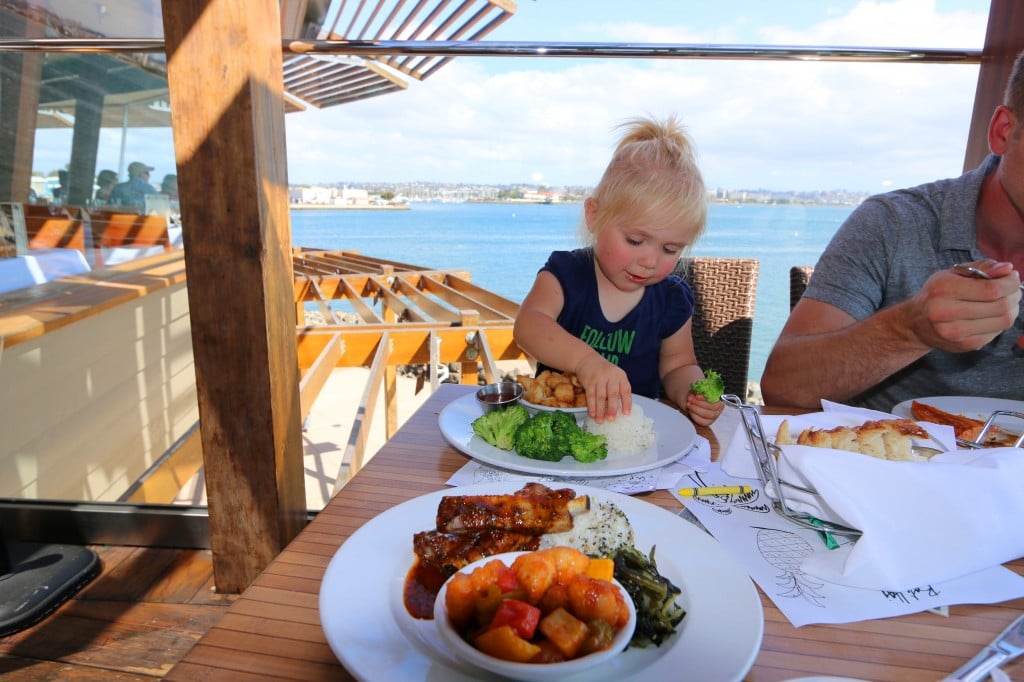 But no meal is complete without dessert.  So we ordered the Toasted Coconut Crème brûlée with Biscotti and Fresh Seasonal Berries.  It was the perfect way to end our lunch.
Next time you're in San Diego, check out Bali Hai Restaurant on Shelter Island.  It's the place to go to get your "happy fix" and enjoy some great food!
For more information or to make a reservation, visit their website:  Bali Hai Restaurant
2230 Shelter Island Drive
San Diego, CA 92106
(619) 222 – 1181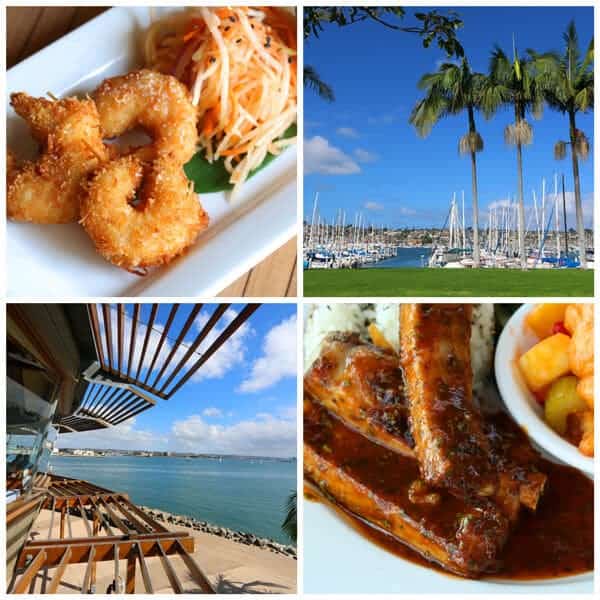 Disclosure:  We enjoyed a complimentary lunch at Bali Hai Restaurant.  As always, all opinions are entirely my own.