We recently returned from a week in paradise.  Bermuda.  And during that week we were invited to stay in one of the most stunning hotels we've visited:  Bermuda's premier Hamilton Princess & Beach Club, a Fairmont managed hotel.
Luxury hotels are frankly a dime a dozen.  And we've stayed at many.  But with properties like the Princess you have luxury combined with history, luxury that has stood the test of time, luxury that doesn't have anything to prove because its reputation is already established.  The Princess originally opened her doors in 1885 and has provided luxurious comfort to her guests for generations.  And now recently the Princess has undergone an extensive facelift.
$90 million is the price tag associated with the Princess' recent renovations that have made this royal beauty sparkle like never before.  Two of the hotel's wings have been renovated with more to come, the public areas throughout the hotel have undergone some modern transformations, and the Princess now enjoys the addition of a marina, a dazzling infinity pool, Marcus Samuelsson's new restaurant, and a breathtaking beach club.
Let us show you around.
The hotel staff were probably the friendliest we've encountered.  Many if not most of them are native Bermudians and that explains it.  The Bermudian people are some of the friendliest people we've met.  An exceptionally beautiful island with wonderful people.
The Moongate is a Bermudian tradition.  It's said that if a single person stands under the arch they will soon meet their mate, if a dating couple stands under it they will soon be happily wed, and if a married couple stands in the arch they are destined for a forever happy marriage.  If the information we heard was correct, there are less than ten such arches around the island.  But lucky for us there was one conveniently located right at the hotel!
One of the things that struck me was how beautifully manicured the grounds are with a seemingly endless amount of colorful flowers and greenery.
The Infinity Pool is absolutely gorgeous and faces the Hamilton harbor.
During the day it's vibrantly cheerful and provides the perfect setting for relaxation.
In the distance on the right is 1609, one of the Princess' restaurants with great food and fabulous views of the harbor.  We'll get to that later.
The Princess' new marina features K.S. Watersports that provides various tours and activities, including jet ski tours.  We took their 75 minute "Island Adventure Tour" and had a blast!  We maxed the jet ski's capacity at nearly 40 mph – what a way to see the island!  The tour guide told us about some of the various sites including a famous shipwreck, a large fish feeding ground, some notable homes and buildings, and Bermuda's famous green sea turtles.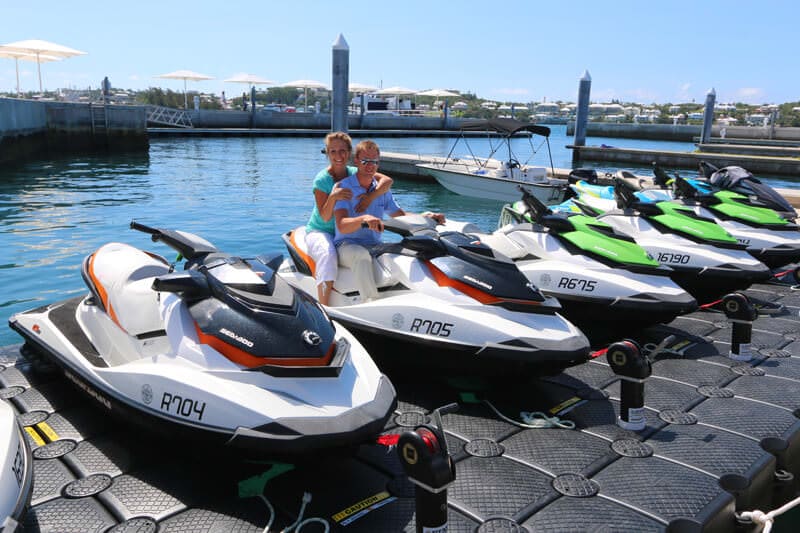 The pool area is particular beautiful at dusk and nighttime.  It's so peaceful and serene, almost magical.  We enjoyed several romantic walks around the hotel's premises at night.   The grounds have nice atmospheric lighting, including glistening lights on the concrete pathways.
Let's move to interior of the hotel.
The Princess is a really nice combination of classic and modern.  For example, traditional coffered ceilings, wainscoting and moldings are juxtaposed with modern art.  The owners of the Princess purchased $5 million dollars worth of art, including the series of Andy Warhol renderings of Queen Elizabeth you can see below.
As just mentioned, the owners acquired $5 million worth of art.  See the white bunny below?  That's the original statue of Miffy and was a full $2 million dollars!  We had to chuckle when we saw it because our kids had just recently come across Miffy on Netflix.
While the majority of the hotel is modern, there is one area that remains very traditional:  The Princess Ballroom.  The back right of the room leads to a kind of butler's pantry and beyond that is the board room.
Specifically, the Churchill Boardroom.  We learned something fascinating from one of the hotel staff, namely that Churchill sat in this very room and conducted some of his plans during WWII.
Let's take a look at the guest room.
We stayed in one of the newly renovated rooms.  Bright and cheerful with lots of light, modern furniture and fixtures, and a sparklingly clean bathroom.
We enjoyed breakfast each morning at the hotels' Crown and Anchor restaurant, which also serves lunch and dinner.  You have your choice of the continental buffet or the deluxe buffet which also includes a nice hot selection.  Bagels and pastries, cold cuts and cheese, smoked salmon, cold cereals, fruits, granola, sausages, eggs, bacon, waffles, pancakes, French toast, roasted potatoes, grilled vegetables, etc.  It was the perfect way to start each morning!
You can either sit inside or out and we rotated.  But the atmosphere outside was hard to beat!
Let's take a look at the other two restaurants at the hotel.
This restaurant takes its name from a historic shipwreck.  From their website:  "On 2 June 1609, the Sea Venture set sail on her maiden voyage from England carrying 150 settlers and crew, bound for new horizons and new lives in Jamestown, Virginia. She was the flagship of a seven-ship fleet and, as England's first purpose designed emigrant ship, she set new trends for her day. With her guns placed on her main decks, her hold was laid out for passengers, a remarkable new arrangement.  But caught in a strong storm, the Sea Venture was wrecked on the reefs of Bermuda on 25 July. All souls survived and found themselves on a naturally beautiful island surrounded by exquisite coloured seas. So came the settlement of Bermuda and new beginnings for the Island."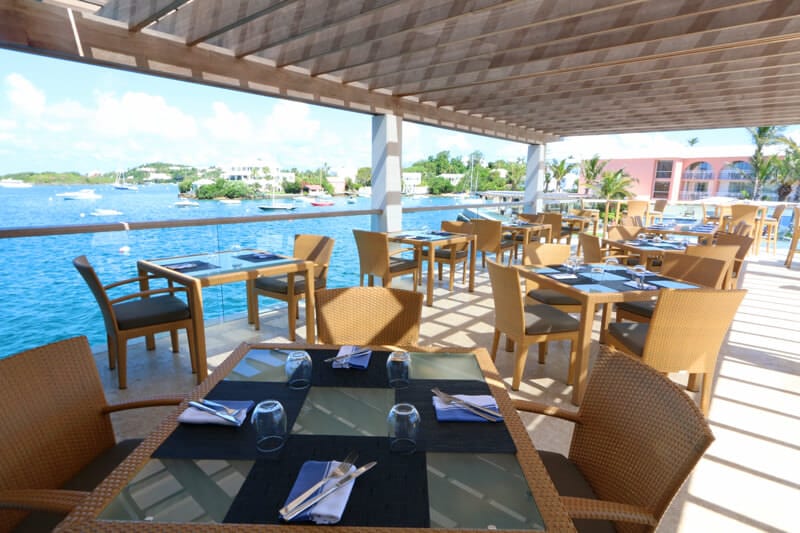 We really enjoyed our dining experience at 1609.  Both the food and ambience were terrific.  Take a look and you'll see what we mean!

We started our meal with some Bermuda Onion Bread.  It was wonderfully soft and fluffy and we loved the presentation in the cast iron skillet.
I also had the Roasted Beet Salad with lime labneh, candied pecans, and frisee.  The flavor combination and textures were terrific.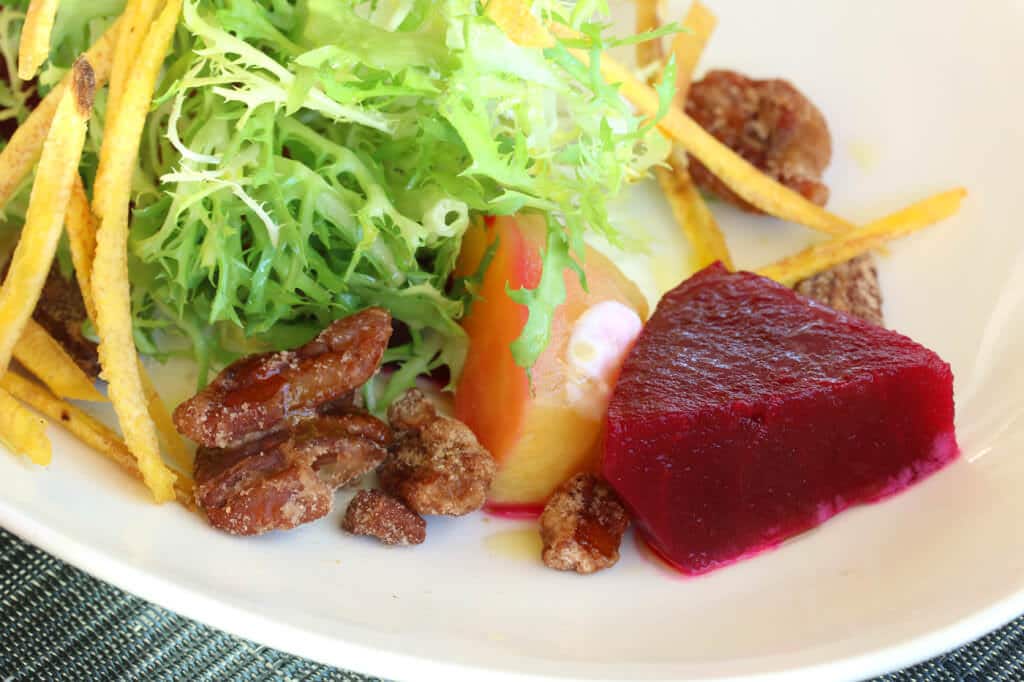 For our entrees Todd ordered the Seared Peppered Tuna Steak with snow peas, shiitake mushrooms and soy mustard sauce.  The tuna was perfectly tender and the flavors of the accompanying ingredients complemented it beautifully.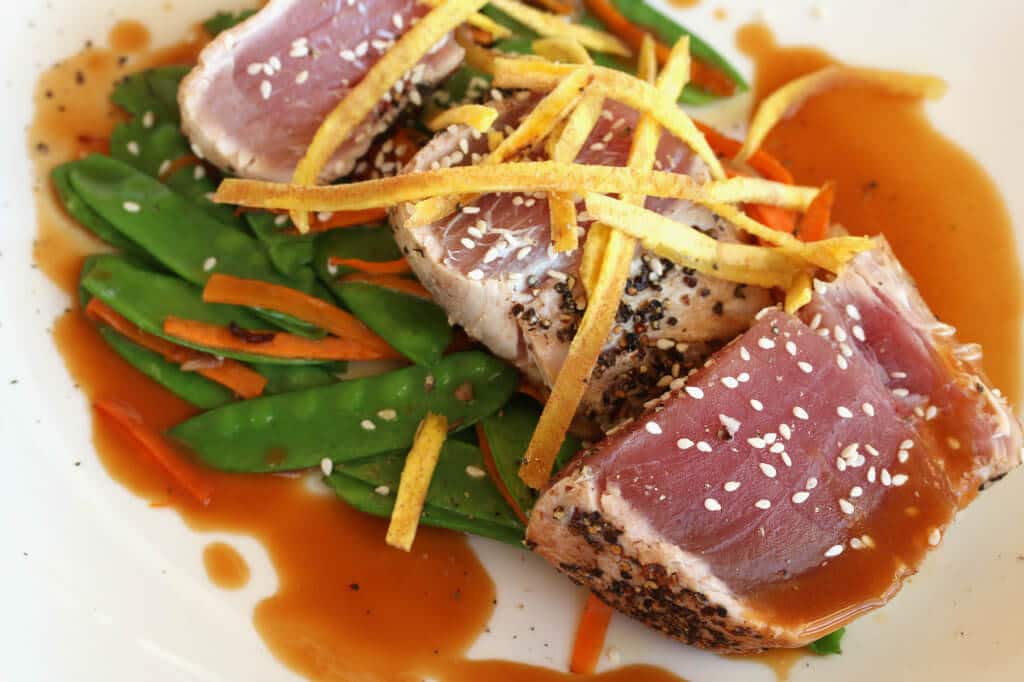 I had the 1609 pizza with Portuguese chorizo and caramelized onions.  So good!  It was a very large pizza for one serving and I was more than happy to take the rest back with me to our room for later.
For dessert we had the Bramley Apple Tart with toasted walnuts and pecans with vanilla ice cream and the Orange Cointreau Cheesecake.  Both were absolutely fabulous!
The following night we were invited to attend the official launch party of another new Princess restaurant, this one by celebrity chef Marcus Samuelsson. Some of you may know this Ethiopian-born, Swedish-raised James Beard award-winning chef from having been a judge on "Chopped", but he also owns several notable restaurants in New York and has published several cookbooks, one of which I own.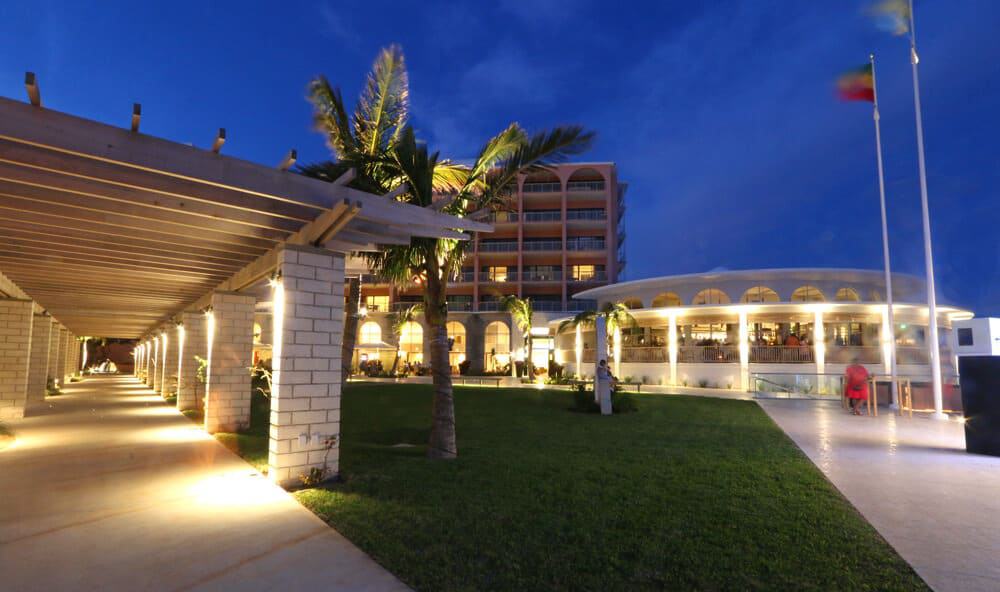 Guests at this event included the "who's who" of Bermuda.  It was a bustling night with live music, a variety of Marcus' food to try, and the evening ended with fireworks.  We were able to meet Marcus that evening and every day thereafter as he was staying at the hotel that week to oversee the restaurant.
Having enjoyed a small sampling of Marcus' food during the restaurant's launch party, we were looking forward to savoring a full sit-down dinner.
An entire side of the restaurant is glass facing the Hamilton harbor.  The restaurant follows a nautical theme with some really cool ship antiques.
The staff was extremely professional, knowledgable and friendly.  It was evident that the staff is passionate about what they do.  They love good food and they love providing first-class service.  For example, we asked our waiter about his job and the hiring process.  He told us a little about his background:  He holds an MBA but left the corporate world to do what he truly loves best – serving food and putting smiles on people's faces.  He exuded both passion and dignity for his profession.
After we were seated I happened to look out the window just in time to see a fishing boat bring in the latest catch to the restaurant.  I'm sure I startled the restaurant staff when I bounded back through the door front door to catch a closer look.

Back in the restaurant we were ready to order.  Marcus has created a vibrant menu featuring fresh seasonal ingredients with a Bermudian influence.  To start we ordered some virgin Pina Coladas.  Marcus prepares them in a unique way – heavy cream and mango puree and shaken up by hand, not in a blender, and is frothy rather than icy.  It was excellent.  We were also brought some corn chowder to try, compliments of the chef, prepared with Bermudian corn, now in season.
Within a few minutes the bread was brought out and it was hands-down the best bread we've eaten at a restaurant.  Incredibly fluffy with a rich butter and fresh yeast flavor, we asked our waiter about it and he revealed that it's made with both butter and duck fat.   It was served with jerk-spiced butter. Heaven on earth!
For my appetizer I ordered the Tomato and Seared Watermelon Salad with Pistachio Pesto and Tucker's Goat Cheese, a delightful combination.
Todd ordered the Aunt Bonita's Crab and Codfish Cake and for our entrees we had the Catch of the Day and the Fire Pit Roasted Chicken, everything creatively and thoughtfully prepared.  While we were waiting for our desserts Marcus came over to say hi and to sit and chat with us for a few minutes.  He was equally friendly to the other restaurant guests and I think everyone felt as welcome as we did.
For dessert we enjoyed the Rum Cake with Salted Caramel Sauce and Vanilla Ice Cream and a very unique and delicious dessert – Apple Sorbet with White Chocolate-fennel Cream, yogurt and Almond Cookie.  We left happy and satisfied.
After our dinner our waiter, based on a conversation we had, offered to show us the restaurant's herb garden.  Imagine cooking in the kitchen, "let's see, I need some parsley", and then stepping out to this?  That's my kind of herb garden!
Yes, the Hamilton Princess even has its own new beach club and talk about prime real estate!  The picture below really says it all.
Earlier that same day we had popped over the Horseshoe Bay, Bermuda's #1 tourist site on TripAdvisor.  We went there some time after noon and turned around within seconds of walking in.  Packed like a can of sardines.  Of course if you like being sandwiched in between hundreds of sweaty bodies and laying down in the sand while those hundreds of people walk around – and over – you, then you'd be happy as a clam (to the extent that clams are happy, that is).  Not our style.  We like peace and serenity and plenty of space to relax and swim.  We found our slice of heaven at the Princess Beach Club.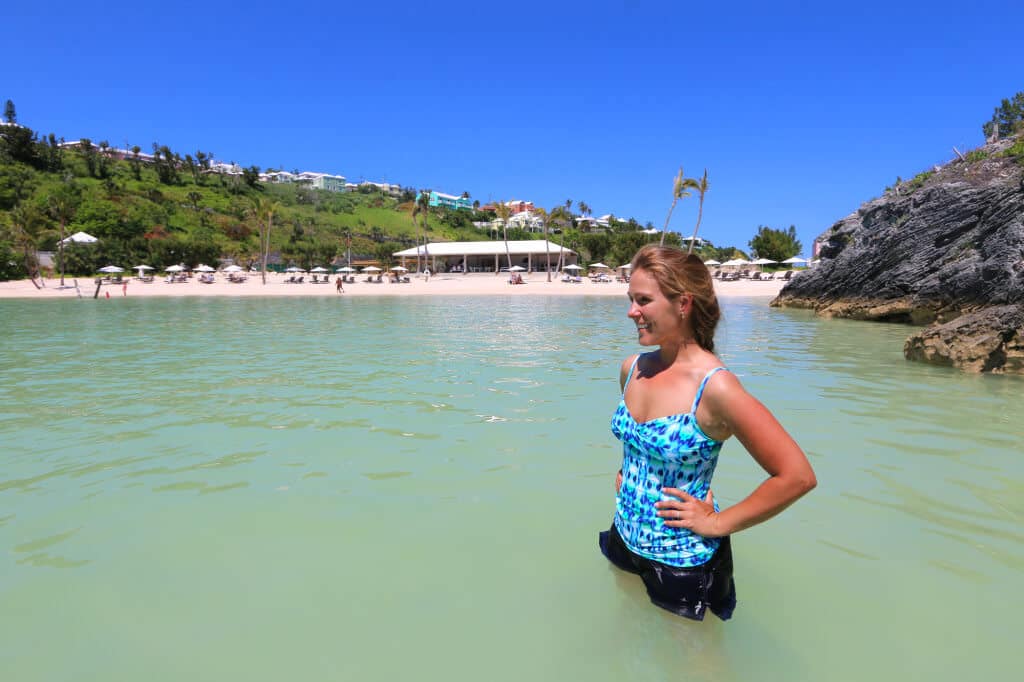 Access to the private beach club is just one of the perks of being a guest of the Hamilton Princess Hotel.  Only hotel guests are allowed in.  It was great!  The beach club also serves Marcus' food and a variety of drinks to sip while you relax on the sand, in the hammock, or on the lounge chairs shaded by umbrellas.
We even found a secret little cave!
When you come to Bermuda – which you absolutely should (and we will be telling you why in some upcoming posts) – we very highly recommend the Hamilton Princess & Beach Club.  It's located within walking distance to the popular Front Street along the Hamilton harbor with lots of shopping and restaurants, offers the full line of amenities of a world-class 5-star hotel – and then some – is staffed with some exceptionally friendly and professional people, serves amazing food, and provides an atmosphere that is simultaneously modern, chic, cozy, charming, and romantic.  AND it has its very own Moongate!
We could not have enjoyed our stay more at the Hamilton Princess & Beach Club.  After a week in paradise at the Princess we were walking on air.  The time came to finally touch ground but we cannot wait to visit again!  And next time we're excited to bring our kids with us.
Our time together in Bermuda at the Princess was priceless and we went home with some treasured connections and memories we will cherish forever.
For more information about the hotel, visit their website:  The Hamilton Princess & Beach Club
This is a sponsored conversation written by me on behalf of The Hamilton Princess & Beach Club via Rhythm One. The opinions, text and photos are all mine.