Gluten Free Gingerbread Cookies  Same great flavor and terrific texture but without the gluten!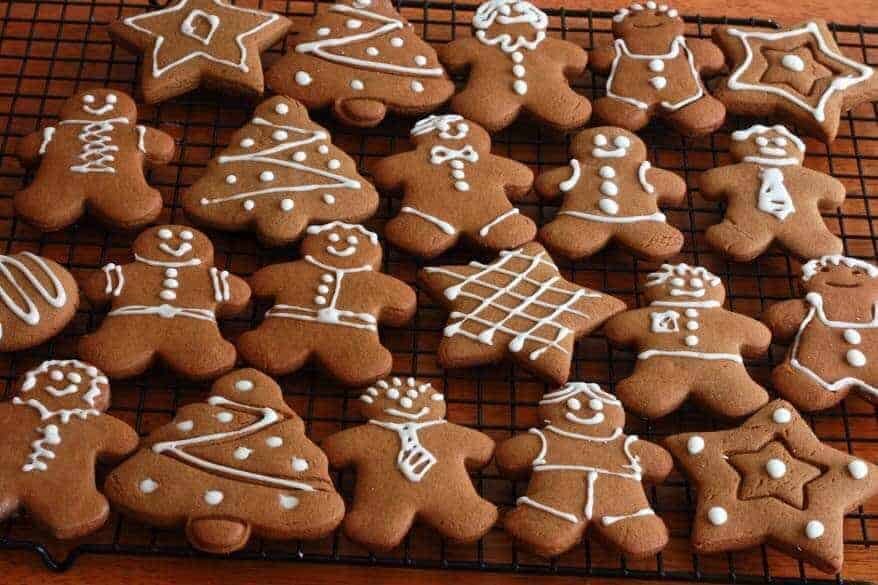 I've been cutting back on our family's gluten intake the past few months and so have been experimenting with more gluten free baking.  During the Christmas season it's always a tradition to make and decorate gingerbread cookies with our kids and I went for a gluten free version.  Experimenting with different flours and ratios of ingredients I now have a gluten free gingerbread cookie recipe that I think you'll agree is awesome.
You'll note that the recipe calls for half butter, half coconut oil but you can use one or the other for the entire amount.  Butter lends a great flavor while coconut oil does that as well but also has the advantage of contributing more moistness.  Butter tends to dry out baked goods whereas oil keeps things moist.  So I recommend either the combination of the two or using coconut oil entirely.
You'll also notice that the ingredients don't include typical gluten free ingredients like tapioca starch, potato starch and corn starch.  Those are extremely high in carbs and spike blood sugar (pure starch!) and just aren't necessary to get a great gluten free product.  Neither is xanthan gum.  These cookies use a combination of flours that all work together to create a great texture and flavor.
Gingerbread tastes bests after the flavors have had some time to meld so although the cookie dough is ready to use after 2 hours of chilling, it's even better if you wait a full 24 hours or longer.
These cookies also freeze really well.  Once they've cooled completely simply place them in a ziplock bag or in an airtight container and freeze them.  Then let them thaw completely before frosting them.
If you do a lot of gluten free baking, or any baking, I highly recommend getting a good grain mill.  Gluten free flours in particular are expensive and you can save a lot of money buying bulk whole grains and grinding your own flour.  The other benefit is that you can enjoy extremely fresh flour.  The natural oils in grains that contain so much of their nutrition lose their efficacy not long after they're ground.
I buy my grains in bulk and grind them fresh as needed.
I use and LOVE my German-made KoMo Classic Grain Mill.  A solid piece of German engineering with a 15-year warranty, this grain mill grinds grains as finely or coarsely as you want and it's an absolute workhorse.  If you're looking for the highest quality grain mill that gives you full control over the outcome and produces stone-ground flour in a matter of seconds, I cannot recommend the KoMo Classic Grain Mill more highly.  I use it nearly every day.
Happy baking!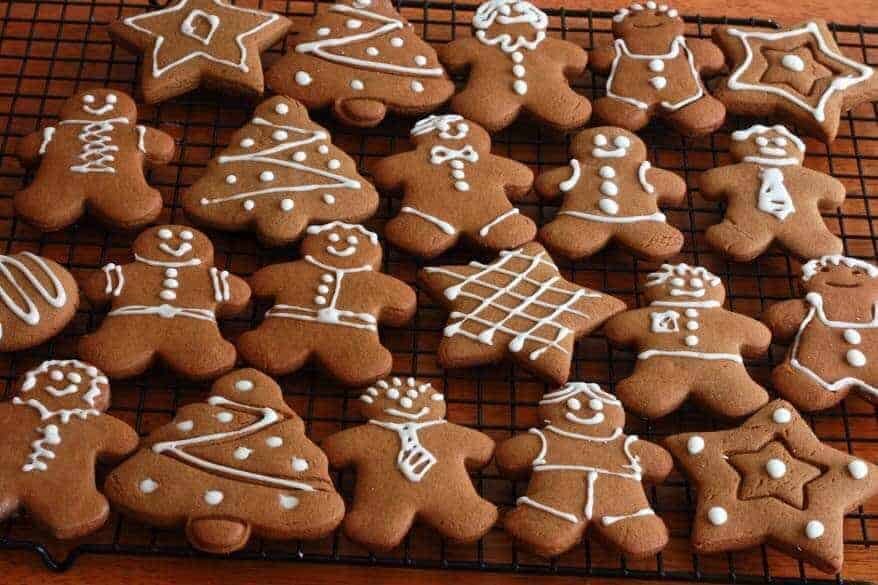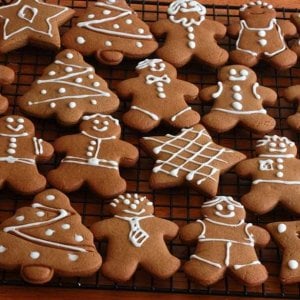 Best Gluten Free Gingerbread Cookies
Enjoy the great flavor and texture of this classic Christmas cookie, but without the gluten!
Ingredients
1/2

cup

gluten free oat flour

1/3

cup

brown rice flour

1/3

cup

white rice flour

1/3

cup

buckwheat flour

2

tablespoons

cornmeal

1 1/2

teaspoons

ground cinnamon

1

teaspoon

ground ginger

1/4

teaspoon

ground nutmeg

1/8

teaspoon

ground cloves

1 1/2

teaspoons

baking powder

1/2

teaspoon

baking soda

1/4

teaspoon

salt

3

tablespoons

butter

at room temperature

3

tablespoons

coconut oil

melted and slightly cooled (or 6 tablespoons coconut oil instead of butter)

4

tablespoons

unsulphured molasses

1/2

cup

packed brown sugar

1

tablespoon

honey

1

large egg

1

teaspoon

quality pure vanilla extract
Instructions
Combine the dry ingredients in a bowl.

In a separate large bowl, beat the butter, oil, molasses and sugar until combined then add and beat the egg and vanilla extract until combined.

Add the dry mixture to the wet mixture and beat until combined. Form into a ball, wrap in plastic wrap, and refrigerate overnight. It's critical that the dough is thoroughly chilled while working with it.

Preheat the oven to 350 degrees F and place the rack on the middle shelf.

Roll out the dough to a thickness of 1/4 inch or slightly thicker (if it's too sticky, roll it between GF floured parchment or wax paper). Use a cookie cutter to cut out shapes and carefully transfer them to a lined cookie sheet using a knife or spatula.

Bake for about 8 minutes. Let the cookies cool for a couple of minutes before transferring them to a wire rack to cool completely before frosting them. Store in an airtight container (or they'll get rock hard).
Notes
These cookies freeze well. Once they've cooled down completely place them in an airtight container or in a ziplock bag and freeze them. Let them thaw completely before frosting them.
Nutrition
Serving:
1
cookie
|
Calories:
96
kcal
|
Carbohydrates:
15
g
|
Protein:
1
g
|
Fat:
4
g
|
Saturated Fat:
3
g
|
Cholesterol:
11
mg
|
Sodium:
66
mg
|
Potassium:
115
mg
|
Fiber:
1
g
|
Sugar:
8
g
|
Vitamin A:
54
IU
|
Vitamin C:
1
mg
|
Calcium:
27
mg
|
Iron:
1
mg