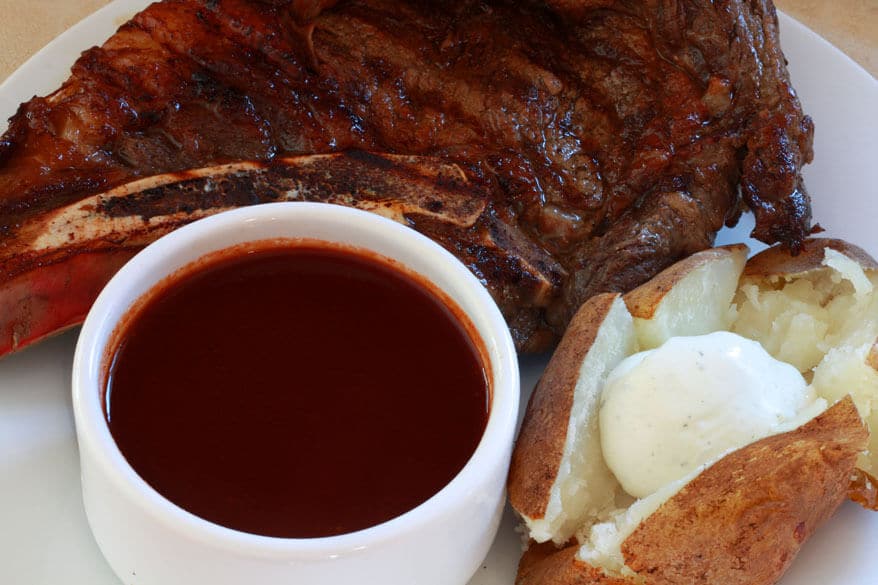 Whether you're partial to Heinz 57 or are an A1 Sauce loyalist, you're going to love this homemade steak sauce!  With a deeply robust, sweet-spicy, and smoky flavor, this sauce will enliven anything you put it on – and you may never buy store-bought again!
A good quality steak needs next to no prep work to taste great.  Just a little salt and pepper and it's ready for the grill!  My husband's favorite steak is ribeye, with or without the bone.  In fact, he claims he doesn't even like steak…unless it's a ribeye.  In which case he loves steak.  Madly loves it.  Is obsessed with it.  But again, only if it's a ribeye.  Sigh.  Not a big red meat eater, doesn't like steak…but he would gladly eat a ribeye every day of the week if he could.  That's exaggerating a bit.  Of course he doesn't eat it every day of the week, not even twice a month.  But he says he would if he could (that is, if health weren't a consideration).  He's like a little boy on Christmas morning when he sees ribeyes on sale at the butcher.  Ribeyes, he claims, are the only steaks that taste good.  While I'll admit that all that fat produces some mighty good flavor, I prefer leaner cuts of beef.  I just tend to be squeamish about fat.
But here are some nice, juicy ribeyes for you, honey!
And then of course Todd likes good steak sauce with his ribeyes.  After all, if you have a good steak, a good steak sauce can only make it better, right?  Right!  One night he requested that I conjure up my own steak sauce and see how close I could come to his favorites.  Well, I took on the challenge and we haven't bought steak sauce since.  Even my 3 year old loves it, whether it's with his beef, pork, or chicken.  I'm confident you're going to enjoy this, too.
* Trivia of the Day:  How many times is the word "ribeye" mentioned in this post?  (Hint:  Like a gazillion times!)
Very simple to prepare, you just combine all the ingredients (except for the liquid smoke) in a medium saucepan and simmer, stirring frequently, for about 20 minutes, uncovered.  Then use a slotted spoon to remove the raisins and let the sauce cool.  This sauce will safely keep at least 2 weeks in the fridge, possibly more like a month.
This steak sauce is best the next day once the flavors have had time to meld.
This sauce's flavor has wonderful depth and several layers of flavor.  Enjoy!
Best Steak Sauce
:
The Daring Gourmet, www.daringgourmet.com
Serves:
Makes about 1 cup
Ingredients
1 cup plain tomato sauce
⅓ cup brown sugar
2 teaspoons molasses
⅓ cup malt vinegar (can substitute apple cider vinegar)
1 heaping tablespoon raisins
1 tablespoon Worcestershire sauce
½ teaspoon yellow mustard
½ teaspoon onion powder
¼ teaspoon garlic powder
2 teaspoons sweet paprika
1½ teaspoons salt
¼ teaspoon freshly ground black pepper
1 teaspoon liquid smoke
Instructions
Combine all ingredients, except for the liquid smoke, in a medium saucepan. Bring to a boil, reduce heat medium-low and simmer, uncovered, for 20 minutes, stirring frequently. Stir in the liquid smoke and remove from heat. Use a slotted spoon to remove the raisins. Allow the sauce to cool and then keep refrigerated. Will keep at least 2 weeks.