Our family had the pleasure of eating at Casa Guadalajara while on vacation in San Diego.  It was a fun and delicious experience!
Colorful, vibrant, lively, flavorful – four words that describe both the restaurant and its food.  Come take a virtual tour of the restaurant serving what is widely considered the best Mexican food in the area!
And "best Mexican food in the area" isn't just a phrase used by a few loyal customers – the restaurant has a case that proudly displays its numerous awards, all backing its well deserved reputation.
The restaurant boasts traditional colors and decor, is well lit and cheerful.
We were seated at the table and perused the menu.  The selection is wide and varied.  Besides the standard, popular Mexican dishes here in the U.S. like enchiladas, tacos and burritos, you'll find a nice variety of other dishes, many very traditional, like Pollo Mole Poblano, Pollo en Mole Pipian Verde, Camarones Ranchero and ala Diabla, Pescado a la Naranja, and Cochinita Pibil.
Our server was super friendly, probably about the friendliest we've ever had.  She lost no time getting us water, tortilla chips, salsa, and a fresh serving of guacamole to enjoy while we made our menu selections.  And she regularly checked in on us to see how we were doing and to ask if we needed anything else.
We usually each order something different so we can sample each other's dishes, but my husband and I were both craving beef enchiladas and ordered the same thing (and were very happy we did), Enchiladas de Guacamole.  Our kids split a cheese quesadilla (it was huge!) made with the restaurants famous homemade tortilla shells.   While waiting for our entrees we enjoyed a virgin strawberry daquiri and pina colada.
They were both HUGE and so good!
Our food came very quickly.  The presentation featured a beautiful variety of vibrant colors and enchiladas were absolutely fantastic!  They were filled with quality beef and it was so tender.  I had to let our server know how fabulously tender the beef was.  She smiled appreciatively with a knowing nod.  You can see how big the portions are – not a smudge was left on our plates.  And any time since then that I get a craving for Mexican food, I immediately think back on Casa Guadalajara.
The kids were equally enthusiastic about the food.  Their cheese quesadilla was more than enough for the two of them and it came with a side of refried beans, seasoned rice, and fresh fruit.
For dessert we ordered deep fried ice cream (of course) and a serving of churros and ice cream.  They even had the cutest mini churros with chocolate sauce for dipping for the kids.
The kids were more than eager to sample a bit of everything and my husband and I had to settle for what was leftover of the deep fried ice cream.
The food was excellent and our only regret was that we were too full to try some of the other dishes.  The next time we're in San Diego I can't wait to try some of their other selections!
We deliberately came early to try and avoid the crowds.  And it was a good thing we did – even on a weekday evening this place packs a crowd!  By 6pm it was already hopping and people were piling in by the droves.
Before heading out we also bumped into the general manager who was very friendly and gracious and I was able to chat with him for a couple of minutes.  He told me a little about the place and proudly showed several of the awards and accolades the restaurant has accumulated.  I let him know how much we enjoyed the food and were looking forward to a return visit.
Just as we were walking out the mariachi band was walking in.  It would have been fun to stay and listen but we needed to get our squirmy little ones back to the hotel for their bath and bedtime routine.
On our way out the car we walked through the outside seating area.  It was a really colorful and cheerful atmosphere.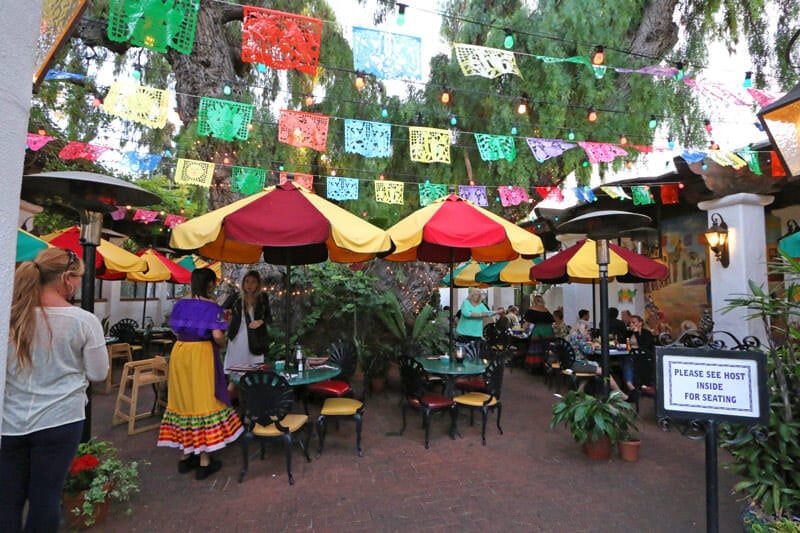 Our whole family really enjoyed the food and atmosphere at Casa Guadalajara.
For friendly service, a cheerful atmosphere, and some of the best Mexican food in San Diego, we highly recommend Casa Guadalajara.
For more information or to make a reservation, visit their website:  Casa Guadalajara
4105 Taylor Street
San Diego, CA. 92110
Phone: 619.295.5111
Disclosure:  We enjoyed a complimentary meal at Casa Guadalajara with no obligation whatsoever to write a positive review.  As all always, all opinions are entirely my own.