We've partnered with the Catamaran Resort Hotel & Spa to bring you this post.
Above image courtesy Catamaran Resort
What are your family vacation plans?  If you want to stay stateside, we highly recommend San Diego as one of THE most family-friendly cities in America.  Check out my Top 12 Family Attractions in San Diego and you'll see what I mean.  And if you're looking for a fabulous hotel you'll love the Catamaran Resort Hotel & Spa.  It was recommended to us as a great family-oriented place to stay and we agree 100%.
The Catamaran Resort Hotel & Spa is located in San Diego's Pacific Beach community along the sparkling shores of Mission Bay. Only 8 miles from San Diego International Airport it's also just a few miles away from every major attraction.
The Catamaran is a 4-star Polynesian-themed hotel offering an atmosphere of casual elegance with its beautiful grounds, lush vegetation, palm trees, waterfalls, exotic birds, koi ponds and tiki torches.  Featuring 310 rooms and suites, each with their own balcony or patio with breathtaking views, the hotel also has studios with their own kitchenettes.  Traveling as a family, that was a great option for us as we were able to make several of our own meals as a means of saving both time and money.  Wi-Fi is free, room service is available 24 hours a day, and there are no resort fees or amenities fees.  Check-out time is noon, which is perfect for couples wanting a leisurely morning or for families who have kids to get ready.
We spent several days at the Catamaran and thoroughly enjoyed every moment.  Let me tell you about our family's experience there during our last trip to San Diego.
Before we get to the hotel, I have to put in a plug for Victorinox because their luggage is simply awesome and has contributed to many great family vacations over the last 4 years.  If you've experienced both awful and awesome luggage you know exactly what I mean when I say that luggage is such an important part of safe and comfortable traveling.  Having bags that are secure and prevent theft, that are high quality and durable, that move and maneuver with ease especially when you're in a hurry, that allow for flexible packing solutions, and that are light-weight enough to not overly burden your maximum weight limit…all these things contribute to a comfortable and worry-free vacation.  Victorinox bags fit that bill in every respect and we can't recommend them highly enough.
Our Victorinox suitcase and carry-ons are all expandable, featuring the "Pack More System," and offer five packing solutions.  Our favorite feature are the four dual casters – the bags nearly float! They coast along and maneuver so smoothly and lightly that even our 4 year old daughter is able to push her luggage around with ease.  With both kids able to pull their own luggage, it sure made our load a lot lighter!  On top of all this, Victorinox bags come with a fabulous warranty.
Our family has been using the same Victorinox luggage for all our travels for the last 4 years and as durable as it is, we look forward to many more.
Now, let me take you on a virtual tour of the Catamaran Resort Hotel and tell you all about our experience!
First impressions are always important and at the Catamaran it was a positive one.  Take a look at the front lobby and see for yourself.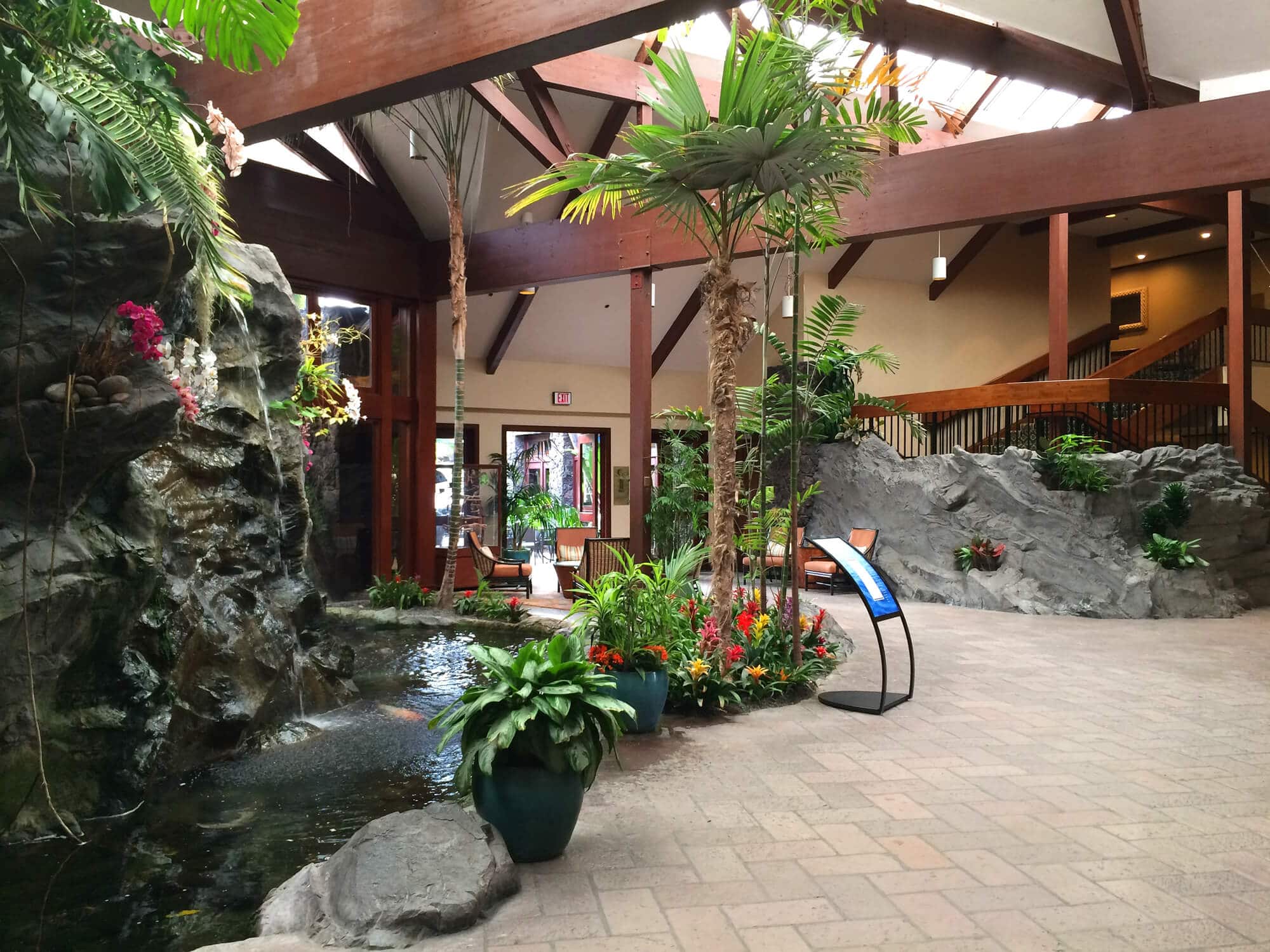 The hotel is Polynesian-themed complete with tiki men and Polynesian art.  The grounds are beautifully manicured with exotic plants and flowers and a koi fish pond running through it.  Our kids had a blast exploring the hotel and grounds.
We had a hard time tearing our kids away from the koi fish pond to go up to our room.  We had to reassure them that we'd be back down again.  They very reluctantly came along.
Within the hotels are winding paths of lush gardens boasting a tropical feel consistent with the Polynesian theme of the resort.  You feel like you're on an island in the tropics.  Everything is beautifully manicured and meticulously clean.
With a stream winding through the grounds full of koi fish and ducks wandering down the paths, our kids were absolutely mesmerized.
After checking in we went to find our room.  We stayed in the tower in the Orchid Suite which could not have offered a better view.  Absolutely exquisite!
This is the view we enjoyed from both the master bedroom and living room.
Our suite was fabulous and gets a full two thumbs up from each of us.
We've stayed in a lot of ritzy hotels but this was the first time we had encountered a TV in the bathroom mirror – pretty cool!
I need to point out something relatively small but that really reflects the Catamaran's attention to detail and commitment to excellence:  Look at the folded towels, tissue and toilet paper.  Room service took the time to do this every day in both bathrooms. Now multiply that across all 310 rooms and suites.  That time and attention sends a strong message and really impressed us.
Our room was quiet and very comfortable.  We all slept soundly, including the little ones who shared the sleeper sofa in the living room.
The Catamaran is located on the shores of Mission Bay, the largest manmade aquatic park in the world and boasting 27 miles of meandering shoreline.  With tranquil waters, soft sand beaches and a ton of year-round recreational activities, it's hard to beat this family-friendly beach location.
Just a few steps from the hotel room you have access to everything from bike and sailboat rentals to paddleboards, kayaks and fun cats.
Mission Bay is particularly ideal for families with young kids because, being a sheltered bay, it has no big waves.  Our kids were able to enjoy the perfectly calm waters.
Three activities were were unable to experience but hope to in the future are the complimentary Bahia Belle boat cruise, the daily parrot show and the Summer Luau.
The Bahia Belle is a classic 74-foot, 3-story sternwheeler boat that provides complimentary family-hour and cocktail cruises on Mission Bay for hotel guests.  During the Summer they also have Sunset Luaus which would be a blast to experience.  Admission includes a lei, Mai Tai, all-you-can-eat buffet, and entertainment, including authentic island music and fiery torch dancers.
Bahia Belle and Parrot Show pics courtesy of Catamaran Resort
Though we weren't able to experience them with our kids in tow, the Catamaran also offers San Diego's only beachfront spa.  The spa offers a full range of massages, body wraps, hydrotherapy treatments, facials and Vichy showers as well as nail treatments, hair styling and makeup in their salon.  The resort also has a fitness center with a full array of cardio and strength training equipment with awesome views of Mission Bay.
Even with a beautiful beach within a few feet of our room, the kids couldn't wait to hit the pool!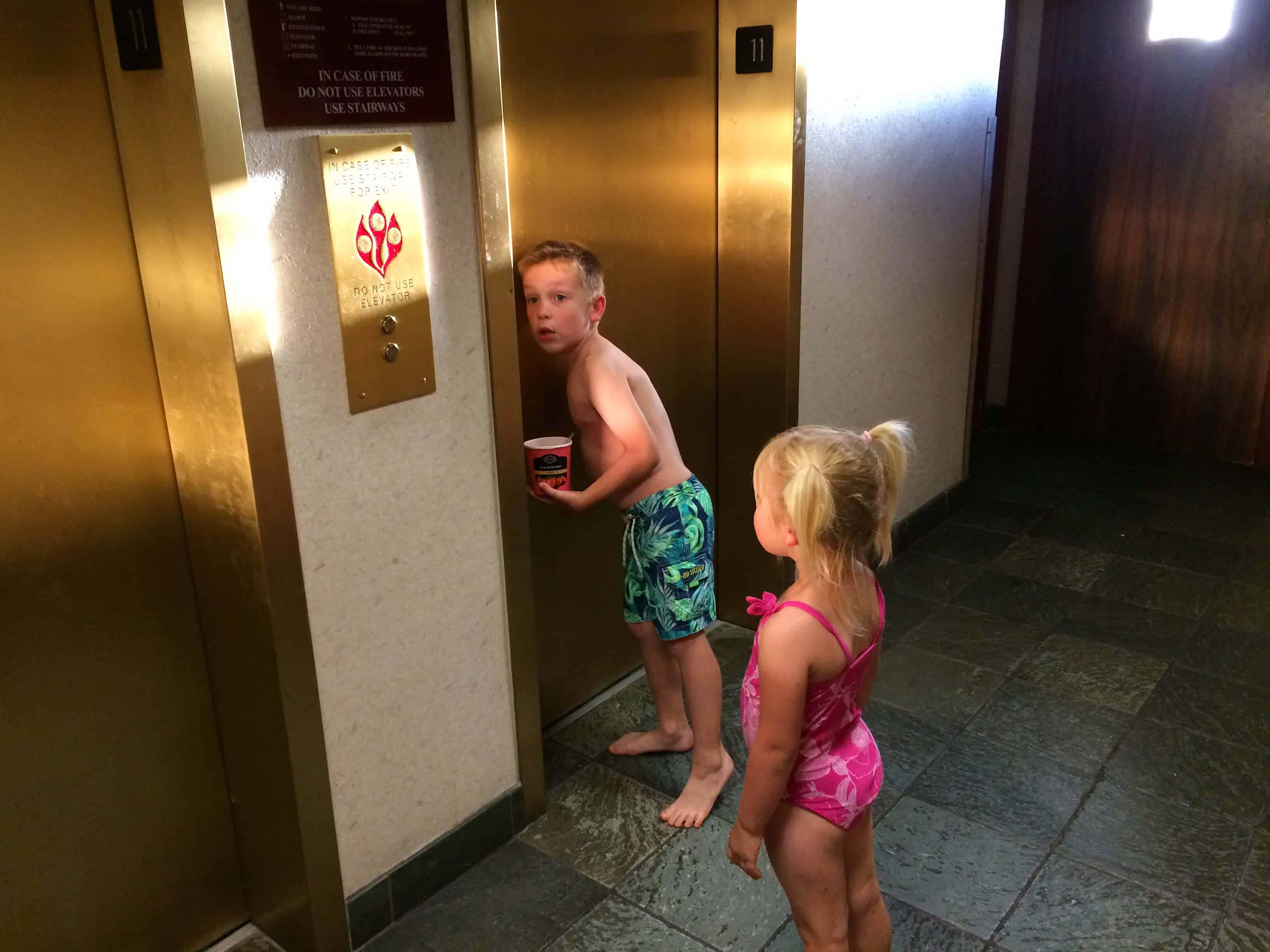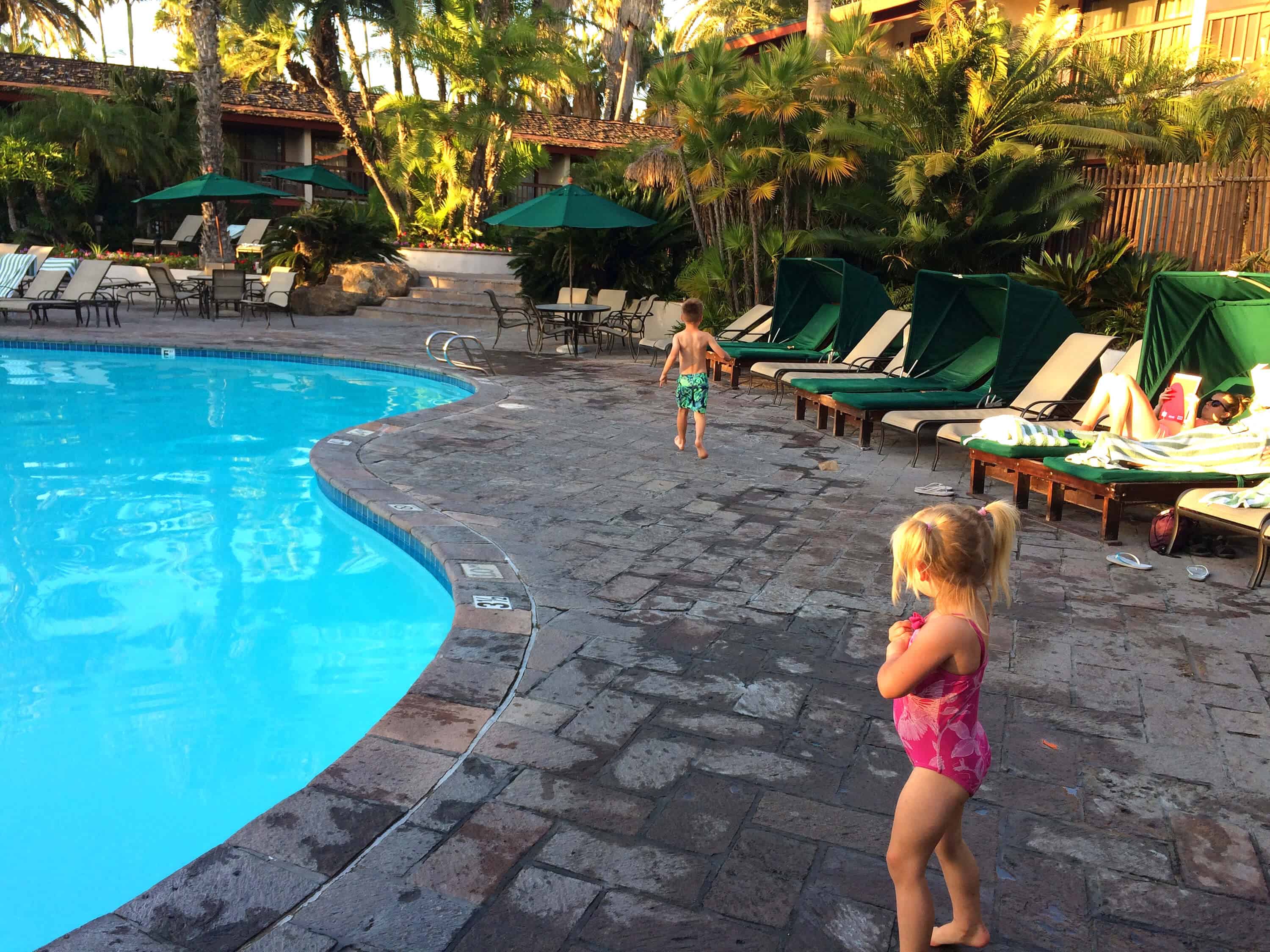 Let's talk about FOOD!  The Catamaran's casual dining option is Moray's, offering  lunch and dinner and a full-service bar.  The outdoor seating area features tiki torches, fire pit tables and tropical plants complete with a koi pond.  Seasonal live music is also offered on the patio.
Oceana Coastal Kitchen, the Catamaran's seafood restaurant, is the Open Table Diner's Choice Winner for 2017 and features chef-driven California cuisine with an emphasis on local produce and sustainable ingredients in a modern setting with beautiful bay-front dining.
With our two young kids in tow, we wanted to be able to enjoy a stress-free meal without the kids disrupting other guests and so we asked for permission to sit outside of Moray's in a more secluded area next to the koi pond.  We crossed our fingers the fish would keep our kids entertained.  The staff was friendly and obliging and our plan worked like a charm!  The kids remained perfectly content being able to watch the fish between courses.
The food was absolutely delicious.  The service was quick, friendly and professional.
I want to make special mention of the dessert.  Our 4 year old daughter desperately wanted a strawberry with her ice cream (she's 4, many of you know all about these desperate whims).   I asked the waitress – if it wasn't too much trouble – if she could kindly ask the chef if he had a single strawberry he could add to the bowl of ice cream.  When she brought my daughter's ice cream the chef had cut up not one, but at least 4-5 large strawberries and took care to arrange them nicely around her scoop of sorbet.  Our daughter's face lit up and that thoughtful act really made her meal.  And it left us especially impressed by the service and thoughtfulness of Oceana Coastal Kitchen.
It was one of the most enjoyable restaurant meals we've had with our kids and we owe that largely to the terrific setting.  Our kids were able to take a few bites and then watch the fish and then come back for more.  Between the fish, complimentary coloring gear and kid-friendly food of fish sticks, chicken tenders & fries, they stayed perfectly content for over an hour.
Thumbs up  to Oceana Coastal Kitchen for a terrific, low-stress family meal!
We had a terrific time at the Catamaran Resort Hotel!
And I'll tell you what, we had a jam-packed itinerary with all the best places to go and things to do, but our kids would have been perfectly happy had we stayed at the hotel the entire week and not set foot out at all.  Between the beach, swimming pool and the streams and ponds full of koi fish, that was all they needed in the world to be content.  It took quite a bit of persuading to get them to be willing to go out and do the things we had planned for them.
Here's a direct quote:
Me:  "Hey guys, ready to visit the Zoo?  Safari Park? LegoLand?  SeaWorld??"
Our 6 year old son:  "No. We want to stay here and watch the fish."
There's a solid testimonial right there.  Two thumbs up, Catamaran!
If you're looking for a San Diego hotel for a couple's or family vacation we highly recommend the Catamaran Resort Hotel & Spa. With its pristine beachfront setting, beautiful tropical grounds, fun Polynesian-themed design, great food, amenities and service, you are going to love your stay.
We slept well, ate well and played well.  Bottom line:  We're ready to go back!
For more information and to plan your stay, visit Catamaran Resort Hotel & Spa
A special thank you to the Catamaran Hotel Resort & Spa for partnering with us for this post.  As always, all opinions are entirely my own.