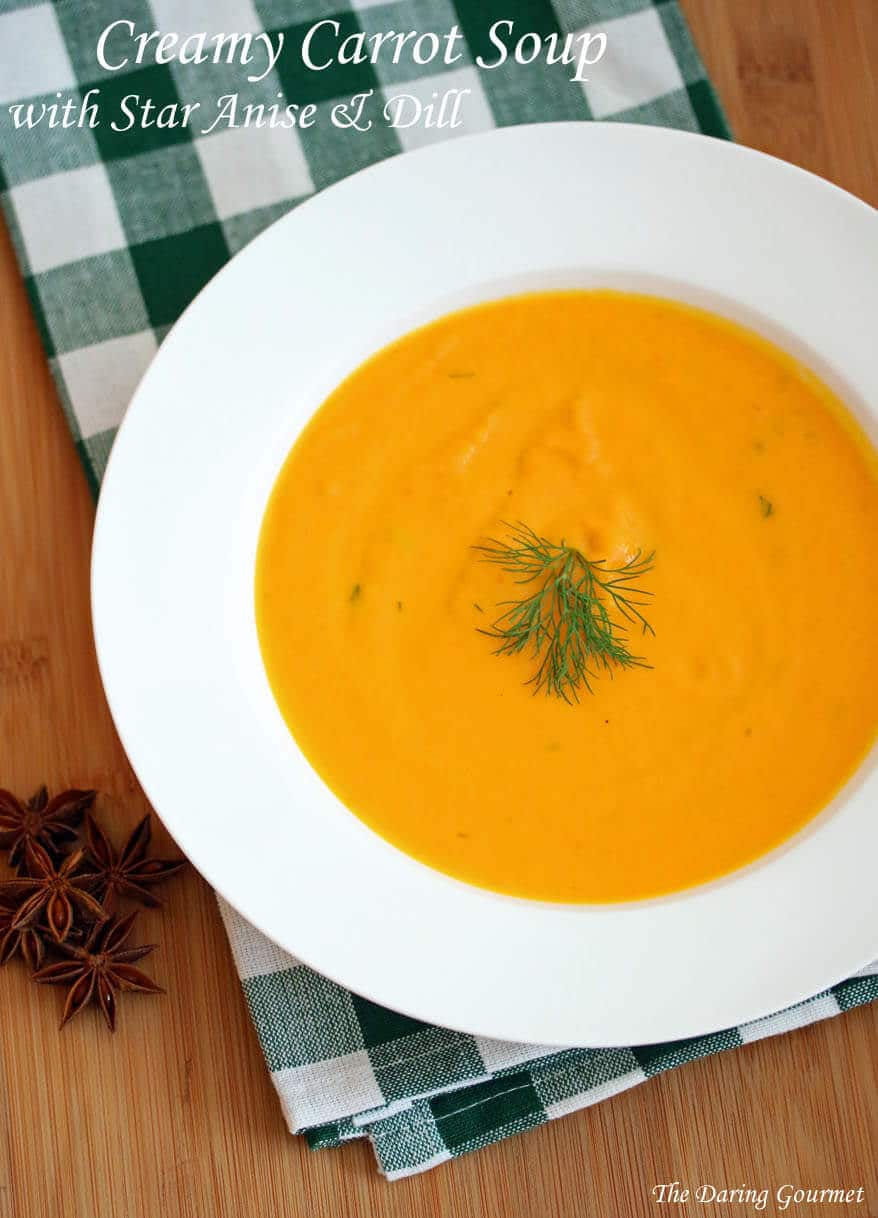 Perfect as a first course soup or light main dish served with crusty bread, this upscale Creamy Carrot Soup with Star Anise and Dill is not only extraordinarily delicious, it's fast and simple to make.
I've always loved creamy vegetables soups.  They're my husband's favorite kind of soups and he was happy to see me in the kitchen experimenting with this one.  When the soup was done I grabbed a spoon to taste it.  Suddenly everything around me went still.  I stood there in silence staring straight ahead of me, completely fixated on the flavors in my mouth.  My eyes grew wider and I lowered my spoon into the pot for another bite.  This time my eyes sparkled and I smiled.  I grabbed three more spoons, grabbed the pot, and took it outside where my husband was sitting with my parents.  I had each of them sample the soup and they all had virtually identical responses.  The verdict was clear.  This soup is special.  It's extraordinary.
The star anise adds a pleasantly deep and subtly sweet undercurrent of flavor that will have your palate bewitched after the very first bite. I made it again two days later for the first course of a family meal and it drew a ton of compliments. A perfectly elegant dish to enjoy as a first course to an endless variety of entrees or as a light dinner served with some good crusty bread.
Let's get started!
I had a lovely bunch of organic rainbow carrots that needed to be used.  This soup was well-deserving of them.  I strongly recommend organic carrots for this recipe as they have much more flavor than non-organic carrots.  The star anise and dill complement the sweet flavor of the carrots beautifully.
Chop up the onion and slice the carrots.
Heat the butter over medium-high heat in a 4-quart saucepan and cook the onion and carrots until softened, 5-7 minutes.
Add the broth, salt and star anise and bring to a boil.  Reduce the heat to medium, cover, and simmer for 15 minutes.
Oh, the aroma!  Discard the star anise.
Use a blender stick or food processor to puree the soup until smooth.  I use and love the Cuisinart SmartStick Immersion Hand Blender.  It's so convenient and easy to clean.
Add the cream, white pepper and dill and heat through.
Serve hot garnished with a sprig of fresh dill.
Creamy Carrot Soup with Anise and Dill
:
Kimberly Killebrew, www.daringgourmet.com
Ingredients
4 tablespoons butter (vegans: olive oil, coconut oil, vegetable spread)
¼ cup chopped onion
1½ pounds carrots, peeled and thinly sliced
3 cups chicken broth (vegans: vegetable broth)
½ cup heavy cream (vegans: coconut milk, soy milk, cashew cream)
½ teaspoon salt
¼ teaspoon freshly ground white pepper
2 teaspoons fresh chopped dill
Instructions
Heat the butter in a 4-quart saucepan over medium-high heat, then add the onion and carrots. Cook for 5-7 minutes until the carrots are almost tender. Add the broth, star anise and salt, bring to a boil, reduce the heat to medium-low and simmer, covered, for 15 minutes. Discard the star anise.
Use a blender stick or food processor to puree the soup until smooth. Add the heavy cream, white pepper and dill. Heat through and serve hot garnished with a sprig of fresh dill.