Today we're featuring Dirty Oscar's Annex in Tacoma, Washington.
They freely admit it:  "Silly Name, Seriously Good Food."  And they're correct.  On both counts.  Let's have a look.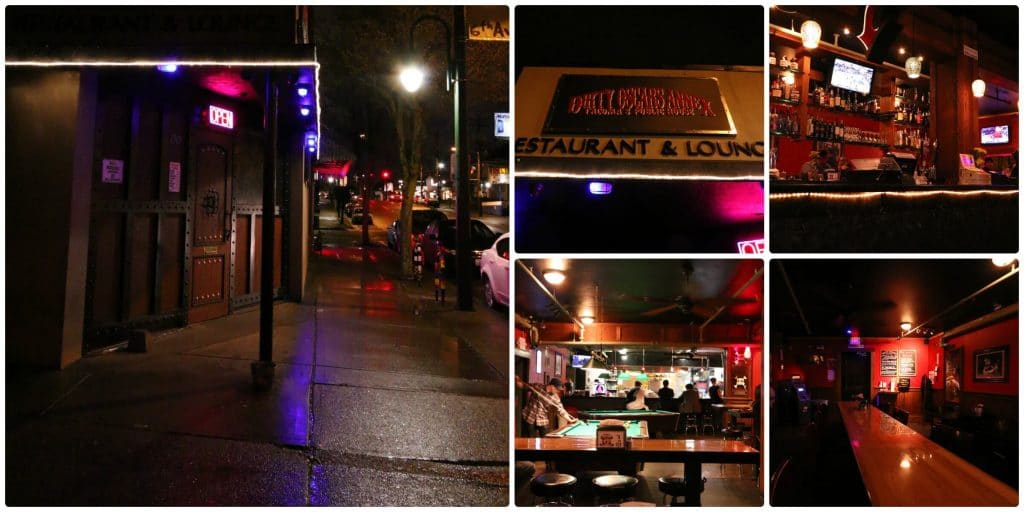 There, on a dark corner, in the dark shadows of a streetlight – its sign barely visible to the passerby – sits Dirty Oscar's Annex.  But despite foregoing much in the way of sidewalk advertising, this place packs a crowd and has caught the coveted attention of The Food Network.  Featured last Spring on the popular "Diners, Drive-ins and Dives" series, Dirty Oscar's Annex was showcased along with two of it's fabulous dishes:  Tasso Tacos and Parmesan Tots. Specializing in New American Cuisine, DOA (as it's nicknamed) features an eclectic menu.  What'll it be tonight?  The pork medallions with roasted fingerling potatoes, crimini mushrooms, caramelized onions and citrus mustard, or the Dead Elvis Burger complete with candied peppered bacon, fried banana, over-easy egg, creamy peanut butter and mayonnaise? This time we chose the following:
For starters we had one of their featured specials, the Salmon Platter, featuring smoked salmon, lemon chevre, pickled asparagus and red onions, kalamata and black olives, and grilled naan.  Excellent.  My husband particularly loved the flavor of the pickled asparagus and onions.  We also ordered a serving of DOA's famous Bacon Candy.  The only description on the menu:  "It's addictive."  And once again, they're right.  Both were outstanding.  And I'm still experiencing withdrawal symptoms:  Where's that bacon??!
In case you're wondering why I've included a picture of a glass of lemonade, let me explain.  In most restaurants you go to, the standard non-alcoholic offerings are…you guessed it – soda pop.  What would you like tonight with your Veal Scallopini?  Root beer, Coke, Fanta, Sprite, or Lemonade?  (And that's soda fountain lemonade).  It was nice to see something else available:  Sparkling Ginger Lemonade.  It was refreshing with just the right touch of ginger to tingle our taste buds through each course.
For our entrees we chose the Elk Sliders with some of those famous Parmesan Tots and the Fried Chicken & Waffle.  The Elk Sliders feature braised and shredded elk shoulder piled on toasted slider buns and topped with Havarti cheese and roasted garlic aioli.  The Fried Chicken & Waffle consists of three pieces of thickly breaded buttermilk chicken sitting on top of a bacon-stuffed waffle (because you can never have enough bacon – never!) sprinkled with powdered sugar and served with fresh mixed berry jam and maple syrup.  Both were good and Todd and I particularly enjoyed the Elk Sliders and Parmesan Tots.  The Elk Sliders are deliciously tender and full of flavor and the Parmesan Tots were awesome – like croquettes, they're about 2 inches long and an inch wide with a perfectly crispy exterior and soft and fluffy interior.
And then there was the dessert.  Oh, the dessert!  I refer you back to the picture above.  We had their Chiffon Cake with Chocolate Ganache, Mixed Berry Filling, Walnuts and Sea Salt Caramel with their three featured ice cream flavors:  Peanut Butter Banana, Sriracha Vanilla Ginger, and Pineapple Papaya Basil (sorbet).  I swear the layer of chocolate ganache on the cake was like 10 inches thick and I enjoyed the sensation of my teeth sinking into that rich chocolately goodness with each bite.  The ice cream was amazing.  The banana was so fresh and vibrant, the sriracha packed a K.I.C.K., and the addition of fresh basil in that refreshing pineapple papaya sorbet was fabulous and our personal favorite.
Depending on where you sit, you can watch the kitchen staff at work while you eat.  We haven't been there for breakfast yet, but I hear DOA packs quite the crowd as breakfast eaters watch an entertaining show of the kitchen staff flinging pancakes.  The staff is friendly and the service is good.  We were able to meet the owner, Jennifer, and Chef James, both of whom were friendly and gracious.
Dirty Oscar's Annex is a great option when you want to throw on your jeans, let down your hair, and enjoy some great, creative food.
And besides, where else can you find a Dead Elvis Burger?  Nuff said.
For more information, check out their website:  Dirty Oscar's Annex
2309 6th Ave, Tacoma, WA 98403
(253) 572-0588
*Dirty Oscar's Annex hosted us for this meal, as always all opinions are entirely my own.