As an Amazon Associate I earn from qualifying purchases.
Thank you to Bon Appetit for sponsoring this post!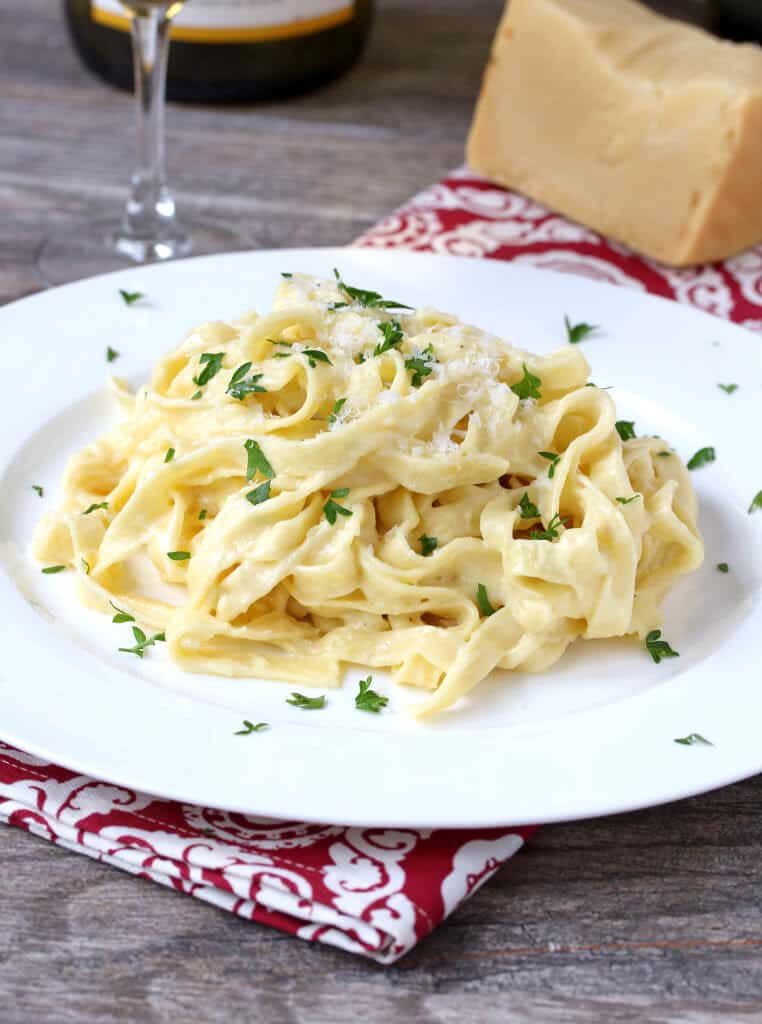 The best Fettuccine Alfredo I've had was at Hollywood's oldest restaurant, the Musso and Frank Grill.  Not coincidentally there's a reason for this and it goes back nearly 100 years.  But first let me take you back even further.
Once upon a time in Rome in 1908 lived an Italian restaurateur, Alfredo Di Lelio and his wife, Ines.  The story goes that Ines had a difficult time recovering from the birth of their first child.  In an attempt to help her regain her strength, Alfredo added extra butter and cheese to her pasta for more nutrients (now that's my kind of recovery!).  The classic dish known as Fettuccine al Burro in Italy was transformed into "pasta al doppio burro" (triple the butter) and became known as Fettuccine Alfredo.
A woman of good taste, Ines loved the pasta so much that she recommended Alfredo add it to his restaurant's menu.  He did.  And it was a blockbuster hit.  (Men, listen to your wives.)  His restaurant attracted guests from around the world, including Hollywood's brightest stars.  The second restaurant Alfredo opened with his son in 1950 is still in operation today, run by his grandchildren.
Two such Hollywood celebs were silent movie stars Mary Pickford and Douglas Fairbanks.  While on their honeymoon in 1927 they visited Alfredo's restaurant in Rome and fell in love with his Fettuccine Alfredo.  The Musso and Frank Grill tells the rest of the story:
"They begged Alfredo for the recipe. He declined them. The next night the newlyweds again dined at Alfredo's and presented a golden fork and spoon to Alfredo. This time they got the recipe and brought it back to Hollywood. They asked Musso's chef, Jean Rue, to make the dish. He often prepared it specially for the famous couple, but the dish was never added to the menu. We now proudly serve the ORIGINAL Fettucine Alfredo as prepared for Douglas Fairbanks and Mary Pickford."
That's the fettuccine I had the pleasure of eating at the Musso and Frank Grill when my husband and I last visited.  87 years after Mary Pickford brought it to Musso's.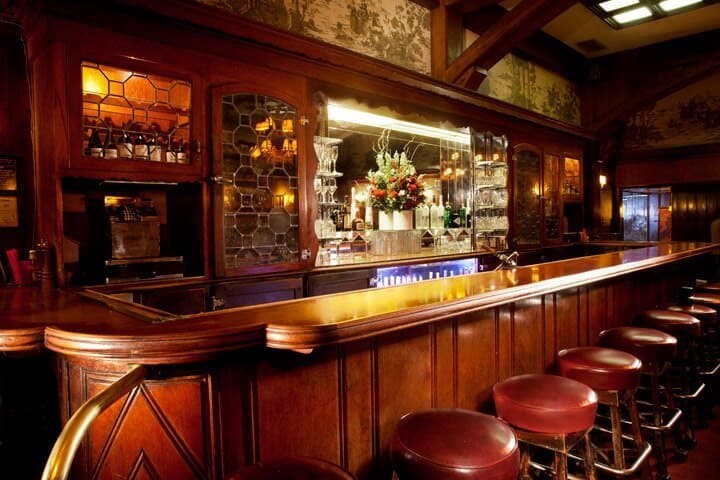 I'm fascinated by the Musso's  for a number of reasons.  Let me tell you one of the primary reasons why:  Tradition.
The restaurant scene in recent years has changed dramatically with modern innovations, creative ingredients and ingredient combinations.  Aside from new and unusual dishes, traditional favorites are prepared with unexpected contemporary twists.  And in many restaurants you won't see the same thing served twice two seasons in a row.  It's fun, it's exciting, and I love exploring today's food scene.
But there's also a case for tradition.
Case in point:  The Musso and Frank Grill.  Referred to as "the genesis of Hollywood" it's included in the book 1000 Places to See Before You Die.  While Hollywood has seen many an iconic restaurant close their doors for the last time, Musso's has weathered every storm of the last 96 years and still stands as Hollywood's oldest restaurant – all while using the nearly identical menu it did when it opened in 1919.  The same menu for ninety-six years!
Why has Musso's remained such an iconic success?  Tradition.  It enjoys a tradition of excellent food and service.
Musso's menu was superb in 1919 and it remains superb today.  And not only the food, but the service.  Many of the waiters have been serving at Musso & Frank for decades and some are multi-generation, like Musso's general manager, a 4th generation great-grandson.  Our waiter has been there for decades and is 83 years old.  These gentlemen in their carefully pressed red bolero jackets reflect a time and tradition when the occupation of waiter was a stately and respected one.  Imagine going to a restaurant over the course of several decades and being served by the same waiter.  Imagine dining out and being waited on by the same gentleman who served your parents on their very first date.  The staff is like family to each other and family to their patrons.  With it's original menu, original bar, fixtures and furniture (and nearly original staff!), Musso's is the archetype of tradition.
We are innately drawn to things that are predictable, reliable and dependable.  We are drawn to familiar places, people, sounds, smells and flavors.  Familiarity nurtures trust, it engenders meaning and connection.  There is comfort in familiarity, in having a place "to go back to."  Because in an ever-changing world where few things remain untouched and unaltered, Musso's – at least in the world of dining – provides an anchor of stability.
And that's worth something.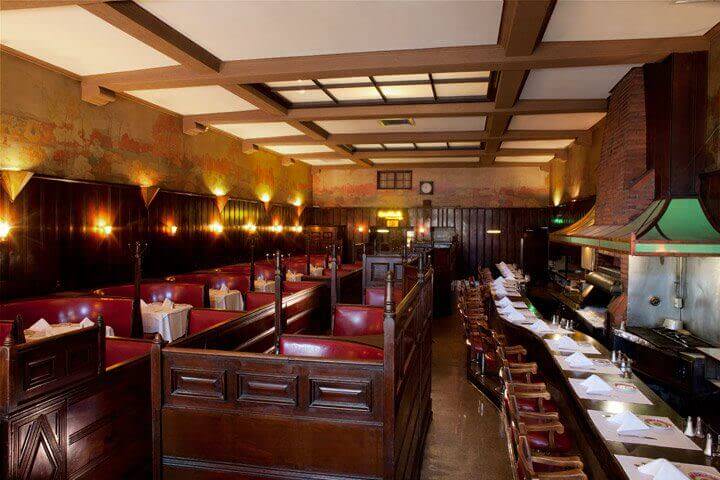 Unfortunately on our last visit I didn't have a golden fork or spoon with which to bribe Musso's chef for the Original Fettuccine Alfredo recipe.  So instead I'm going to share my version of Fettuccine Alfredo with you.  And I'm confident you're going to love it.
Traditionally in Italy this sauce was made only with butter and cheese, but for decades now cream has also been commonly utilized and we're going to use it, too.  We're also going to add some egg yolks (yes, they're cooked) for an especially rich and luxurious sauce.
For the best flavor, try to find cream that isn't ultra-pasteurized.  Also, use quality butter.  And probably the most important key to the flavor is the quality of cheese you use.  Use the best aged Parmigiano-Reggiano, a wedge cut fresh from the wheel that's isn't too dried out.
The other huge key is the pasta.  Use fresh and only fresh.  No exceptions.  For texture especially there simply is no comparison.
So remember those four things:  Use good cream, good butter, good cheese and fresh pasta.  And you'll have the best Fettuccine Alfredo you could have imagined!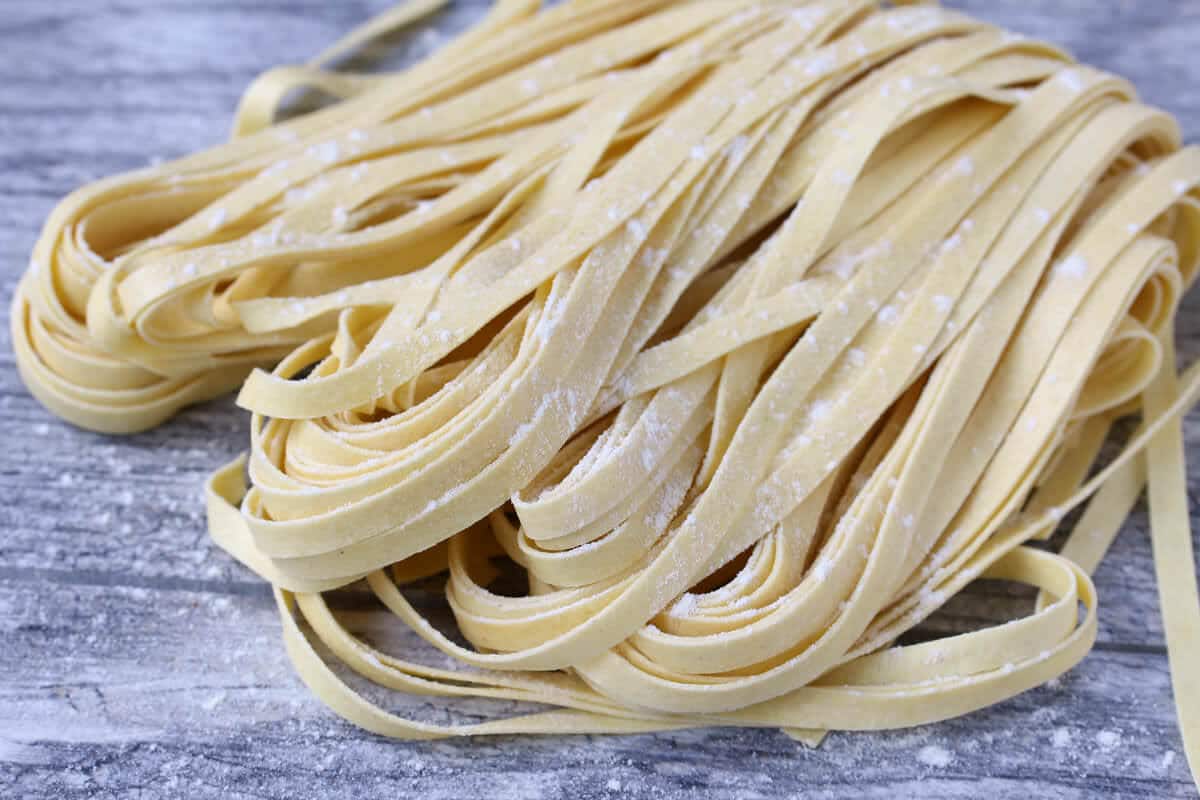 Let's get started!
Melt the butter in a medium saucepan over medium-high heat.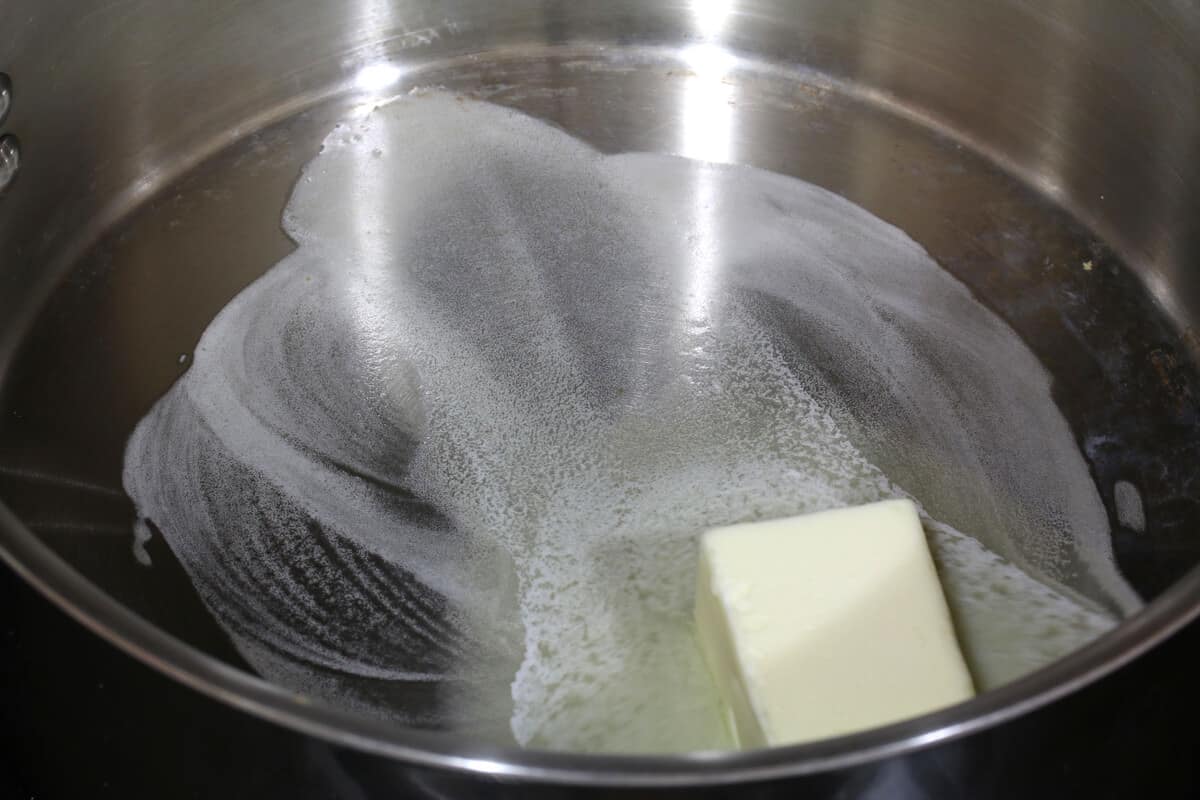 Add the garlic and cook for 2-3 minutes.
Add the cream and bring it to a gentle simmer.
Crack the egg yolks (discard the whites) into a small bowl and whisk in 1/4 cup of the hot cream, whisking constantly.
Now whisk the egg mixture into the pot, whisking constantly until incorporated.
Simmer the sauce for a couple of minutes until lightly thickened.
Grate the cheese.
Whisk the cheese into the sauce until melted.
Add the lemon zest, salt, nutmeg and pasta water.
The sauce should be thick.
The pasta will have been cooking while making the sauce.  Now it's ready to add to the sauce.
Remove the pasta from the pot with pasta tongs, letting most of the water drip off, and add it to the sauce.
Stir the pasta until thoroughly coated with the sauce.  If necessary, add a little more of the reserved pasta water.  Serve immediately for the best consistency.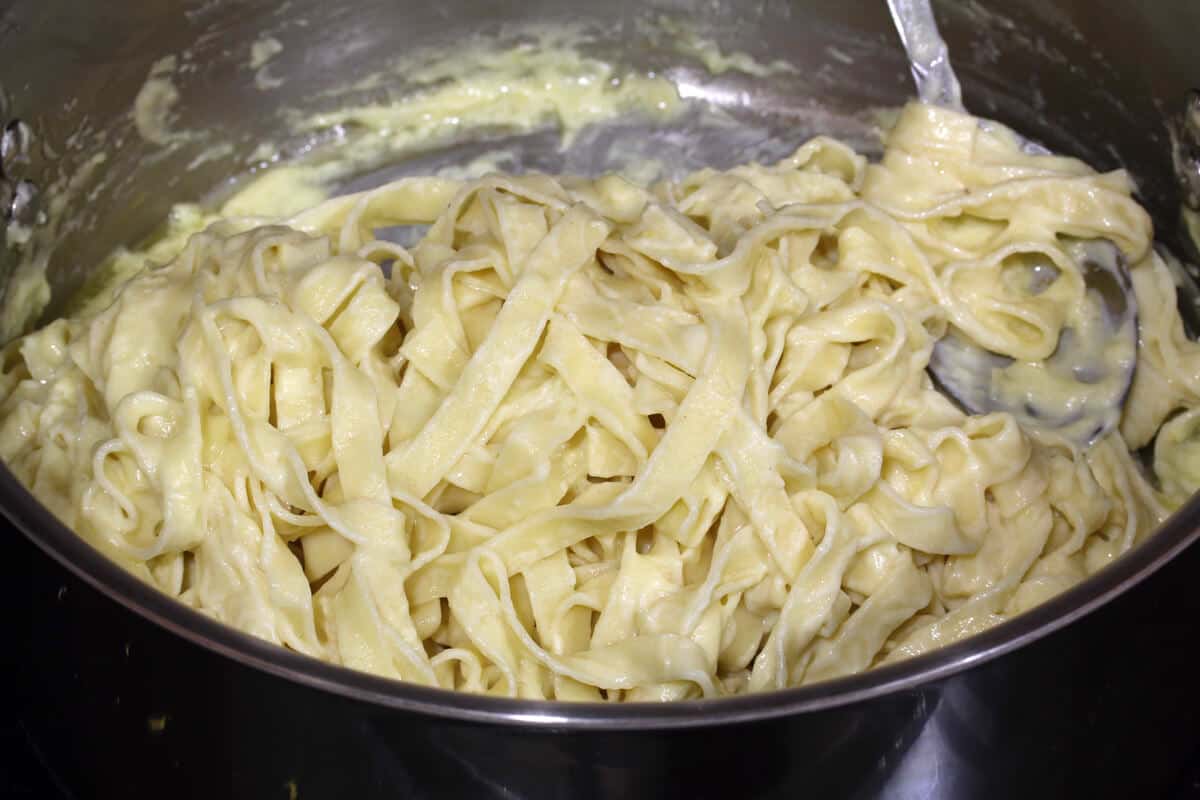 Enjoy!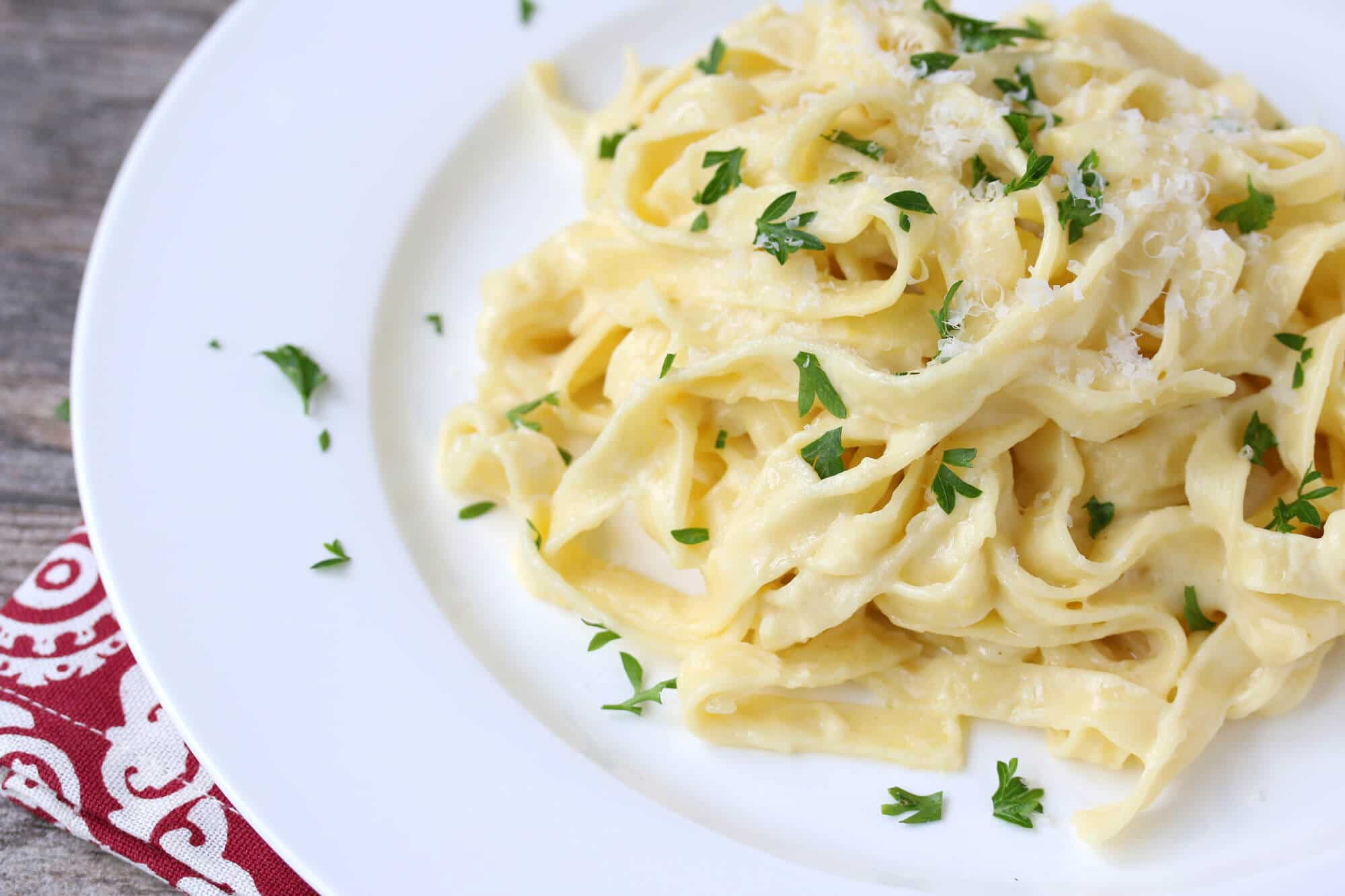 Fettuccine Alfredo
:
Kimberly Killebrew, www.daringgourmet.com
Ingredients
9 ounces fresh fettuccine, cooked al dente in lightly salted water with a little olive oil and timed to be ready just as the sauce is done. Reserve ¼ cup of the pasta water.
5 tablespoons quality unsalted butter
2 cloves garlic, minced
1¼ cups quality heavy cream
2 large egg yolks
1 cup freshly grated quality Parmigiano-Reggiano
1 teaspoon finely grated lemon zest
Small pinch of freshly grated nutmeg
¼ teaspoon salt
Instructions
Melt the butter in a medium saucepan over medium-high heat. Add the garlic and cook 2-3 minutes. Add the heavy cream and bring to a gentle simmer.
Place the egg yolks in a small bowl and whisk in ¼ cup of the hot cream, whisking constantly.
Whisk the egg yolk mixture back into the pot, whisking constantly until incorporated. Simmer until the sauce is lightly thickened, about 2 minutes.
Whisk the cheese into the sauce until melted. Add the lemon zest, salt, nutmeg and 2 tablespoons of the reserved pasta water.
Remove the hot pasta from the water with pasta tongs, letting most of the water drip off, and place directly into the sauce. Stir until the pasta is thoroughly coated. Add a little more of the reserved pasta water if necessary.
Serve immediately for the best consistency.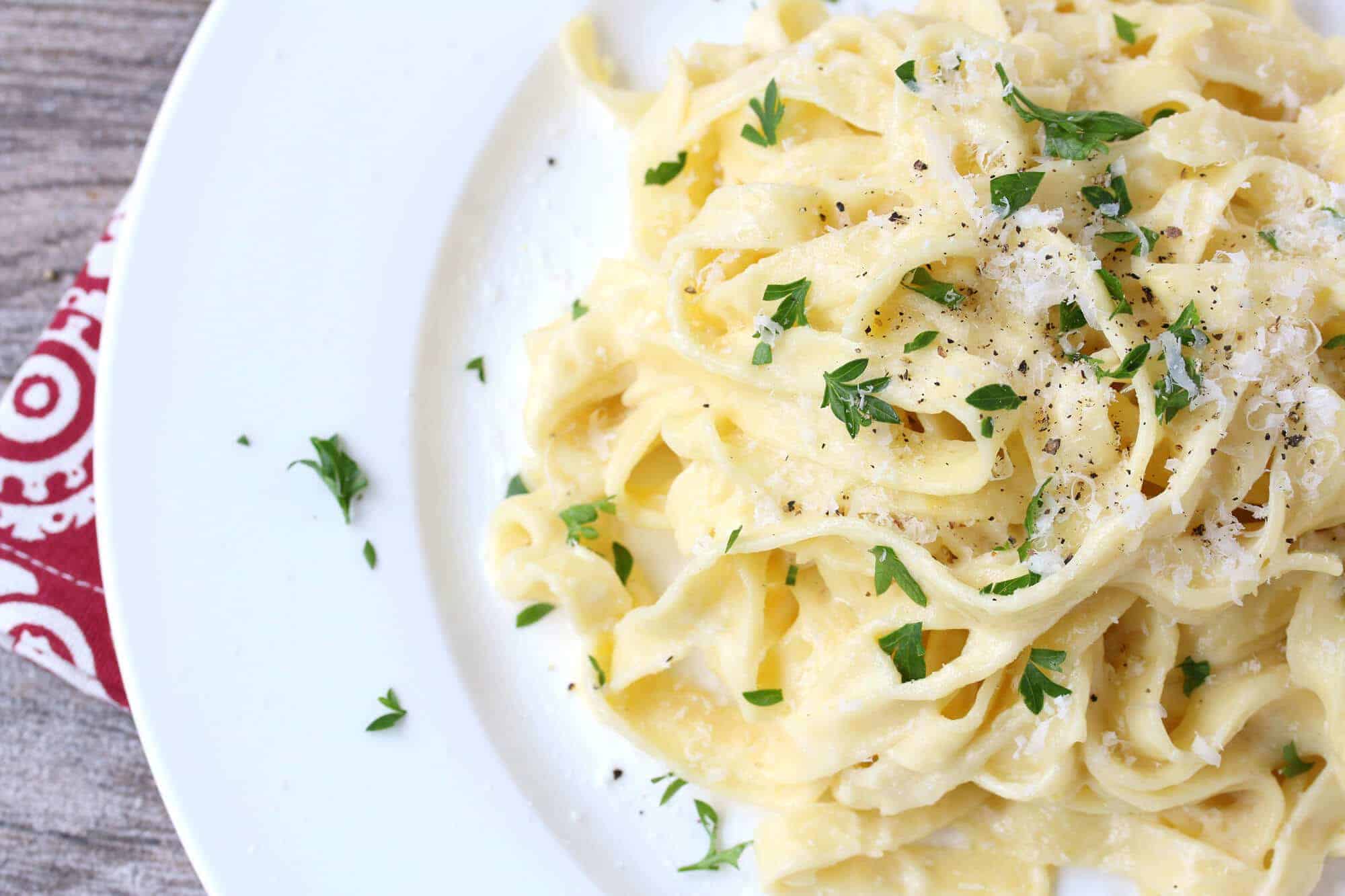 Want to meet purveyors who are making a difference with their customers? Check out BonAppetit.com's "Out of the Kitchen", an ongoing exploration of the relationships that build and sustain the food industry. See how hyper-local food markets operate and how their focus on quality and service keep customers coming back for more.