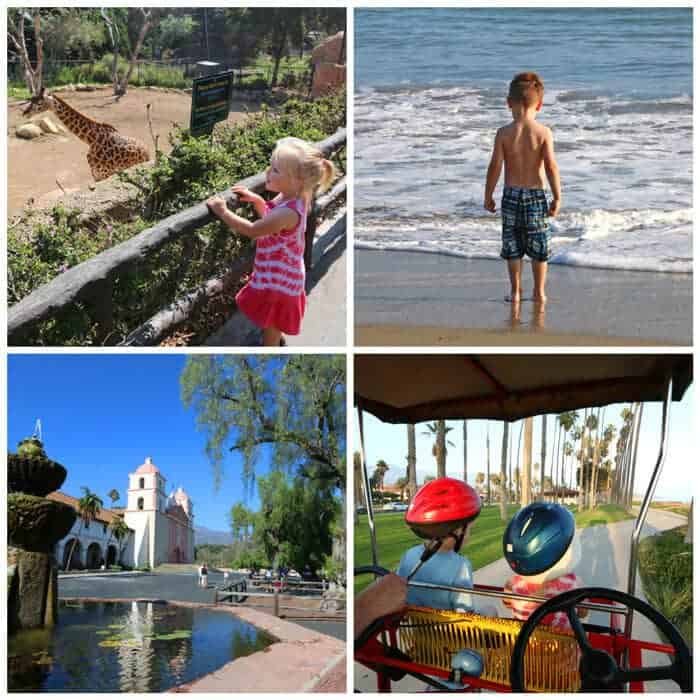 My husband and I took a couple's trip to Los Angeles last Summer and drove up to Santa Barbara for a day while we were there. Known as the American Riviera, we instantly fell in love with it.  And as wonderful as it is for a romantic getaway, Santa Barbara isn't only a place for lovers, it's a great family destination.   We recently took another trip to Los Angeles, this time with our kids, and wanted to go back to Santa Barbara to explore more of it.  Our family had an absolute blast in Santa Barbara!  With only one day to spend there, we packed in quite a few activities that we highly recommend to anyone visiting Santa Barbara.  Here are four fun activities the entire family will enjoy!
 Santa Barbara Zoo
We love this zoo!  We actually enjoyed it more the San Diego Zoo.  If you have young kids who can't spend the entire day on their feet, the Santa Barbara Zoo is a much better bang for your buck.  It's nearly 75% cheaper and is smaller, quainter, easier to navigate and the kids were able to see more animals in a shorter period of time.

The zoo is just gorgeous.  It's beautifully manicured and maintained.
The Santa Barbara Zoo allows you to bring your own food and drinks but there are also facilities where they can be purchased.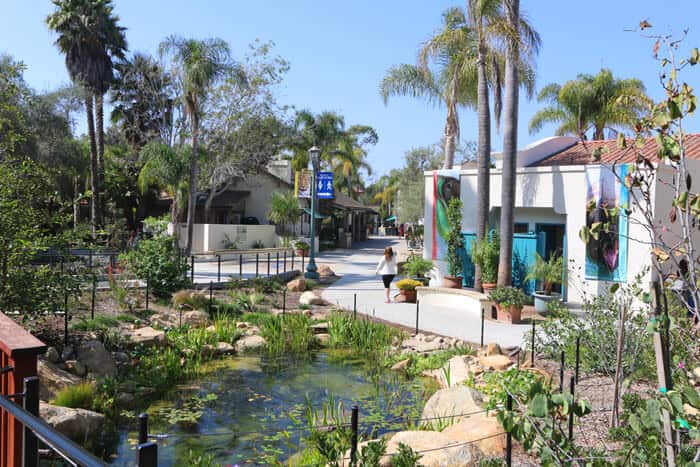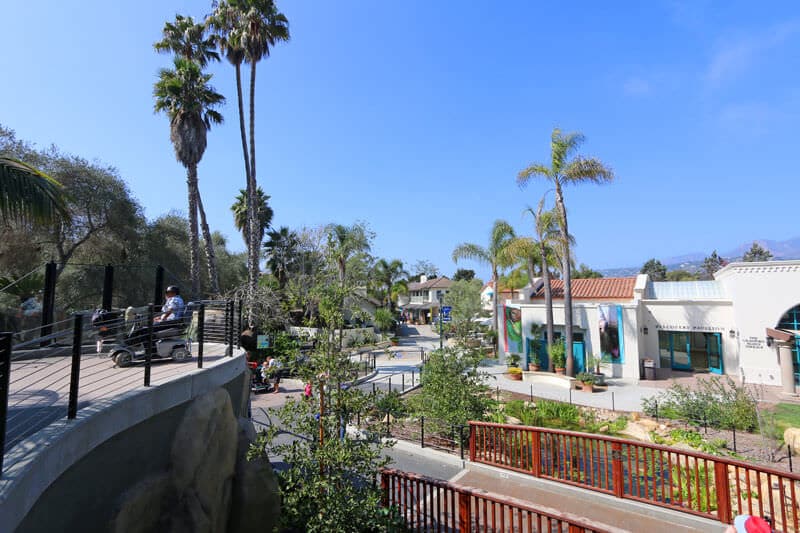 With over 500 animals on 30 acres, there is more than enough to keep you and your little ones entertained.
The Santa Barbara Zoo is home to 146 species of mammals, reptiles, birds and insects.  And speaking of insects, I couldn't resist snapping a shot of the gargantuan cockroaches because they reminded me of one of my high school science teachers.  He awarded extra credit to anyone who ate a cockroach from the tank at the back of the classroom.  No joke.  I took a picture of him on my last day of school there eating one.  His famous comment:  "Just extra fats, proteins and carbohydrates."
And in case you're wondering, that's not where the term "Daring" Gourmet comes from!  Nope, I never did take him up on the offer for extra credit.  Noooo thank you.
The giraffes were among our kids' favorites and for a few extra bucks you can feed them up close.
Our family had a terrific time!
Two thumbs up for the Santa Barbara Zoo!
For more information, visit their website:  Santa Barbara Zoo
500 Ninos Drive
Santa Barbara, CA 93103
(805) 962-5339
Santa Barbara Beach
By the time we left the zoo we were hot and sweaty and ready for something cool and relaxing.  Santa Barbara offered the perfect solution – let's hit the beach!
Our son gently led his sister to the water…and after her toes touched the water she quickly decided against it!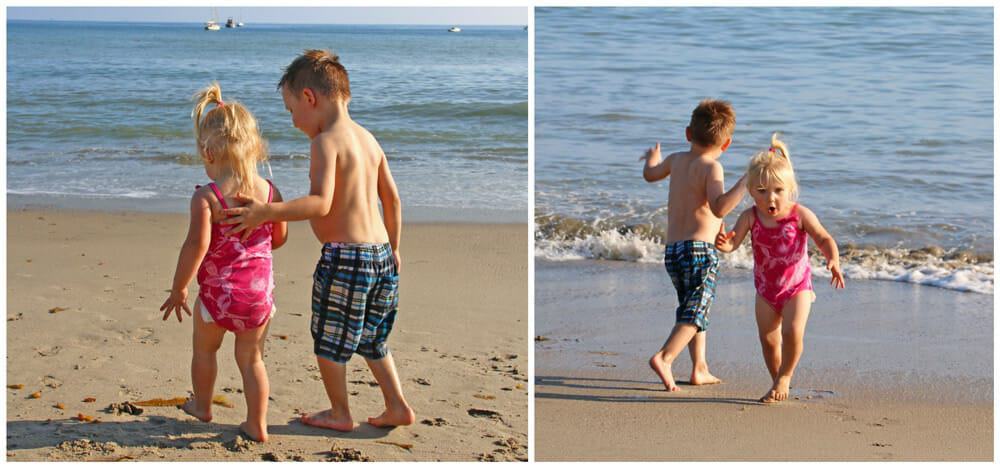 Our brave 4 year old had a blast in the water!
And our 2 year old daughter was more than content to watch and play in the sand.
And check out the sand sculpture we came across.  I'm just amazed at anyone's ability to do this!
After some relaxing time on the beach – the kids having gotten plenty of wiggles out – we were ready to do some more exploring.
Old Mission Santa Barbara
Up on the beautiful hillside of Santa Barbara is the Old Mission, the city's famous icon.
This old Spanish mission was founded in 1786.  Rich in history with beautiful gardens and surroundings, it also features a museum, mausoleum, church and gift shop.
Tickets are reasonably priced.  Children's tickets are less than half the price of adults and kids under age 4 are free.
The building and grounds are beautifully maintained.

Walking around the premises you really feel like you're back in time in an entirely different world.
They do a fantastic job of the upkeep and you get a good sense of what life was like in the mission over two centuries ago.
Inside the Old Mission is a museum with a few displays showcasing the culture of the time period.
The Old Mission also features a mausoleum.
There's a second inner courtyard from which you can access the mausoleum, the other courtyard gardens, and the church.
Inside the old church…
Back outside the kids freshened up at the old well before we moved on to our next activity.
I have to tell you a funny story.  To simplify the terminology for our young children, we told them we were going to the old "Spanish house."  Not having heard the word correctly, our 4 year old son kept referring to it as the "spinach house" during the drive there.  We let it go because it was much too cute to correct.  Once we got inside, after a few minutes of looking around, he finally paused and said, a bit confused, "But daddy, where's the spinach?"  That line has become an oft-quoted family favorite ever since.
For more information, visit their website:  Old Mission Santa Barbara
2201 Laguna St
Santa Barbara, CA 93105
805.682.4713
Family Beach Biking!
It was approaching dusk and after a full day of fun and adventure we were ready to get off our feet.  Wheel Fun Rentals offered the perfect solution.
If it has wheels, they've got it.  And they had the perfect contraption for our family:  A 4-seater bike (they also have 6-seaters).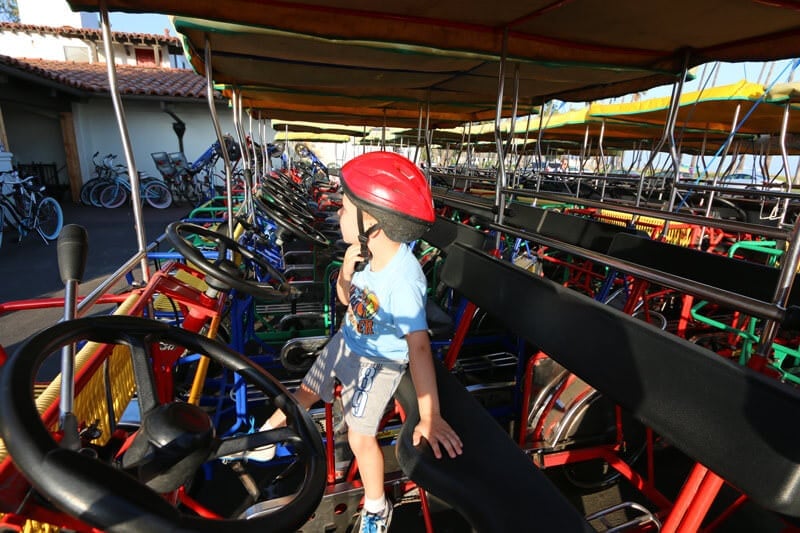 The man who rented us the gear kindly offered to take our picture.  And then off we went!
We all had such a blast and it was such a great way to end the day!
Dusk was the perfect time to go.  The sun was low and bathed the area in a beautiful orangish hue.
The pedaling wasn't too bad divided by two adults.  Plus it's all flat along the beach which made the drive leisurely.
It was so nice being outdoors at sunset – the warm ocean breeze, touring that beautiful beach setting while interacting as a family, singing songs, laughing, and waving to strangers as we passed by.
(Not to mention it was nice having the kids strapped in – ie, a nice break for mom and dad!)
At one point our 2 year old even volunteered to take the wheel for us…
It was time to head back.  A one-hour rental was just the right amount of time to go up and down the entire beach without having to pedal like mad. The rental is just across the street from the beach, which is nice because you only have to cross one street and don't have to remain on the road for very long.
For more information, visit their website:  Wheel Fun Rental Santa Barbara
22 State Street
Santa Barbara, CA 93101
805.966.2282
We returned the bike and were ready for something to eat before heading back to our hotel.  For dinner we grabbed a bite to eat at Enterprise Fish Co.  The kids eat had a serving of fish sticks and chips, the sticks were solid pieces of fish.  My husband ordered Fish 'n' Chips served with sweet potato fries.  I had the Double Chicken Breast brushed with teriyaki which came topped with grilled pineapple and Maui onions.  For a predominantly seafood place the chicken was fantastic.  The flavor was excellent and the chicken was among the most tender and juicy I've had.  Nothing like ending the day with a great meal.
Santa Barbara offers so many things to do and see.  These are the four activities our family chose for our one-day excursion.  We all had a terrific time!  We went back to our hotel with lots to talk about and plenty of memories to take back home with us.  And we're looking forward to going back!
If you're considering a trip to Santa Barbara, whether for a romantic couple's getaway or a fun family vacation, we cannot recommend it highly enough!
For more information on Santa Barbara, including a full list of sites and attractions, visit their website:  Visit Santa Barbara
Disclosure:  We enjoyed complimentary tickets to the zoo, old mission, bike rental, and a complimentary meal at the restaurant.