This post contains affiliate links.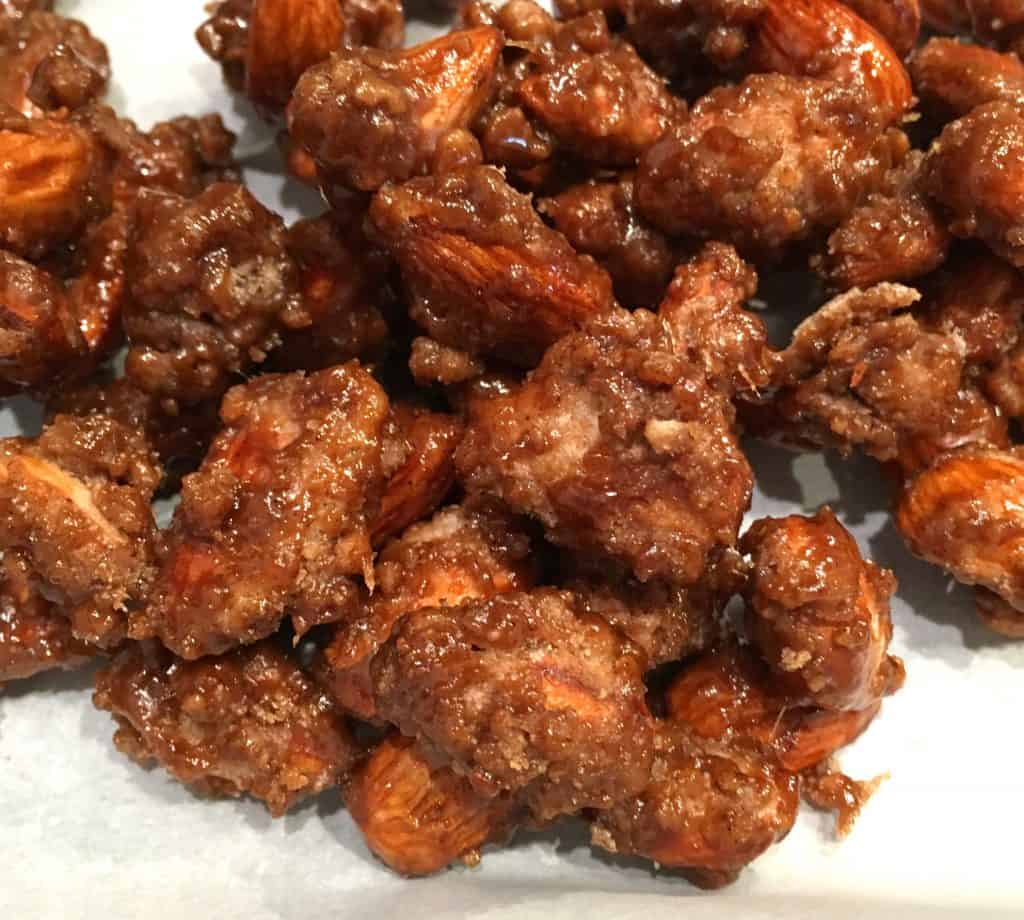 Growing up in Germany, I went to the Weihnachtsmarkt (Christmas market) with my family every year.  Home was Stuttgart which proudly boasts one of the oldest and largest Christmas markets in Germany, but we also loved visiting other Christmas markets around the country.   Most large cities and even many smaller towns around Germany have their own Christmas markets and each has its own unique aspects and charms.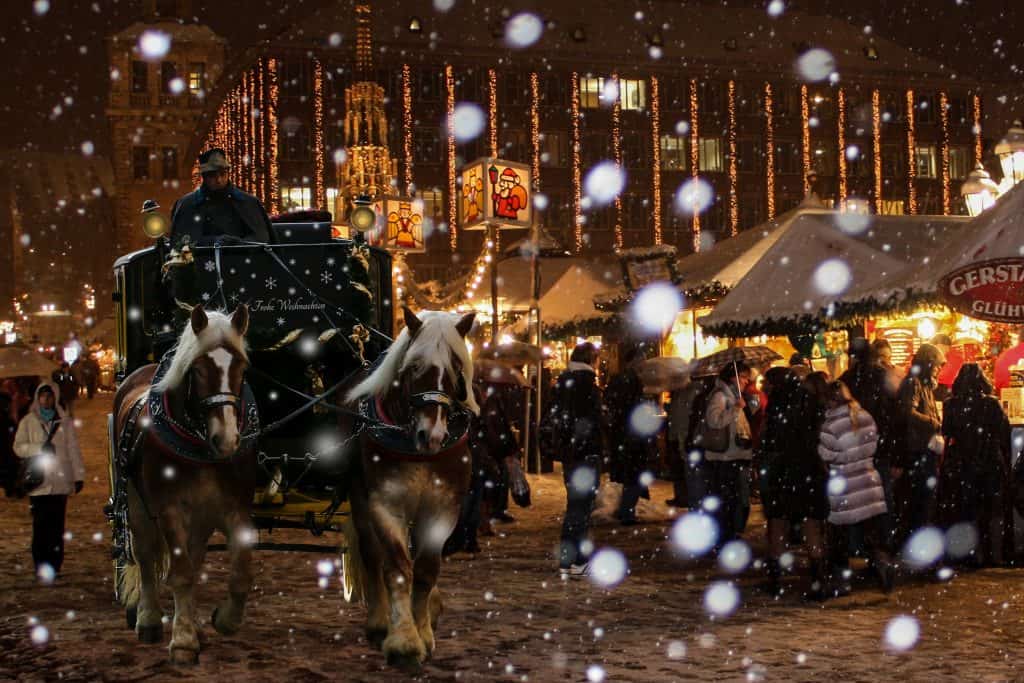 Whichever Weihnachtsmarkt we visited, I don't think there was ever a time I went to one without getting some Türkischer Honig, a hot mug of Kinderpunsch (non-alcoholic spiced punch), and a package of Gebrannte Mandeln (candied almonds).  That trio of goodies can be found at every Christmas market and they were my favorite treats to enjoy while strolling up and down the stalls and enjoying all the sights, sounds and smells of the Weihnachtsmarkt.
Since moving to the U.S. twelve years ago I'm not longer able to visit the German Christmas markets every year like I used to.  But what I can do, and have done, is create many of my favorite Weihnachtsmarkt treats.
Today I'm going to show you how to make Gebrannte Mandeln.  They're made on the stovetop and there's a key difference that distinguishes them from other candied almonds: Whereas many recipes will say the almonds are done once the sugar has melted and then thickened, the process for making German candied almonds continues through two additional stages that results in a fantastic flavor and texture.  If you've never tried them before, you're in for a treat!
And if you've had Gebrannte Mandeln before and love them as I do, I wish you a wonderful stroll down memory lane!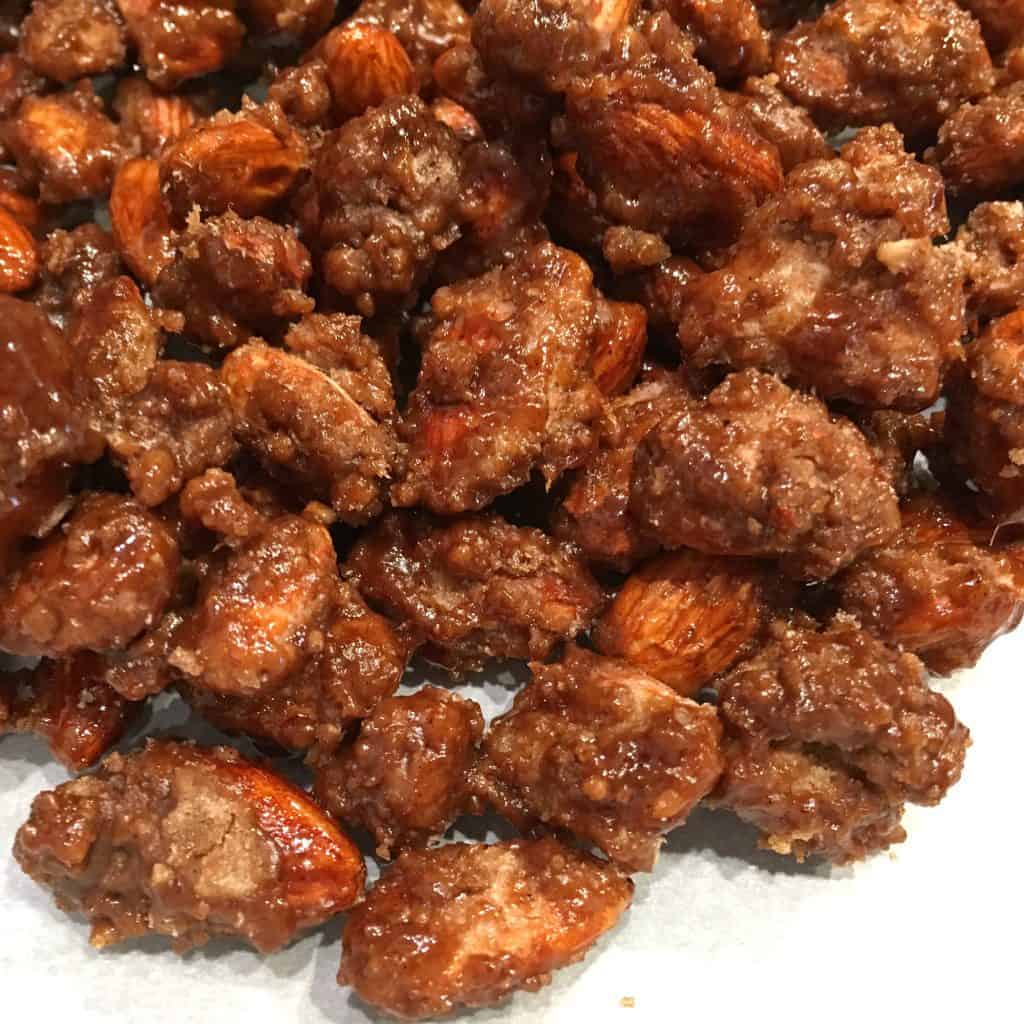 Let's get started!
Place the sugar, cinnamon, salt, vanilla extract and water in a heavy pan and bring it to a boil until the sugar is dissolved.  Add the almonds and reduce the heat to medium-high.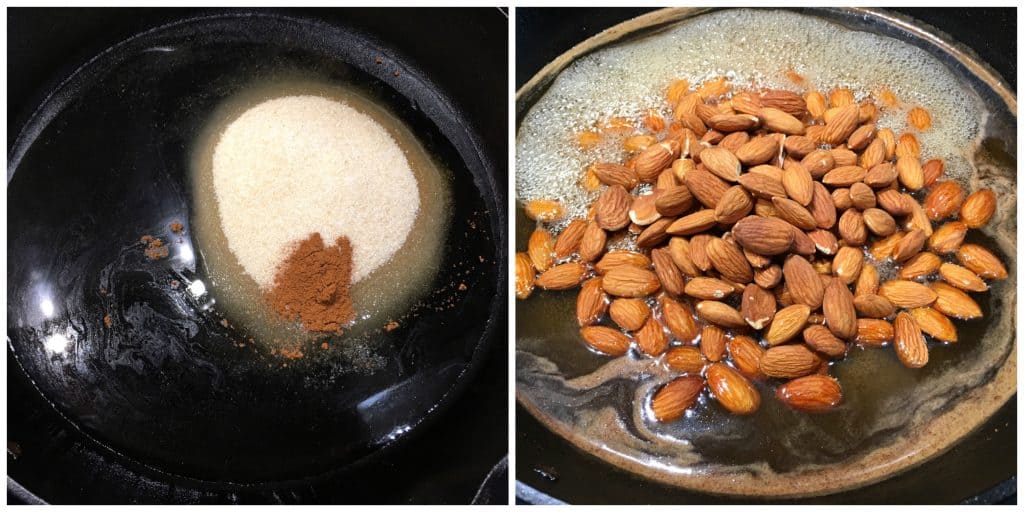 Regularly stir the almonds.  The process will take about 20-25 minutes.
The sugar will begin to turn darker.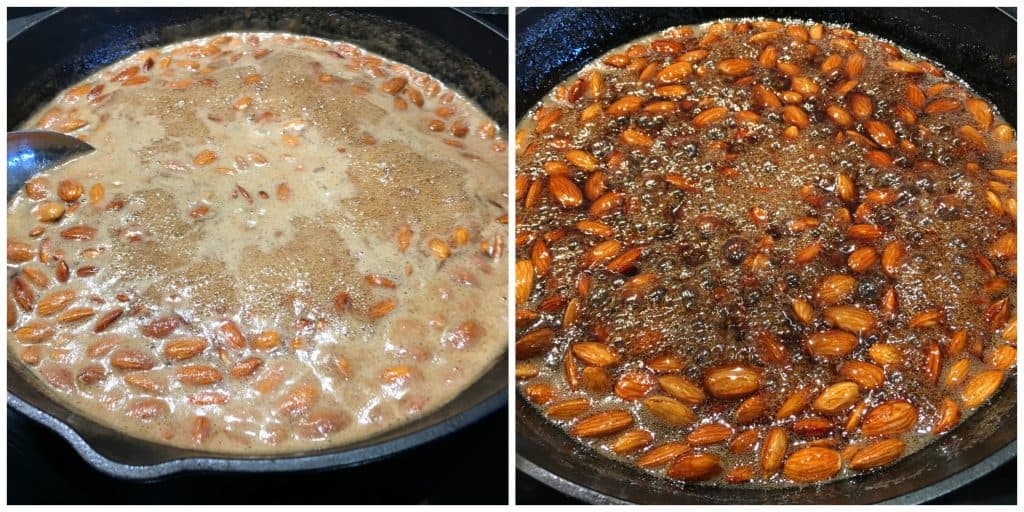 The sugar mixture will become thicker.  At this point stir constantly.
Before you know it the sugar will begin to crystalize.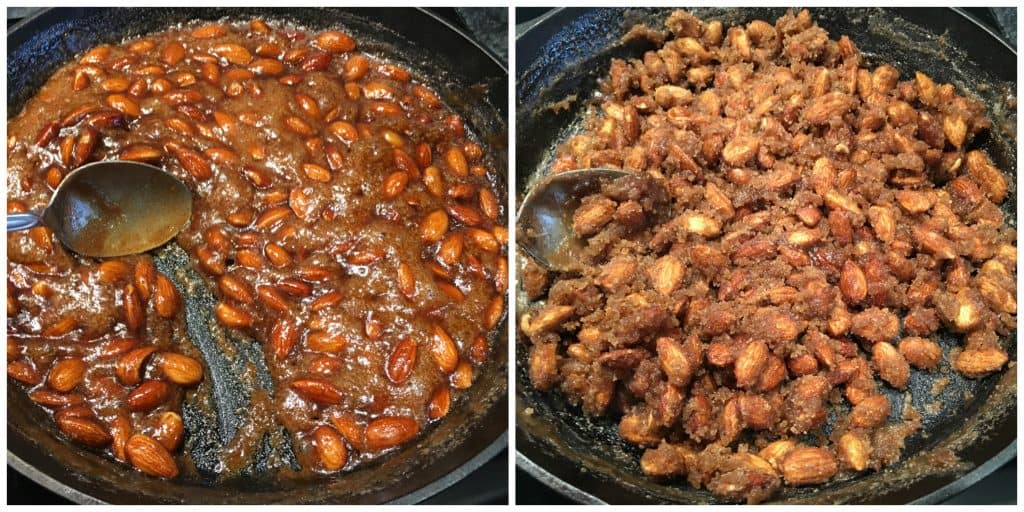 The sugar will become dry and resume the appearance of crystalized sugar.  Before you scream, "oh my gosh, what happened to my almonds??  They've seized and there's no rescuing them!", don't panic.  This is normal.
To prevent burning, turn the heat down to medium and continue stirring.  Within a couple of minutes the sugar will begin melting.  Stir continually, coating the almonds in the melted sugar.
Once the sugar has mostly melted and the almonds have a rough/bumpy coating around them, they are done.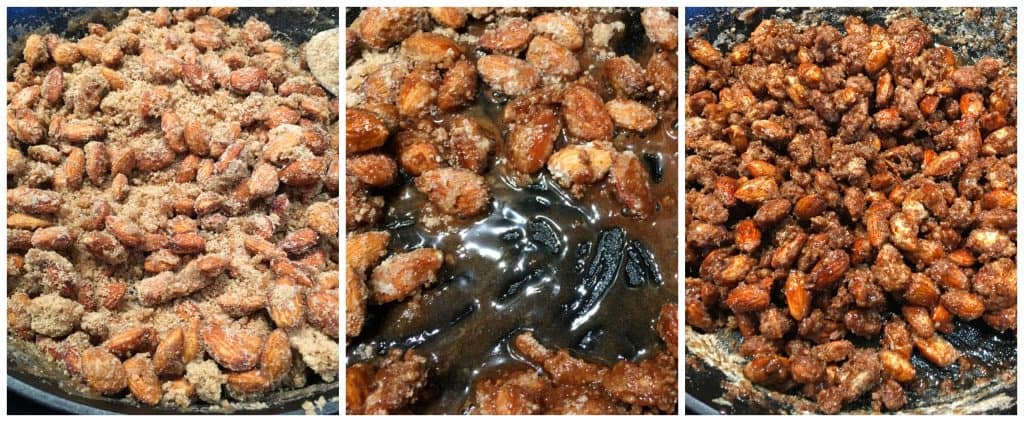 Dump the roasted candied almonds out onto parchment paper and spread them out to cool down.
They are ready for eating!
Enjoy!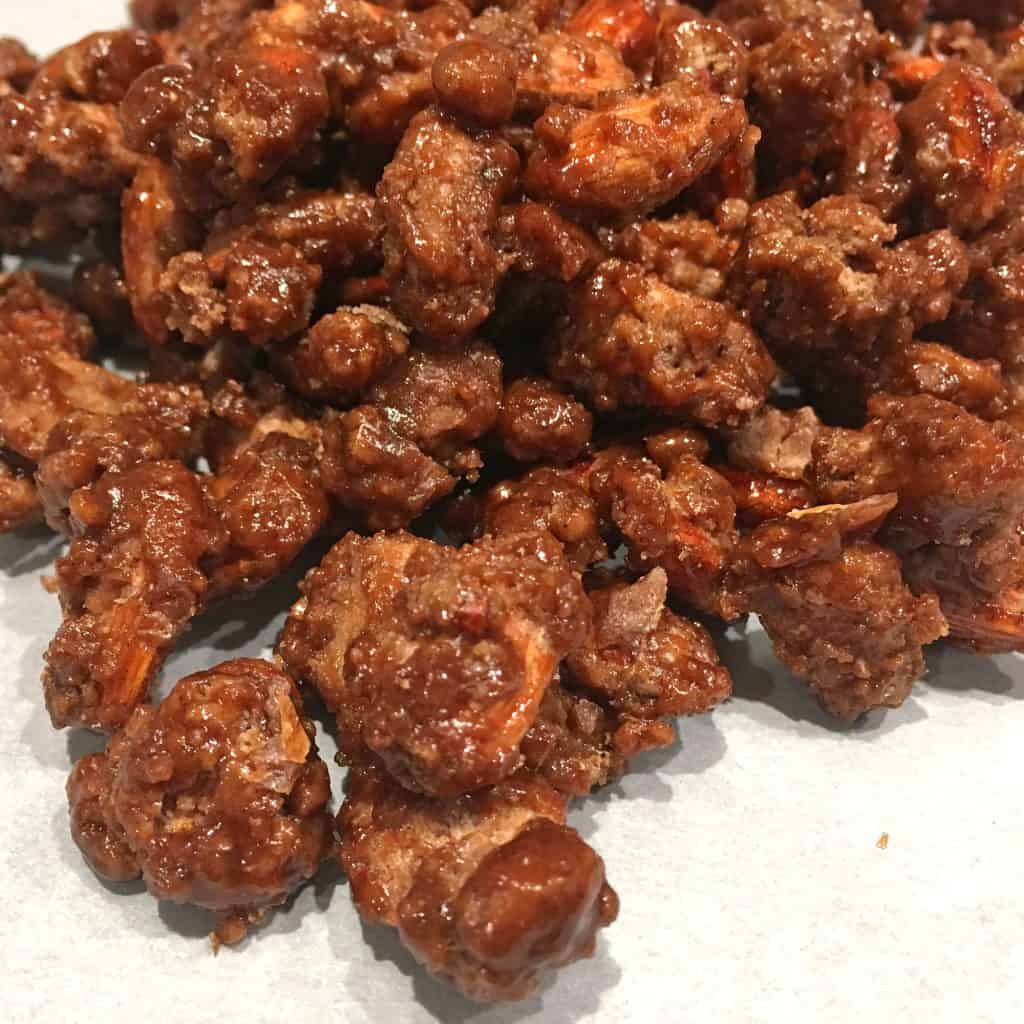 Print Recipe
Gebrannte Mandeln (German Candied Almonds)
These Gebrannte Mandeln are served at every Weihnachtsmarkt (Christmas market) throughout Germany. They're simply irresistible!
Instructions
Place all of the ingredients except for the almonds in a heavy saucepan. Bring it to a boil until the sugar melts. Add the almonds and reduce the heat to medium-high.

Stir the almonds continually. The process will take about 20-25 minutes as the sugar caramelizes, crystalizes, becomes dry and powdery and then melts. Once the sugar dries and becomes powdery (don't panic, this is supposed to happen!), reduce the heat to medium to prevent burning. Stir constantly until the sugar begins to melt, stirring to coat the almonds with the melted sugar. Once the sugar is mostly melted and the almonds are rough and bumpy, they are done.
Serving:
0.25
cup
|
Calories:
341
kcal
|
Carbohydrates:
48
g
|
Protein:
7
g
|
Fat:
17
g
|
Saturated Fat:
1
g
|
Sodium:
59
mg
|
Potassium:
265
mg
|
Fiber:
4
g
|
Sugar:
41
g
|
Calcium:
97
mg
|
Iron:
1.4
mg