As an Amazon Associate I earn from qualifying purchases.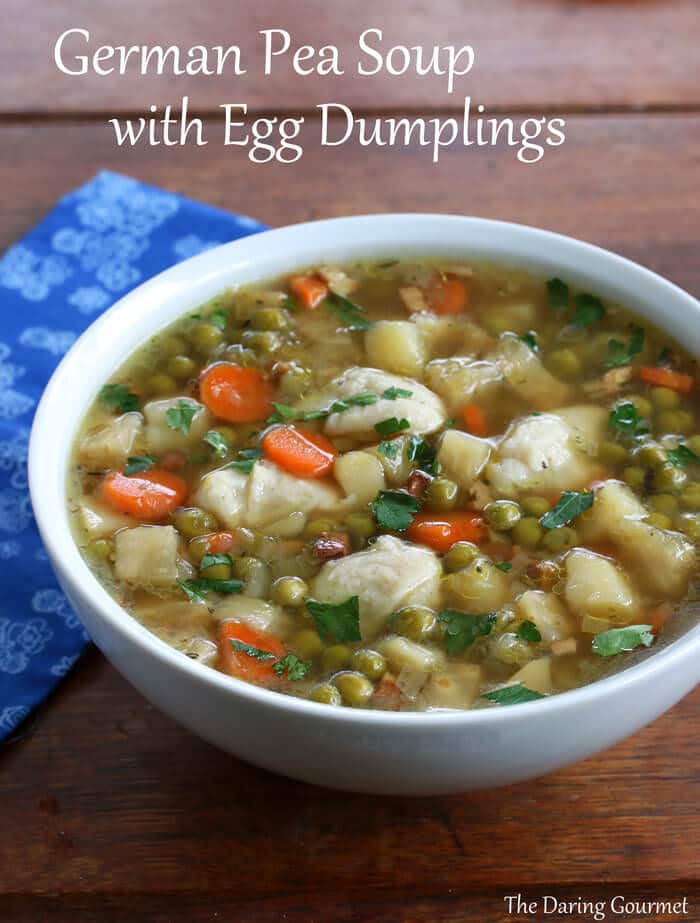 "Pea soup" is the literal translation of this dish but that doesn't even begin to do it justice.  There is a TON going on here flavor-wise.  With the flavor of caramelized onions and bacon combined with savory leek, carrots, celeriac, potatoes, peas and dumplings, this is a hearty, satisfying, healthy and thoroughly delicious soup that captures the very best of German cooking.
Just as butter, nuts and lemon zest are integral ingredients in German baking, there are several ingredients that combine to give savory dishes that classic "German" taste we know and love.  Those include onions, bacon, leek and celery root (aka, celeriac).  The first two we are are very familiar with in the U.S.   The third one most everyone has heard of but sadly very few cook with it, and the fourth, celery root, is virtually unknown here though you can find it in most grocery stores.  And that's an unfortunate thing, because there is nothing that elevates a soup from good to great like these two ingredients.  So if it's been a while since you've eaten leek, and if you've never tried celeriac before, this is the perfect place to start.
Coupled with dumplings made of dough similar to Spätzle but scooped into small mounds, this is a wonderful, filling, soul-satisfying soup for any time of the year.
Let's get started!
Just another quick note on celery root.  It's simply marvelous.  Appearance-wise it looks like a big round, tan-colored root vegetable on the outside.  The inside is a firm, whitish flesh.  The flavor resembles celery stalks but not quite.  It's sweeter in flavor with a very different texture, more potato-like.  It goes great in soups and there are some fantastic creamy celery root salads (recipe to come).
Okay, let's get to that soup.  Fry the bacon in a stock pot over medium-high heat until done.  Add the onions and butter.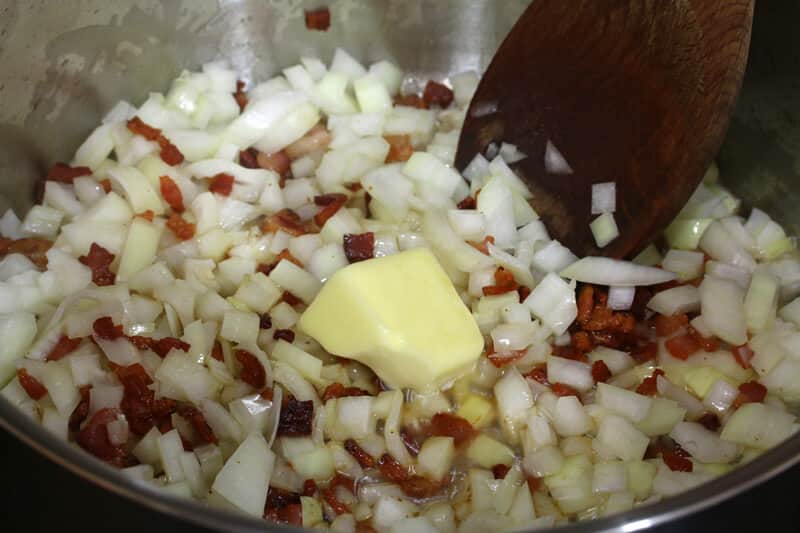 Cook the onions until soft and beginning to lightly brown.
While the onions are cooking, chop the veggies.
Add the veggies, peas, broth, ham hock, and spices to the pot and give it a stir.  Bring it to a boil, reduce the heat to medium, cover and simmer for 30 minutes.
*This recipe uses dried marjoram, another common ingredient in German cooking but a somewhat lesser known herb here in the U.S..
While the soup is cooking, prepare the dumplings.  Place all ingredients in a stand mixer.
Use the paddle attachment on "2" (bread setting) and mix until it comes together in a dough mass.
Continue to "knead" the dough with the paddle attachment for about 8-10 minutes.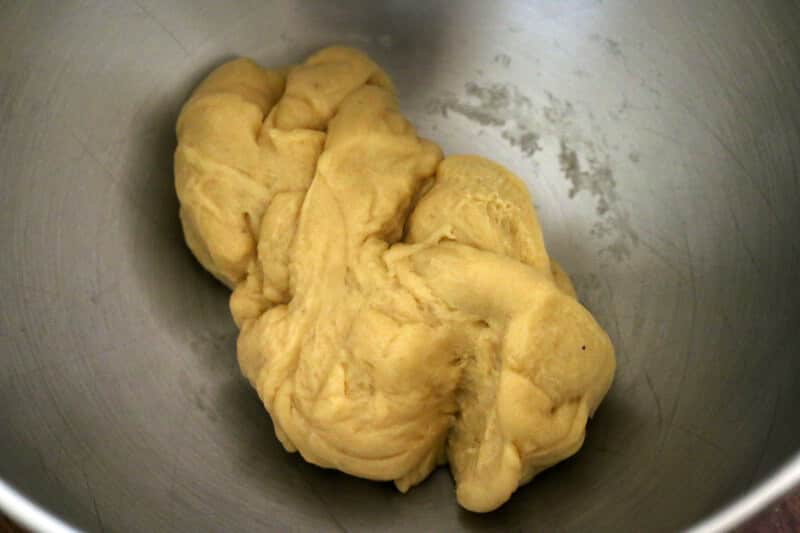 Use a small spoon to scoop off small pieces of dough (about 2 teaspoon's worth).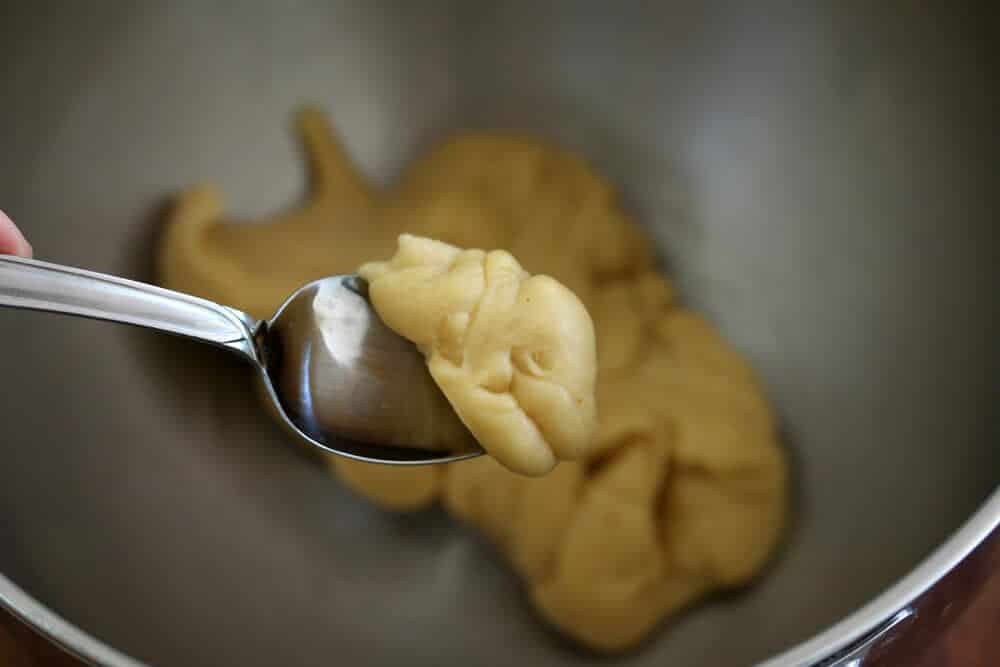 Drop the pieces of dough into a pot of lightly salted simmering water.  They will float to the bottom.
Once the dumplings float to the top, cover and lightly simmer for another 5 minutes.
Scoop out the dumplings with a slotted spoon and add them to the soup.  Let them simmer in the soup for a few more minutes to soak up the flavors.  Add salt and pepper to taste.  Serve sprinkled with a little chopped fresh parsley.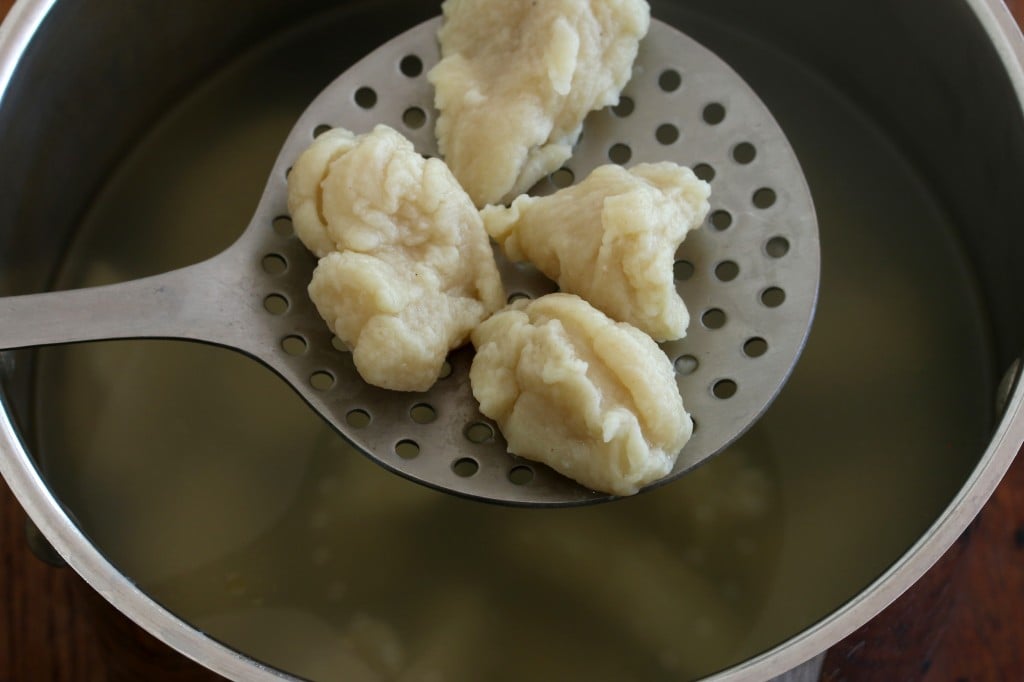 Enjoy!  (P.S.  This soup tastes fabulous the next day as well!)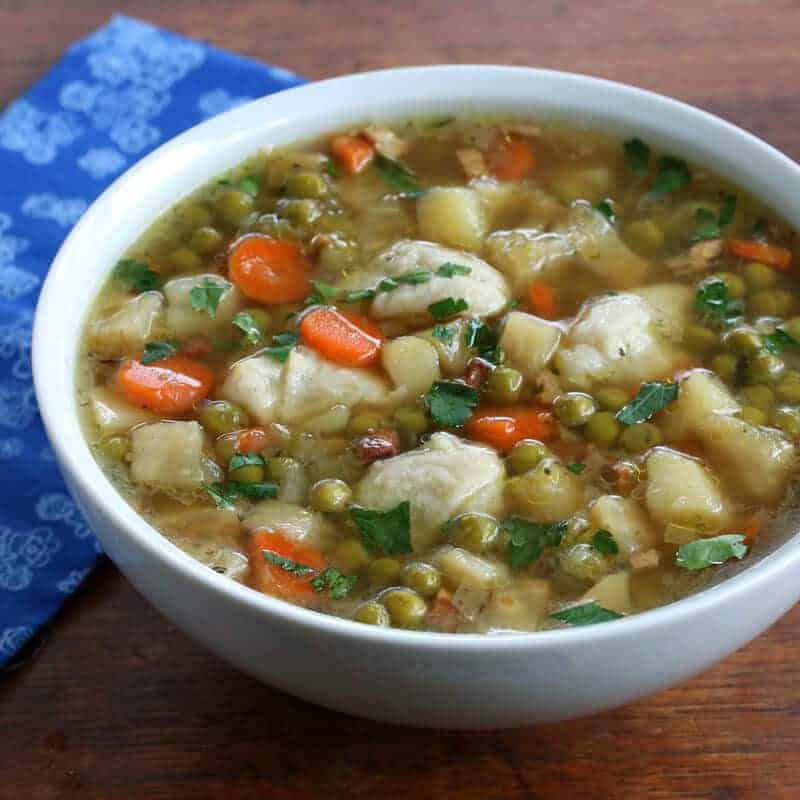 German Pea Soup with Egg Dumplings (Erbsensuppe mit Eierschwämmchen)
:
Kimberly Killebrew, www.daringgourmet.com
Ingredients
6 oz bacon, diced
2 tablespoons butter
1 medium yellow onion, finely chopped
10 cups beef broth
14 oz frozen peas
1 smoked ham hock
2 large carrots, peeled and sliced
1 large leek, sliced, rinsed and drained
1 small celery root (ie, celeriac), peeled and diced
2 medium potatoes, diced
1 bay leaf
½ teaspoon salt
¼ teaspoon freshly ground black pepper
½ teaspoon dried marjoram
¼ teaspoon dried thyme
Some chopped fresh parsley for garnish
For the Dumplings:
¼ cup butter, melted and at room temperature
1 cup all-purpose flour
3 large eggs
½ teaspoon salt
⅛ teaspoon ground nutmeg
Instructions
In a large soup pot over medium-high heat, fry the bacon until done. Add the butter and onions and cook until soft and translucent, 5-7 minutes. Add all remaining ingredients and bring to a boil. Reduce the heat to medium-low, cover and simmer for 90 minutes.
Before the soup is done, making the dumplings: Bring a pot of lightly salted water to a boil. Combine all the ingredients in a stand mixer fitted with the paddle attachment. Beat on "2" (bread setting) for 8-10 minutes. Use a small spoon to scoop about 2 teaspoon's worth of dough at a time and drop the dumplings into the the boiling water. The dumplings will float to the bottom. Once the dumplings have floated to the top let them simmer another 5 minutes and then use a slotted spoon to remove them and add them to the soup. Let the dumplings simmer in the soup for another 5 minutes before serving. Add salt and pepper to the soup according to taste.
Serve sprinkled with a little chopped fresh parsley.