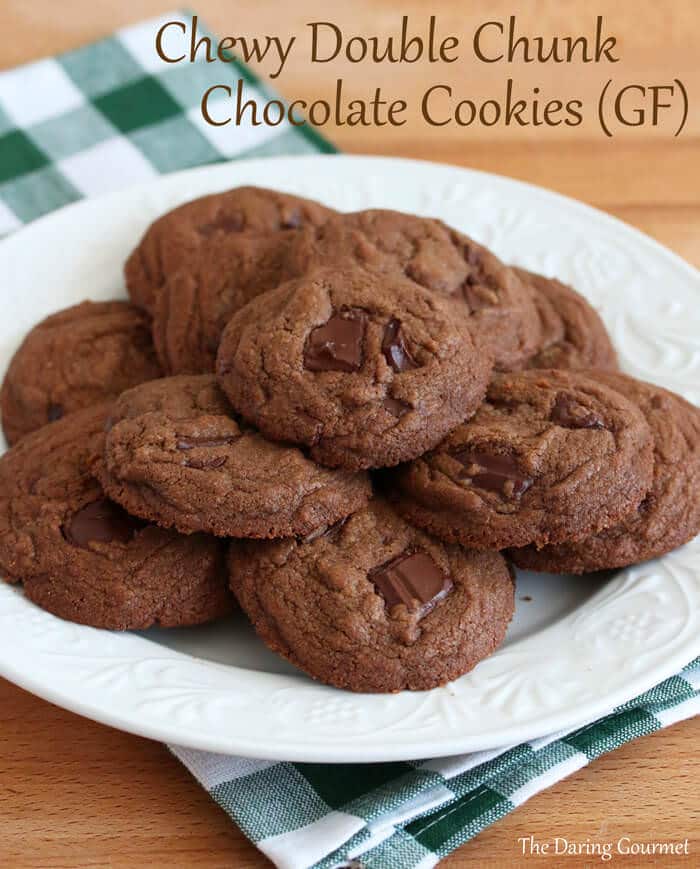 Chewy.  A double dose of chocolate.  Gluten-free.  You're welcome.
No, I haven't converted to a gluten-free diet and no, I won't be bombarding you with gluten-free recipes.  Remember my Perfect Gluten Free Chocolate Chip Cookies from a few months ago?
Yep, those are the ones.  I just wanted to do a little more experimenting and to provide another tasty sweet treat for my gluten-free readers.  And for us gluten-gluttons, both of these cookies are so darn delicious we'd never even know they're GF.  So if you have any GF folks in your family, here are some more cookies you can make that the entire family will enjoy.
Before we get to the recipe, there's something I'd like to share with you. With Christmas approaching our kids are getting increasingly excited about the upcoming holidays – the turkey and ham, the pies and goodies, the decorations, the prospect of presents, the sparkling tree and (fingers crossed) the snow.  It's a magical time of year for our family to draw together, celebrate, reflect on what matters most to us, the many blessings we have, the things we are grateful for.  With our growing young family we are implementing annual traditions that will help us, and our teach our children, to think outside of ourselves and give meaningful service to others.  As a mother, helping other children in need is especially important to me.We're trying to raise our kids to think about others, to perceive others' needs and develop caring hearts.  The sad truth is that while our kids are getting excited about the presents they'll receive for Christmas, 1 in 5 kids in America don't even know where their next meal is coming from.  That can be a hard concept to teach a young child, but it's important to us as parents to help our kids learn to make room in their hearts for others and to develop a desire to help.  And that mostly comes down to example, our children seeing my husband and I devoting our time and means to helping others, but another powerful way to instill these values in our kids is to look for ways, even very small ways, to get them involved in service opportunities starting at a young age.  And so we're active in both church and community efforts to help alleviate hunger.We recently participated in an initiative through our church to gather food to fill children's backpacks in our community to take home with them so they can have food over the weekend.  We managed to fill over 6000 backpacks.  What an awesome thing that was!  And what a great opportunity it was for our kids to participate in small but meaningful ways in gathering the food.  Another small way in which our 4 year old son is already involved is at his preschool.  Throughout the month of November the kids are invited to bring some canned food to school and put it in the box to bring to the local food bank.  Last week our son chose a can of green beans to take with him and he was so excited to be able to donate it.  When I picked him up from school the first thing he said to me was, "Mommy, I gave beans to the hungry kids today."  Such a simple thing that made we want to laugh and cry at the same time as I gave my little boy a big hug.
A couple of days ago I watched a video about kids who got involved in helping alleviate other kids' hunger.
The video  resonated with me and I made a plan for another family project.  So yesterday we did a family scavenger hunt in our pantry for non-perishable food items and then made a trip to the grocery store with our kids to gather some more food items.  We explained to our kids that while we get to eat every time our tummies rumble, there are other kids who don't have anything to eat.  We explained that we wanted to share some of our food with them so they wouldn't have to be hungry.  It was both a fun and meaningful family activity to gather some food to donate to our local food bank.  Our kids' personal touch:  They wanted to donate their granola bars and Clifford juice packs.
If you're interested in getting yourself or your kids involved, there are so many small but impactful ways to start. Unilever Project Sunlight (also see bottom of this post for more info) is an initiative focused on encouraging people to create a brighter future for children and to encourage others to work towards the same goal, one step at a time.  It provides a wealth of information on how to help on various levels:  How to share a meal with families in your neighborhood, how to partner with local organizations, coordinate with your local food bank, host a virtual food drive and all kinds of tips and tools for getting involved.
What are some of the ways you've helped teach your own children or other children the concept of hunger and helping others in need?
After a morning of food gathering, sorting, boxing and delivering, we baked some cookies and enjoyed some more family time talking about what we did that day.  Grab a glass of milk and join us.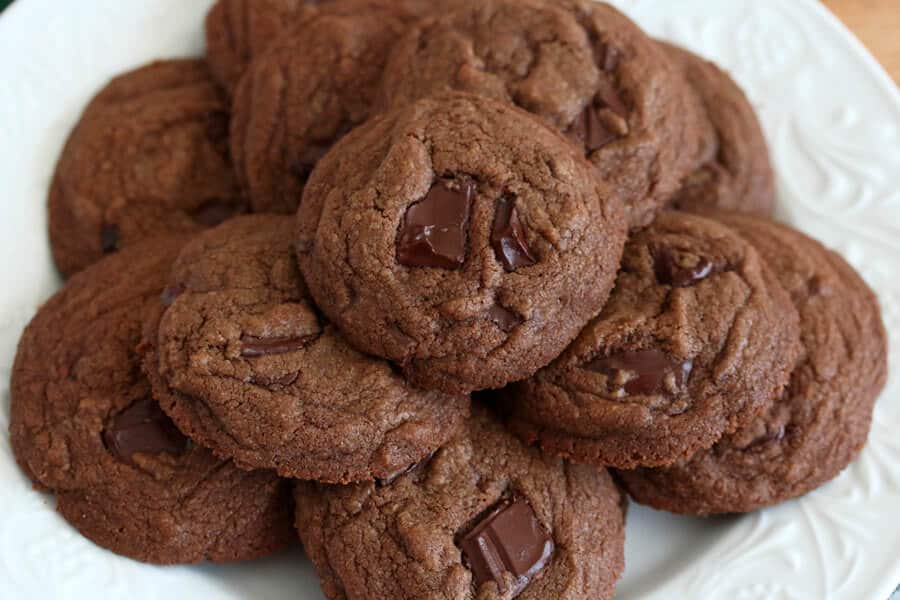 Let's get started!
Sift the flours and add them to a bowl with the cornstarch, cocoa powder, salt and baking soda.  Stir to combine.  Set aside.
Place the melted coconut oil (or butter or other oil) and the brown sugar in a large mixing bowl (make sure the melted oil isn't hot).  Beat for about a minute.
Add the egg and vanilla extract and beat until combined.
Gradually add the flour mixture to the wet mixture and beat until thoroughly combined.
Chop up the chocolate.  You can use chocolate chips if you prefer.
Add the chocolate chunks to the batter.
Stir to combine.  Cover and refrigerate the dough for 1 hour.
Form the dough into 1-inch balls and place them on a lined cookie sheet.
In an oven preheated to 375 degrees F, bake them for 10-12 minutes or until just starting to lightly brown on the edges.  Let them cool for 2 minutes before transferring them to a wire rack.
Enjoy!
Gluten-free Chewy Double Chocolate Chunk Cookies.
Chewy Double Chocolate Chunk Cookies (Gluten Free)
:
Kimberly Killebrew, www.daringgourmet.com
Ingredients
2 cups brown rice flour
¼ cup cocoa powder
¼ cup cornstarch
2 tablespoons tapioca flour
1 teaspoon xanthan gum
1 teaspoon salt
1 teaspoon baking soda
1 cup melted coconut oil, butter, or other oil of choice
1½ cups light brown sugar
1½ teaspoons pure vanilla extract
12 ounces chocolate, chopped (or chocolate chips)
1 large egg
Instructions
Carefully measure the flours and cornstarch. In a mixing bowl, sift together the flours, cornstarch, xanthan gum, salt and baking soda. Set aside.
In a large mixing bowl, add the melted coconut oil (or butter or other oil) and sugars. Beat for about 1 minute. Add the egg and vanilla extract and beat until combined.
Gradually add the flour mixture to the wet mixture until thoroughly combined. Stir in the chocolate chunks. Cover and refrigerate the cookie dough for 1 hour.
Preheat the oven to 375 degrees F. Form the cookies into 1-inch balls and place on a lined cookie sheet. Bake for 10-12 minutes, rotating the cookie sheet halfway into it for even baking. Let the cookies cool for a couple of minutes before transferring them to a wire rack.
About SheKnows' Hatch, the Hatch Hunger Project and Unilever Project Sunlight:
SheKnows' Hatch teamed with Unilever Project Sunlight to help families build awareness and take action around child hunger in America. The facts are startling: 16 million kids living in the United States don't know where their next meal is coming from. That equates to one in every five children – enough to fill 18,000 school buses and 223 football stadiums. On average, those who live in food-insecure households have only $36.50 to spend on groceries every week. That means that 80 percent of children may not understand the everyday struggle their peers – many of whom could be their own friends or neighbors – confront when there's not enough food on the table. The Hatch Hunger and Project Sunlight video and workshop aims to create empathy by showing kids what it means to shop for healthy, filling meals for an entire week on a thrifty budget. It teaches important math and teamwork skills. Finally, it is about action, empowering kids to have a positive impact on their community to Share A Meal with a family in need and donating food and canned goods to local food banks.