I received some products from Hammer Stahl for review.  All opinions are entirely my own.    
I've gone through many cookware brands and products over the last 20 years and only ONE has remained a constant in my kitchen, and that's my cast iron cookware.  All of the others have either made their way to friends and family, gone down as Goodwill donations or into the trash can.  And these weren't all cheap pieces of cookware.  Most were name brands that many cooks use.
We're in the middle of a complete kitchen remodel.  We've carefully researched the best products for the best value and look forward to enjoying our new kitchen – the heart of our home – for many years to come.
In researching some new cookware to celebrate our new kitchen, I learned some very interesting things.  I took the opportunity to chat with the Vice President of Hammer Stahl, Bobby Griggs, who made a significant point:
"People tend to spend a tremendous amount of money on kitchen cabinetry and countertops, but at the end of the day what really transforms our food is using the right tools with the right ingredients to create the best results."
That is so true, isn't it?  Our cookware gets more use than any other feature in the kitchen, yet we tend to shortchange ourselves when it comes to cookware that performs the best and lasts the longest. My discussion with Bobby caused me to start thinking about cookware in a way I hadn't previously considered and proved to be a real education for me in the realm of cookware and in particular cookware surfaces.  I learned things I never knew about cookware material and cookware surfaces.
What factors are most important to YOU when choosing your cookware?
For me it comes down to four things:  1) Quality multi-clad build with the best cooking surface material, 2) Company's tight quality control over manufacturing, 3) Best value for the money and 4) Warranty.
These criteria are essential to me.  I've been researching the cookware on the market to find one that meets each of these criteria and in my search I was introduced to Hammer Stahl's American Clad cookware (not to be confused with All-Clad.)
I was intrigued to learn that Hammer Stahl, a brand of New Era, Inc., is one of the oldest manufacturers of cookware in North America, dating back to 1874.  Their American Clad cookware is produced by a small team of expert craftspeople in Clarksville, TN.  A small, family-owned business, their employees have worked there on average for 20 years and the plant manager has been there for over 40 years.  They produce the finest, heirloom-quality cookware on the market and do so in small batches, every piece hand-finished, and made in the USA with steel from Pennsylvania.  Their multi-clad cookware is 7-ply, is suitable for all cooking surfaces including induction and is made with the best cooking surface material on the market.  It's made to last a lifetime and passed on to the next generation.
Let's talk about the four criterion I mentioned above.    
Hammer Stahl's American Clad Cookware isn't 3, 4 or even 5-ply.  It's 7-ply, which means more even and efficient cooking with the ability to move seamlessly from oven to table to fridge to dishwasher.
In terms of material, you've probably noticed that there are lots of options out there:  Different grades of stainless steel, cast iron, aluminum, copper, ceramic and a variety of non-stick coatings.  But for everyday use most experts agree that stainless steel is the best material.
But what kind of stainless steel?  What about the outer cooking surface, the part that comes into contact with the food?
"The kind of steel used in most stainless steel cookware is not the best metal in which to prepare foods.  Most stainless steel cookware sold in stores is of such a nature as to allow chrome and nickel to bleed out into foods as water and food chemicals react with the walls of the vessels as they are heated.  The chrome and nickel salts are retained when ingested.  They cannot be eliminated.  They build up and in time can create troublesome conditions."  Dr. Shelton's Hygienic Review Division of Science, Engineering and Technology, Pennsylvania State University at Erie
That's concerning and something we often don't consider when shopping for cookware.  And so I continued to probe into the matter.
Once you start looking into the different types of stainless steel it can make your head spin with all the names and numbers.  What it all comes down to is, depending on which alloys are integrated with the stainless steel, some types are better durability, some for strength, some for resisting corrosion and pitting, others for resisting staining, some for preventing chemical reactions and subsequent leeching into food, etc.
The highest grade of steel in the cookware industry integrates all of these benefits plus more and is called 316Ti, a titanium-enhanced stainless steel.
If you've never heard of 316Ti it's because very few manufacturers have upgraded to it due to the higher cost of materials.
If you have heard of 316Ti then you've noticed that those few manufacturers of 316Ti cookware slap a dizzying price tag on their cookware.  And by dizzying I mean a basic cookware set runs for $2500+.
What makes 316Ti so special?  316Ti is surgical grade steel, the same type of steel used in the medical industry and is used for things like implants in the body because it does not corrode, degrade and is the least likely to be rejected by the body.
So what does that mean for cooking?
316Ti is the BEST COOKING SURFACE material on the market because it is:
Stronger
Lighter
Non-porous (your food won't taste like yesterday's meal)
Highly hypoallergenic
Resistant to pitting
Resistant to corrosion
Resistant to staining
The most durable and longest lasting
The safest and healthiest cooking surface because it is the least prone to leeching into food 
Another point on the third item above (being non-porous), as most steel cookware heats up the metal expands causing food to really stick to its surface.  To help offset that effect we've grown accustomed to having to cook with oil.  In contrast, 316Ti cookware is non-porous, which means you can cook many foods without oil.  While proteins will still stick to some extent on a 316Ti surface (depending on the technique and food), they stick less and, more importantly, the surface is much easier to clean.
On the last point about the health and safety aspects of the cooking surface, virtually all cooking surfaces will chemically interact with food in some way and to some extent.  This interaction will also affect the nutritional content of the food as well as its flavor.
However, one of the things that makes 316Ti superior is that it virtually eliminates all chemical reaction with the food ingredients, prevents chemical leeching into the food, produces a clean, genuine flavor that doesn't taste like yesterday's meal and produces consistent results.
Bottom line:  If you're looking for the best stainless steel cooking surface, the answer is 316Ti.

When I pay the price for quality products, whatever they are, I expect them to arrive in perfect condition and perform the way they're supposed to.  I expect the manufacturer to have carefully inspected it through every step of the manufacturing process, from raw materials to the finished product.  Unfortunately, as we've all experienced, that isn't always the case.
At Hammer Stahl every single piece of cookware is finished off by hand by expert craftspeople in Clarksville, Tennessee and carefully checked for quality.
Family-owned Hammer Stahl's small-batch and hand-finished process means that expert eyes have carefully gone over every inch of my frying pan to ensure its quality.
It's like the philosophy my mom was raised with by her parents and my parents consequently raised me with:  It's better to pay more for quality than to end up paying even more by having to constantly replace.
By buying low-quality or mid-range cookware you're actually paying more than had you invested more in the first place because over time you end up having to replace that cookware again and again.  You've heard the old adage, "Buy cheap, buy twice."
Does Hammer Stahl cost more than Cuisinart or Calphalon?  Definitely.  But that's an apples-to-oranges comparison.  Surprisingly, however, is that Hammer Stahl is less expensive than other brands we equate with quality, like All-Clad for example, even though Hammer Stahl is made with superior materials in small batches with tight quality control and every piece hand-finished.
This is all terrific news.  But who wants to pay $2500+ for a set of 316Ti cookware?  I don't.
Here's the good news:  In addition to their multi-clad, 7-ply construction that ensures even and efficient cooking and moves seamlessly from oven to table to fridge to dishwasher, Hammer Stahl has upgraded its entire line of American Clad cookware to the highly-prized 316Ti interior surface – without passing the cost onto consumers.  
Hammer Stahl, with its proud 150-year history of small batch, high-quality stainless steel cookware manufacturing, is the only U.S. manufacturer to make this premier 316Ti stainless steel available through gourmet retailers nationwide.
And here's the best part about it:  They're doing so at a cost that's LESS than other higher-end cookware brands, like All-Clad, that are made with lower grade steel!
Although this is a more expensive material, we are dedicated to providing the absolute best product to our customers – with no increased cost to the customer – creating an exceptional value.  Throughout our history we have always endeavored to deliver the highest quality cookware at an affordable price.  This change is just the next step in that process. – Bobby Griggs, VP of Hammer Stahl
Hammer Stahl American Cookware = The Best Quality at an Affordable Price.
When I invest in cookware I want the assurance that it's going to last.  For a very long time.  With Hammer Stahl's Lifetime Warranty I have that assurance that if anything goes wrong with my cookware they will take care of me.
(Unless I'm doing something crazy like boiling asphalt in my saute pan for 15 hours.  I'm a fast learner though, I've only done that once and never again.  Just kidding.)
Hammer Stahl's American Clad Cookware is built to last beyond a lifetime – it is heirloom quality, something I'll pass down to my kids.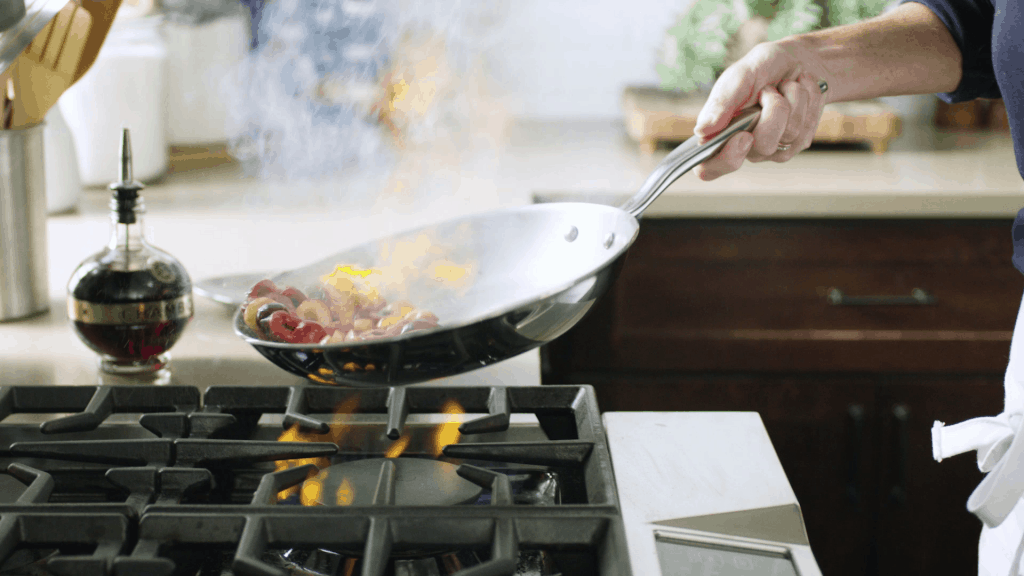 I want each of you to be able to experience Hammer Stahl's American Clad Cookware for yourselves.  So do the wonderful people at Hammer Stahl.  And so they're offering some absolutely incredible deals right now.
**This sale has ended**
Hammer Stahl is having their best sale of the year going on right now!  With their special discount code they are offering 40% off and free shipping on select items.
If you're looking for the best gifts to give your loved ones and friends, THIS IS IT!
TO GET THE 40% OFF DISCOUNT CODE, visit:  Hammer Stahl  (the code is in the 1st paragraph!)
***THIS GIVEAWAY HAS ENDED***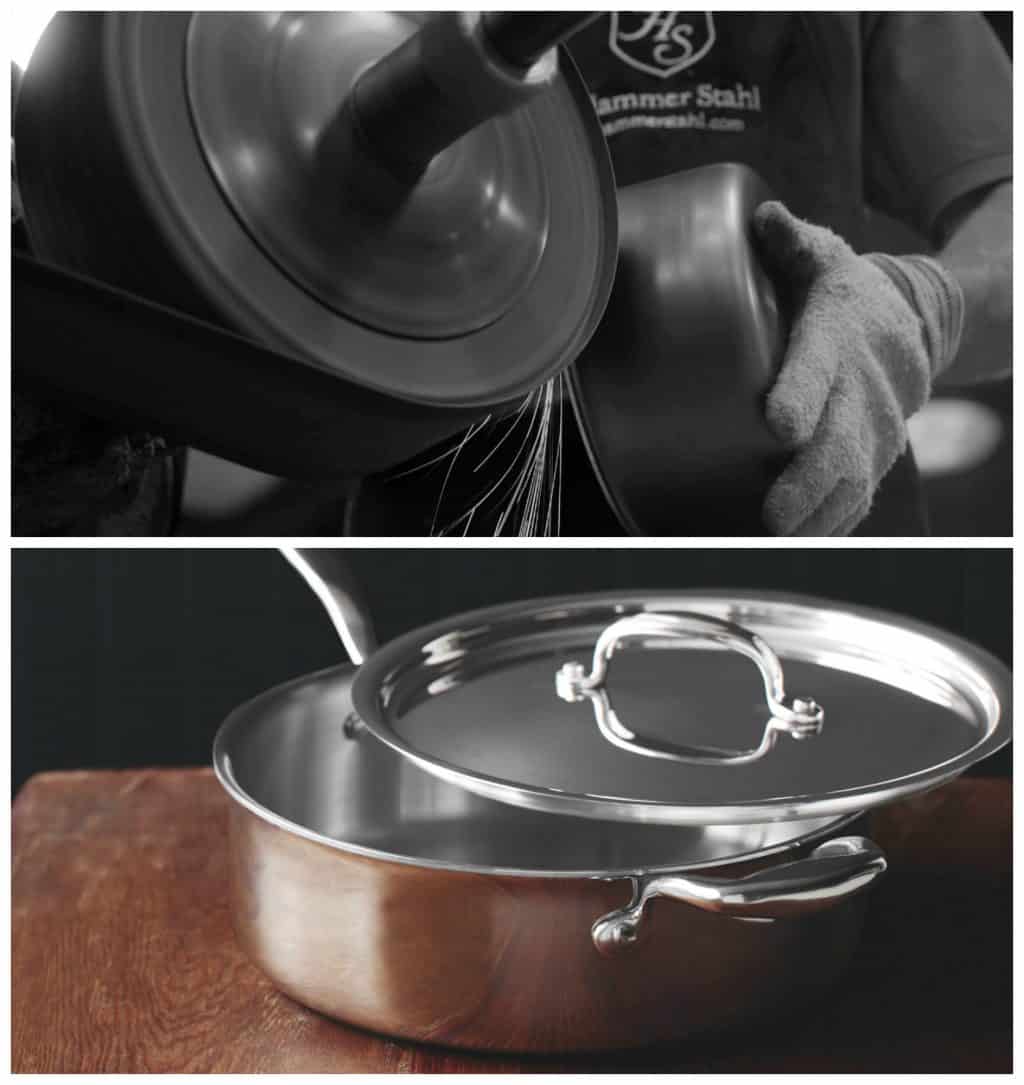 One lucky winner is going to receive this amazing 4 quart sauté pan!  It's one of my very favorite products – it's super versatile and will become the workhorse of your kitchen!
Be sure to complete all of the items below to earn the maximum points to be entered into the giveaway!