Celebrate the holidays with this Creamy Pumpkin Pie Ice Cream recipe!  Luxuriously rich and flavorful, this will have you coming back for seconds…or thirds!
Pumpkin Ice Cream Recipe
Ice cream has always been a personal weakness.  And then I married a man with the same weakness.  In fact, his goes back at least a couple of generations.  I think there's a "compulsive ice cream eater" gene is the Killebrew line (my husband's baseball star grandpa, Harmon, was known to eat a whole quart of it in one sitting after his games!).  Fortunately for my husband and I we both also inherited the "all-things-in-moderation" gene (though I'd say mine is "dominant" whereas his is more "recessive"), and throughout our marriage thus far we've managed to work around that all too common source of marital discord.  You know the one.  The proverbial "the rest of the ice cream is MINE" conflict that lands so many otherwise peaceful, sharing couples into marriage counseling.  This Creamy Pumpkin Ice Cream nearly did that though.  Because it's GOOD.  And if you add the graham crackers it becomes Pumpkin PIE Ice Cream which is downright a-mazing!
And it's not that marriage counseling is a bad place to be.  In fact, I highly recommend it.  (I'm a marriage counselor.)  But come on, if you're going to pick a battle….And it's like I always say, there's really a very simple solution for these kinds of dilemmas:  Let the wife have her way.  Is that too much to ask?
This pumpkin ice cream is super creamy and deliciously rich.  Made the old-fashioned way with egg yolks for a luxuriously rich dessert.
And if you need a way to use up the leftover egg whites, you'll love these delicious Mint Chocolate Meringues!
If you don't already have an ice cream maker, I use and recommend the Cuisinart ICE-21 Ice Cream and Sorbet Maker. It's relatively inexpensive, just the right size, and works great.
I also have and use the Cuisinart ICE-100 Compressor Ice Cream and Gelato Maker.  It's a lot more expensive than the ICE-21 because it has a built-in compressor (you don't have to put the bowl in the freezer and wait around), but in terms of the quality of the ice cream they make, they're pretty equal.
Ready for a bowl of Pumpkin Ice Cream?  I know I am!

© Anjelagr | Dreamstime
Be sure to also try our White Chocolate Cranberry Pistachio Ice Cream!
PIN ME!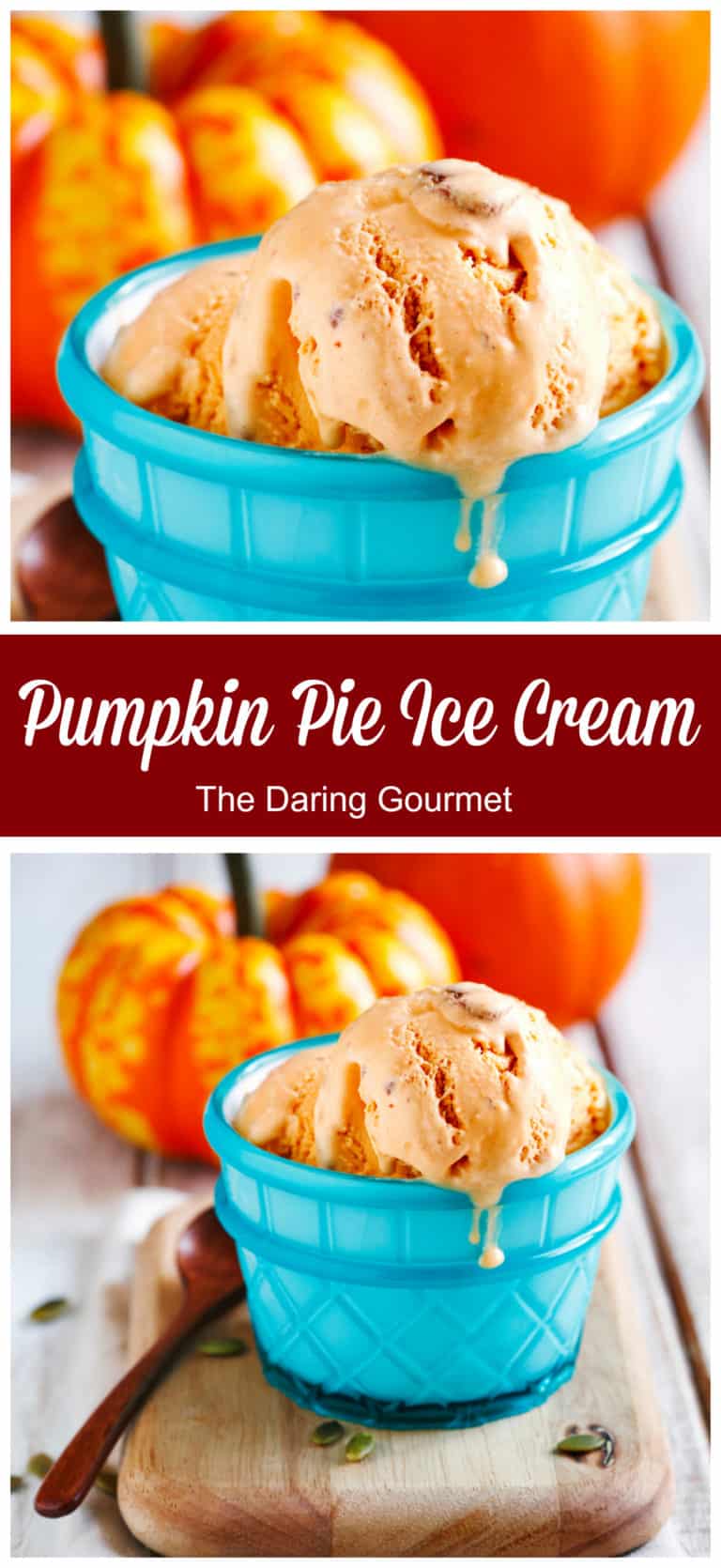 Pumpkin Pie Ice Cream
Celebrate the holidays the best way possible with this creamy pumpkin pie ice cream!  It's luxuriously rich and flavor and will have you coming back for more!
Ingredients
1

cup

canned unsweetened pumpkin puree

1

teaspoon

vanilla extract

2

cups

heavy cream

3/4

cup

firmly packed dark brown sugar

5

egg yolks

1/2

teaspoon

ground cinnamon

1/4

teaspoon

ground ginger

1/4

teaspoon

salt

Pinch

of ground cloves

Pinch

of freshly grated nutmeg

3/4

cup

chopped graham crackers
Instructions
In a bowl, whisk the pumpkin puree and vanilla extract together. Cover and refrigerate for at least 3 hours or overnight.

In another bowl, whisk together the egg yolks, cinnamon, ginger, salt, nutmeg, 1/2 cup of the cream, and 1/2 cup of the sugar. Whisk until the mixture is smooth and the sugar is mostly dissolved. Set aside.

In a heavy medium saucepan, combine the remaining 1 1/2 cups of the heavy cream and 1/2 cup of the brown sugar. Over medium heat, cook the mixture for about 5 minutes or until bubbles form around the edge of the pan. Remove from heat.

Gradually add 1/2 cup of the hot cream mixture to the egg mixture, whisking constantly. Then pour the egg mixture into the saucepan with the remaining hot cream mixture. Cook over medium heat, stirring constantly with a wooden spoon, keeping it to a low simmer (do not let it boil). Cook for 4-6 minutes or until the mixture has thickened enough to coat the back of the wooden spoon and running the tip of the spoon through the mixtures leaves a clear trail. Strain the mixture through a fine mesh sieve into a bowl.

Place the bowl in a larger bowl with water and ice cubes and stir the mixture occasionally until it has cooled down. Whisk in the chilled pumpkin puree mixture. Cover with plastic wrap, pressing it against the custard to prevent a skin from developing. Refrigerate for at least 3 hours or overnight.

Pour the custard into an

, add the graham crackers and freeze according to manufacturer's directions.

Serve immediately for softer ice cream, or transfer to a freezer-safe container and freeze at least 3 hours or up to 3 days.

Makes about a quart.
Nutrition
Calories:
365
kcal
|
Carbohydrates:
32
g
|
Protein:
4
g
|
Fat:
26
g
|
Saturated Fat:
15
g
|
Cholesterol:
204
mg
|
Sodium:
160
mg
|
Potassium:
147
mg
|
Fiber:
1
g
|
Sugar:
23
g
|
Vitamin A:
5803
IU
|
Vitamin C:
2
mg
|
Calcium:
78
mg
|
Iron:
1
mg
Adapted from Williams Sonoma
First published on The Daring Gourmet Dec 5, 2019