This post contains affiliate links.
I've teamed up with Cuisinart to bring you this post.
My husband and I were destined to love ice cream.
We both come from a family of ice cream lovers.  Coincidentally, it was both sets of our grandfathers who were especially passionate about ice cream. Among other things, they all shared in common a love of ice cream and a strong work ethic.
Todd's grandfather, Joseph, grew up humble and had only an 8th grade education.  But he was one of the most intelligent men Todd ever knew and he had a work ethic equal to it.  Through hard work in the construction line of business he became a self-made millionaire in Alaska by the time he was 50. But you would never know it, because he was the kind of man who would wear the same pair of boots until the soles had holes, then he'd take them in to get repaired.  He lived by the old Great Depression adage, "use it up, wear it out, make it do or do without."  One of his most favorite indulgences was milkshakes and he took every opportunity to take Todd with him to get one.
My German grandparents endured tremendous hardships during and after WWII, and in many ways you could say they led lives of quiet heroism.  But despite their earlier years of hardship they never lost their love for life or their sense of humor.  My Opa Heinz' favorite edible luxury was ice cream.  It was tradition every time we visited my grandparents in Stuttgart that we brought my Opa ice cream.  Before the ice cream even made it to the freezer he would eagerly scoop out a serving into a bowl, sit down with a spoon, and slip away into silent ecstasy for the next 15 minutes while the rest of us mingled with our Oma.
If you're a baseball fan you've probably heard of my husband's other grandfather, Baseball Hall of Famer Harmon Killebrew.  Though nicknamed "the Killer" for his incredible batting power, he was one of the most gentle souls you ever met.  When he was on the road during game season he would go back to his hotel room and unwind by removing the lid from a quart of ice cream and going at it with a spoon.  He could finish off the entire thing with ease.
My American grandpa, Leonard, is 92 years old and the only one of our grandfathers still alive today.  Raised on a farm with a work ethic that remains with him to this day, he became a mechanic and worked in the coal mines of southern Utah.  Every year, without exception, he also grew a vegetable garden and tended to his beautiful fruit orchard.  Even now at 92 he still gets up early every morning and finds ways to keep himself useful and productive, mostly outside in his garden, the best kept property in town.  It's been over a decade since my grandma's passing but he still grows a huge vegetable garden that he tends all by himself.   Though battling cancer and chemo he doesn't let anything keep him from his work, and at the end of the day you can find him in the family room in his oversized stuffed chair with a fudge stick or ice cream bar.
So it's only natural that Todd and I both inherited the genetic code that attracts us to ice cream and we've also passed it on to our kids.  And though we practice moderation, our family motto remains: "There's always room for ice cream."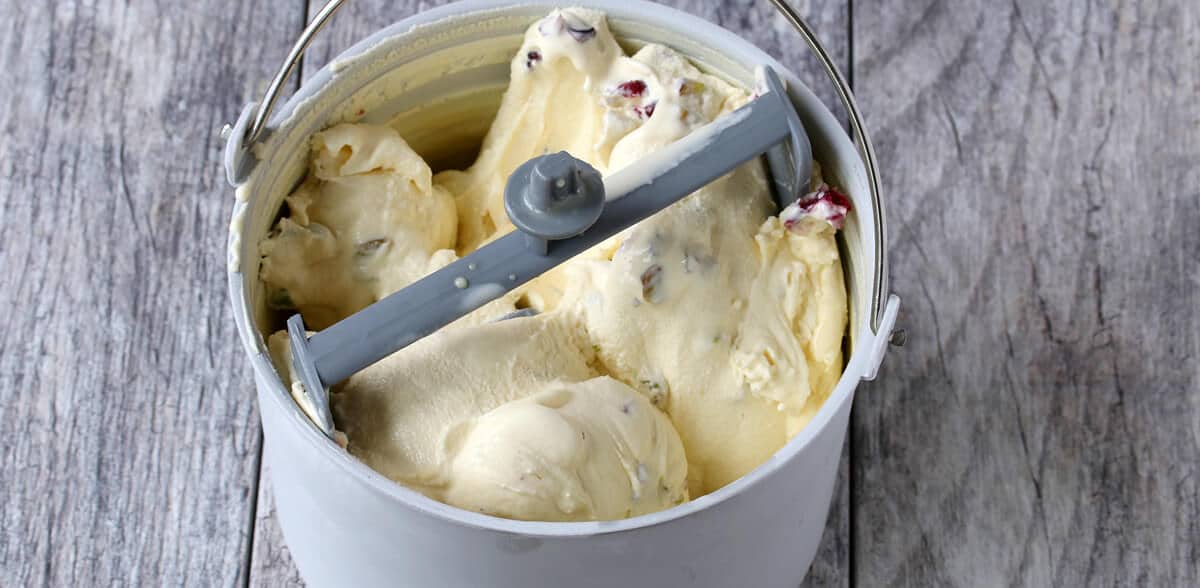 I'm sharing a truly scrumptious ice cream recipe with you today that was inspired by some cookies I developed for Christmas two years ago and that have remained super popular across the web:  My White Chocolate Pistachio Cranberry Cookies.  I wanted to create a cookie that featured the three traditional Christmas colors (without food coloring).  White chocolate was a given, dried cranberries or cherries were perfect for the red, and pistachios are not only green but are one of my favorite nuts.
Now, two Christmases later, I wanted to develop an ice cream along the same theme.  White Chocolate Cranberry & Pistachio Ice Cream.  And so we have a deliciously rich white chocolate ice cream base that's studded with pistachios and cranberries.  The result:  You simply have to try it otherwise you won't believe me how fabulous it is!
So this ice cream is in celebration of Christmas and four truly remarkable men.  I wish they were all still here to enjoy it.  But if there's an ice cream maker in heaven I'll make it for them when I get there.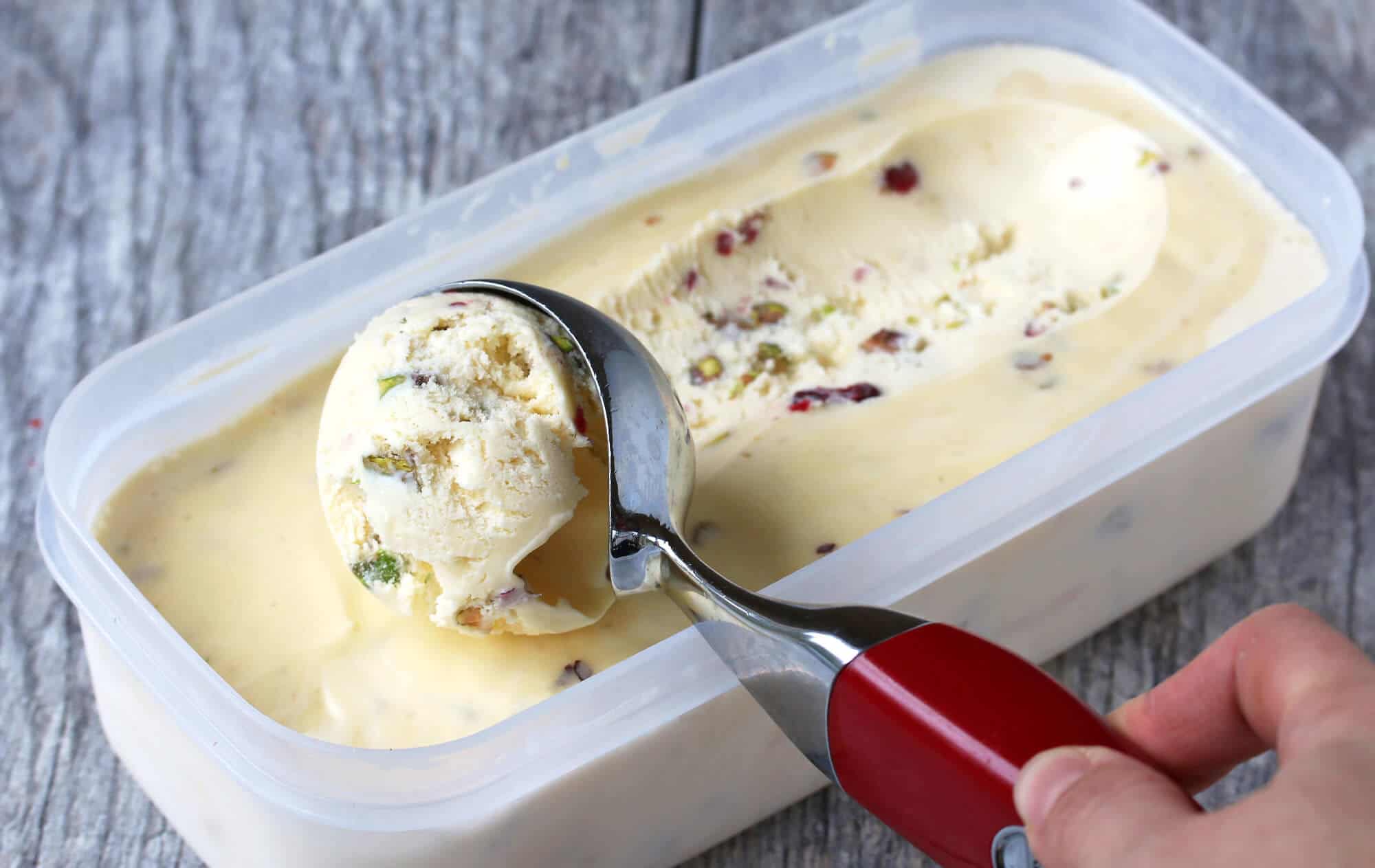 For this recipe we add the cranberries and pistachios in very last instead of simmering them in the custard.  There are two reasons for that:  Color and Flavor.
Color:  Simmering the cranberries in the custard would seep some of their color into the ice cream.  Since this ice cream is showcasing the Christmas colors, I wanted to maintain the white ice cream with the red and green flecks.
Flavor:  The highlight here is the luxuriously rich and creamy white chocolate ice cream that's accented by the pistachios and cranberries.  Simmering would have leeched more of the other flavors into the ice cream base.  When you eat this I want you to be able to distinguish and experience each of the glorious flavors in their own right.
You can use any ice cream maker for this recipe.  I'm making this ice cream in my Cuisinart ICE-100 Ice Cream and Gelato Maker.
We were previously using the Cuisinart ICE-21 for nearly 6 years on a regular basis.  It's still going strong and does an awesome job.  But here are the main perks of the fully automatic 1 1/2 quart ICE-100:
First and foremost it is a compressor ice cream maker.  That means you don't have to freeze an ice cream bowl in advance.  It has its own built in freezing system.  No more having to take up freezer space with an empty ice cream bowl, no more waiting 24 hours for the freezer bowl to be chilled enough before you can use it.  You simply dump the contents into the ice cream bowl, turn on the machine and your ice cream is done.  Want to make another batch or another flavor?  You can make several different flavors back to back.  It's awesome!

 

It comes with two paddles:  An ice cream paddle for making creamy ice cream and a gelato paddle for making authentic Italian gelato.
It has touchpad controls with a blue LCD readout and a 60-minute countdown timer.

It has a 10-minute "keep cool feature" that keeps your ice cream or gelato cool after timer has gone off.

While it certainly isn't a quiet machine, it's significantly quieter than the ICE-21.
Take a moment to watch my jazzy Christmas video featuring the making of today's ice cream!  
Keep watching towards the end to see this ice cream maker in action and to catch a clear glimpse of the glorious texture of this ice cream!  (And please be sure to click the YouTube link on the bottom right and give this video a "like" – thank you!)
Ready to make this?
Then let's get started!
Whisk together the sugar and egg yolks in a medium bowl.
Heat the milk with a tiny pinch of salt up to the point just before it starts boiling – don't let it boil.  It will have formed bubbles.
Add a cup or so of the hot liquid to the egg/sugar mixture and whisk constantly until incorporated.
Whisk this mixture back into the pot with the milk, whisking constantly until combined.
Bring the custard to a simmer, whisking constantly, until thickened enough to coat the back of a wooden spoon.  Add the white chocolate and stir until melted.
Pour the custard through a fine mesh sieve into a medium mixing bowl.
Place plastic wrap over the bowl, pressing it down directly on top of the custard to prevent a hardened film from forming on top.  Chill overnight.
The next day whisk in the cold heavy cream.
At this point you will have already soaked the cranberries in water for about 30 minutes and squeezed them as dry as possible.   You'll also have chopped the pistachios.  Make sure you chop them coarsely or the fine powder will cause the ice cream to be sandy in texture.
Stir the pistachios and cranberries into the custard.
Follow the instructions on your ice cream maker.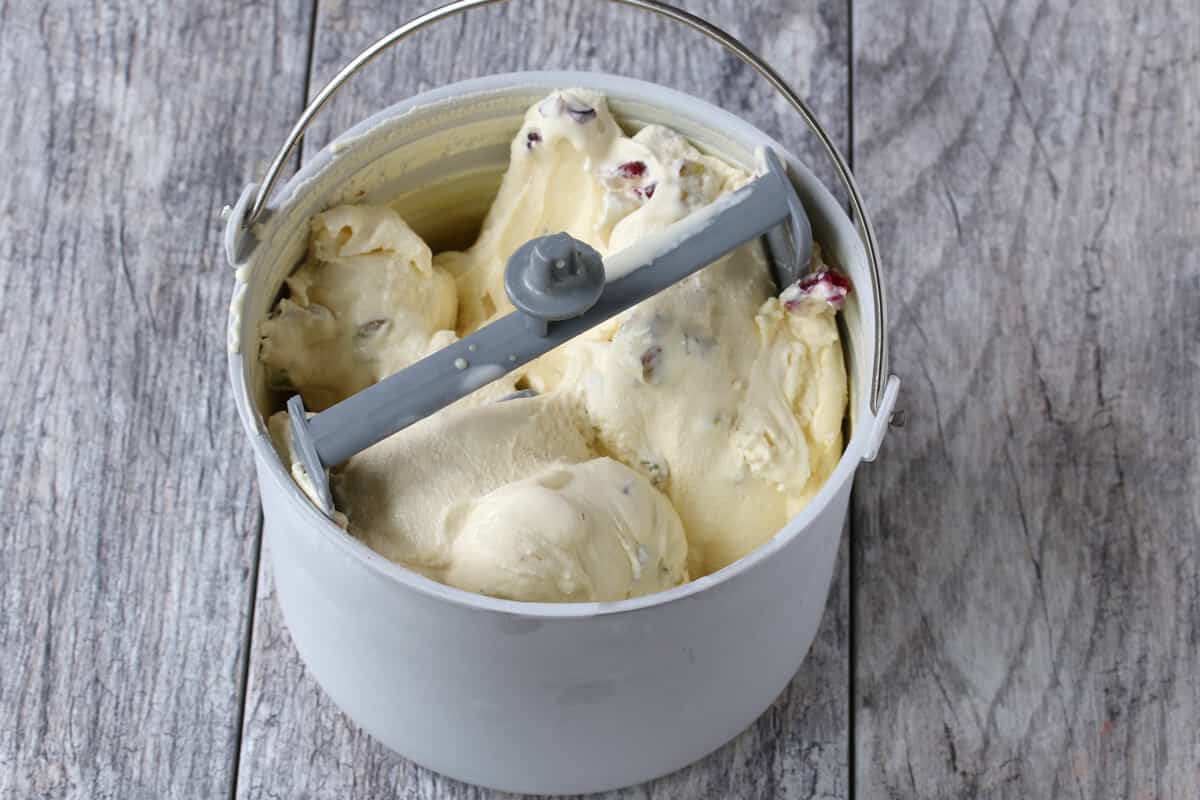 When the ice cream is done, scoop it into a quart-sized rectangular freezer safe bowl.  The shape isn't necessary, but it lets you have a long runway for scooping.  Smooth out the ice cream on top and fit the bowl with the lid.  Freeze for 24 hours for best results, it allows the flavors to develop.
When you scoop out the ice cream, dip the spoon into hot water between scoops.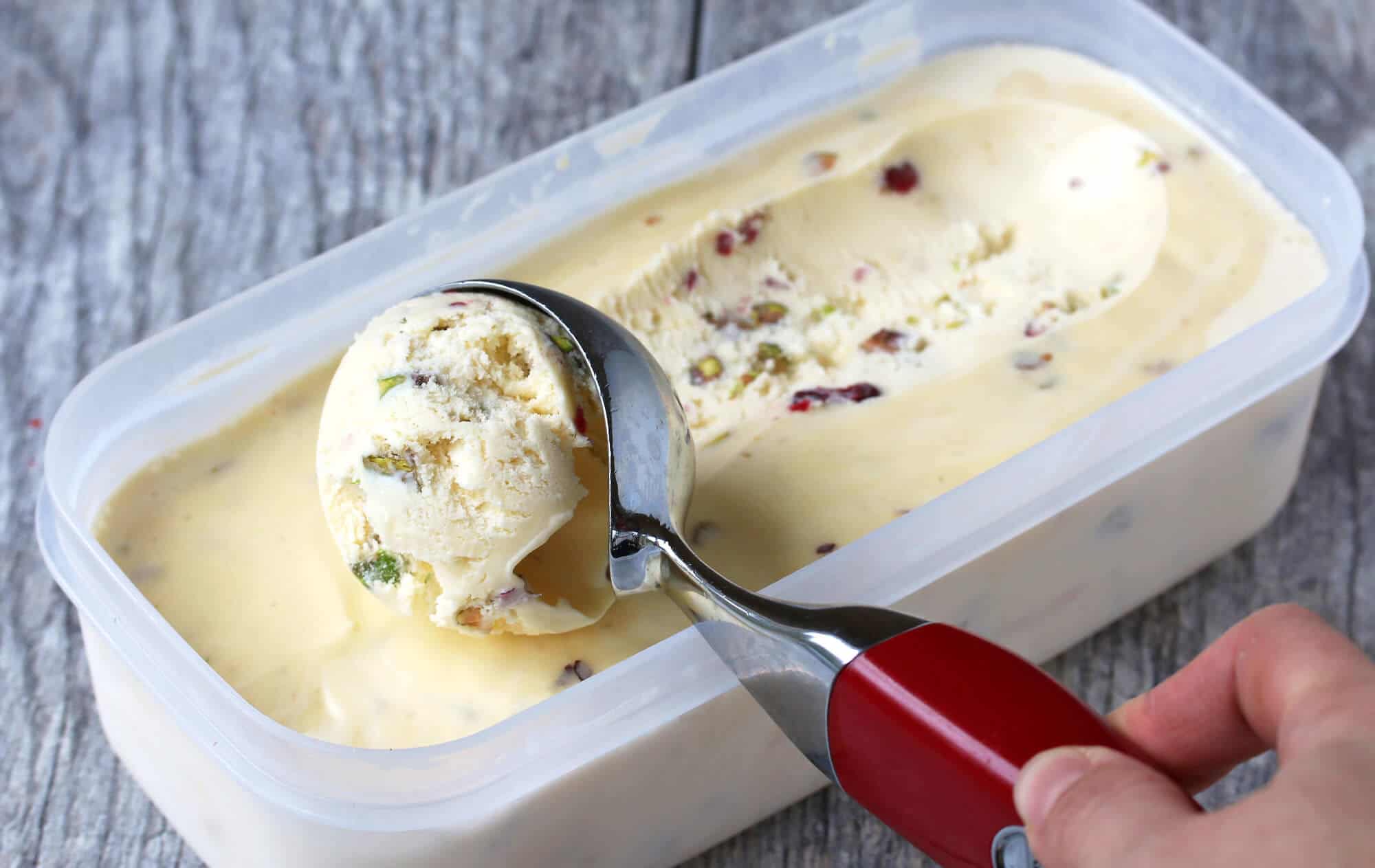 Serve immediately and enjoy!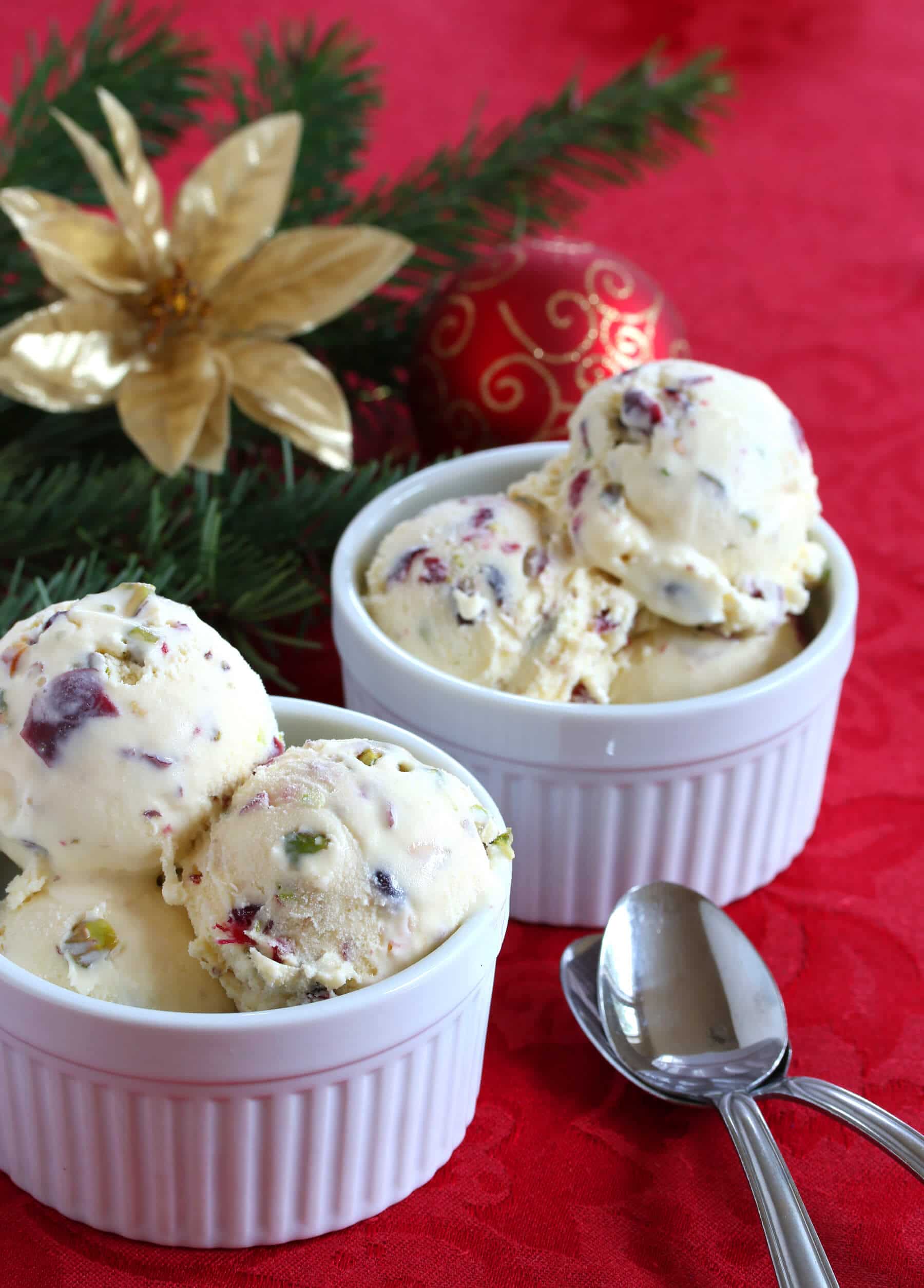 White Chocolate Cranberry & Pistachio Ice Cream
:
Kimberly Killebrew, www.daringgourmet.com
Ingredients
4 large egg yolks
½ cup sugar
1½ cups whole milk
small pinch of salt
4 ounces quality white chocolate chips or coarsely chopped pieces
1 cup chilled heavy cream
½ cup dried cranberries that were soaked in water for about 30 minutes and squeezed to remove as much liquid as possible
½ cup coarsely chopped shelled pistachios (make sure they're coarsely chopped or any finer powder will make the ice cream sandy in texture)
Instructions
In a medium mixing bowl, whisk together the eggs yolks and sugar. Set aside.
In a medium sauce pan over medium-high heat, heat the milk with the salt until it reaches just before the boiling point. Bubbles will have formed on the surface. Do not let it boil.
Whisk about a cup of the hot milk into the egg yolk/sugar mixture and whisk continually until incorporated and smooth. Whisk this mixture back into the pot and whisk continually until combined.
Bring the custard to a low simmer, whisking continually, until thickened enough to coat the back of a wooden spoon. Stir in the white chocolate and continue stirring until melted.
Pour the custard through a fine mesh sieve into a bowl and cover the bowl with plastic wrap, pressing down onto the surface of the custard to prevent a hard layer from forming on top. Chill in the fridge overnight.
The next day stir in the chilled heavy cream, then the pistachios and cranberries.
Follow the instructions on your ice cream maker.
When the ice cream is done, scoop it into a quart-sized rectangle freezer safe container. The shape isn't necessary but it allows you to have a long runway to scoop the ice cream. Smooth the top of the ice cream. Secure the lid and freeze for 24 hours for best results, it allows the flavors to fully develop.
To scoop the ice cream, dip the spoon in hot water in between scoops.
Serve immediately. Best eaten within 2 days.
Cuisinart provided me with the ice cream maker with no obligation to write about it.