Our experience at the Hyatt Regency in Bellevue, Washington.
Above image courtesy Hyatt Regency Bellevue 
Modern, clean and manicured, Bellevue is a scenic city just a 9 miles east of Seattle, nestled between Lake Washington and the Cascade Mountains.  With 100 parks, Bellevue is dubbed "a city in a park" with plenty of green space and beautiful, welcoming neighborhoods.  Designated by CBS as one of the happiest cities in the country, Bellevue's a great place to stay if you want close access to downtown Seattle while enjoying a quieter atmosphere.
While maintaining a small-town atmosphere, Bellevue is home to the national headquarters of over 145 companies, including Microsoft, Expedia, T-Mobile and Nintendo.
A few distinctions Bellevue has earned:  Ranked #4 "Best Place to Live" by CNN, the 9th "Safest City in America", and one of the "Coolest Suburbs Worth Visiting" by Travel + Leisure.
Things To Do In Bellevue
Image courtesy Seattle PI                           
Bellevue is home to one of the highest performing retail markets in the country. Blending boutique culture with upscale retail, Bellevue is the Northwest's premier shopping destination. The bustling Bellevue Collection boasts 250 stores and 45 restaurants and lounges.  The Bravern (pictured above) brings additional fashion icons to the city, including the region's only Neiman Marcus, and high-end designers Louis Vuitton and Hermes, among others.
Bellevue is located just minutes away from numerous outdoor adventures, including boating opportunities on Lake Washington, skiing at Summit and Stevens Pass, kayaking down the mountain rapids of the Skykomish, teeing off at one of the nation's best golf courses with panoramic views of Mt. Rainier and the downtown skylines, and zooming down a 458 foot long zip line 80 feet off the ground.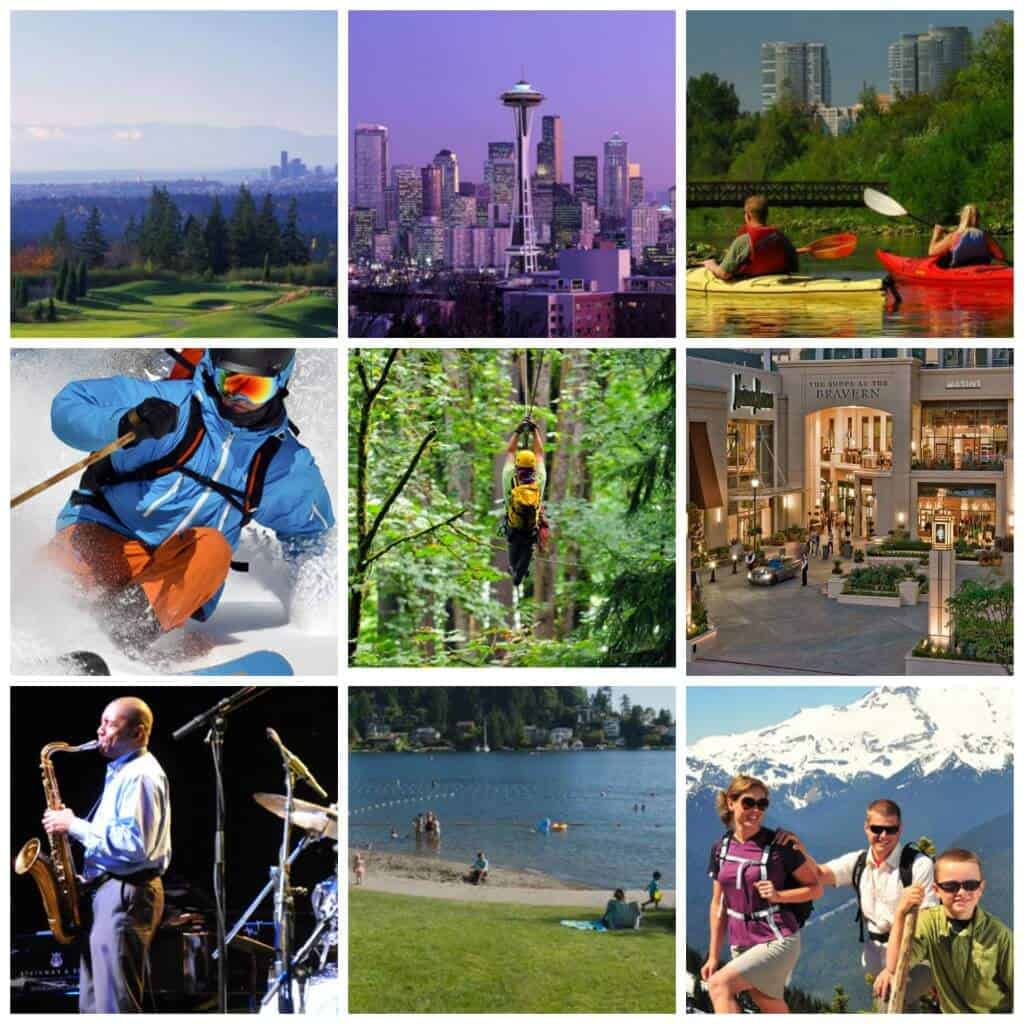 Above images courtesy visitbellevuewashington.com and bellevue.com (click links for more information on Bellevue and events)
Amidst the city's attractions, my husband and I recently stayed at the Hyatt Regency Bellevue to enjoy some couples time while our kids enjoyed a break from us to soak up some quality time with the grandparents.
The Hyatt Regency is the largest hotel in Bellevue with 732 guestrooms, including the 1,500 sq ft Chairman Suite.  It has over 70,000 sq ft of meeting spaces, one of the largest ballrooms in the Pacific Northwest, and a state-of-the-art auditorium.  In fact, our first introduction to the Hyatt Regency Bellevue was when my husband attended a medical conference there a couple of years ago and invited me along for the entertainment portion.  You got it – food!
The hotel Hyatt Regency Bellevue is stunning in its design, showcases numerous regionally- and nationally-acclaimed artists, and enjoys a variety of amenities.
Let me take you on a virtual tour of our experience.
Hyatt Regency Bellevue:  Premises
With its majestically high ceilings and skylights, the Wintergarden is beautiful and inspiring. Soft lighting and a multitude of greenery create and atmosphere that is simultaneously cozy and grand.
A walk down the hallway will allow you to enjoy a few of the many pieces featured throughout the hotel by numerous regionally- and nationally-acclaimed artists. And speaking of art, if you're musically inclined like my husband and I are, you'll appreciate the classic 1899 Steinway on display.
The hallway toward the Wintergarden and the front desk.
The lounge has a cozy fireplace and something I had never seen or heard of before, a massive "media table" as big as the sofa.
Hyatt Regency Bellevue:  Amenities
We enjoyed access to the 25 meter heated indoor swimming pool and 7,000 square foot fitness center.
Swimming pool image courtesy Hyatt Regency Belleuve
There are several shops located within the Hyatt that you can browse through at your leisure:  Art, jewelry, flowers, gifts, drinks, clothing, etc.
More shops within walking distance of the hotel include Burberry, Nordstrom, Hermes, Neiman Marcus, Jimmy Choo, Michael Kors, Salvatore Ferragamo, Macy's and more.
There are several restaurants and lounges within the hotel complex to choose from.  They include Eques (more on that below), Suite, Koral Bar & Kitchen, Joey Bellevue and Daniel's Broiler.  Other fabulous restaurants within a block or two of the hotel include Wild Ginger, El Gaucho and Pearl.  Many more restaurants are accessible within a short distance of the hotel.
Hyatt Regency Belleuve:  Guest Room
We stayed in the 505 square foot Executive Suite, featuring a separate living area with panoramic views of Mount Rainier, Lake Washington and Bellevue.  The bedroom had an ultra-comfortable king-size bed and its own 32″ flat screen HDTV. The separate living area featured a queen-size sleeper sofa, an additional 32″ flat screen HDTV, an iHome stereo with iPod docking station, and your choice of wired or Wi-Fi internet access.  
Bedroom image courtesy Hyatt Regency Bellevue (ours was a king bed)
The bathroom featured Kohler fixtures (I have a thing for quality showers) and a full line of KenetMD bath products.
The room's separate living space – with us in it.  Yes, a rare peek of the Killebrews.  Here's us singing duets together.  We actually do that for fun.  Yes, we're a little nerdy.
The view from our room with Lake Washington in the distance.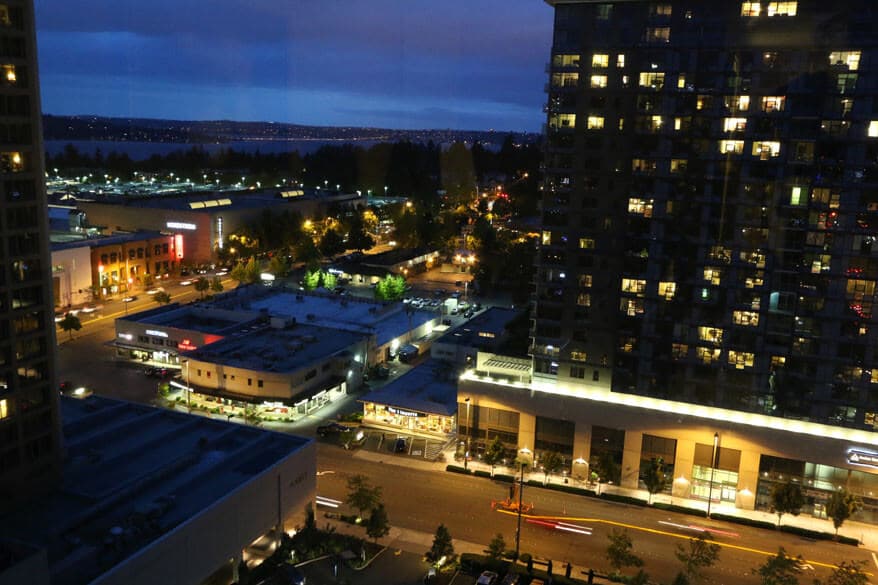 Hyatt Regency Belleuve:  Eques for Breakfast
Now, let's talk FOOD!
We enjoyed breakfast the next morning at Eques, located on the second floor of the Wintergarden at Bellevue Place.
Their website's description captures it perfectly:
"Eques serves up fresh a la carte breakfast and an American-style buffet seven days a week using high-quality, locally-sourced ingredients. The restaurant not only aims to revive Bellevue's power breakfast, but also focus on providing a thoughtfully-created menu that combines classic comfort dishes with exciting Northwest flavors. The 129-seat eatery…provides Eastside executives, visitors and locals with a bustling café atmosphere to start the day."
Eques offers a sumptuous breakfast buffet highlighting locally produced regional specialties with plenty of options to choose from.
Here are some of the options we enjoyed:  Locally smoked salmon, salami, Beecher's cheese, fresh fruit and berries, and creamy yogurt for our morning dose of probiotics.
Their hot selection included everything from bacon and scrambled eggs to gourmet sausages, roasted potatoes with peppers and onions, and pancakes (I believe they were apricot almond pancakes – yum!).  You can also select from bagels, croissants and traditional cold cereals.
The variety was both pleasing to the eye and palate.
I couldn't get enough of those amazing little sausages.  And the scrambled eggs were perfectly light and fluffy.  I also loved the condiment trays on each table, featuring mini jars of Tabasco sauce, ketchup and Bonne Maman jams and honey.
While I enjoyed the buffet, Todd ordered one of his all-time favorites:  Eggs Benedict, one of Eques' signature dishes, with your choice of shaved prosciutto, locally smoked salmon, or Alaskan Dungeness crab.  Todd chose the salmon and it came served with tempura lemon and caper cream.
Beautifully arrange and prepared perfectly, Todd was in heaven.
Eques not only features healthy options, but also provides several sweet indulgences.  We couldn't leave before trying two of their other signature dishes and the chef prepared a small sample of each:
Blueberry Graham Cracker French Toast.  Featuring macrina brioche, mascarpone, blueberry compote, vanilla bean cream, almonds and Misty Mountain lavender honey.
I can't even get past that description without drooling.  Just look at it!
We also enjoyed the Banana Split Pancakes featuring mascarpone cream, strawberries, bananas, roasted peanuts and chocolate shavings.  Really, does breakfast get any better than this?  Soft, chewy, crunchy, creamy, sweet…the sinful indulgence was oh so worth it.
Dessert for breakfast?  You won't have to twist my arm!
We enjoyed a very comfortable stay with a thoroughly satisfying breakfast at the Hyatt Regency Bellevue.
Planning a trip to Bellevue?  Right now the Hyatt Regency Belleuve is offering a couple of special package deals right now for those interested in experiencing Washington wines as well as a special offer for Canadian residents.  See their "Offers" section for more details.  (Offers change periodically, check for updates)
For more information visit their website:  Hyatt Regency Belleuve
900 Bellevue Way NE
Bellevue, WA 98004-4272
Tel: (425) 462-1234
 *Disclosure:  The Hyatt Regency Bellevue provided us with a complimentary stay and breakfast with no obligation to write a positive review.  I only share products and services with my readers that I personally like and, as always, all opinions are entirely my own.