This post contains affiliate links.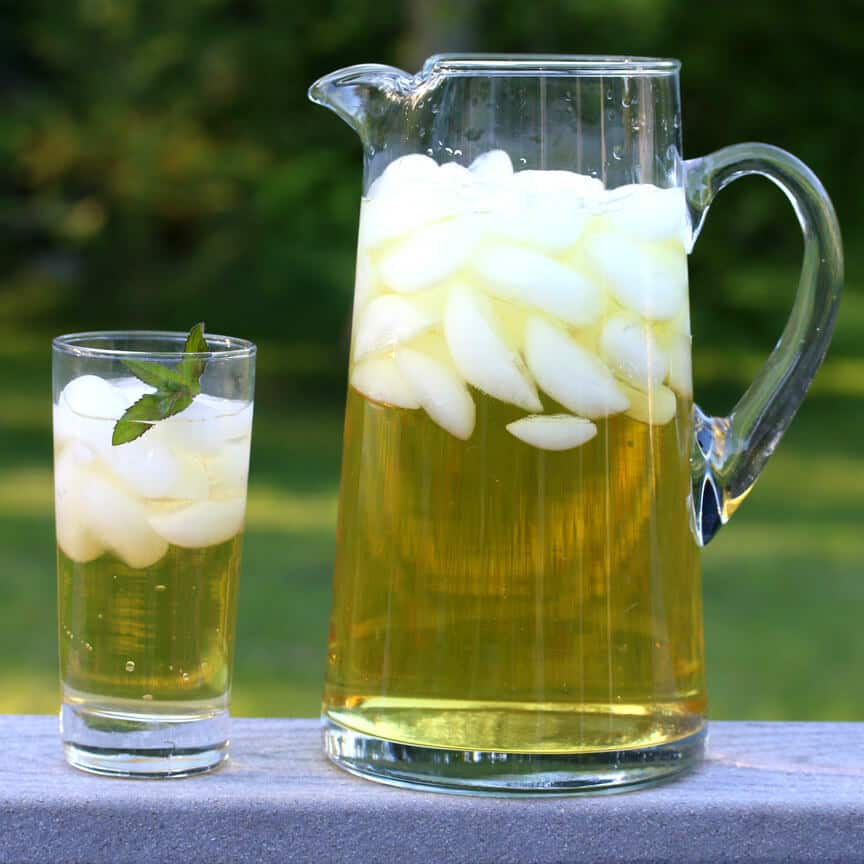 Here is a simple and refreshing drink to cool you off this weekend and throughout the Summer.
My herbs have been soaking up the unusually hot WA Summer sun the past few weeks and my basil in particular is loving it.  (So are the weeds.)  Basil is always terribly uncooperative here but this dry 85 degree+ weather has been making it flourish.  I'm hoping the basil bushes get massive so we can eat pesto all Summer to our heart's content!
Peppermint doesn't have quite as many uses as basil does, at least not in bulk quantities like when making pesto.  A few leaves here and there, sure, but I needed to find a good use for large handfuls at a time so I can keep my peppermint bush from overtaking my herb garden.  Iced peppermint tea was an obvious choice but I wanted to make it a bit more interesting.  Combined with apple juice it's the perfect cold drink.
Next I'm going to experiment with some lavender.  Doesn't that sound lovely?
Whether you grow your own peppermint or can buy it in the store, get a good packed cup's worth of it.  If you prefer a stronger peppermint flavor, use more.  If you rather have the peppermint flavor be far more subtle, use a little less.  And if you prefer it a bit sweeter, stir in a bit of honey.
Simple put the peppermint leaves in the boiling water, cover, and let sit for 15 minutes or so.  Drain and let the tea cool.  Add the apple juice and chill, and then serve with ice.  It's wonderfully refreshing!
A simple and delightfully refreshing drink, this Iced Apple Peppermint Tea is just what the hot Summer weather calls for!
Iced Apple Peppermint Tea
:
Kimberly Killebrew, www.daringgourmet.com
Ingredients
1 cup packed fresh mint leaves, washed (use more or less depending on desired amount of peppermint flavor)
3 cups boiling water
3 cups 100% apple juice
Ice
Instructions
Add the mint leaves to the boiling water, cover, and let sit for 15 minutes. Drain and discard the mint leaves. Let the peppermint tea cool completely. Add the apple juice and chill. If you prefer it sweeter, add a little honey. Serve with ice.
Pin it for later!