Today we're featuring Indochine Asian Dining Lounge in Tacoma, Washington.
Situated in the heart of downtown Tacoma's cultural center, Indochine should be a landmark.  Walking into this restaurant is like walking into an Eastern palace featuring majestically tall ceilings, fine window drapery, a sea of highly polished cherry wood, and an architectural medley of iron, brick, and steel.  I'll let the pictures speak for themselves:
While the atmosphere is jaw-droppingly majestic and beautiful, the prices – thankfully – don't reflect that.  Indochine is a family-run establishment and the owners, Ly and Russel, and the staff are friendly, warm and gracious.  The story of the family is as compelling as their restaurant.  Having fled Cambodia in 1979 to avoid the mass genocide, Ly's family ended up in Thailand where they were sponsored by First Baptist Church of Federal Way, a town just 12 miles north of Tacoma, and eventually settled in the safe harbors of the Pacific Northwest where her parents opened up their first restaurant.  Though having studied fashion in Paris, Ly's passion is food, which is evident in every item on the menu.  While Ly is creative force behind many of Indochine's dishes, her husband Russel, who left a successful career in software to join the family in establishing the restaurant, is the artistic mastermind behind Indochine's construction.  Their united talents and dedication have resulted in an eating establishment that is truly remarkable both in taste and appearance.  Both mind, heart and soul has gone into its making.
Now on to the food!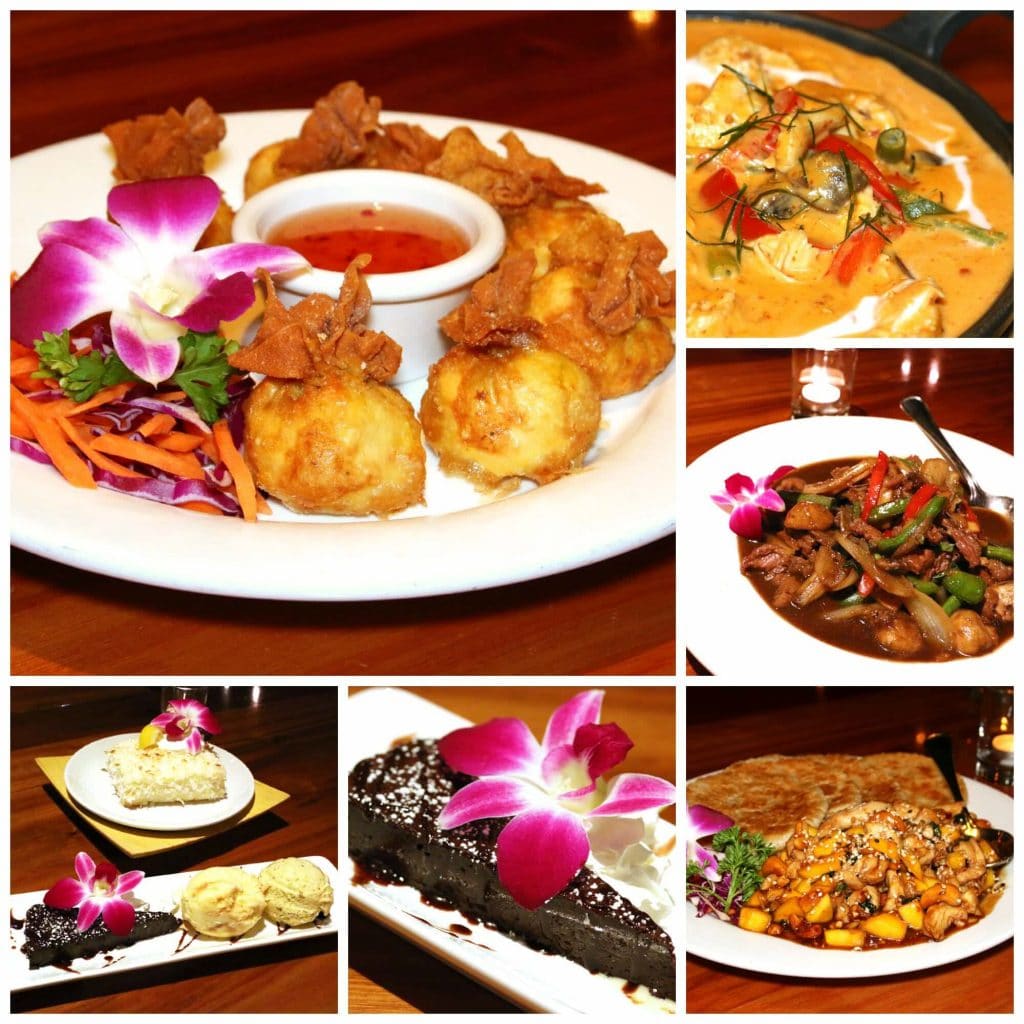 For the starters my husband and I ordered their Crab Wontons and the Toasted Sesame Chicken Wraps.  The Crab Wontons are stuffed with Dungeness crab, cream cheese, cilantro and garlic and are served with sweet chili sauce.  Delicious!  As for the Toasted Sesame Chicken Wraps, let me just say that the title doesn't even begin to do this dish justice.  Tender chicken is tossed with roasted whole cashews, peanuts, fresh mango and Thai basil in a drippingly delicious caramelized sauce.  And as heavenly as that part was, it was the "flaky flatbread" that sealed the deal.  I learned from our superb waiter, Chad (who really scored in making some fantastic recommendations and who I found out is also one of the managers) that Ly, the owner, crafted these delectable pastries herself after long, careful experimentation.   More like buttery puff pastry than anything else, they're a culinary masterpiece.  And even though this was only the starter – and a very large one at that – with two more courses to come, I couldn't resist scooping up every last morsel and lapping up every last drop.  My husband said he's never seen me get so animated over a starter before.  And I've been craving it ever since.
For our entrees we had the Panang Chicken Curry and the Spicy Basil Beef.  The Panang Chicken Curry featured a luxuriously creamy peanut-based red curry sauce topped with aromatic kaffir lime leaves.  The flavor was wonderful and we chose some jasmine and saffron rice to accompany it.  My husband chose 4 out of 5 for the heat level, so I wasn't able to indulge as much as I would have liked.  And now that I think about it, that's a pretty darn smart tactic for keeping all the good food to yourself – crank up the heat so high that no one else will touch your precious food! Hmmm, I'll have to take that up with my Panang Chicken Curry-hoarding husband later ;)  The Spicy Basil Beef was sublime.  A Thai-inspired dish featuring fresh seasonal vegetables cooked to perfection with just the right amount of "crisp" and tender spicy beef in an ultra-flavorful hot basil sauce.  I took some home with me for my dad who babysat for us.  He thoroughly enjoyed it.
Finally, the dessert.  There was barely enough room left for it, but we couldn't leave without sampling the sweet side of Indochine.  And we were glad we didn't.  We tried the Nemesis Flourless Chocolate Cake with Gelato (we tried two flavors) and the Lemon & Coconut Cake with Coconut Creme.  Both were delightful and we especially loved the ice cream.  Indochine makes all of their gelato in-house.  And they have quite the selection!  We tried their Salted Caramel and Pistachio gelatos.  Outstanding.  It was the final touch of the royal treatment we had enjoyed in the form of a stunning atmosphere and exquisite food
If you want to experience a touch of the majestic along with the best Asian food you've ever tasted, you're going to have to come to Tacoma.  Because that's where it is.  Indochine.
For more information, visit their website:  Indochine – Asian Dining Lounge
1924 Pacific Ave, Tacoma, WA 98402
(253) 272-8200
*Indochine hosted us as their guests, as always all opinions are entirely my own.