I received this KoMo grain mill for review.  As always, all opinions are entirely my own.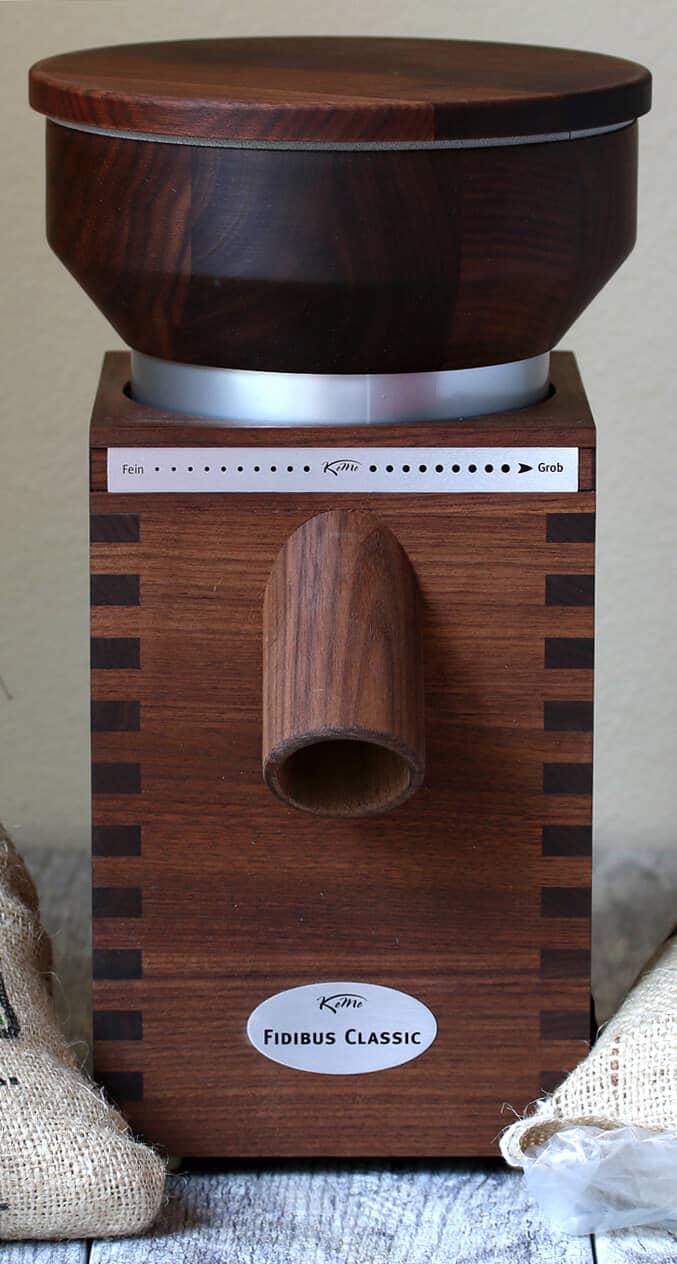 The KoMo Classic Grain Mill has changed my life.
Okay, that's a little dramatic, but in some aspects it really has.
When I first saw the KoMo Classic Grain Mill, admired its aesthetic beauty and saw that it's made in Germany, I knew I had to investigate.  I popped over to Pleasant Hill Grain, KoMo's exclusive U.S. importer, to check it out and chat with their staff about its features, and then spent some more time reading reviews online.  I made the decision to get one.
When I first got it nearly two months ago I thought I'd probably use it once, maybe twice a week.  Without exaggerating, I use it at least 4 days a week, and sometimes that's more than once per day.
Whether it's to make some fresh flour for cookies, muffins or bread, to grind some yellow dent corn into polenta or fine cornmeal for dinner that evening, or crack some oat groats to soak overnight for the next morning's breakfast, I'm continuing to discover more and more ways to put it to work as a daily part of our healthy eating routine.
Using my KoMo grain mill has bumped up my love of baking several more notches and has made experimenting with a wide variety of grains so easy – grains that you simply cannot find in ground or cracked forms in the grocery store.  When you have your own grain mill, the sky's the limit!
My grain mill has become kind of like a cell phone – once you have one and start using it you can't imagine life without it.
I don't even buy flour anymore.  I grind everything fresh as I need it.  The KoMo produces a half pound of flour in 2 minutes.  No set up, no clean up, it's a cinch.  I get my whole grains in bulk from Pleasant Hill Grain (all natural, organic & non-GMO) and just take out however much I need for a couple of weeks at a time and store the rest in the heavy airtight, mylar-lined buckets they come in.
My pantry wall is lined with food storage containers filled with dozens of different grains, beans and other dried ingredients.  This is just a portion of it.
The KoMo Grain Mill is the result of a German-Austrian collaboration by Wolfgang Mock and Peter Koidl.  Their aim was to produce top performing grains mills, both commercial and for the home kitchen, that are built to last a lifetime while also making them aesthetically beautiful enough to become a focal point of any kitchen.
Pleasant Hill Grain is KoMo's exclusive U.S. importer.  Purchasing from them means you can be assured that you're getting a genuine product with KoMo's warranty while also receiving the excellent customer service that Pleasant Hill Grain is famous for.
Features of the KoMo Classic Grain Mill:
German-made and top quality craftsmanship
beautiful in appearance (worthy of leaving out on your counter as a showpiece)
made from durable beech wood or American walnut
relatively quiet compared to other grain mills
ultra hard, long-lasting millstone.  Stones vs. metal burrs produce a finer grind and heat up less quickly than metal, thus preserving the nutrients
it's heavy, 16 pounds, and doesn't slip or slide while in use
360 watt industrial strength motor
it's fast:  It produces 8-9 ounces of fine flour per minute
its solid wood hopper holds 2 pounds of grains at a time and can run continuously so you can refill and keep grinding for whatever quantity of flour you need
easy to use,  just plug it in and flip the switch
it can grind all dry grains, including soft or hard wheat, oat groats (dehulled oats), rice, triticale, kamut, spelt, buckwheat, barley, rye, millet, teff, quinoa, amaranth, sorghum and dent (field) corn.  It will also grind lentils, dry beans (pinto, red, garbanzo, kidney & more), and dried, non-oily spices.  Most grain mills can't handle garbanzo beans but the KoMo Classic can.  *Check out my video below where I demo the KoMo grinding 13 different ingredients.
easy to adjust the fineness of the grind, everything from cracked grains to the finest flour of any other electric grain mills
cleanup is minimal (it's self-cleaning) and full access to the milling stones takes just ten seconds, without tools.
comes with a 12 year warranty
Really my only disappointment is one that applies to all electric grain mills and that's that you can't grind nuts or oily seeds.  But again, that's not unique to the KoMo, that's true for any electric grain mill.  But with the KoMo if you do grind something that has a little moisture or oil in it there's an easy remedy:  Simply run some rice through the mill and it cleans out the millstone.
One other thing that I would mention:  You technically shouldn't grind dried sprouted grains in the KoMo because of the possibility of some moisture left in the grains.  But I've done it a couple of times so far anyway with success and here's how:  I didn't let the sprouts grow very long and made sure to completely and thoroughly dry them out in the food dehydrator.  Because of the little dried sprout tails it took a little longer to grind the flour and to coax the grains down the hopper, but it worked.  And I had two gorgeous batches of organic sprouted whole wheat flour.
Check out this gorgeous line of KoMo grain mills (and there are even more of them than pictured here).  I should start collecting each model.  (Yeah, that's not going to happen.  But it never hurts to dream.)
If you're gluten-free you'll especially appreciate the long-term savings you'll reap by having your own mill.  GF flours are expensive!  But with a grain mill you can whip up a pound of brown rice, amaranth, chickpea, oat, millet or buckwheat flour (and many more) for just the price you paid for the bulk grains.  In many instances you save 50% of the cost by grinding your own.
The KoMo Classic Grain Mill isn't cheap but there are two things that are strong selling points for me:  1) It grinds flour more finely than any other electric grain mill on the market plus it's also able to crack the grains more coarsely than other mills.  2)  It has a 12 year warranty.  And from everything I've read about them, they're really built to last a lifetime.  I hope to have mine for a very long time and someday when I'm too old and feeble to press the "on" switch I'll pass it down to one of my kids.
Bottom line:  I LOVE my KoMo Classic Grain Mill.  It can be purchased at Pleasant Hill Grain or on Amazon.


Check out my video below where I use my KoMo Grain Mill to make Easy Danish Rye Bread: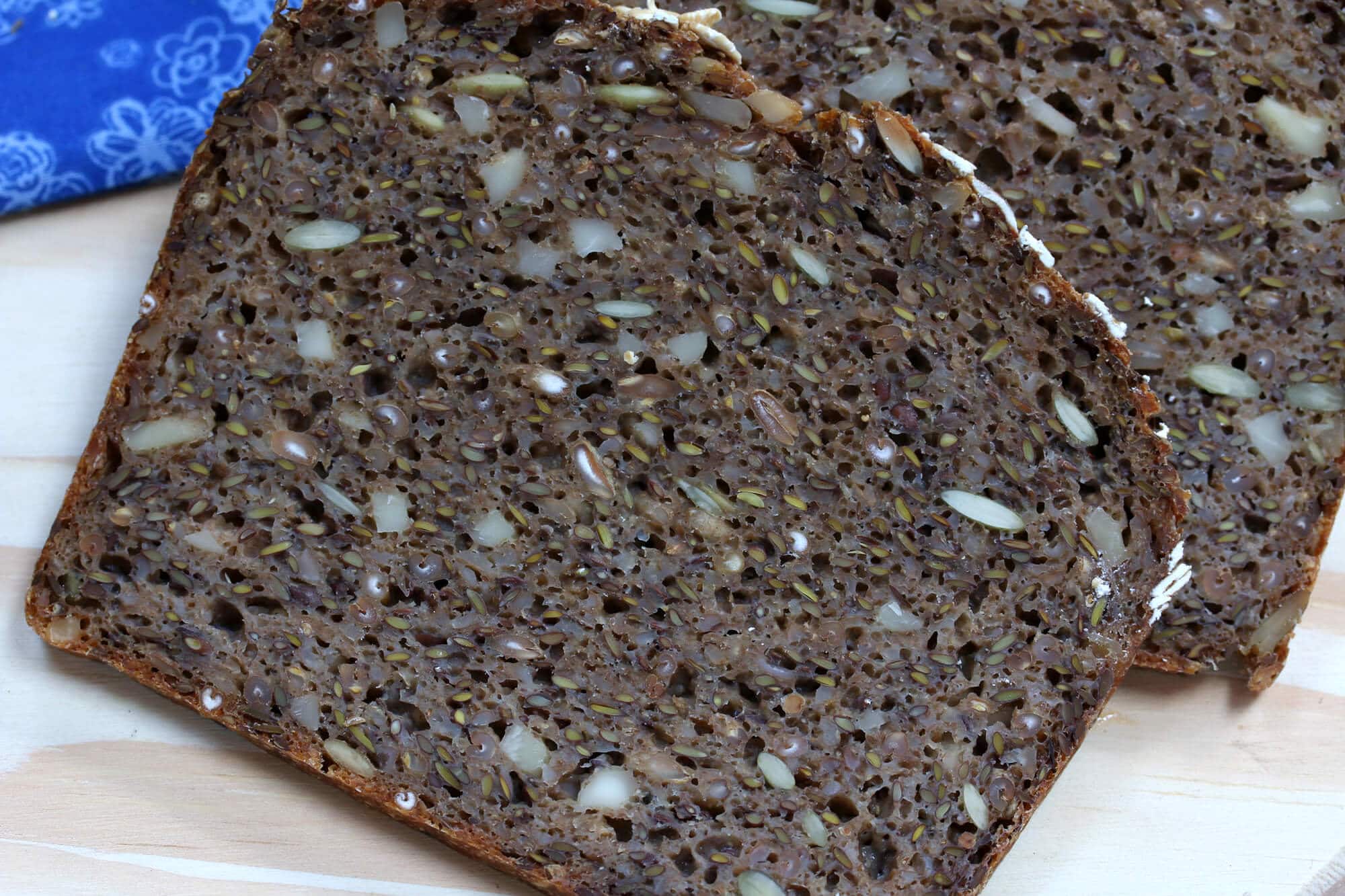 Be sure to also check our my recipe for German Vollkornbrot (German Whole Grain Bread).
I have one more video for you.
And I'm going to admit to something crazy.
Just for fun, I filmed the KoMo Classic Grain Mill grinding 13 different ingredients, one after the other, to see how it would keep up and how it would perform with various grains and beans.
In the end I had 13 different flours and because I'm crazy (okay we'll just call it "daring") and because I didn't want it all to go to waste, guess what I did with it?
"You didn't, Kimberly!"
"Yes…I did."
I threw all 13 flours in one big bowl, added some wet ingredients and fermented it for two days to make a 13-grain/bean batter for insane pancakes and a loaf of crrrrrazy bread!
Yeah, I fully expected it was going to taste pretty bad…but man, it was actually pretty darn decent, especially the pancakes!  The wonders of fermentation.  Check 'em out:
CRAZY 13-FLOUR PANCAKES AND BREAD!!

In my video below you'll see all 13 grains/beans that went into these pancakes and bread.
SEE THE KOMO CLASSIC GRAIN MILL IN ACTION!!
I am so excited to know that one of you will be the proud winner of a KoMo Classic Grain Mill!  This giveaway is open to both my U.S. and Canadian readers.  This giveaway has ended.
Disclosure:  I was given a KoMo grain mill to review with no obligation to write a positive review.  I love my grain mill and wanted to share my experience with you.  No further compensation was given and, as always, all opinions are entirely my own.