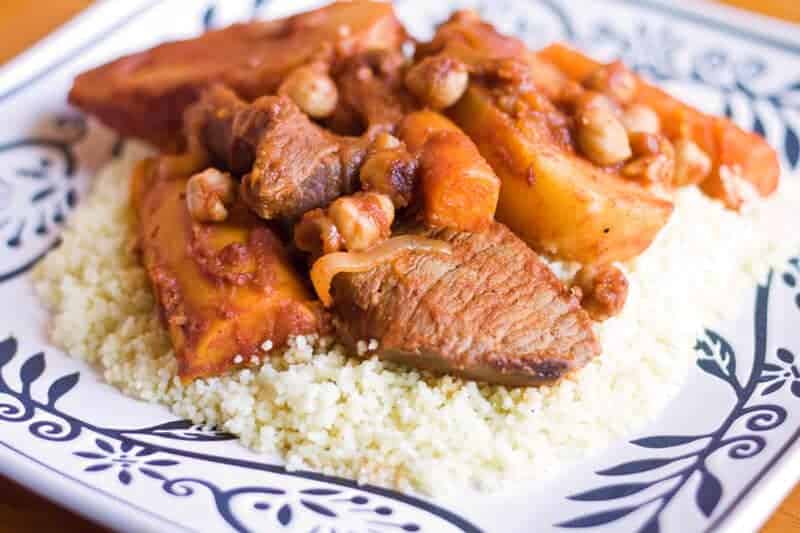 The national dish of Libya is couscous, commonly prepared like this, with stewed beef, sweet potatoes, carrots and garbanzo beans in a spicy hararat tomato sauce.  It's a warming, hearty, comfort dish featuring a delicious blend of Middle Eastern spices.
Couscous is fabulous. If you haven't had it before, give it whirl and you'll be glad you did.  Many people mistakenly think of it as a grain.  It's actually semolina, or granules of durum wheat – like tiny bits of pasta.  You can buy it in white and whole wheat varieties.
Another feature of this dish is Hararat, a special Libyan "Five Spice" seasoning blend commonly used in soups and stews.  Ohhhh, those wonderful Middle Eastern spices…I stocked up on them on them at the markets over there, brought them home to "deconstruct", and have been making my own spice blends since.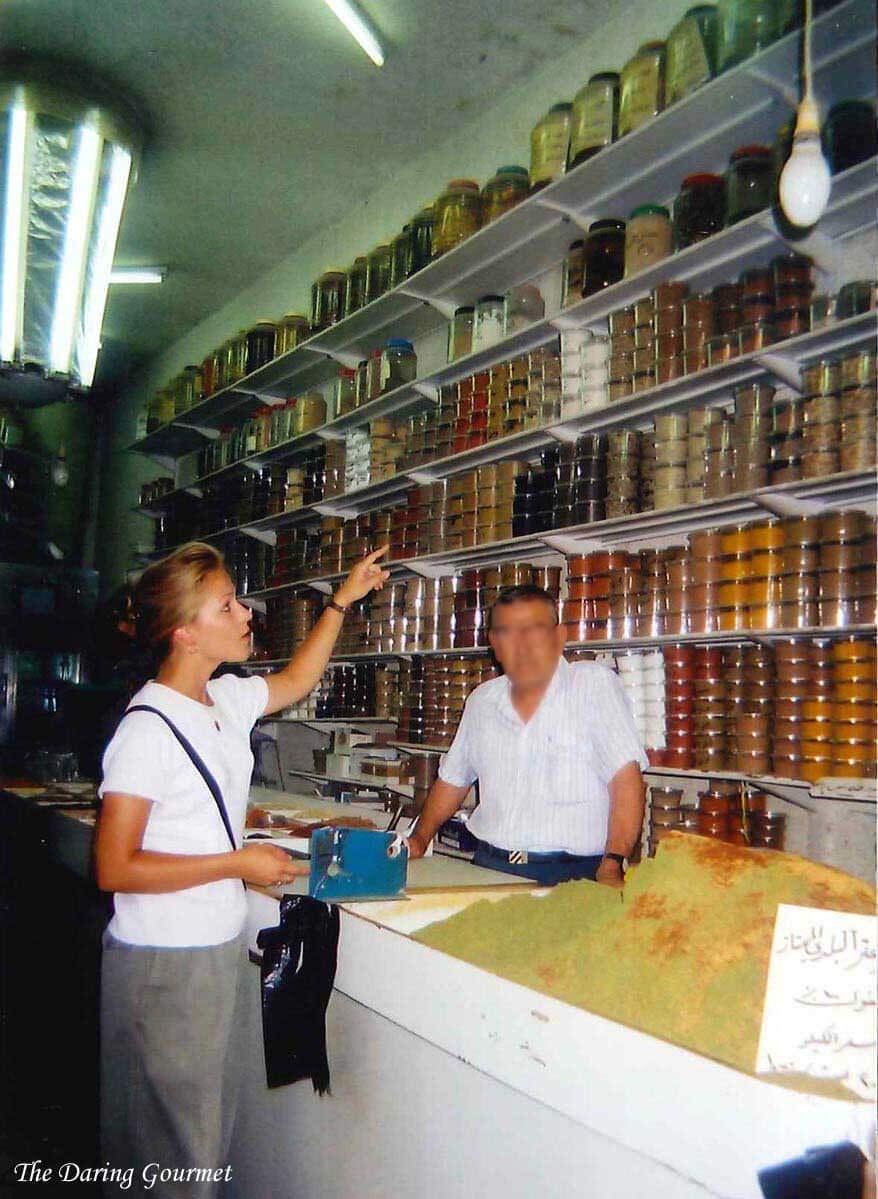 A predominant ingredient is cinnamon, which is used all around the world, but it's especially popular in Libya.  Hararat is a flavorful, aromatic blend of cinnamon, coriander, cumin, red chilies and allspice.  And the next question on your lips…
Where can I find it?
Unless you have an extremely well-stocked Middle Eastern store in your area or find it on some obscure website for purchase, you're pretty much out of luck.  However, as with any spice blend, it makes such a difference in the flavor outcome of your dish when you make it fresh yourself, so I'm going to share my recipe for it with you.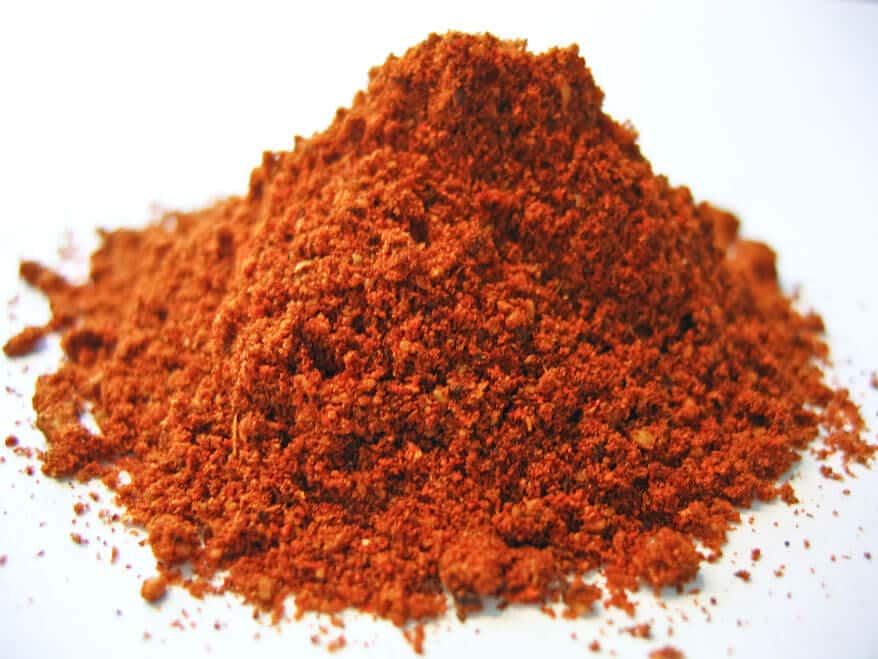 This spice blend pairs beautifully with the tender beef in this dish.  Speaking of beef, here I am in the Arab markets in Jerusalem.  Which cut would you like to purchase?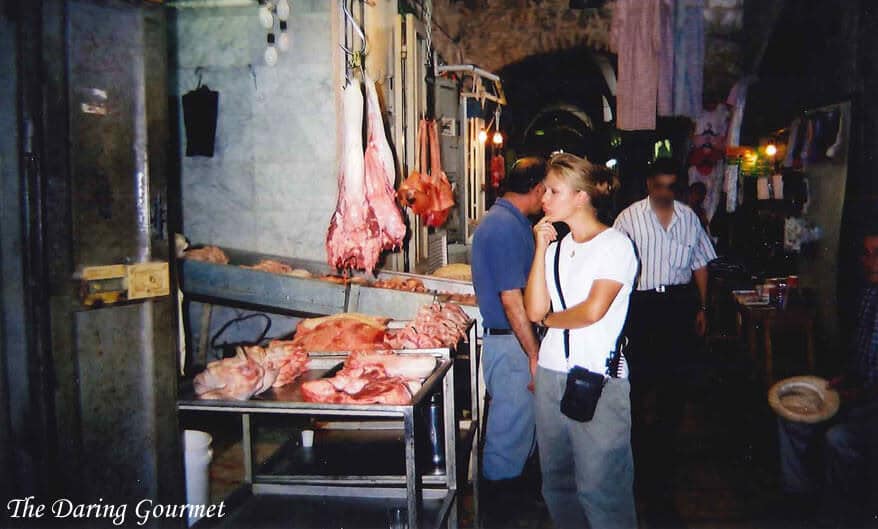 It's always such a tough choice.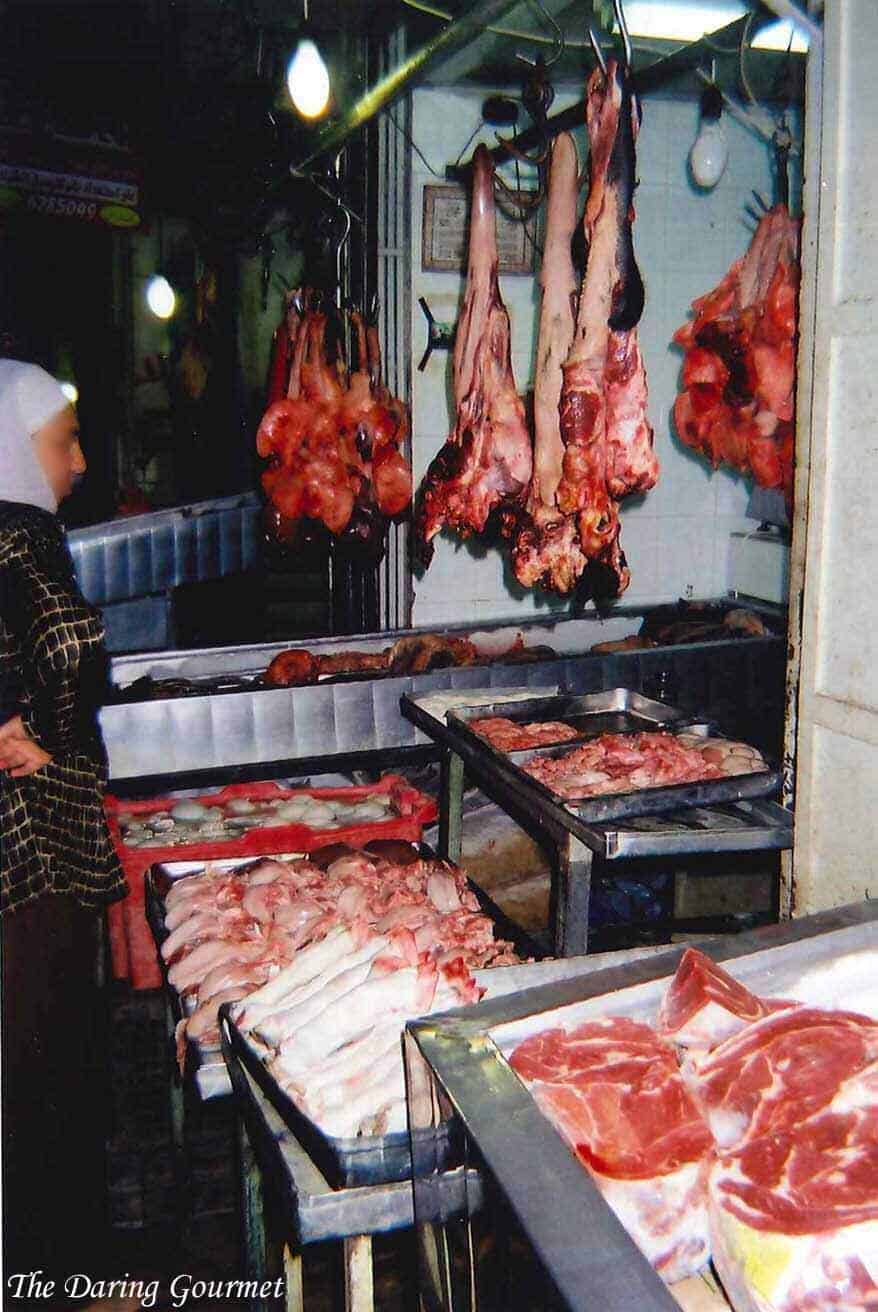 Now that your appetite has been whetted, let's get started! :)
To prepare the couscous, simply add the water to a medium saucepan along with the salt and olive oil, bring to a boil, add the couscous, immediately turn off the heat, cover, and let sit for 15 minutes.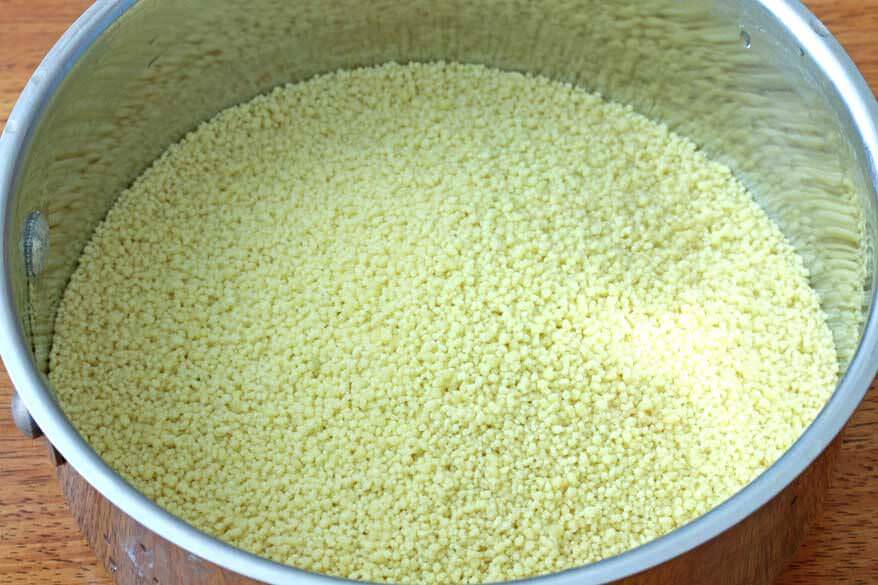 After 15 minutes, fluff it with a fork.  That's it!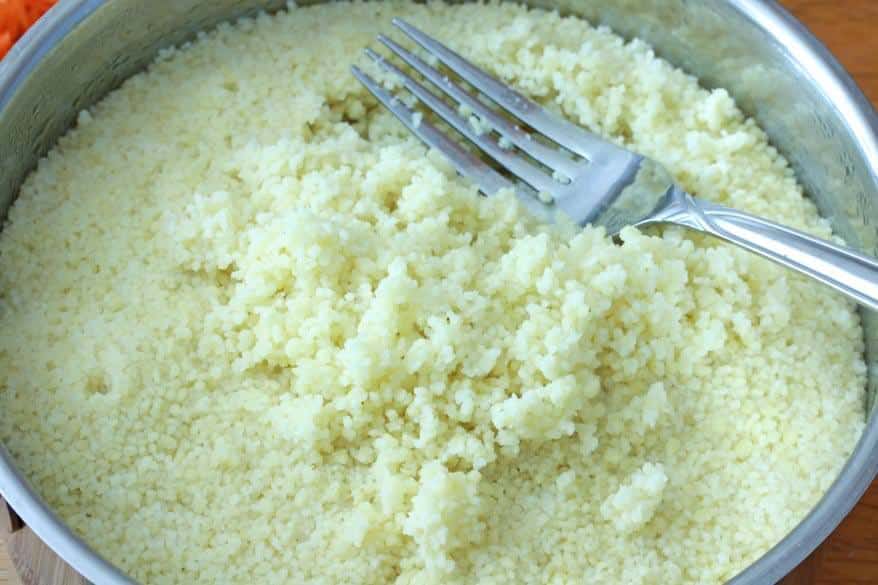 Any cut of stewing beef will do.  You'll need about 3/4 pound or so which you'll cut into 4 equal pieces – like little steaklettes.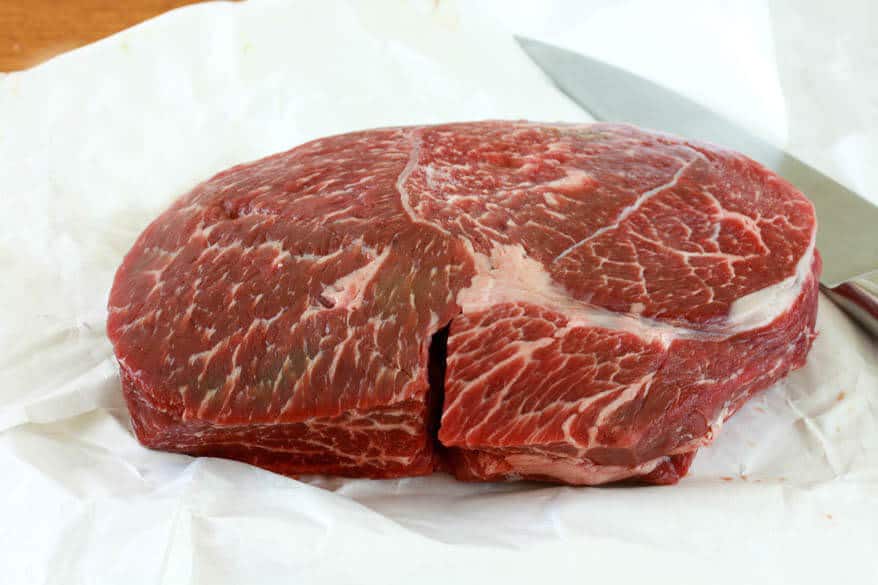 Pumpkin is commonly used in Libyan couscous dishes.  If you don't have access to fresh pumpkin, you can substitute yams or sweet potatoes.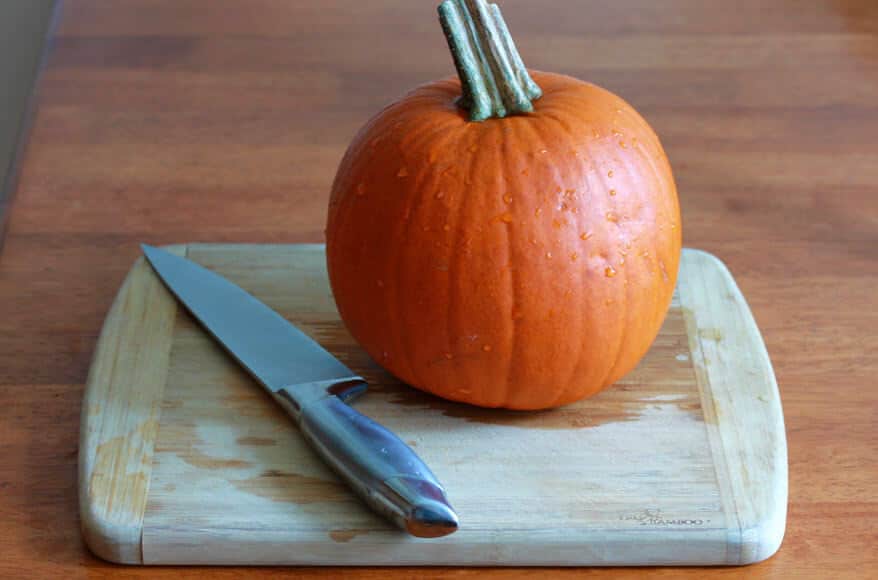 See recipe box below for full recipe instructions.
For another great couscous dish, try this Curried Couscous Salad: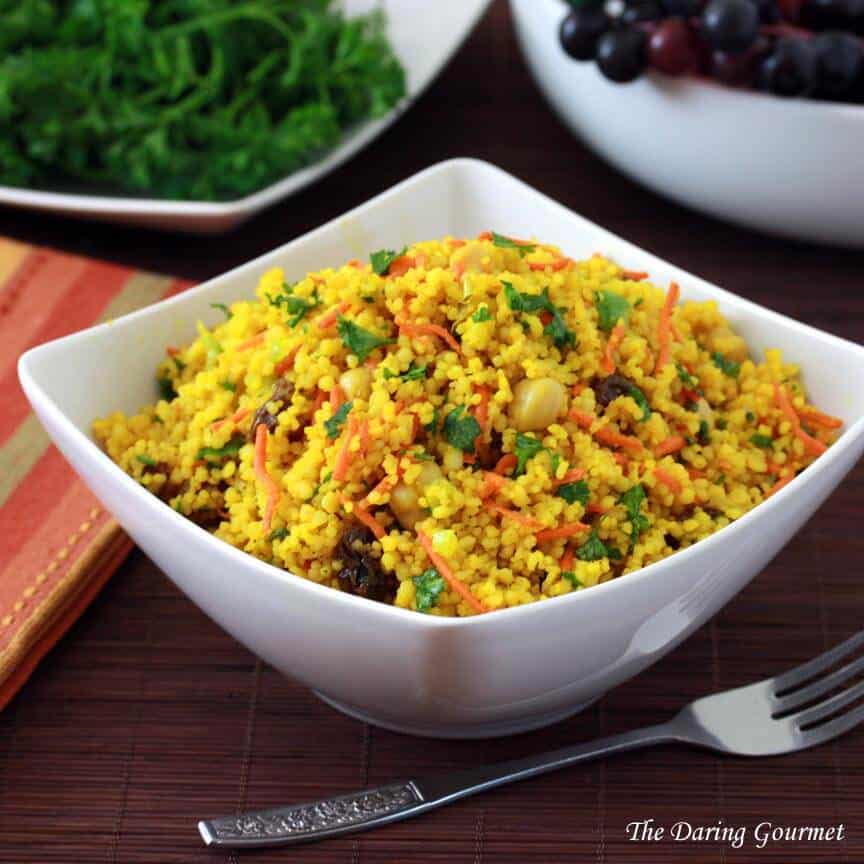 Hungry for more authentic Middle Eastern Food?  Try this Chicken Machboos (Bahraini Spiced Chicken and Rice):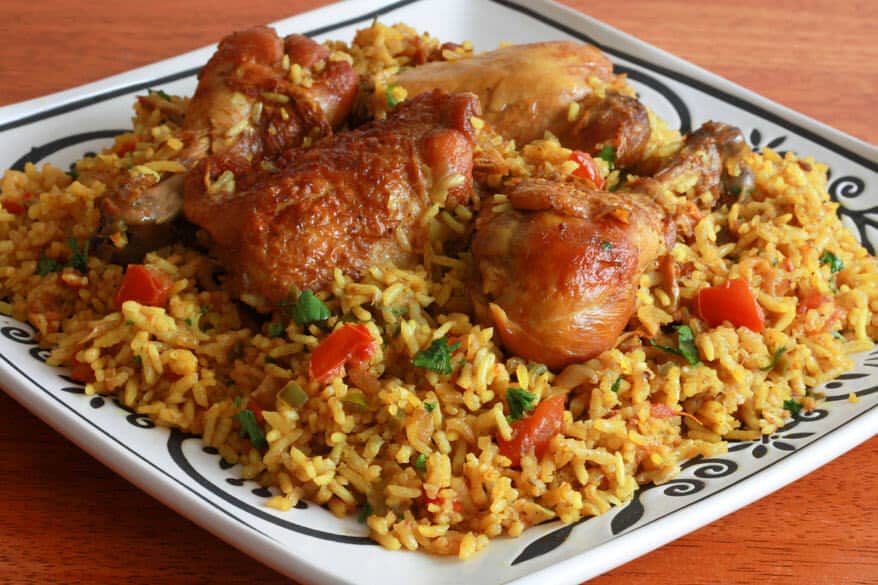 Or try some Koshari, the national dish of Egypt: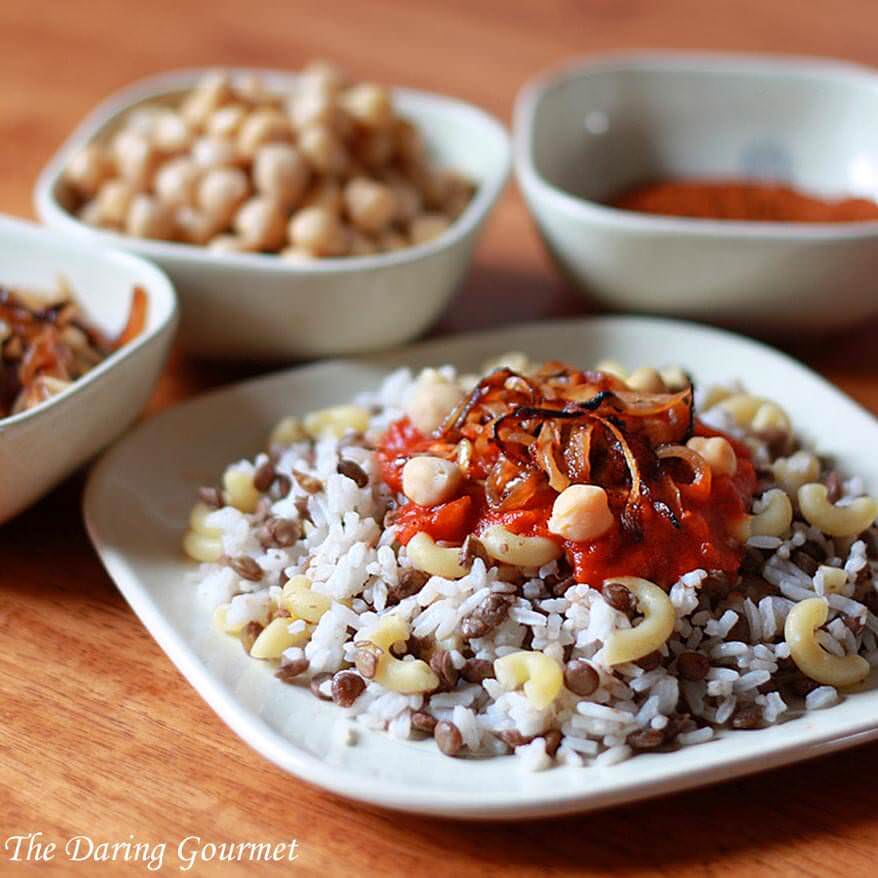 Kusksu (Libyan Couscous with Spicy Beef and Vegetables)
:
Kimberly Killebrew, www.daringgourmet.com
Ingredients
1 pound stewing beef cut into four pieces
1½ tablespoons oil for frying
1 large onion, halved and cut in half rings
1 tablespoon extra virgin olive oil
3 garlic cloves, finely chopped
2 medium potatoes, peeled and halved
2 carrots, halved
8 ounces pumpkin or yam, cut into four chunks
1 cup cooked garbanzo beans
1 bay leaf
1 teaspoon hot chili powder
2 tablespoons hararat (see recipe below)
⅓ cup tomato purée
½ cup chopped tomatoes
1 tablespoon brown sugar
1½ teaspoon salt
3 cups beef broth
oil for frying
Couscous
Hararat Recipe:
2 cinnamon stick broken into 4 pieces each
4 teaspoon cumin seeds
4 teaspoon coriander seeds
2 red chilies
1 teaspoon allspice berries
Heat a large non-stick frying pan then add the spices. Toast for about 4 minutes, stirring frequently, until the spices become very fragrant. Transfer to a bowl to let cool. Grind in a spice or coffee grinder. Store in an air-tight jar until ready to use.
Instructions
Heat the oil in a Dutch oven over medium-high heat and fry the beef until nicely browned on all sides. Add the onion and cook until soft and translucent, 5-7 minutes. Add the garlic and cook another minute.
Add the chili powder, hararat, tomatoes, tomato puree, beef stock, salt, and brown sugar. Bring the mixture to a boil, reduce to a simmer, cover and cook for 30 minutes.
Add the vegetables and garbanzo beans, return to a boil, reduce, cover and simmer for another 40 minutes until until the vegetables and beef are tender and the sauce has thickened.
To serve, add the couscous to a serving platter, arrange the meat and vegetables on top then ladle the tomato-based sauce over everything.