This post contains affiliate links.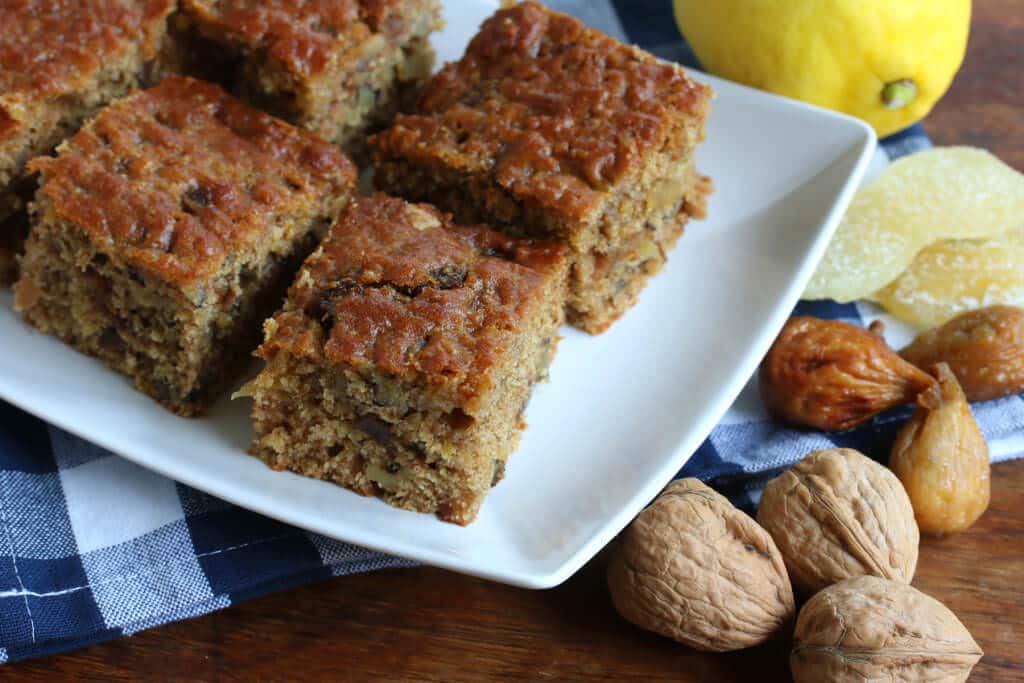 Summer is slowly coming to an end here in western WA.  We've had several days of rain after a record hot and dry Summer and though there's still some pleasant weather in the forecast, I sense a hint of Fall in the air.  The end of Summer is always bitter-sweet.  Bitter because I love the Summer with its cheerful sunshine and the ability to take my kids out anywhere and everywhere anytime to enjoy nature without the rain interfering (remember we're in WA).  But it's also sweet because I love the Fall with its radiant colors, earthy smells, and those brisk cold winds that always get me in the mood for baking!
I've been baking quite a bit lately, focusing on healthy treats for my kids and family.  Like my recent Mega Healthy Triple Chocolate Cupcakes that were a deceptively decadent delight.  Next up I'm going to experiment with some healthy oatmeal fruit bars.
What inspired that was seeing Smucker's new Fruit & Honey fruit spreads while shopping at my local Fred Meyer.  I avoid 95% of what's on the jam shelves because they're usually laden with high fructose corn syrup.  So you can imagine I was really happy to see a product that is made strictly of fruit and sweetened with honey!  I grabbed two of the flavors and the next day grabbed two more:  Strawberry, Tropical, Berry Blend and Blueberry Lemon.  Can't you just see these yummy flavors inside of some yummy fruit bars?  I can and I'm looking forward to going to work on them this weekend, how heavenly my kitchen is going to smell!
But back to today's recipe.  If you're health-conscious but still like to indulge, here is something you can enjoy without feeling too guilty.  Made with 100% whole grains and healthy oils, no refined sugar, and packed with millet, fruits and nuts, this is a dessert you can actually feel good about eating.
My 3 and 5 year olds inhale this stuff and, unlike many desserts, I'm more than happy to pass it their way because it's packed with healthy ingredients.
I like to bake and cook with a large variety of grains and this cake features millet, an ancient grain that is rich in B vitamins, iron, calcium, zinc and magnesium.
This cake is best eaten fresh out of the oven while it's still warm and moist.  This recipe calls for figs but you can use dates or prunes instead.  And you can also throw in a few raisins if you like.  Hazelnuts are another great option instead of walnuts.
Whichever substitutions you use, before long long you'll be enjoying a slice of this warm, hearty cake fresh from the oven!
Let's get started!
Cook the millet and set aside to cool until ready to use.
Combine the dry ingredients in a bowl and set aside.
In a separate bowl, beat the eggs with the honey and olive oil then add the vanilla, lemon extract and lemon zest.  Beating just until combined between additions, add half of the flour mixture, then half of the buttermilk and repeat.  Be careful not to over-beat.  Stir in the millet, chopped figs, candied ginger and walnuts.
You'll have a very thick batter.
Spread the batter into a greased 8×8 inch pan.  I use, love and recommend Magic Line's pan.
In an oven preheated to 350 degrees F, bake for about 30 minutes or until a toothpick inserted into the center comes out clean.
Heat the honey and lemon juice for 30 seconds on HIGH in the microwave.
Use a fork to pierce holes throughout the cake.
While the cake is still hot, pour the warmed honey over the cake, using a knife to evenly guide it.
Let the cake sit for about 10 minutes and then cut into squares and serve while still warm.
Enjoy!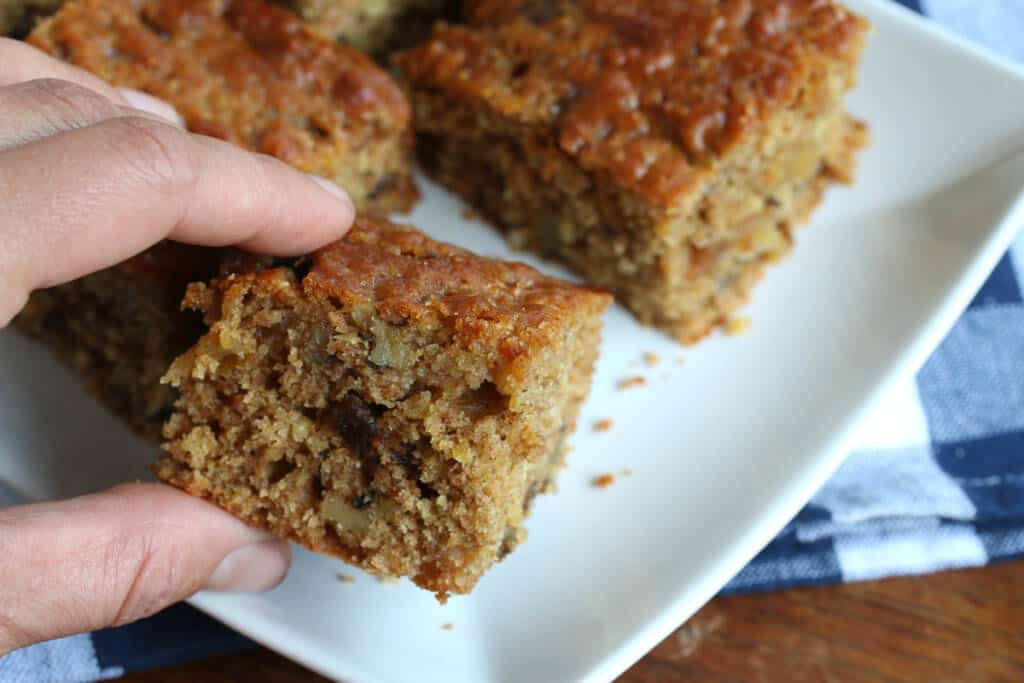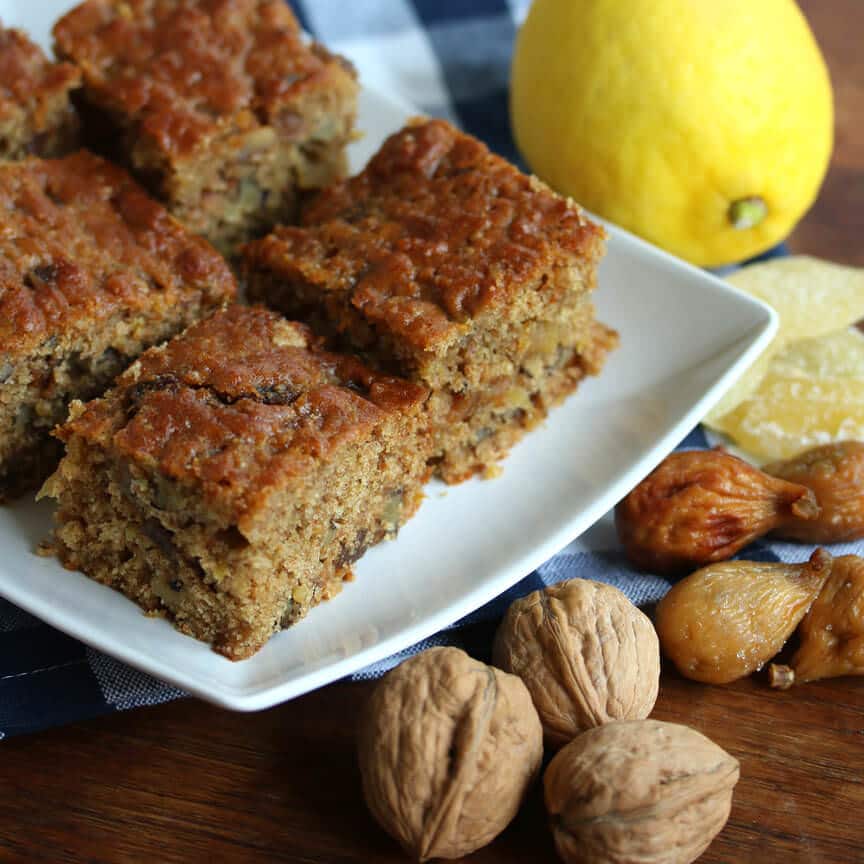 Lemon Millet Fig Cake with Walnuts and Candied Ginger
:
Kimberly Killebrew, www.daringgourmet.com
Ingredients
1½ cups speltor whole wheat flour (spelt is recommended, it's softer, milder and digests better)
1 teaspoon baking powder
1 teaspoon baking soda
¼ salt
2 large eggs
⅓ cup extra virgin olive oil
⅓ cup raw honey
3 teaspoons fresh lemon zest
2 teaspoons quality pure vanilla extract
1 teaspoon quality pure lemon extract
½ cup buttermilk
1¼ cup chopped dried figs (can use dates, prunes or raisins or combination)
¼ cup chopped crystallized ginger (purchase here or make your own)
½ cup chopped walnuts
1 cup cooked millet (cooked quinoa is also excellent)
For the Lemon Honey Glaze:
¼ cup raw honey
1 tablespoon fresh squeezed lemon juice
Instructions
Preheat the oven to 350 degrees F and grease a8x8 inch square pan
Combine the flour, baking powder, baking soda and salt in a small bowl and set aside.
In a large bowl, beat the eggs, olive oil and honey then add the lemon zest, vanilla and lemon extracts.
Beating just until combined, alternate half of the flour followed by half of the buttermilk and repeat.
Stir in the figs, ginger, walnuts and millet. The batter will be very thick.
This is a sponsored conversation written by me on behalf of The J.M. Smucker Company®. As always, all opinions are 100% my own.