This post contains affiliate links.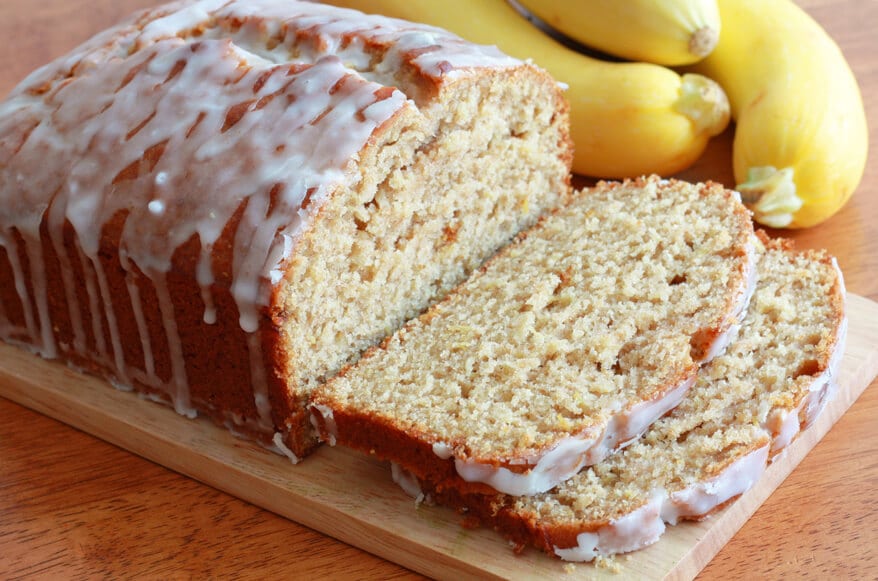 It seems most people I talk to love lemon-flavored treats, whether it's candy, baked goods, or  lemon-flavored sauces for pastas and seafood.  There is just something about that refreshingly sweet-sour zippy taste of lemon that is so addicting.
I've always loved lemony desserts, including lemon cakes.  I did some experimenting again with whole wheat, honey, buttermilk and squash and churned out this delightful lemon cake that you are sure to enjoy.  Lots of fresh lemon zest and a heavenly lemon glaze to top it all off.
I used yellow squash this time – the color blends in perfectly and you can't even tell it's there (perfect deception opportunity if you have little ones…or big ones that are resistant to "healthy" ;).  Alternatively you can use zucchini.  And how about this for a twist:  Instead of lemon, use lime (lime zest and lime juice) to complement the green flecks of the zucchini.
If you think this recipe sounds good, be sure to check out my Chocolate Deception Cake!
Lemon Zucchini Bread with Lemon Glaze
A tender and moist loaf cake made using whole wheat flour, honey, buttermilk, and fresh zucchini or yellow squash. It is topped with a refreshing lemon glaze.
:
The Daring Gourmet, www.daringgourmet.com
Ingredients
For the Loaf:
1 cup grated yellow squash or zucchini (leave the skin on and use the small holes of the grater)
1 cup whole wheat flour
1 cup unbleached all-purpose flour
1½ teaspoons baking powder
½ teaspoon baking soda
½ teaspoon salt
¾ cup brown sugar
⅓ cup honey
2 large eggs
½ cup coconut oil, melted and at room temperature
1 teaspoon pure vanilla extract
½ cup buttermilk
2 tablespoons fresh lemon juice
2 teaspoons grated lemon zest
For the Lemon Glaze:
1 cups confectioners' sugar, sifted
3 tablespoons fresh lemon juice
Instructions
Preheat the oven to 350 degrees F. Grease a 9 x 5-inch loaf pan.
Using your hands, squeeze as much liquid out of the squash as you can. Set aside.
In a medium bowl, sift the flour, baking powder, baking soda, and salt; set aside.
In a large bowl, add the sugar and eggs and beat until smooth, about 1 minute. Add the honey, oil, vanilla extract, buttermilk, lemon juice and lemon zest beat another minute until smooth. Using a rubber spatula, gently stir in the squash until the strands are separated and combined with the batter. Gradually add the flour mixture to the batter and gently fold it in, just until combined. Be careful not to stir too much.
Pour the batter into the prepared pan and bake 45-55 minutes, or until a toothpick inserted in the center of the loaf comes out clean. Remove the pan from the oven and set it on a wire rack. Let the loaf cool in the pan for 5 minutes before removing from the pan and setting it on the wire rack to cool completely.
To make the lemon glaze, in a small bowl, stir together the confectioners' sugar and lemon juice together. Add more sugar if the mixture is too liquidy. Add more lemon juice if it's too stiff. Once the loaf has cooled, pour the lemon glaze over the top of the loaf and let it drip down the sides. Allow the glaze to harden for 15 minutes before serving.
Remember to also try these
Mega Healthy Peanut Butter Cookies!