I've teamed up with Weber to bring you this post!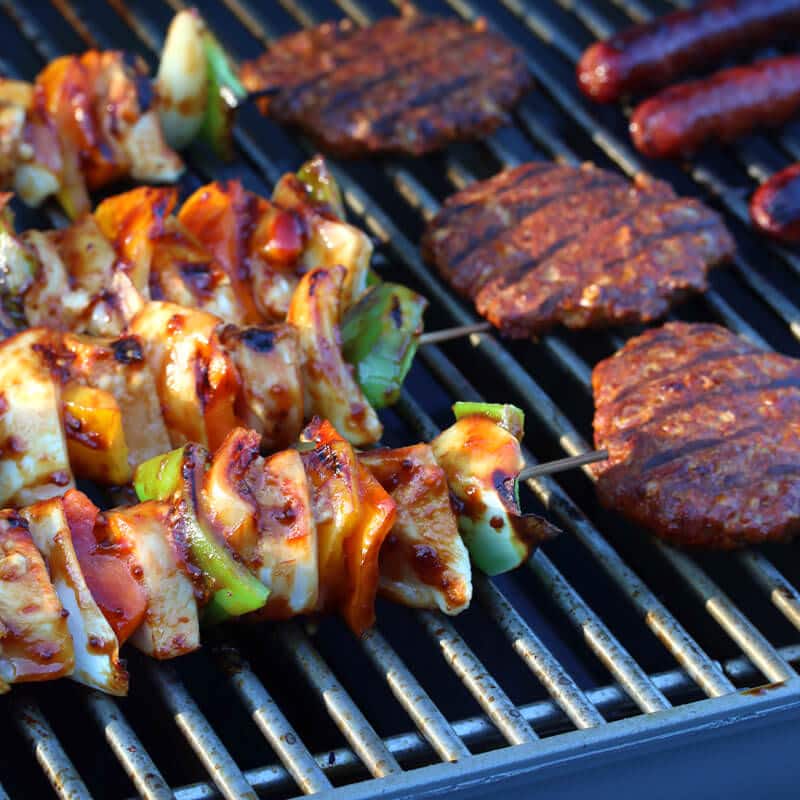 I can't even tell you how done I am with rickety grills.  We've gone through two of them in the last 5 years and it's one of those hard lessons learned:  You end up paying more for cheap quality items because you have to replace them continually.  It's better to go with quality in the first place because it saves you money in the long run.
And it makes the experience vastly more enjoyable.
Up until now I've always been the cook behind the grill.  My husband's never really been interested. And I can't blame him because really, cooking on a mediocre grill is, well, less than exciting.   In fact it's utterly lame.  But guess who was as excited as a boy on Christmas morning when our grill arrived?   That's right.  Everything changed as soon as we got our new Weber grill.   All of his masculine grilling instincts suddenly kicked in.
Me:  "Todd, I thought you weren't really interested in grilling."
Todd:  "That was before we had this."
There you have it.
Weber is the gold standard in grills.  They're one of the oldest manufactures of grills in America and with their attention to detail, quality and unparalleled customer service, they produce some of the most respected BBQ equipment in the world.  Weber was our first choice when it came time to select a grill.
With quality also comes a higher price tag.  Weber grills aren't cheap.  But neither is their quality.  But like I said earlier and something I can't emphasize enough is that quality ends up saving you money.  As with any quality product, it lasts longer.  It stays looking good longer.  And it's much more enjoyable to use.
We wanted a grill that was large enough to feed a small crowd but not monster-huge.  The mid line Genesis EP-330 offered exactly what we were looking for.  It's one of the most popular gas grills in the U.S..  And we couldn't be happier with our choice.
Let's take a thorough look at the grill, its features and functions, and then…we'll demo it with some FOOD using one of Weber's own recipes, a Locomotion Barbecue Sauce that will get your taste buds moving!
Let's get started!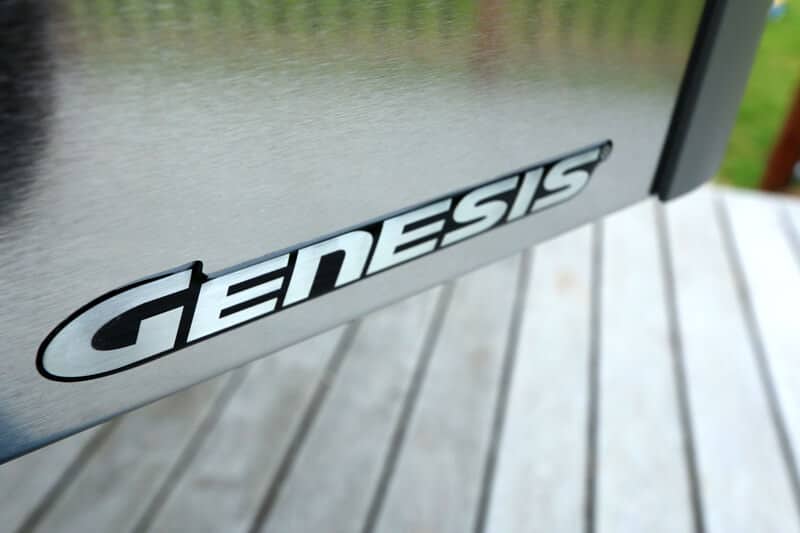 The Genesis line comes in the 310 and 330 series, the 330 offering the addition of the Sear Station.  The 330 line comes in S, E and EP models.  The S model comes with a fully stainless steel exterior whereas the E and EP models come with porcelain enameled steel exteriors like ours below.  As nice as stainless steel looks, we specifically chose the porcelain enameled model because, like stainless steel kitchen appliances, they're difficult to keep looking clean – especially with small kids on the loose!  Color options include black, copper and green.  And they still have lots of nice stainless steel accents.  It's a gorgeous grill and its construction quality is exceptional.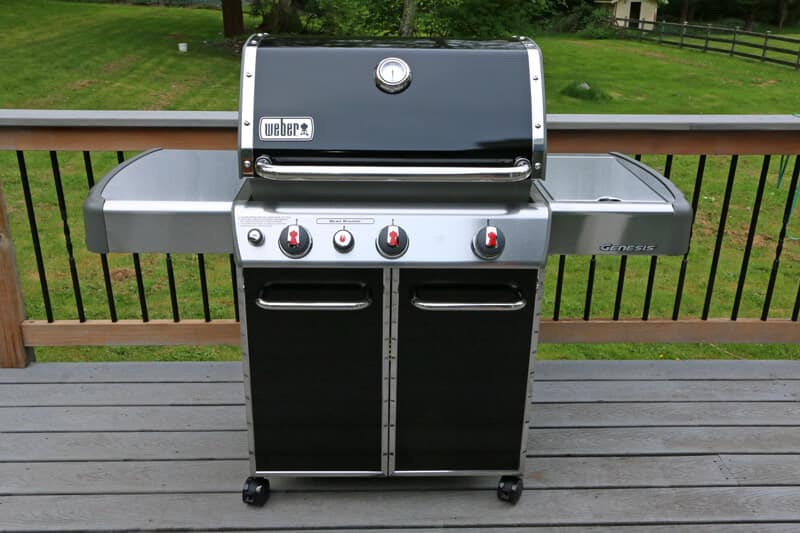 One of the things that impressed me when we were looking at this grill in the store was how heavy-duty the lid was.  The next time you're in the hardware store, compare the various brands by lifting up the lids.  You'll notice a major difference.  No other grill is as heavy or sturdy.  You can tell it's not only built to perform, it's built to last.  And it comes with a 10 year warranty.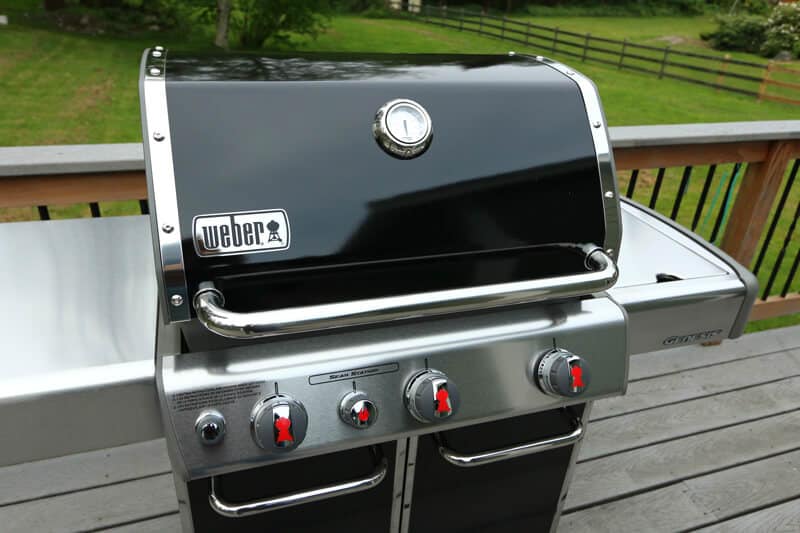 The Genesis 330 line features a front-mounted control panel.  The Weber symbol on the knobs indicates whether the grill is turned on or off, but Weber recently added an additional feature:  The knobs also pop out when you turn them all the way to off.  It's a nice feature to avoid accidentally leaving the grill on.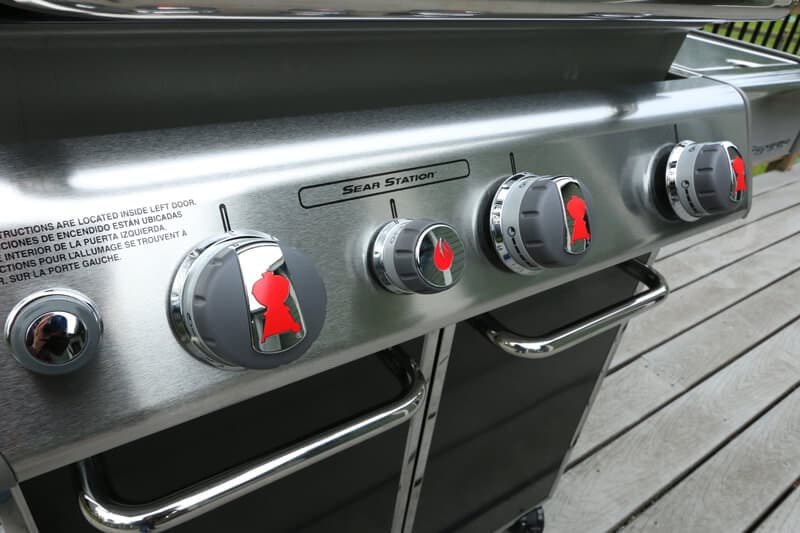 With the Sear Station feature on, this grill cranks up to 800 degrees F – that's hotter than hades!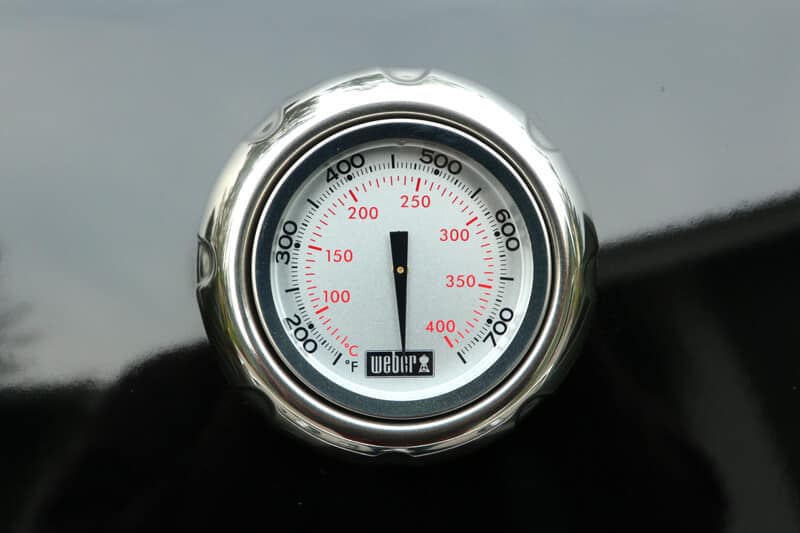 The grill has an electronic ignitor that pulls out to reveal a battery that is easily replaced.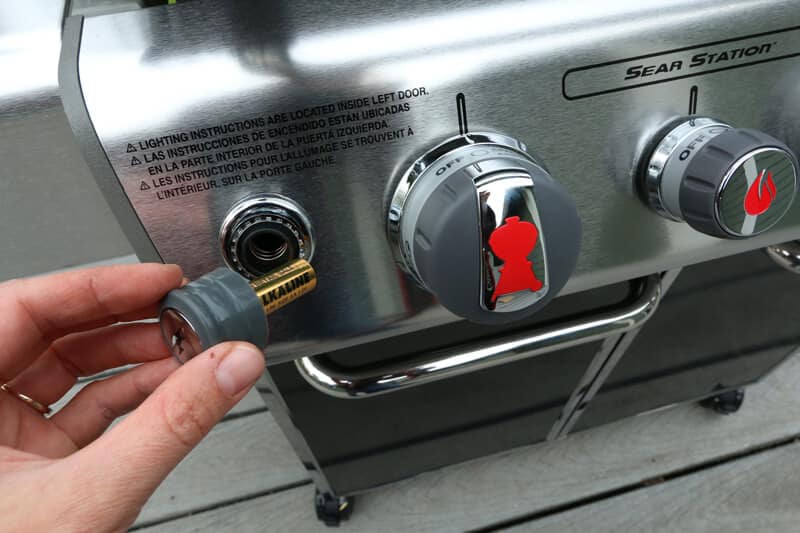 Let's take a look inside the grill.
The Weber Genesis EP-330 features stainless steel burners with stainless steel rod cooking grates.  The only difference between the "EP" and the "E" models is that the "E" model is slightly less expensive and comes with enameled cast iron cooking grates and flavorizer bars.  Which one you choose really comes down to personal preference.  Because of the moist weather here in WA we went with the stainless steel cooking grates to make cleanup easier and to prevent rusting once the enamel coating eventually wears off.
The main burners have a 38,000 BTU-per-hour input.  The Sear Station burner has a BTU-per-hour input of 10,000.  The Genesis boasts a generous 637 sq in total cooking area with a 130 sq in warming rack.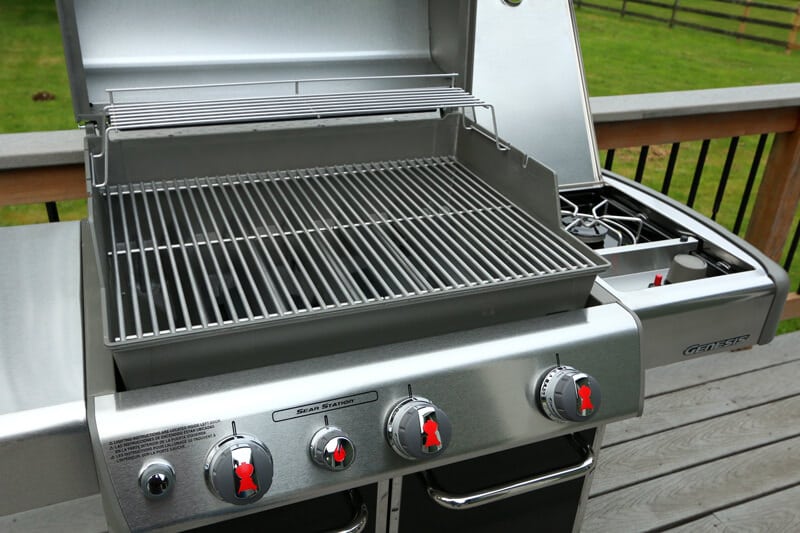 Underneath the cooking grates are stainless steel burners and each one is covered by a V-shaped Flavorizer Bar that both protect the burners while also vaporizing the food drips to further infuse the meat with flavor.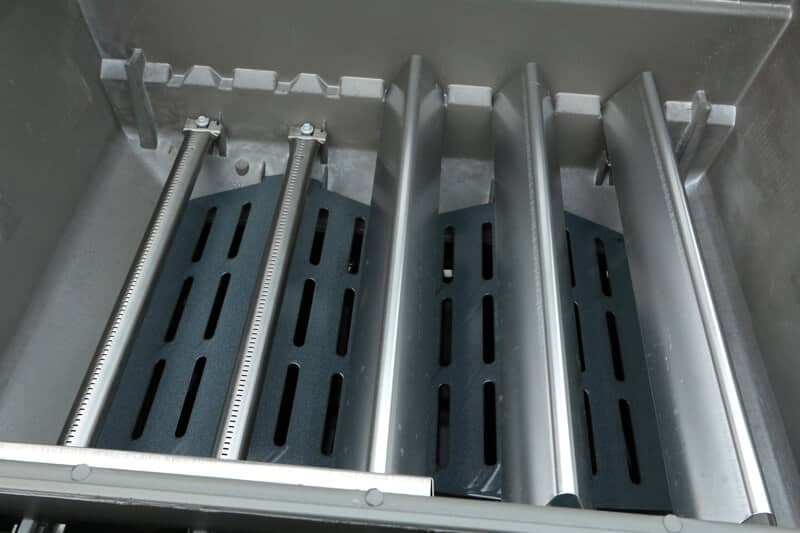 The Genesis also comes with a side burner with a 12,000 BTU-per-hour input.  Boil some corn, saute some mushrooms or peppers, however you want to use it.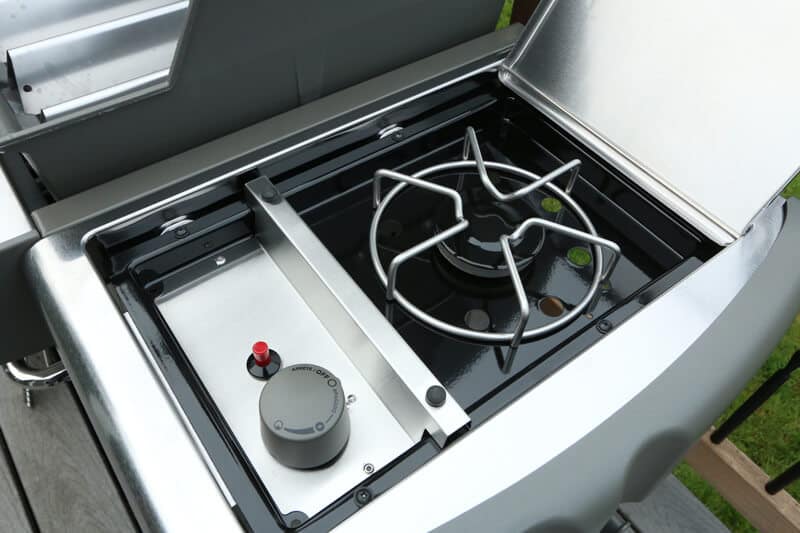 The Genesis features a painted enclosed steel cabinet with painted steel doors and stainless steel handles.  The grill offers easy front access to the gas tank (if you're using propane) and to the grease tray and catch pan.  Just above-right of the propane tank is a neat feature, a Precision Fuel Gauge, that lets you know the fuel level without having to remove it.  The Genesis 330 line is also available for natural gas hookup.  The grill sits on lockable casters that are very sturdy.

A fitted cover is also available to protect the grill from the natural elements.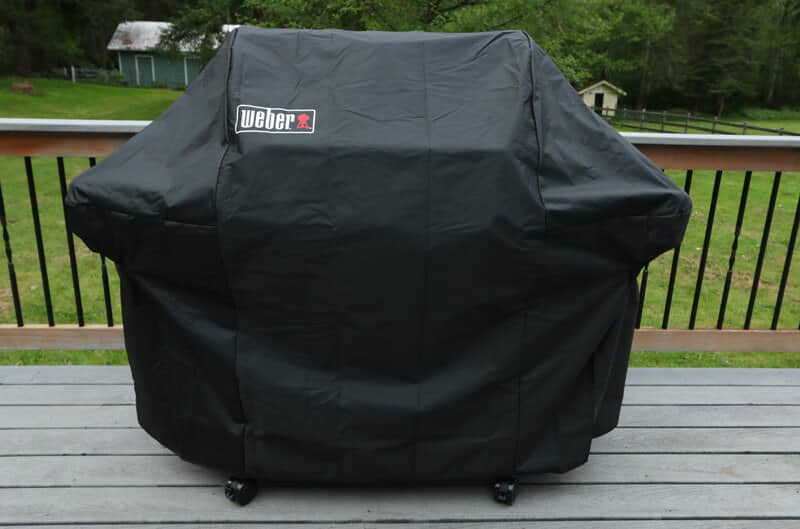 Okay, time to put this baby to the test!  I rounded up a few things to try on the grill:  Chicken shish kabobs, burgers and hot dogs. We also tried some baby back ribs (coming up next).
For the burgers and dogs I grabbed a jar of my most recent development, a sweet corn relish, as well as my popular Homemade Sweet Pickle Relish.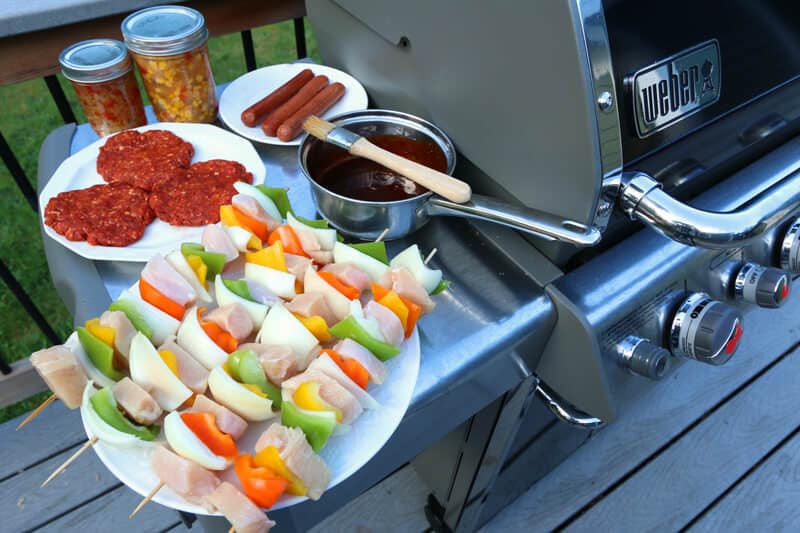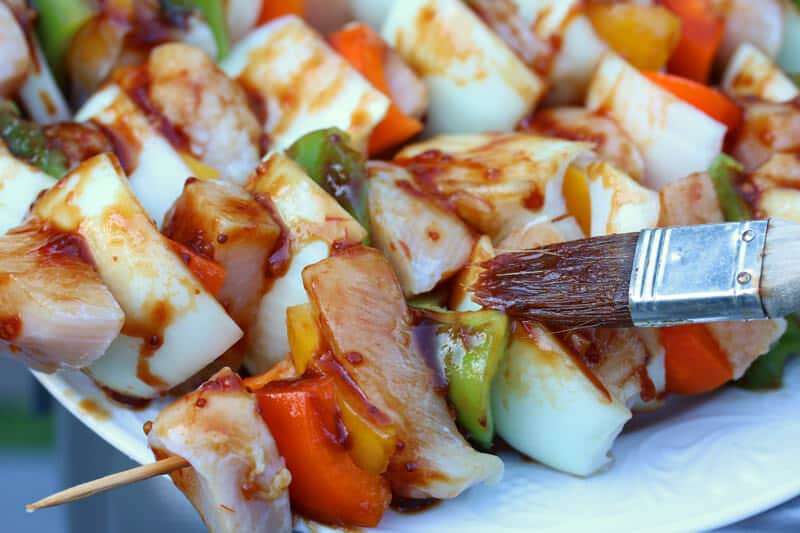 Within minutes the aroma of barbecued food filled the air.  We played outside with our kids, coming back to the grill to flip the kabobs and burgers and baste them with some more sauce.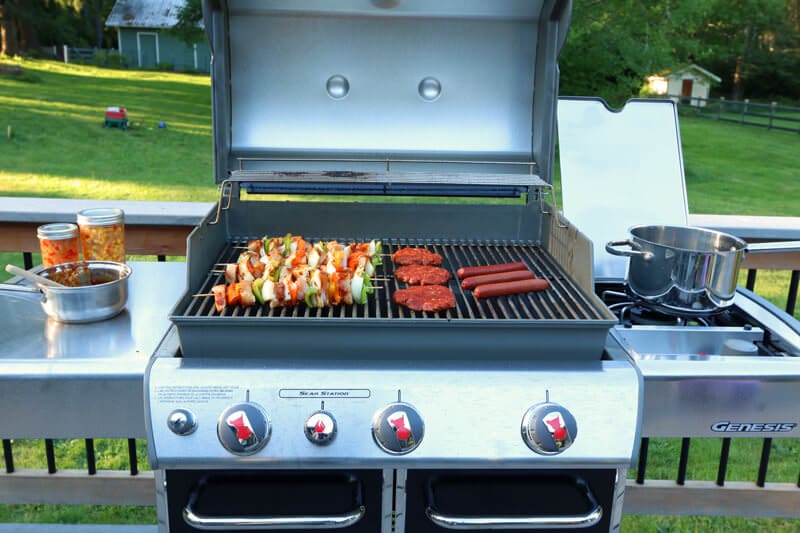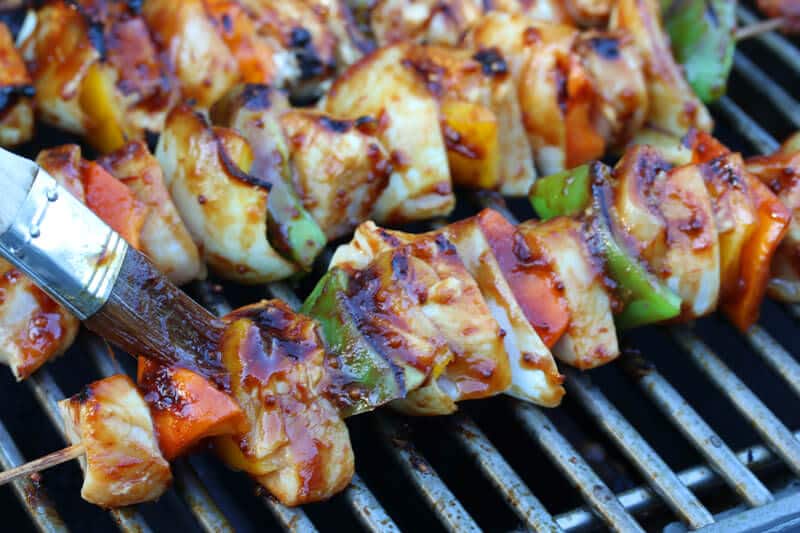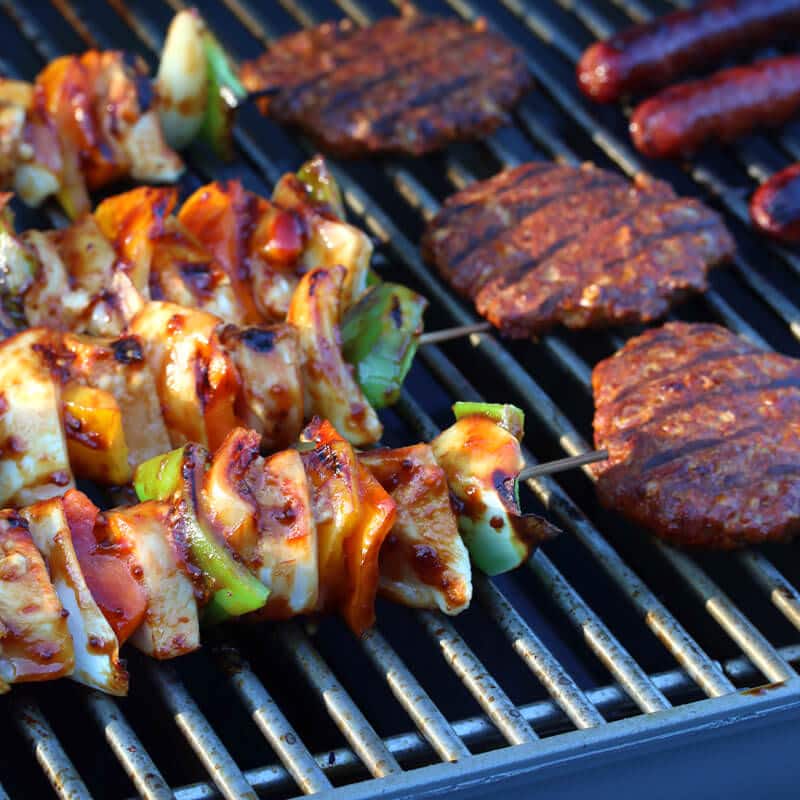 Everything turned out fantastic.
Now how about something Low-and-Slow?  For our next grilling session we tried some tender-juicy baby back ribs.  Those are hard to beat!   This Locomotion Barbecue Sauce also pairs perfectly with ribs.
Bottom line:  Do we like the Weber Genesis EP-330?  No.
We love it!
Will we get a lot of use out of it?  Heck yeah, for many years to come.
For a rock-solid, premium-quality workhorse of a grill with all the bells and whistles you need to achieve outstanding results, we highly recommend the Weber Genesis EP-330.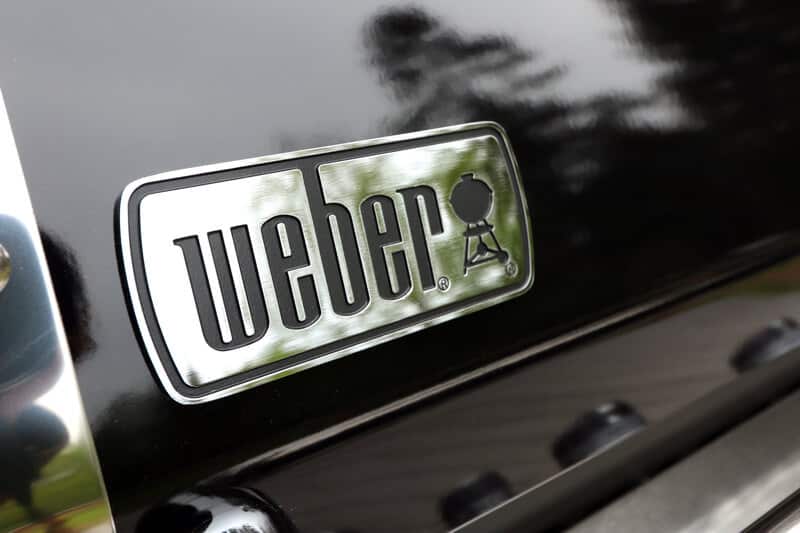 Okay, ready for that barbecue sauce recipe?
Then "Come on, baby, do the locomotion!"

Locomotion Barbecue Sauce
Rich in Kansas City character with a flavor that will get your taste buds moving!
:
Kimberly Killebrew, www.daringgourmet.com
Ingredients
¼ cup frozen orange juice concentrate
¼ cup mild chili sauce
2 tablespoons dark molasses
1 tablespoon soy sauce
1 tablespoon white wine vinegar
2 teaspoons whole grain mustard
1 teaspoon Worcestershire sauce
½ teaspoon Tobasco sauce
½ teaspoon salt
Instructions
Combine all ingredients in a saucepan. Bring to a boil, reduce the heat to medium-high and simmer for 5 minutes. Remove from heat and let cool.
Use as you would any barbecue sauce. Pairs especially well with chicken and ribs.
Recipe adapted from
Weber's Big Book of Grilling
Disclosure:  I did not receive any monetary compensation to write this review.  Weber was kind enough to supply us with a grill to facilitate this article without any obligations to write a positive review.  As always, all opinions are entirely my own.